Everything You Need to Know About Visiting Walden Pond With Kids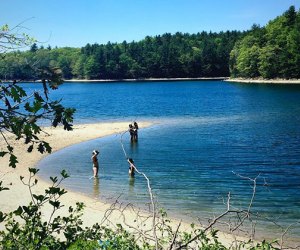 5/25/17
- By
Elyse Andrews
Walden Pond was made famous by Henry David Thoreau, who lived at the site from 1845-1847 and wrote the book Walden based on his experience. Today, Walden is known locally for being a beautiful, pristine recreation area. It's one of our favorite places to visit year-round, but we especially love to go in the summer. There's so much to do with kids at Walden and it provides a great alternative to heading to the beach on a hot day. Here's our advice on how to make the most of your visit.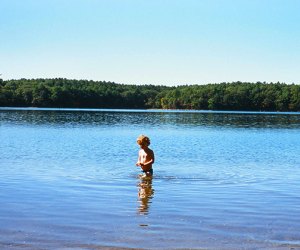 Photo by Viviene Yeung/CC BY-SA 2.0​

When To Go
Walden Pond is open year-round for day use. The reservation's hours vary by season, so it's helpful to check the website before setting off to find out what time the parking lot opens and closes. We also like to monitor the reservation's Twitter account (or call 978-369-3254) because the parking lot fills to capacity nearly every day in the summer. When we plan to spend the day at Walden, we like to go early and arrive before 9 a.m. That way you'll be able to snag a parking space and a good spot in the sand.
Summer is, of course, the most popular time to visit Walden and weekends can get especially busy. So if you can head to the pond during the week, you're likely to find smaller crowds. One of our favorite things about Walden is that it never really feels too packed because parking is limited. We've visited in all seasons and loved what the area had to offer. You really can't go wrong as long as you're prepared.
How To Get There
The best way to get to Walden is in the car. The pond, located in Concord/Lincoln near Routes 2 and 128, is easy to access from almost anywhere in the Boston area. And parking is pretty inexpensive when compared to many area beaches: only $8 per day for Massachusetts residents and $10 per day for nonresidents. Annual park passes are also available.
When you arrive, you'll notice that a lot of people bike to Walden. I've done this (in my pre-kid days) and while it's fun and totally safe, it's definitely a schlep from almost anywhere. And with kids, plus all the stuff you need for a day out, in tow, it's likely not a realistic way to access the pond. But if you're feeling adventurous, we say go for it!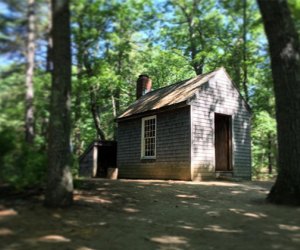 Visit the replica of Thoreau's cabin. Photo by cgonnello via Instagram.
What To Expect
Walden is a National Historic Landmark, so it has a few more restrictions than other recreation spots in the area. There are a whole bunch of things that you can't do or bring to ensure that the pond stays pristine for all visitors. Here's a rundown of prohibited items and activities: dogs/pets, grills/campfires, camping, bikes on trails, alcohol, gas engines, wind-powered sail craft, hunting, metal detectors, novelty inflated devices, and parking on nearby streets.
What Walden does have that might make your visit more pleasant is accessible restrooms and changing areas. This is super helpful with kids because you never have to worry about where you're going to take them to go to the bathroom or strip out of that soggy swimsuit.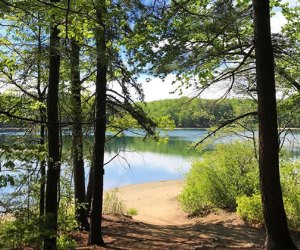 Photo by theconscioushiker via Instagram.
What To Bring
Walden is pretty wild, which is one reason we like it so much. Things have been left largely unchanged since Thoreau's day, so there's no big snack bar or stand selling sunscreen. There is a new visitor center with a store, but if you plan to be at Walden for the day, we highly recommend bringing everything you'll need. This might include lunches and snacks, lots of water or other drinks, sunscreen, bug spray (it's heavily wooded), towels, beach blankets, umbrellas, chairs, and beach toys.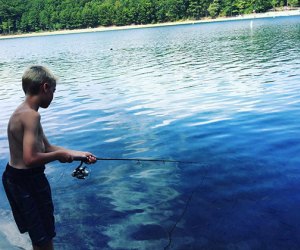 Learn how to fish at Walden. Photo by mrkakaa via Instagram.
What To Do
There is no shortage of activities at Walden that are perfect for kids. Here are some of our favorites:
Spend the day at the beach: Get there early and spread out your beach towels and blankets for a day of fun in the sun. Walden is a wonderful place to take kids swimming—there are roped off shallow areas and lifeguards on duty from 10 am to 6 pm during the summer. Pack a picnic and beach toys to make a day of it.
Take a walk/hike: There's a lovely, mostly shaded walking path that winds around the perimeter of the pond that's perfect for a stroll. It's mostly flat with a few inclines, so kids of every age can handle it safely.
Go boating: If you have a kayak, canoe, stand up paddleboard, or boat with an electric motor, you can bring it to Walden and launch it at the boat ramp. The pond is a lovely spot to go for a paddle.
Go fishing: Bring your fishing pole and drop a line from the beach or your boat. Walden's shallow edges and easy accessibility make it a fun place to teach kids how to fish. Check out even more fruitful fishing holes here,
Explore local history: Visit the site of Thoreau's original cabin and the reproduction near the parking lot. It's really neat to stand where he stood and older kids who may be learning about Thoreau in school will likely appreciate this the most.
Cross-country ski or snowshoe: In the winter, people flock to Walden to take to the trails on cross-country skis or snowshoes. It's an especially peaceful destination in the colder, snowier months.
Top photo by 1130_nagisa via Instagram.