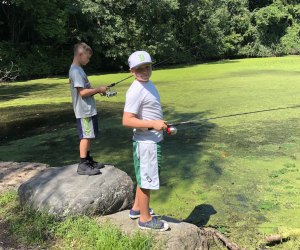 5 Spots to Go Fishing with Kids Near Boston
Looking for an antidote to the fast-paced, tech-saturated culture our kids are growing up in? One word: fishing. Demanding preparation, patience, and stillness, fishing is a pasttime that might be a challenge for our instant-gratification generation—and that's exactly what's so great about it. Our street backs up to a little pond, and from the time they could capably hold a pole, our kids have tried their luck hooking sunfish and striped bass on free weekend days and evenings. Our catches have been few, but our boys have learned some lessons about treasuring the process over the final product, and the quiet moments contemplating the water have made for some great memories.
Spring is a great time to introduce kids to fishing, as many local ponds and lakes are often brimming with fish (sometimes stocked by MassWildlife). Here are some family-friendly fishing holes within a short drive of Boston—and some tips for making a day out on the pond or lake a successful one, whether the fish are biting or not.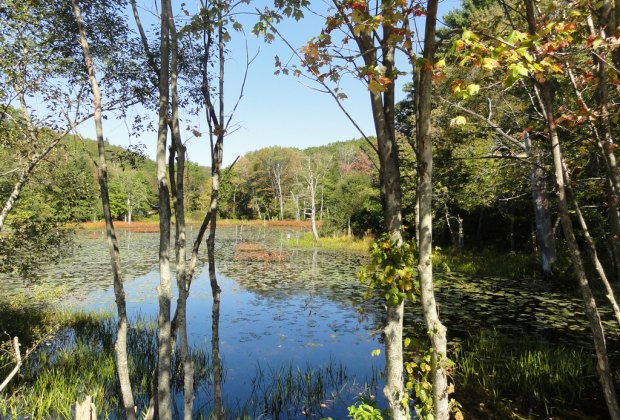 Houghton Pond photo courtesy of Andy Gregorowicz via Flickr

Houghton Pond — Milton
We've written about how terrific this pretty pond in Blue Hills is for a family hike or swim. Bring along a pole or two, and you can add fishing to your schedule of activities at Houghton Pond. Spring-fed, this kettle hole pond was formed by retreating glaciers nearly 10,000 years ago—a factoid that might lead to some interesting conversation while throwing our your lines. The pond is stocked with trout, and people also catch bass and pickerel. Be sure to toss old line in their helpful receptacles planted at Houghton's for that purpose (it helps keep fish safe).
Spot Pond — Stoneham
This sizable, very clear pond in the heart of Middlesex Fells is known for some big fish, especially bass. Go on June 24 from 9 am to 1 pm for the Spot Pond Family Fishing Festival, where you can borrow equipment and learn some pointers on angling for free. (Parking will be at the Straw Point area on the North end of the pond.)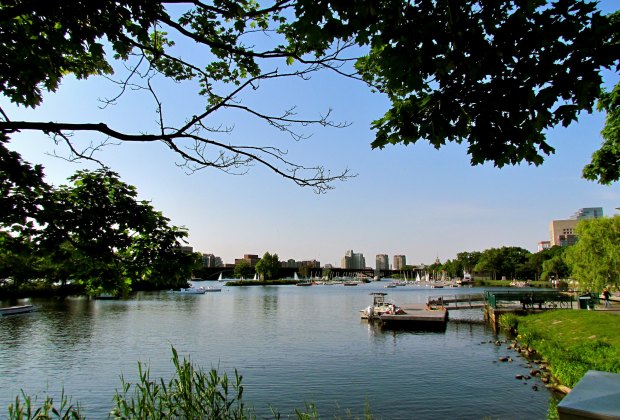 Charles River Esplanade photo courtesy of Jeff Gunn via Flickr

Charles River Esplanade—Boston
Considered a particularly clean urban waterway, the Charles River has fish in various parts, but we're partial to the Esplanade area along Storrow Drive in the Back Bay. Sport fisherman hunt for big bass here, but catfish, sunfish, and some other species also populate the river. Bring a picnic, and if the fish aren't biting, cheer the kids up with a delicious lemonade from the one of the stalls that line the path.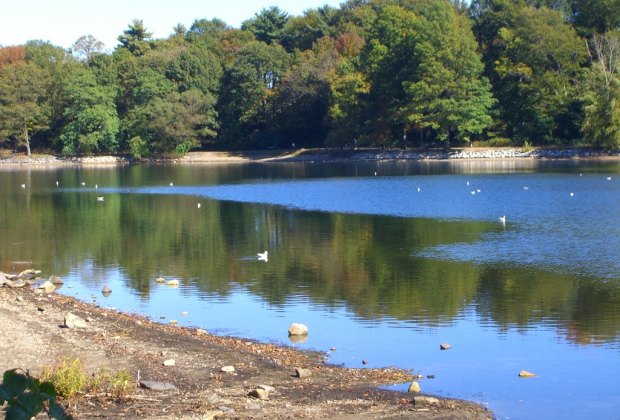 Jamaica Pond photo courtesy of Sam Blackman via Flickr

Jamaica Pond—Jamaica Plain
Trout and salmon raised in local hatcheries are released into J.P.'s beloved pond each spring. The largest body of freshwater in Boston, Jamaica Pond has lots of little inlets where you can spread out your gear and cast your lines without getting tangled up. Fishermen-in-the-know like to go to the northern cove and western shores for the most bites.
Sudden Pond—North Andover
Of the 11 ponds in Harold Parker State Forest, Sudden Pond seems to be a fave for fishermen. Eacy May, the Andover Sportsmen Club hosts a "fish derby," a friendly competition for kids with prizes and refreshments, and each September, there's a Fishing Festival with free equipment rentals and bait that's designed to teach newbies the basics. If you aren't getting many nibbles, consider moving over to neighboring Berry Pond, just a little farther North on Middleton Road, which is always stocked with trout for the springtime.
Additional tips
1. Fishing equipment doesn't have to be expensive, but it is helpful to have some guidance about what size poles to use for various kids (we started our children with the Shakespeare Ugly Stik Spincast Combo, which retails for less than $25), and what bait works for different fishing holes. Before your outing, consider going to a local gear or bait and tackle shop for everything you need (and perhaps some helpful pointers). Some local retailers: Firefly Outfitters (downtown Boston), Arlington Bait and Tackle, L Dee's or P& J Bait Shops (Dorchester), Fishing Fanatics (Everett), or Bass Pro Shops (Foxborough).
2. If the fishing bug hits one morning and you don't have the time hard to get bait from a shop, don't worry. We've had success digging up worms in our shrubbery beds in our yard, and we've heard that local fish also happily nibble on hot dog chunks and bagel pieces. It's worth a try!
3. Be aware when kids are learning to cast. The hooks are sharp, and children should learn early on to always look around to make sure no one is nearby when they are about to throw out a line.
4. Part of the fun of fishing is catching your dinner. But be sure to check to make sure your fishing hole hasn't been affected by a local fishing advisory that warns against the consumption of certain types of species. If it has, or if you don't know much about the pond where you're fishing, release your catch—the bonus is that it's a good lesson for the kids about taking care of wildlife.
5. Consider hitting a local fishing festival or event in order to pick up some tips about getting started. MassWildlife keeps an updated calendar here.
6. Anyone younger than 15 may fish freely, though grownups need a license. Licenses cost are $27.50 for residents above age 17, and can be ordered online.
Top photo courtesy of the author