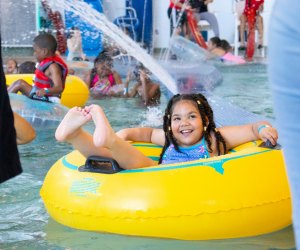 Indoor Swimming Pools with Day Passes and Family Swim in Boston
When the kids are wired but it's wintry or rainy, a dip in an indoor pool can be just the thing to set the day right. Swim lessons are important for setting a foundation for pool safety, but splashing around in the off-season can also help transform doggy paddlers into more confident swimmers. The trick is, many indoor pools require seasonal memberships, and not all welcome kids. We've rounded up some pools that offer day passes or drop-in swim times for families.
See our Indoor Fun Guide for more ideas for helping kids unleash a little energy when the weather doesn't cooperate!
A note: Before digging out the swimsuits and announcing the idea to the kids, be sure to call ahead, as schedules and rates can fluctuate.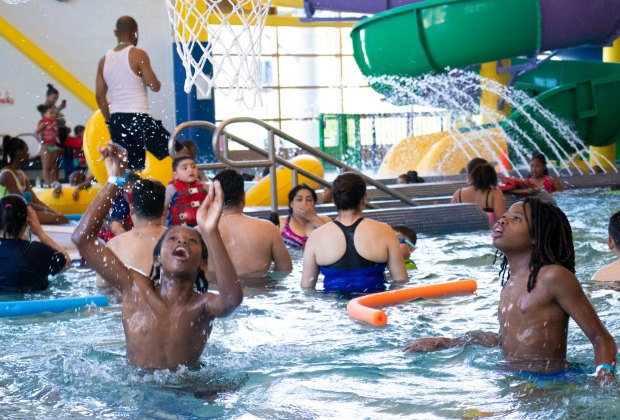 Balls, slides, and more make this pool a real blast. Photo courtesy of Kroc Salvation Army Center
With a two-story water slide, a heated lazy river, a "bubble bench," and 7 spray features, the Kroc is, legimately, an all-seasons water park inside the city. Though small, it's a blast for kids, and with rates of just $7 for children and $13 for adults, it's a steal compared to other indoor water parks beyond the city. Family locker rooms make this fun outing smoother than most, too.
617-318-6900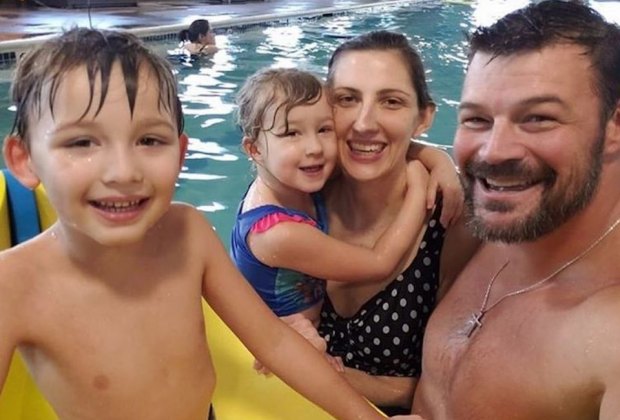 Families are welcome to weekday and weekend family swims at Goldfish Swim School's six locations around Boston. Photo courtesy of Goldfish Swim School
Goldfish Swim School—Brookline, Burlington, Marlborough, Milford, Needham, Westford
Locally renown for its swim lessons in a warm, tropical environment, Goldfish Swim School offers family swim on select weekdays (around lunchtime) and weekend days. The cost is $5 per swimmer or $15 per family (family swim is free for Goldfish members on weekdays from 12 to 1pm). Reservations are required; you can email your local school that morning starting at 9am to hold your family's spot.
Visit your local Goldfish branch's website for phone and email information
Located in Southie near the Seaport, the BAC offers family swim times on Friday evenings and Sunday afternoons, and charge $8 per child for guests. Ample parking, free daily lockers, and towel service are all big bonuses when you have kids in tow.
617-269-4300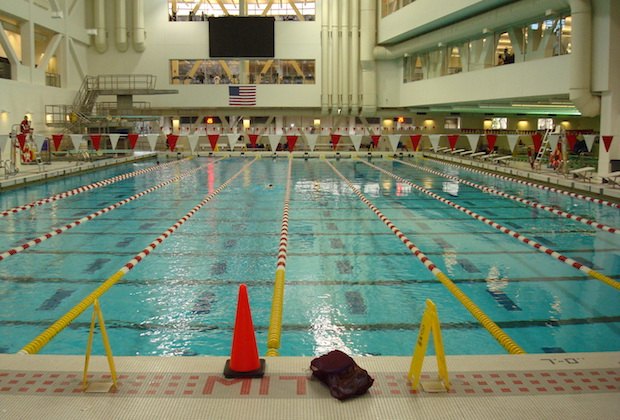 There are multiple pools that welcome families at MIT. Photo courtesy of MIT Zeisger Center
With two pools at each facility, there are plenty of rec swim times where families can splash around together. And with a clientele who often comes in and out of town for academic purposes, MIT recreational facilities are very open to drop-in visitors. Day passes are $15 per person.
617-452-3690; 617-253-2005
Family swim time on Saturday afternoons are hugely popular at Watertown's Boys and Girls Club pool. Families pay $15 for the whole group, or if at least one of the children is a Boys and Girls club member, just $10 covers everyone.
617-926-0968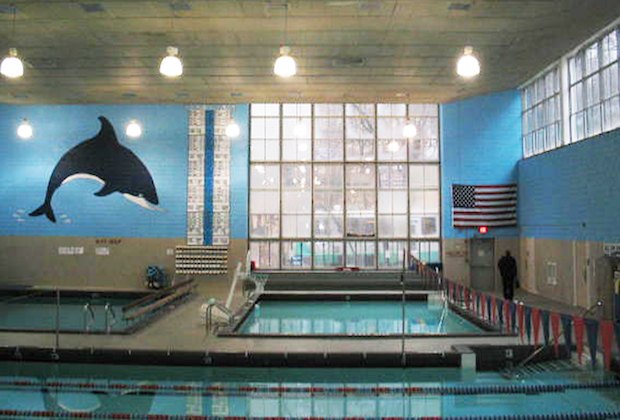 It costs as little as a few bucks to swim for a day in Brookline. Photo courtesy of Evelyn Kirrane Aquatic Center
For the price of a muffin and coffee in town—$5 for residents and $7 for non-residents (kids are $3 and $5, respectively, and babies and toddlers are free)—you can swim the day away with the family at this pool near Brookline High. There's a lap pool and a lesson pool; rec swim sessions are held in the lesson pool, where there are aquatic toys available to play with.
617-713-5435
The Boston Centers for Youth and Families boast 16 indoor pools throughout the city, and many allow kids (with a grown-up, of course) to drop in for a swim. The Curtis Hall pool in Jamaica Plain allows families to swim for free during family swim periods, currently on Monday and Friday evenings. At Chinatown's Quincy branch, drop-in rates are $3 for kids and $5 for adults.
YMCA—multiple locations
There are 12 pools in the Greater Boston YMCA network, and you can print out a free day pass here to try one (up to 3 times per year). Outside of city limits, many Ys allow families to purchase day passes. The Y in Somerville offers a particularly good deal, charging just $2 per adult and $1 per child for their family & youth recreational swim sessions after school on Tuesdays and Thursdays as well as Friday evenings and Sunday afternoons. At the Metrowest Y in Framingham, which offers open swim space in their lap pool during certain hours, a day pass is $5 for children and $12 for adults. The North Attleboro Hockomock Y also has open family swim times on their pool schedule.