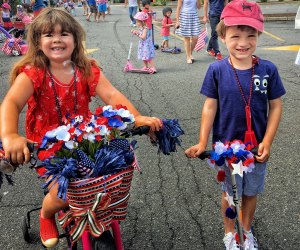 Fourth of July Fireworks and Festivities for Connecticut Kids and Families
Here in Connecticut we love fireworks so much that Independence Day celebrations for families start as early as late June and continue well past the Fourth of July. Kick off summer with a bang with our roundup of Connecticut fireworks displays, parades, and parties in honor of the 4th of July. Some are near our favorite playgrounds, others are at the area's finest beaches, but all invite wide-eyed wonder from kids—especially those who can stay awake for the sparkly show.
Looking for more 4th of July fun? Try these patriotic-themed activities with kids before or in lieu of the fireworks show.
As always before heading out, check the weather forecast and parking restrictions, especially at beaches. Some venues allow nonresidents to pay for parking on-site, but others require that passes be purchased in advance at a separate location.