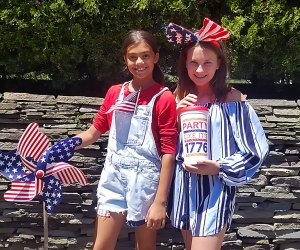 Best Fourth of July Activities for Kids That Aren't Fireworks
It's Fourth of July week, and the kids are itching for something fun to do before the big fireworks show. Keep them entertained with these Independence Day activities, including patriotic crafts, cooking projects, and even day trips.
We've rounded up plenty of kid-friendly things to do this Fourth of July, including for toddlers and preschoolers who might prefer to avoid those startling (and thunderous) sky explosions. But we didn't neglect the big kid and teen activities either.
Find more at-home activity ideas in our Boredom Busters for Kids guide, including 100 Awesome Crafts and the Ultimate Summer Play List.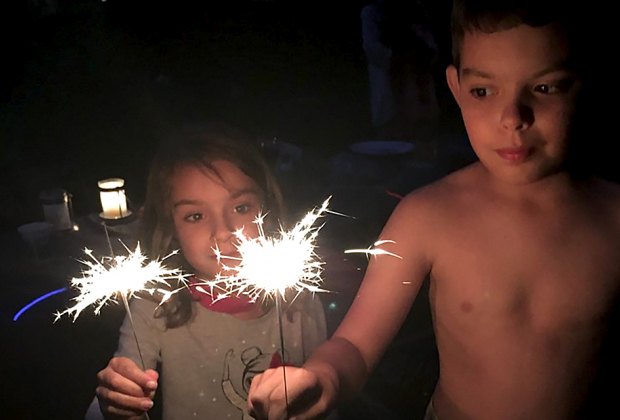 Is it really 4th of July without sparklers come sunset? Photo by Matt Nighswander
1. Have Fun with Sparklers
Make an ultra-safe sparkler with this sparkler wand craft using glitter pipe cleaners and wire stars. Mini-patriots can wave them on Independence Day festivals, parties, and parades. Older kids can use the real fiery batons to write their names in the air, circle the stars, or design an aircraft in the sky.
Remember that real sparklers should be held at arm's length and placed in a bucket of water after they burn out. Don't let toddlers try this and keep kids at a safe distance from each other to keep those sparks from pricking their skin—​and always supervise.
2. Learn About The Declaration of Independence
Between the parades, BBQ, and fireworks, make time to teach your kids about why we celebrate the Fourth of July. Read from parts of the Declaration of Independence, signed July 4, 1776, and if their curiosity is sparked, you might even turn it into a little family performance with everyone memorizing a line or two and then giving a dramatic performance post-dessert. Or host an American Revolution trivia quiz game with the big kids. Winner gets an extra big slice of the flag cake (see below).
PBS Learning Media has a great video to explain the July 4th holiday to younger patriots. Kids can even visit the National Archives online and sign the Declaration themselves.
3. Party Like It's Waaaay Back in the Day
Take a day trip to a living history museum in your area where the kids can learn about America's early settlers and their lives, or tour a local Revolutionary War site or artifact. We recently visited the Old Bethpage Restoration Village on Long Island, New York, where an 1864 Independence Day celebration included military drills, fiddle music, and a parade, The step back to the 19th Century and the Civil War period put us in a patriotic mood.
Kids in the Boston area can hit the Freedom Trail, of course, for a closer look at sites tied to the American Revolution and the country's founding. New York City has no shortage of kid-friendly American history sights, nor Philadelphia with the Liberty Bell, Independence Hall, the National Constitution Center, Betsy Ross' house, and the new Museum of the American Revolution. You'll even find plenty of Revolutionary battle spots in New Jersey, and of course, those in the D.C.-Virginia area have plenty of American history to explore during the holiday week.

A pretty flag cake is an easy 4th of July project to do as a family. Photo by Mommy Poppins
4. Bake a Cake
Get your kids into the kitchen and create a patriotic layer cake for the Fourth of July. We make our Flag Cake version with three boxes of vanilla cake mix. Stir them in three separate bowls and give each batter a few drops of either red, white, or blue food coloring. You'll end up with three layers in the colors of the flag. Wait for the cakes to cool and place them on top one another for a festive dessert. Decorate away with frosting and sprinkles, or layer with strawberries and blueberries. Pinterest is filled with tutorials on various flag cakes.
If your chefs are too teeny for the oven, try this easy July 4th No-Bake Icebox Cake.
5. Host an Indoor Campout
Put some picnic blankets on the floor of your living room and bring over the picnic basket for an indoor campout. This is an especially fun activity on a rainy Fourth, or with some toasted s'mores, or you can even bring those BBQ eats indoors to the picnic floor. After it gets dark, no lights are allowed! Grab a flashlight and watch a patriotic movie like "This is America, Charlie Brown," or "All Aboard America."
6. Make a Red, White, and Blue Pin
Try a flag-themed crafts with the kids for the Fourth of July. A safety pin flag is a great craft for older kids. Or you can make a flag out of popsicle sticks to hang on the door for a pretty piece of holiday decor.
RELATED: 50 Rainy Day Activities Kids Can Do Indoors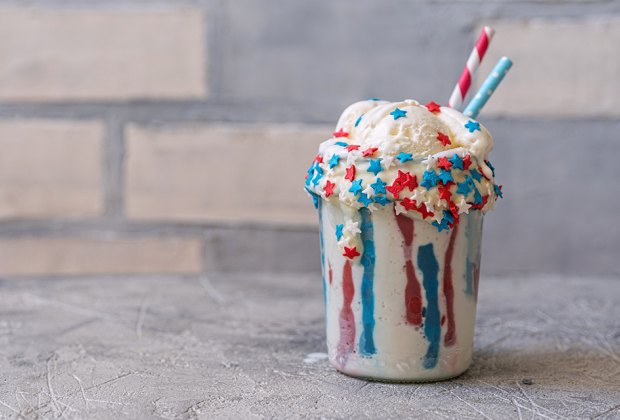 Make a red, white, and blue milkshake this Fourth. Photo by Mommy Poppins
7. Whip up an American Milkshake
A red, white, and blue milkshake with sprinkles and whipped cream is a scrumptious recipe to celebrate July 4th. Even little kids can get involved with this by helping you to pour the ingredients into the blender. Sip your creations outside on a checkered blanket.
8. Join the Parade
Visit a local 4th of July parade with your family, or put one on with the neighborhood kids. Songs like "You're a Grand Old Flag" or "Yankee Doodle" make a great soundtrack while your crew marches down the sidewalk in red, white, and blue outfits. Mini-marchers might enjoy carrying their own instruments, like tambourines, or whistles or riding their bikes decked out in streamers.