50 Things to Do in Washington, DC with Kids Before They Grow Up
The days are long but the years are short when it comes to raising kids, and for parents in and around the bustling hub of our nation's capital, the time can really speed by. Finding the best events and activities that will make the most of the precious time we have with our little ones is a top priority here at Mommy Poppins Washington, DC.
To help you sort through this ever-changing, ever-growing city that we love, we've compiled a list of the top 50 things to do with kids in the Washington, DC area before they grow up. With a city steeped in the sciences, from natural to political, culture, arts, and history, there's no better time to make the most of your time with your little ones. Get out, explore, and see just how many activities on our bucket list you can cross off before childhood whizzes by.
Our list of the best fun things (in no particular order):
1. Go back in time to experience what life was like at George Washington's beloved home at Mount Vernon.
2. Get out of this world at the National Air and Space Museum.
3. Ride bikes around the National Mall. FREE
4. Get up close with the wildlife at Smithsonian's National Zoo and Conservation Biology Institute.
5. Rent a motorized swan boat and tour Washington, DC on the water.
6. Head to the Tidal Basin in spring for an explosion of pink during the National Cherry Blossom Festival. FREE
7. Explore 400,000 square feet of African American history at the National Museum of African American History and Culture.
8. Set loose your inner James Bond at the International Spy Museum.
9. Get outside and explore an oasis in the middle of DC at Rock Creek Park. FREE
10. Or go inside to steep yourself in nature at the United States Botanic Garden.
11. From April to September, take the kids for a ride in the beautifully restored Dentzel Carousel in Glen Echo Park.
12. Write your member of Congress to get free tickets for a self-guided tour through the White House. FREE
13. Experience music with a free concert on the lawn of the U.S. Capitol. FREE
14. "Oooh" and "ah" over Fourth of July fireworks at the National Mall. FREE
15. While you're there, take a tour of the U.S. Capitol building. FREE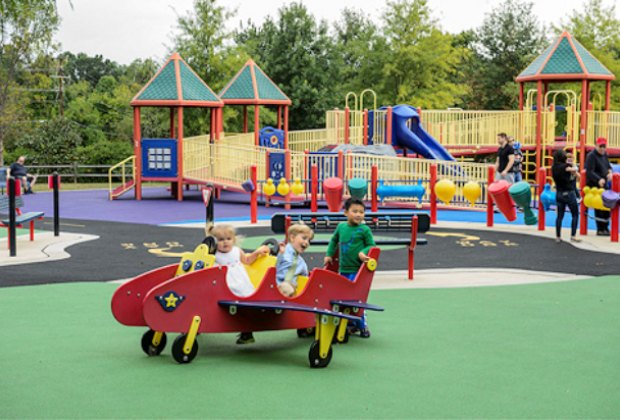 Having fun at Clemyjontri Park. Photo courtesy of Fairfax County Virginia
16. Spend the afternoon at Clemyjontri Park in McLean, Virginia where children of all abilities will find fun. FREE
17. Let little ones experience art firsthand with storytime at the Hirshhorn Museum. FREE
18. From Alaska to South America, get to know the Native peoples of the Americas—and enjoy some inspired noms—at the National Museum of the American Indian.
19. Pay your respects to veterans of foreign wars at the Korean War Veterans Memorial, Vietnam Veterans' Memorial, and the World War II Memorial. FREE
20. Discover the monumental impact First Ladies have had on America at the National Museum of American History.
21. Participate in live theater and storytelling geared towards kids aged 5-8 at Smithsonian's Discovery Theater.
22. See how money's made at the Bureau of Engraving and Printing.
23. Experience folk culture with food, music, dance, and more at the Smithsonian Folklife Festival during two weekends in June and July. FREE
24. Deliver mail in a stagecoach or a semi-truck at the National Postal Museum.
25. Get in the Christmas spirit with the annual lighting of the 75-foot tall Christmas tree at CityCenter DC. FREE
26. From March through October, see where food comes from with Washington Youth Garden's monthly Family Garden Days program.
27. Whether your little one is into dance, outer space, unicorns, or live music, they'll love catching any number of shows geared toward young audiences at the beautiful Kennedy Center.
28. Stare up at the huge and iconic sculpture of our 16th president at the Lincoln Memorial. FREE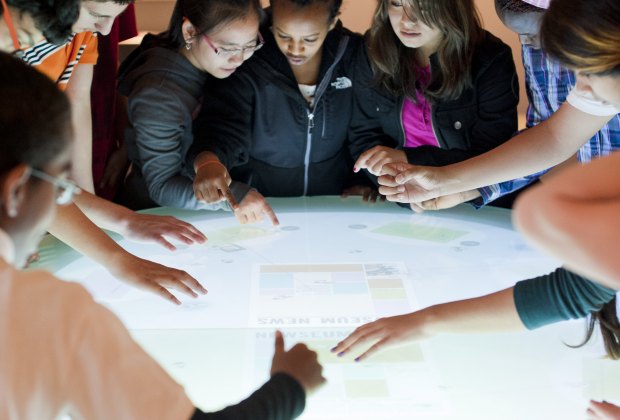 Getting up close with the newsroom at Newseum. Photo courtesy of Newseum
29. See the history of modern journalism and get hands-on with the newsroom at Newseum.
30. Book a half-hour guided tour of the Supreme Court and help round out kids' understanding of our government's checks and balances system. FREE
31. Watch the Potomac River build up speed and plummet down Great Falls, part of an 800-acre park just 15 miles outside of DC and accessible from both Maryland and Virginia. FREE
32. Get outside and play an over-sized game of Scrabble at District Wharf. FREE
33. Bring teens to the United States Holocaust Memorial Museum for a sobering look at the atrocities committed during the Holocaust and other genocides.
34. Cool off on a hot day at the giant "sprinkler" fountain at Georgetown Waterfront Park. FREE
35. Each May, families can participate in the Around the World Embassies Tour to visit international embassy buildings and experience the music, dancing, food, and culture of other countries. FREE
36. Catch a free movie every Saturday evening throughout the year with National Harbor's Movies on the Potomac program. FREE
37. Take part in the lighting of the National Menorah on the White House Ellipse during Hanukkah. FREE
38. See the founding documents, including the Constitution, at the National Archives Museum.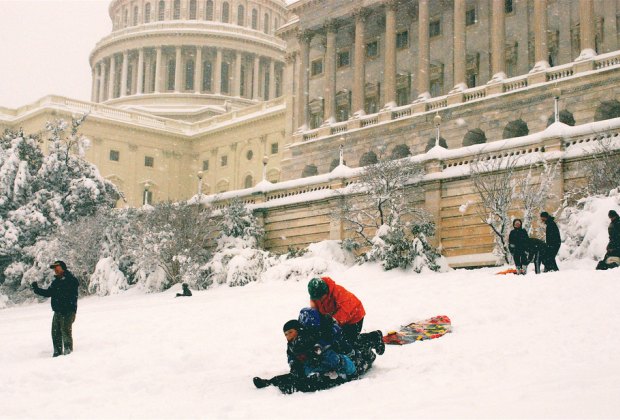 It's legal to sled down Capitol Hill! Photo from Flickr, Valerie Hinojosa/CC2.0
39. Sled down the hills at Capitol Hill or Fort Reno, the highest point in DC, during a snowstorm. FREE
40. Sign your kids aged 4 through 12 up for the Jr. Nationals Kids Club to get a chance to run the bases at the Nationals baseball stadium.
41. Dance, sing, and play along with free Saturday morning performances at National Theatre. FREE
42. Take a whimsical ride around Wheaton Regional Park on a miniature train...
43 ...Or hop aboard a trolley to take a guided tour of the city.
44. Visit Ford's Theatre as a historic site (it's the place where Lincoln was shot), for its immersive learning opportunities, or for its live theater.
45. Experience the beautiful acoustics at during one of National Cathedral's many concerts.
46. Satisfy your inner thrill seeker at Six Flags, just half an hour outside downtown DC.
47. For younger kids, Roer's Zoofari, a 30-acre petting zoo in Vienna, Virginia, is the perfect size.
48. Another great spot for the under age 6 crowd? Wegmans Wonderplace inside the National Museum of American History.
49. Walk, bike, or drive along the scenic George Washington Memorial Parkway. FREE
50. Develop your kids' appreciation of art, from classical to postmodern, at the National Gallery of Art.