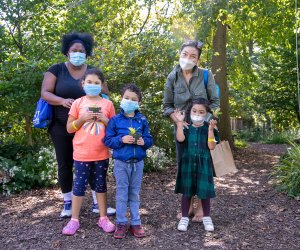 10 Reasons to Visit Brookside Gardens in Wheaton, Md.
With spring here and lockdown fatigue feeling like the new normal, spending time outdoors with your kids might provide relief and a sense of refreshment.
Brookside Gardens in Wheaton, Maryland is a welcome oasis for your little ones, where they can enjoy a hike, interact with nature, and more. Here are 10 reasons to love Brookside Gardens.
As with many destinations, COVID-19 protocols are in place at Brookside and nearby attractions. Visitors must wear masks indoors and observe social distancing guidelines. If an event appears too crowded, try using the "nearby" search feature on our event calendar to find something else to do.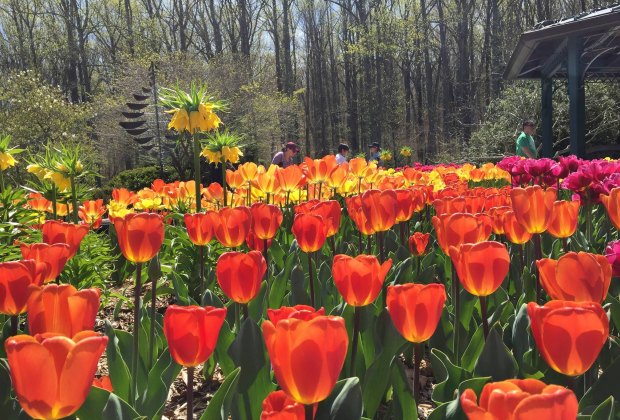 Delight in the colors of the season. Photo courtesy of Brookside Gardens
10 Reasons to Visit Brookside Gardens in Wheaton
1. Blooms
On any given morning at Brookside Gardens, you can find the gardening team sprinkled throughout, peacefully tending to the gardens that are about to pop. Come early this season and watch all of the blooms reach their full glory. Brookside has thoughtfully labeled each area and plant. When your child asks, "which one is that," you will never have to guess.
2. Easy for Social Distancing
Social distancing has become such a common phrase and is still a serious concern. With more and more people bringing their kids outdoors, sometimes narrow parkway paths make social distancing difficult. Masks are required at Brookside Gardens and with plenty of open space it is also easy to social distance. There are surrounding paths where you can veer off with your kids to avoid other groups of visitors.
RELATED: Family-Friendly Camping Destinations near DC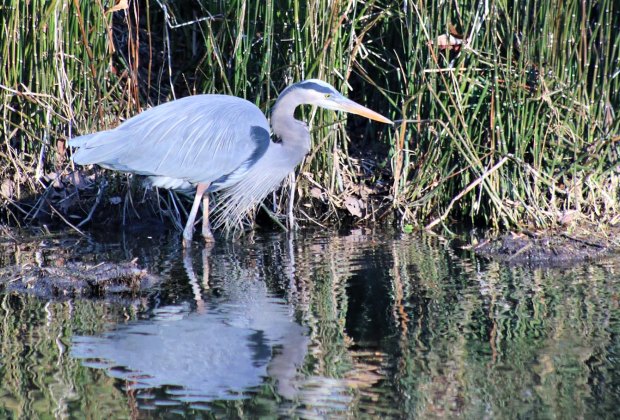 Interact with the natural world while strolling the grounds. Photo courtesy of Brookside Gardens
3. Baby Wildlife
My last visit to Brookside with my 10-month-old daughter was particularly memorablee; We saw baby deer and a baby groundhog. Although there is no guarantee you and your kids will spot baby wildlife on your visit to Brookside Gardens, chances are going to be better in the spring.
4. Variety of Trails
Brookside Gardens has trials that are paved, mulched, in open spaces, as well as wooded areas. The paved trials are plentiful and overlook rolling greens, water reserves, and a pagoda. The wooded trails surround the perimeter and are also beautiful but are better navigated by an all-terrain stroller. The trails are perfect for early walkers and older.
RELATED: Great Places to Explore the Natural World Near DC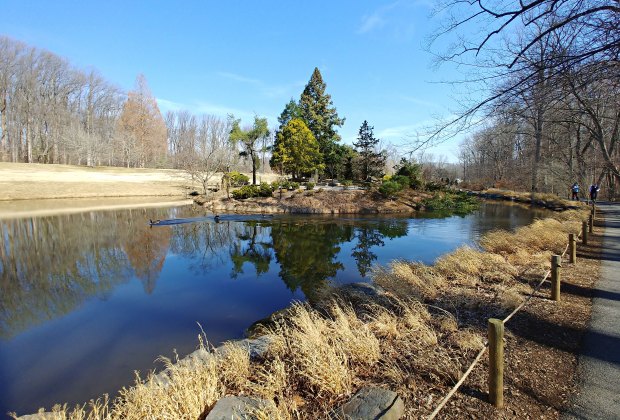 Mornings bring a sense of tranquility. Photo by Shelley Mathews
5. Quiet Mornings with Smaller Crowds
Mornings at Brookside are in direct contrast to the traffic-filled surrounding areas in Wheaton. The grounds and setting have been thoughtfully created, but it can get quite full on a beautiful weekend. During morning hours you often find fewer people as well as beautiful scenes of the sun on the rolling greens and water. Mornings feel and look different and you can enjoy an idyllic early morning walk.
6. Kids Area and Walk
Brookside boasts a nature preserve center and a kids walk for educational purposes. Some facilities have been in lockdown, but one path is still open. Check it out and get your bearings for when the exhibits do reopen. A favorite walk is the Butterfly Walk.
RELATED: Pick-Your-Own Berry Farms Near DC

Enjoy time for contemplation. Photo courtesy of Brookside Gardens
7. Places for Reflection
Brookside Gardens has been mindful in allowing a place for meditation and reflection. Instructional signs sprinkled throughout the gardens teach visitors how to reflect, meditate, and to be mindful. Bring a book and plan a quiet storytime with your kids.
8. A Chance to Lie in the Grass
Sure, you can lie in the grass anywhere, but lying in the grass at Brookside is amazing; the grounds are so well cared for. You should know before going there is no food or drink allowed on the grounds and picnics are not allowed. Also, dogs are allowed, except for service dogs.
RELATED: Great Things to Do with Kids in West Virginia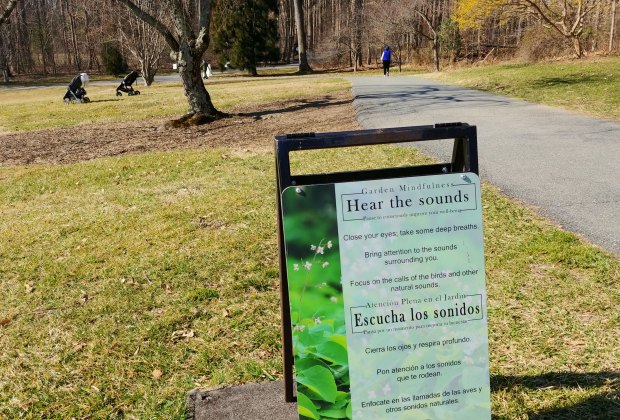 Kids will love the nearby attractions. Photo by Shelley Mathews
9. Attractions Adjacent to Wheaton Park
As beautiful as Brookside Gardens is, it does come with no food and drink restrictions. Likewise, there are no pets, playgrounds and music. Adjacent Wheaton Park has a kids train, carousel, picnic areas, paths, and an enormous playground area. You can enter Wheaton Park via a direct path from Brookside Gardens to easily access any of these.
10. Free and Convenient Parking
Parking is both free and easy at Brookside Gardens. There are large lots in the nature preserve entrance, main entrance, as well as in adjacent Wheaton Park. In the event of an unlikely overflow, there is also plenty of street parking in the surrounding residential neighborhoods. Brookside Gardens is also FREE to enter.
Getting There
Brookside Gardens, open from sunrise to sunset, is located at 1800 Glenallen Avenue in Wheaton. From Washington, DC, take 16th Street NW to Md. Route 97 North/Georgia Avenue. Follow to Glenallan Avenue in Wheaton/Glenmont and turn right into the gardens.