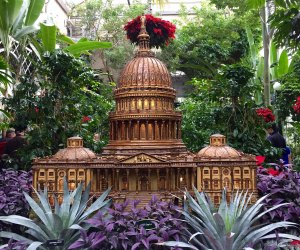 12 Great Places to Explore the Natural World in the Washington, DC Area
The museums, monuments, and memorials in Washington, DC grab a lot of attention, and rightly so! This city is filled with culture, art, science, and history. But if you're jonesing for some outside time and the kids need to burn off some energy or if your family wants to get up close with some flora and fauna, the DC area has that in spades, too.
All easily accessible and kid-friendly, these 12 parks, playgrounds, zoos, and open-air theaters are a must for DC families.
Explore Parks and Gardens

1. Wolf Trap Children's Theatre in the Woods – Vienna, VA
1645 Trap Road
Get outside and experience the theater! From June to August, this company—which performs outdoors in the National Park for the Performing Arts—mounts 70 theater, dance, storytelling and puppetry shows aimed at kids ages 5 to 12.
2. Canal Park – Washington, DC
200 M Street SE
Once a bus parking lot, Canal Park is now a three-acre space in the Capitol Riverfront area that offers dancing fountains in summer, an outdoor ice rink in the winter, performances and events for kids, markets, power adapters for mobile devices on park benches, and plenty of open grassy areas for free play.
3. Clemyjontri Park – McLean, VA
6317 Georgetown Pike
This Fairfax County green space has a fabulous playground that's specially designed so children of all abilities can play together. Features include ramps, high-backed swings and armrests. There's also a picnic area and a colorful carousel that's low to the ground to accommodate the physically challenged.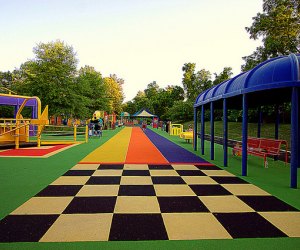 Clemyjontri Park has a bit of something for every child. Photo by Rupa Panda/CC BY 2.0

4. Ashburn Park – Ashburn, VA
There's a gem of a playground in the seemingly ever-expanding Ashburn area. Set back in the woods with plenty of shade, it has wood chip grounds, and separate play areas and equipment for children of different ages. There's also a lovely covered pavilion and picnic tables.

5. Wheaton Regional Park – Wheaton, MD
You'll find many attractions inside this 536-acre Montgomery County park. However, my favorite is Brookside Gardens, a gorgeous horticultural display garden with several different sections, including aquatic, azalea, rose, Japanese-style and children's gardens. During the summer, you can also enjoy the Wings of Fancy Live Butterfly Exhibit. For choo-choo lovers, a ride on the nearby Cabin John Miniature Train should be a big hit.

5. Glen Echo Park – Glen Echo, MD
7300 MacArthur Boulevard
Highlights for families at this national park include the Dentzel Carousel and The Puppet Co., an award-winning children's theater troupe that presents original and traditional tales using hand puppets, rod puppets, body puppets, shadow puppets and marionettes.

6. Seneca Creek Park – Poolesville, MD
For adventurous families with older kids, the big draw is the zip line, as well as fishing, hiking and canoeing. There are also lots of trails and lawns for romping.
7. Rock Creek Park - Washington, DC
5200 Glover Road NW
Spread over nearly 1,800 acres, Rock Creek Par is a natural gem within bustling DC. Families can enjoy 32 miles of hiking trails, paved biking paths, picnic areas, and two playgrounds. Interested in spending some time on the water? Kayaks, canoes, and stand up paddle boards are available f or rent. And definitely head to the nature center to see live creatures, from turtles to bees, and catch a starry show at the on-site planetarium.

See the Animals

8. The National Zoo - Washington, DC
3001 Connecticut Avenue NW
On every family's DC bucket list, the National Zoo is home to nearly 3,000 animals. And besides the zoo experience you can expect, it also hosts fun classes for various age groups, Snore & Roar sleepovers for kids aged six and up, and the annual ZooLights holiday spectacular (which is offered free of charge to visitors).
9. Frying Pan Farm Park – Herndon, VA
2709 West Ox Road
Kids can hang out with horses, chickens, rabbits, sheep, goats, cows and pigs at Kidwell Farm, the park's recreation of a '30s working homestead. Wagon rides are also available.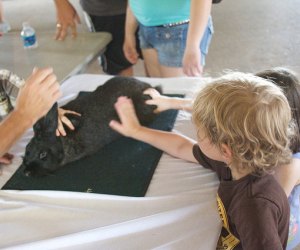 Get up close with the animals at Frying Pan Farm Park. Photo by Clayton O'Neill/CC BY 2.0

10. Leesburg Animal Park – Leesburg, VA
19270 James Monroe Highway
Families can touch the donkeys, llamas, cows, deer, goats, sheep and pigs in the petting zoo, and marvel at more exotic creatures like lemurs, gibbons and zebras. The pony and wagon rides are also sure to please.

11. Reston Zoo – Vienna, VA
1228 Hunter Mill Road
There's a petting zoo with the usual suspects (sheep, lambs, goats, llamas, rabbits, etc.) and Zoofari Wagon Rides, during which kids can feed wild animals like bison, watusi, ostriches and camels.
12. The National Aquarium - Baltimore, MD
501 E Pratt Street
Don't miss getting up close with marine life at The National Aquarium in Baltimore, which is just a 45 minute drive from downtown DC. Visitors can see sharks, dolphins, alligators, turtles, and of course, a whole host of fish. Sign up for a behind-the-scenes tour, join in on casual expert talks about the wildlife, or watch a 4-D immersive video.
Don't miss out! Sign up for our free newsletter and stay up-to-date on the best things to do in Washington DC with kids.