Pick Your Own Berry Farms Open Now Near DC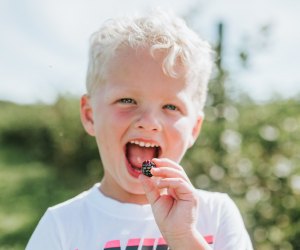 Heading to a pick-your-own farm in the DC area is an outdoor adventure with a sweet reward, especially now, at the tail end of blueberry season and the start of peach picking. Picking protocols are a bit less stringent this year, and farms in Virginia and Maryland have their gates open wide to welcome visitors to pick their own fruit and vegetables.
Whether this is your child's first time at the berry patch or you're looking to fill pies, jam jars, smoothies, and shortcakes for months to come, you'll want to check out our list of Washington, DC-area farms, where families can stock up on sweet, juicy fruits of all kinds. Strawberries, cherries, blueberries, blackberries, raspberries, peaches and apples all can be picked straight from the bush and tree. Some farms also invite visitors to pick flowers and veggies, and dig for potatoes.
Be sure to call ahead to confirm the daily schedule and fruit availability as things change quickly at a farm, and follow these "rules of the row" when you go:
1. Plan in advance. Call ahead to see what's available for picking and ask about the farm's protocol this year. Are gloves required? Masks?
2. If possible, make an appointment and pay in advance. Many farms offer online booking this year.
3. Cancel if anyone in your family is ill.
4. Be vigilant—especially with kids—about the "no eating in the field" rule. This is particularly a concern while COVID-19 is still hanging around. Instead, wait to nibble until you've washed fruit (and hands) at home. Pack hand sanitizer to allow kids to sanitize before picking and again when done.