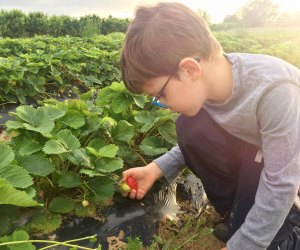 The Best U-Pick Strawberry Farms near DC for Family Fun
There's nothing like the sweet taste of a ripe, juicy strawberry, especially fresh from the field. Pick-your-own berry farms are a great way to teach your kids where their food comes from, give them an appreciation for the earth and farms, and let them pick (and eat!) as many juicy fresh berries as they can handle.
Dozens of farms in the DC area offer seasonal berry pickingl; these 11 are Mommy Poppins' picks for the best farms to pick strawberries in 2021.
If you're looking to pick other types of vegetables, fruit, and berries, check out these farms that offer pick-your-own options.
For the best picking experience, always check the farm website or give them a call before you head out. Availability, hours, and crop conditions can change rapidly. In addition, many of the farms require reservations, especially on weekends, to avoid overcrowding. Make sure you and your kiddos are dressed appropriately – it can get messy and muddy in the fields so boots are a good choice for footwear. Some of the farms welcome furry family members as well, but be sure to check the rules in advance.
If you're looking to pick other types of vegetables, fruit and berries, check out this list of farms that offer other pick-your-own options.
OUR LATEST VIDEOS
U-Pick Strawberry Farms in Northern Virginia
Open for the season by reservation only. Visit the website to make a reservation.
No admission fee, pay for what you pick. Call for pricing.
There are two locations to pick strawberries at Wegmeyer Farms in Loudoun County. A third location, Gilbert's Corner in Aldie, offers pre-picked strawberries for sale and fresh baked donuts.
Open for the season Monday-Saturday by reservation only. Make a reservation by 8pm the night before picking.
$30 per gallon bucket or $9 per quart container
This family farm in Prince William County offers pick-your-own strawberries in the spring, pumpkins in the fall, and a summer produce stand.
RELATED: Family-Friendly Farm Stays Where Kids Can Meet the Animals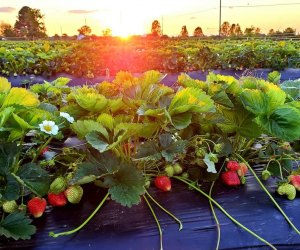 Enjoy some of these sweet treats from Yankey Farms. Photo courtesy of Yankey Farms
Open 7 days a week, 9am-6pm. No reservations required.
$3.29 per pound for pick-your-own strawberries
Braehead Farm has a variety of pick-your-own fruits and veggies available in addition to strawberries. The Play-grounds in the Barn Lot located right behind the farm offer lots of fun activities, including swings and slides, a corn pit, trikes and push tractors to ride, and farm animals to meet. Admission to the playground is $5 per person; ages 2 and younger are free.
Opening late May-early June for strawberry season. Check website for details.
Prices vary. Call ahead for details. This family-run farm about a 90-minute drive from DC is perched high on a hill with stunning views of the Virginia countryside. In addition to strawberries, Hollin Farms offers many other pick-your-own fruits and vegetables from late May through October; check the website for the long list, ranging from potatoes to okra to cherries. There's also a farm stand where you can purchase fruits and veggies and free-range Angus beef.
Strawberry patch open for the season, no reservations required. Check on the day before visiting to confirm fields will be open.
No admission fee. Call for strawberry pricing.
In addition to strawberries, Messick's Farm Market offers pick-your-own tomatoes in late July and August, pick-your-own flowers throughout the summer, and pick-your-own pumpkins. If your kids get bored picking, there's a petting zoo where you can feed farm animals, a giant jump pillow, a climbing tower and slides, and a gravel digging pit with construction toys.
U-Pick Strawberry Farms in Maryland
Open for strawberry picking.
Admission $3 per person, under 2 is free. This includes admission to the Farm Park.
Strawberries cost: $6 per quart, $25 for a half-flat (four quarts), $45 for one flat (8 eight quarts)
One of the most popular farms for families in the region to visit, Butler's Orchard has more than 23 different varieties of fruits, vegetables, and flowers to pick. This year, reservations are required so visit the website. Cut your own peonies will also be available in May and June. The $3 price of admission includes access to the Farm Park, a fun farm playground with giant slides, wooden climbing structures, farm animals to meet, and pedal tractors. Stay all day and grab a bite to eat at the Farmer's Porch café.
Open for strawberry picking seven days a week, 10am-5pm
No admission fee. Strawberries are priced per pound.
This family farm in Waldorf has been farming this land for more than 100 years. Strawberry picking season is open and reservations are not required; check the farm's Facebook page for daily updates on picking conditions. On weekends, the milkshake trailer sells fresh strawberry shortcakes, milkshakes, and ice cream cones.
Open for the season. Mon 9 am-5 pm; Tues 9 am-1pm; Wed 9am-5 pm; Thurs 9am-1 pm; Fri 9 am-6pm; Sat 9am-3 pm
Strawberry pricing: quart $5, gallon bucket $20
Strawberry picking season has begun at Swann Farms and conditions right now are optimal. Reservations are not required, but visit the website before you go to confirm hours for the day and picking conditions. The farm also offers U-pick blackberries, raspberries, apples, blueberries, and pumpkins when in season.
RELATED: Great Places to Explore the Natural World in DC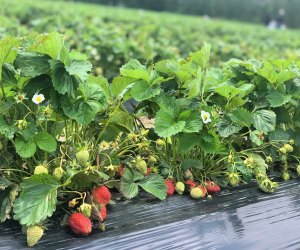 Strawberry picking conditions are ideal at Swann Farms. Photo courtesy of Swann Farms
As of mid-May 2021, the farm is not yet open for strawberry picking. Check the website in late May.
No admission fee. Price is per container, available for purchase on the farm. Call for details.
This farm near Baltimore offers a variety of pick-your-own fruits and vegetables, including cherries, raspberries, blueberries, peaches, apples, tomatoes, broccoli, kale, and pumpkins. The Red Barn farmer's market also offers pre-picked produce for sale.
As of May 22, 2021, the farm was not yet open for the season. Pick-your-own schedule will be announced on the website and Facebook.
Weber's Peachberry Farm will be open for strawberry picking soon – check its Facebook page for updates. A reservation is required in advance of picking. The farm will be hosting its second annual drive-thru Strawberry Festival May 22-23, and its annual Strawberry Festival in person June 5-6. All kinds of strawberry treats will be available and the in-person festival will have lots of fun activities for kids, including tractor rides, barnyard animals to meet, gem mining, and balloon artists.
Open as of May 20, 2021. Hours are 9am-5 pm seven days a week.
Pay per container of strawberries; call for more information.
Call the Baugher's Orchard picking hotline at 410-857-0111 for the latest updates on conditions and hours for picking that day. In addition to pick-your-own fruits and veggies, Baugher's Orchard also has several farm markets, a restaurant, and a petting zoo where kids can get close to farm animals and even feed them–animal food is available for purchase. There are several playgrounds near the petting zoo to keep kids entertained.