Best Strawberry Picking Near DC and Summer Strawberry Festivals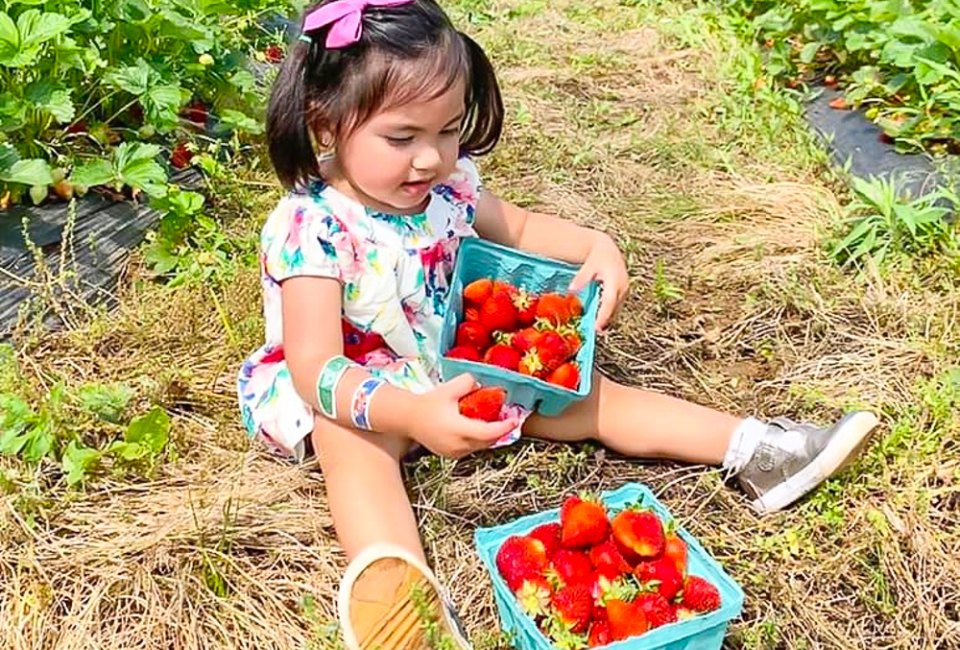 5/19/23
- By
Meredith Kiryakov
Late spring/early summer is strawberry picking season in the DC area, and our taste buds are more than ready. From pick-your-own berry farms to full-on strawberry festivals, there are so many opportunities to pick and celebrate this delicious fruit.
Here are 12 strawberry festivals and places to go strawberry picking in Northern Virginia and Maryland, not too far from DC. While kids will love the act of strawberry picking alone, several of the farms on this list also offer other fun activities like petting zoos, slides, playgrounds, and more.
For more fun on the farm, check out our Pick-Your-Own Guide to Farms in Washington, DC, which includes our roundup of even more places to go berry picking near DC.
For the best picking experience, always call the farm or check its website before you head out. Availability, hours, and crop conditions can change rapidly. Some of the farms require reservations, especially on weekends. Make sure you and your kiddos are dressed appropriately—it can get messy and muddy in the fields. Some of the farms welcome pets, but check the rules in advance.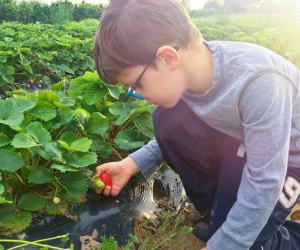 There's nothing quite like a freshly picked strawberry. Photo courtesy of Swann Farms
Best Old-Fashioned Farms for Strawberry Picking Near DC
Strawberry-picking season generally begins in mid May at this family-owned farm, which does not require reservations. Just be sure to visit the website before you go to confirm hours and picking conditions (the farm is closed on Mondays and Tuesdays). Visitors must pre-purchase a container before picking.
This family farm in Prince William County offers pick-your-own strawberries each spring through early to mid June. Reservations are required on Saturdays and Memorial Day, but on all other days families can just show up. The farm provides containers for the strawberries—no outside containers are allowed.
3. Wegmeyer Farms — Hamilton and Leesburg, VA
Families can pick strawberries at two Wegmeyer Farms locations in Loudoun County—one in Hamilton and the other in Leesburg. Reservations are required for both. A third location, Gilbert's Corner in Aldie, offers pre-picked strawberries and strawberry pies for sale.
This family farm in Waldorf has been farming this land for more than 100 years. Strawberry-picking season generally begins in late May; check the farm's Facebook page for daily updates on picking conditions. On weekends, a milkshake trailer sells fresh strawberry shortcakes, milkshakes, and ice cream cones.
This farm near Baltimore offers strawberry picking from late May through early June. Call 410-442-2605 or check the farm's website before heading over to see what is available that day. You must pre-purchase a container before entering the field, then fill it up with as many berries as will fit.
RELATED: 10 Great Animal Farms and Petting Zoos Near Washington, DC

Sweet strawberries + playground fun = a perfect spring day at Butler's Orchard. Photo courtesy of the farm
Best Strawberry Picking Farms with Other Activities for Kids
One of the most popular farms in the region for families to visit, Butler's Orchard offers pick-your-own strawberries in late May and June. Reservations must be made in advance online. The small admission fee includes access to the Farm Park, a fun farm playground with giant slides, wooden climbing structures, farm animals to meet, and pedal tractors. Stay all day and grab a bite to eat at the Farmer's Porch Kitchen.
Strawberry picking at Braehead Farm is generally available from late April through May (and sometimes into early June). No reservations are needed, and there is no admission fee—families only pay for what they pick. After strawberry picking, families can pay a small fee to visit The Family Playgrounds and enjoy lots of fun activities, including swings and slides, a corn pit, trikes and push tractors to ride, and farm animals to meet.
Baugher's Orchard offers pick-your-own strawberries from mid May through June. Take a family wagon ride to the fields for strawberry picking, then pet and feed goats, lambs, and other farm animals in the petting zoo. There are two playgrounds near the petting zoo to keep kids entertained, as well as markets and a restaurant. Call the picking hotline at 410-857-0111 for the latest updates on conditions and hours.
RELATED: Spring Festivals and Fairs Near DC for Families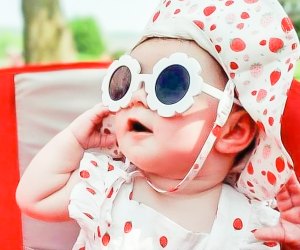 Get into the strawberry spirit at Great County Farms. Photo courtesy of the farm
Best Strawberry Festivals Near DC
Purchase a Farm Pick & Play ticket from mid May through June to enjoy Great Country Farms' 12-acre play area plus access to the strawberry-picking fields. Pay by the pound for strawberries, which are chemical-free. The farm play area includes slides, jumping pillows, climbing structures, a ninja obstacle course, live animals, and more. The farm's Strawberry Jubilee Fest takes place the last two weekends of May and includes live music, contests, games, wagon rides, and other fun activities.
Visit Messick's Farm in the spring to enjoy strawberry picking, a petting zoo where families can feed farm animals, a giant jumping pillow, a zip line, a hayride, and other fun activities. Go on a weekday to avoid admission fees, but note that some activities may not be available. The farm also hosts a two-weekend Strawberry Festival with even more fun things to go.
Weber's Peachberry Farm generally offers pick-your-own strawberries from mid May through mid June. Its nearby sister farm, Weber's Cider Mill Farm, also hosts an annual Strawberry Festival in early June. At the festival, families can enjoy all kinds of strawberry treats and fun activities for kids, including barnyard animals, a barrel train ride, slides, live music, and more.
You don't have to go to a farm to celebrate strawberries. Sandy Spring Museum's annual outdoor Strawberry Festival features two days of live music, kids' games, pony rides, a petting zoo, food trucks, a crafts sale, and other fun activities, plus strawberry shortcake and other delicious treats.
Sign up for the Mommy Poppins Newsletter today!
i