Top 10 Indoor Play Spaces near Boston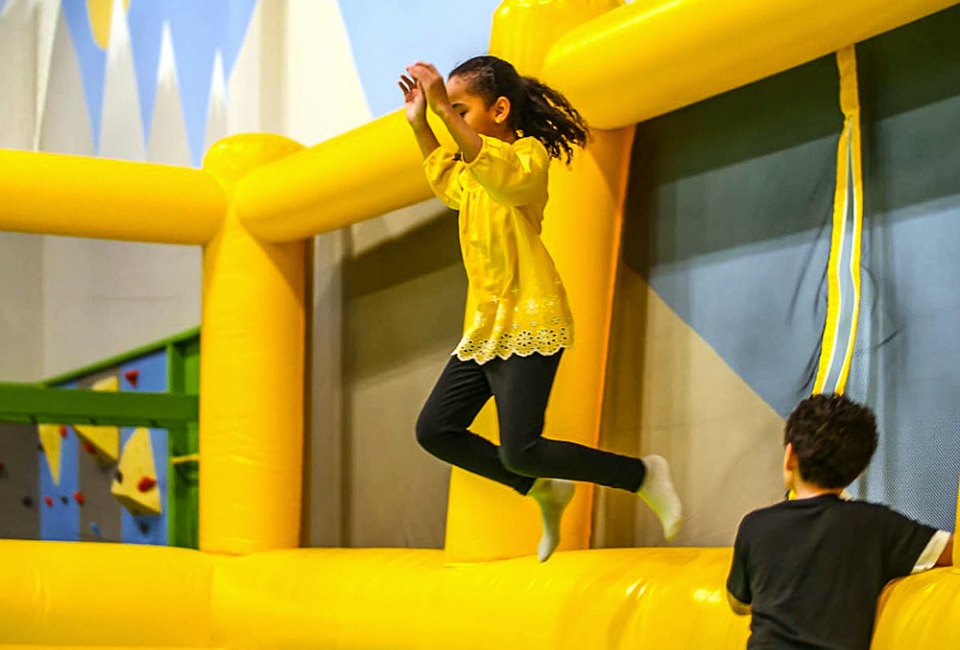 2/4/22
- By
Kelley Heyworth
When weather keeps kids inside in Massachusetts, they don't necessarily need to stay home. Many Boston-area indoor playgrounds and play spaces have the perfect solution for winter days and can keep little ones climbing, bouncing, jumping, and giggling while Mother Nature spreads snow or rain outside. For 2022, play gyms continue to implement enhanced cleaning procedures, protocols, and advance registration requirements, ensuring not only a fun day trip but increased organization and safety.
Look to our Boston Winter Fun Guide for more cabin fever cures, from snow tubing outings to dozens of outdoor winter activities to keep kids busy at home.
Be sure to check with each venue for its COVID guidelines, current opening hours, and requirements before heading out.
Boston Indoor Playgrounds
Housed in an enormous warehouse space with multiple rooms, Jump On In is nothing but enormous inflatable slides and castles. It can be pretty crazy on weekends and holiday weeks, with delighted children bouncing their heads off. That said, you can make a reservation in advance so you're sure to get in, and there is free parking available. It's a fantastic place to bring kids with energy to burn. There are special areas for smaller children, but be warned: larger children often jump their way in.
Note that the Woburn location of Jump On In remains closed for pandemic concerns but still intends to reopen.

Photo courtesy of Boston Playground
Check out one of the awesome things that opened last year in Boston – Boston Playground. This indoor playground for kids ages one and older features inflatables, climbing areas, wide-open play spaces, and more. Open play sessions are held every day of the week, and guests can also book private play sessions. Walk-ins are welcome, but call ahead to make sure there's enough space to meet capacity restrictions.
Indoor Playgrounds South of Boston
To quote the website: "It's Game Time!" The South Shore Sports Center is a full-service sports center for kids, youth, and adults to enjoy. There's a Tots Soccer program for kids ages 2-6, youth and adult leagues, and birthday/field rental options. For the youngest kids (ages 1-6), playtime at Kids World is a must. The center provides this indoor play space for little ones to jump, ride, and play while building social skills and fostering relationships.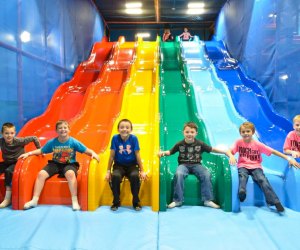 Photo courtesy of Billy Beez, Kingston
Billy Beez – Kingston (and Holyoke)
Billy Beez is best known for its rainbow of side-by-side slides: children love racing their friends as they fly down the bright, plastic chutes. But there's much more to do on this South Shore-mall-based play mecca, including climbing through a giant, tunnel-packed jungle gym, playing hoops on the sports courts, and shooting balls in a "ballistics arena." There even a "tot town" for little ones. For readers who live in the far west suburbs, check out Billy Beez at the Holyoke Mall.
Indoor Playgrounds West of Boston
Jam Time – Maynard, Norwood, Natick, and Natick Mall
Choose among drop-in playtime (in certain locations), private playtime, and birthday parties at Jam Time. Expect regularly cleaned play structures, slides, ride-on toys, and more to keep kids busy. Be sure to check each location's calendar and book spots before heading out.
Although the Westford BB Kidz Club location has closed, if Leominster isn't too far a drive for you, your kids can still enjoy indoor play for all ages, from imaginative play areas for little ones to arcade machines for bigger kids. Leave your shoes at the door and enjoy this indoor play space (socks are required!).

BeanStalk is open for play. Photo courtesy of BeanStalk Adventure Ropes Course
Indoor Playgrounds North of Boston
Beanstalk is open for both walk-ins and online reservations. Expect zig-zag beams, cargo nets, angled rope ladders, crisscross walks, and ziplines. For young adventurers less than 48 inches tall there is BeanSprout, a kids-only ropes course with platforms less than 3 feet from the ground.

Photo courtesy of the Childrens Piazza
Walk in or reserve open playtime at Children's Piazza, a beautiful "play cafe" featuring lots of climbing areas, chalkboards to scribble on, toys, and much more. It's also booking birthday parties. There's even a coffee shop that serves homemade cookies, fruit smoothies, and coffee for an afternoon family snack or pick-me-up.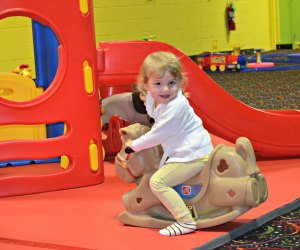 Toys are regularly cleaned at Woburn's Vinkari Safari (don't forget your masks!) Photo courtesy of VinKari Safari
Designed for kids ages 6 months old to 7 years old, Vinkari Safari is a favorite among local families for its big space filled with interesting toys, climbing structures, and ride-ons to keep children entertained for hours on end. Reservations are not necessary for open play.
There is tons of fun to be had here, including a triple wave slide, sports court, multi-level tube slide, a giant sand room, treehouse, and arcade. All that playing is sure to work up an appetite, so you can enjoy a bite to eat at the convenient on-site snack bar; options include kid-friendly favorites such as pizza, chicken nuggets, hot dogs, and juice. Parents are admitted free.