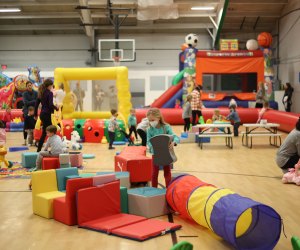 South Shore Sports Center
The South Shore Sports Center is a full-service sports and entertainment complex for preschoolers to adults. Have a birthday party, jump for joy at the Kids World indoor play space, join a youth or adult basketball or soccer league, participate in soccer or sports camps, or rent a turf field or basketball court. The possibilties are endless!
Kids World is open mornings Monday through Saturday and is an exciting indoor playspace geared toward children ages 1-6. Activiites include two bouncy houses and a number of fun, age appropriate toys. Perks include free coffee, free wifi, comfortable seating, and membership discounts. No pre-registration is required. Note: Kids World will be closed for the summer and will reopen in September.
Planning a birthday party? The Sports Center has you covered. Rent out Kids World for private parties for children ages 8 and under and enjoy the use of two bouncy houses along with numerous age appropriate toys. Follow the party with pizza and cake and ice cream in the upstairs lounge. The kids will have a blast, and parents can sit back and have the party hosted by the reliable and friendly staff.
If your child is into sports, you can have a sports birthday party on the turf field or basketball court. Hire an optional Athletic Director to facilitate games including soccer, flag football, capture the flag, dodgeball, and wiffle ball. Follow the activities in the lounge with pizza and cake and ice cream with your own host.
If you're looking for an adult space for an event, rent one of the fields or the lounge for a great time.
Contact South Shore Sports Center for more information!
---
South Shore Sports Center
Reviews