West Virginia with Kids: Top Things to Do in the Mountain State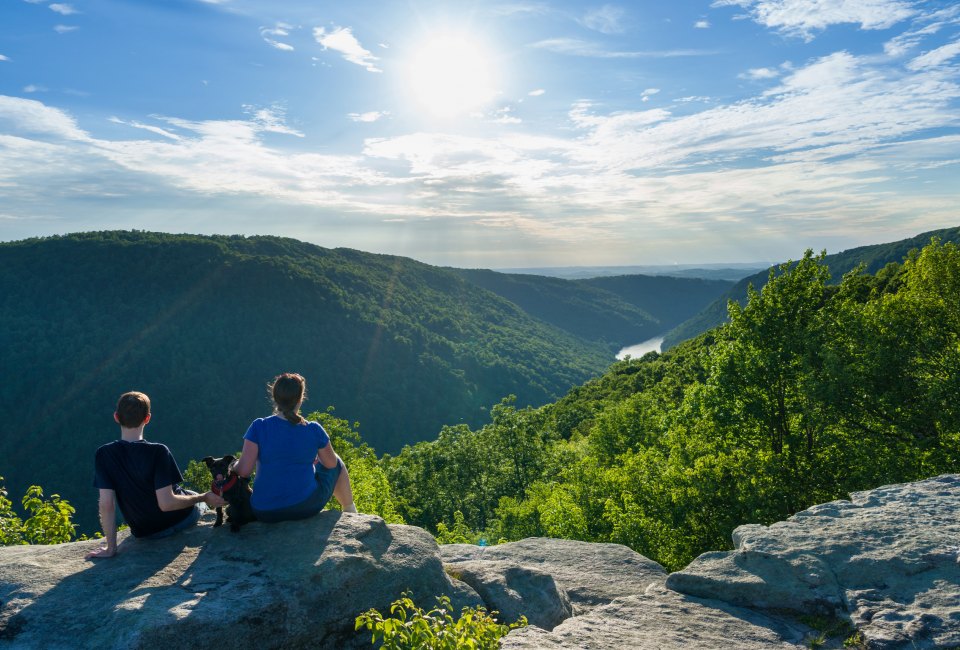 10/26/19
- By
Toby B
From the moment my family arrived, we found West Virginia to be quite literally a breath of fresh air. A quick four-day family vacation to the Mountain State left such an impression that my tween daughter announced nearly immediately that she'll be moving there!
Whether seeking outdoor adventures, such as whitewater rafting and hiking in stunning West Virginia's state parks, or enjoying a classic state fair and exploring caves, families with kids of all ages will find plenty of fun things to do in West Virginia. We knew little of this mountainous southern state beyond the refrain of John Denver's anthem...."almost heaven, West Virginia." But we couldn't agree more. What we found was a refreshingly authentic travel experience, steeped in nature and sweetened by welcoming locals. Our overwhelming impression is just the absolute greenness of the sate: thick forests of trees, so many trees, and lush, dense greenery. More than three-quarters of the state is covered by forest.
Read on for our family-friendly travel guide-slash-love-letter to the state of West Virginia. We're sharing some of the favorite restaurants, resorts, cities in West Virginia, and yes the abundance of outdoor opportunities and more fun things to do in West Virginia when traveling with kids, from camping to skiing and more.
Favorite Things To Do in West Virginia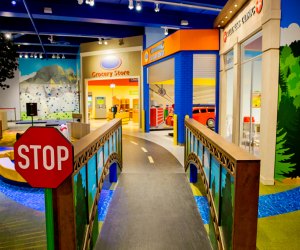 Kids will play all day at the Clay Center's Discovery Center! Photo courtesy the West Virginia Tourism Office
1. Best West Virginia Children's Museum: The Clay Center for the Arts & Sciences (Charleston, West Virginia)
The Clay Center for the Arts is an absolute must-see on any family visit to West Virginia. It houses several museums and exhibit spaces, including the 12,000-square-foot Avampato Discovery Center, an impressive children's' museum. The centerpiece of the children's museum is a multistory free-form climbing structure from which you can see all the museum has to offer. WaterWorks is a fun (and very wet!) water play area with two giant water wheels. In the pretend city of My Town, kids can role-play anything from a veterinarian to the governor of West Virginia. Flex your muscles in the Healthy Me! exhibit, where kids can perfect their fastballs and pedal along with a skeletal friend. Compose, create, engineer, and conduct all kinds of beautiful sounds in the Maier Foundation Music Studio, where everyone can explore their musical side.

In addition to the Children's Museum, the Clay Center is home to a separate art museum, a performance center, and a planetarium and 3D theater. Be sure to allow several hours to explore; our kids could only be convinced to leave when the museum was closing for the day.

2. Best All-in-One Destination: Oglebay Resort (Wheeling, West Virginia)
If you want one place that has it all, try a visit or stay at Oglebay Resort. All the elements you need for a perfect vacation can be found on the grounds of this expansive 1,700-acre West Virginia resort. Accommodation options include the Wilson Lodge, the Cottages and Estate Houses, all offering the amenities of a fine hotel. Oglebay is home to half a dozen restaurants, two museums, a spa, and a golf course. There are both indoor and outdoor pools, too. You can ride a horse, play tennis, tour the grounds on a Segway, go kayaking on the lake, take the Aerial Challenge Course, stroll through gardens, and even get up close and personal with some of the many deer who call Oglebay home. Deer are not the only animals you can see while visiting, which leads us to….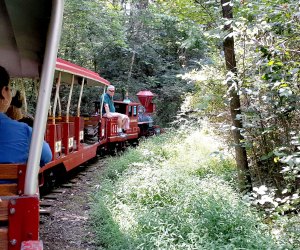 Ride the train to see more animals at the Good Zoo at Oglebay Resort.
3. Best Zoo: The Good Zoo at Oglebay Resort
Home to a wide range of animals from reindeer to cheetah to bald eagles, the aptly named Good Zoo is the only AZA-accredited zoo in the state of West Virginia. The enclosures blend seamlessly into the parkland, making a visit to the zoo literally a walk in the park! The Good Zoo is involved with several Species Survival Plan programs, and director Dr. Joe shared with us behind-the-scenes explanations for the choices the zoo has made with regard to breeding, enclosure design, and pairing of species in exhibits. We fed the goats, got up close and personal with wallabies and exotic birds, and saw a real live chipmunk! (Okay, that one wasn't an official zoo animal, but it was very cute.) Kids will love the train ride that gives you a closer view of some of the animals, including the zebra. Cough up the extra bird feed to meet a two-toed sloth, a ring-tailed lemur, or—holy-mother-of-my-favorite-animal—a red panda!
RELATED: 25 Fun Things To Do in Nashville with Kids
4. Best Lookout Point: Coopers Rock State Forest (near Morgantown)
Just about everywhere you look in West Virginia there's another gorgeous nature scene. The state is entirely nestled within the Appalachian mountains, offering dramatic vistas and stunning landscapes at every turn. Even so, there are some places that stand out. One such place is Coopers Rock State Forest, located just outside of Morgantown. Whether you're looking for an invigorating hike or a contemplative stroll, you can find your path at Coopers Rock. Along the way are countless Instagrammable spots: trees with hidey holes, naturally-occurring rock formations that defy the laws of gravity, trees growing out of boulders, and the granddaddy of them all: the eponymous overlook, a large flat rock with breathtaking views of the Cheat River below. Camp at one of 25 camping sites here, or just stay the day to hike, bike, fish, ski, or go rafting on the Cheat River.
Fun Fact: There's no fee to visit any West Virginia state parks.
5. Best Place to Teach Kids about Stargazing: WVU Planetarium (Morgantown, West Virginia)
Morgantown is home to the state's largest public university: West Virginia University (WVU), known for groundbreaking research in fields such as medicine, astronomy, climate science, and the humanities. Though the work being done there is next level, WVU manages to bring it back down to Earth at its child-friendly planetarium shows. Current sky maps are projected onto the 360 screens, followed by a fun, educational film about our solar system and the stars. Weather permitting, stargazing follows, as the planetarium's 14-inch Celestron telescope is trained upon the visible objects in the night sky. We saw the rings of Saturn! (Check website for show dates.)

6. Best Place to See the Stars in West Virginia: Green Bank Observatory (Green Bank, West Virginia)
The Green Bank Observatory is home to eight telescopes, most notably the Robert C. Byrd Green Bank Telescope, the world's largest fully steerable radio telescope. Among the scope's claims to fame is the discovery of the most massive neutron star found to date. If you want to see the telescopes up close, take a tour beginning at the Green Bank Science Center. Tours also include science demos and a short film.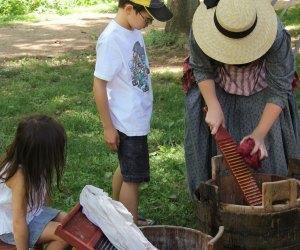 See historical demonstrations, such as - gasp! - laundry done by hand at Hapers Ferry. Photo courtesy of Harpers Ferry National Historical Park
7. Best Place to Visit History: Harpers Ferry
Harpers Ferry earned its place in the history books as the site of John Brown's Raid, a failed attempt by abolitionist Brown to spark a slave rebellion that some consider a "dress rehearsal" for the Civil War. Today, step back through time as you visit the historic buildings and museums of Lower Town, tour Civil War battlefields such as Bolivar Heights, and take one of the historic trade workshops that are offered throughout the year at Harpers Ferry National Historical Park. Want to a hike along the Appalachian Trail? Harpers Ferry is considered the "psychological midpoint" of the 2200 mile trek and is home to Appalachian Trail Conservancy, as well as 22 miles of hiking trails where West Virginia, Virginia, and Maryland meet. Don't miss Harpers Ferry, it's among our favorite things to do in West Virginia.
Fun Fact: West Virginia's statehood was born during the Civil War when abolitionist Virginians broke away from secessionist neighbors, choosing to join the Union.
8. Best Place for White Water Rafting: The New River (in and around Fayetteville, West Virginia)
With rapids rated from Class I up to Class IV, The New River offers everything from beginner "lazy floats" to expert-level wild rides. Rafting season at the New River runs from early spring through fall.
For more extreme thrills, check out the short season at Gauley River. Every year Summersville Lake is drained through scheduled dam releases. The result? Class V rapids for an unmatched adrenaline-pumping ride. "Gauley Season" is in September/October.
9. Best Steep Drop: Bridge Day at New River Gorge Bridge (near Fayetteville)
Generally speaking, the view down from the New Gorge Bridge is for looking only. But once a year, experienced jumpers get the chance to BASE jump down into the Gorge below. It's all part of Bridge Day, West Virginia's largest single-day festival. For those not up for the 876 foot plummet, there is a rappel option (at 851 feet one of the longest free rappels in the world) or a 600-foot long high line, (a mere 300-foot vertical drop). Thousands of spectators take this once-a-year opportunity to walk across the bridge and watch the action. (Bridge Day is held every year on the third Saturday in October.)
Learn to ski at Snowshoe Mountain, the state's largest ski resort. Photo courtesy of Snowshoe Mountain
10. Best Steep Drop (snow edition): Snowshoe Mountain
It should come as no surprise that one of the best things to do in West Virginia is to ski. The Mountain State moniker isn't a vanity name. Snowshoe Mountain Resort is the largest ski resort in the state, and among its bona fides are the state's highest total elevation drop, runs of nearly 1500 feet, and the steepest and longest slopes in the eastern U.S. south of New England's Sugarloaf. Multiple lodging options, restaurants, and activities, from snow tubing to spa-time, are available. Those looking for a uniquely West Virginian flavor might want to check out the more intimate Winterplace Ski Resort.
11. Best Place to Go Underground: Lost World Caverns (Lewisburg, West Virginia)
Sometimes you need to go underground. Like about 120 feet down. Self-guided tours of the Lost World Caverns take about 45 minutes. The half-mile loop is filled with stalactites and stalagmites, including the Snowy Chandelier, a 30-ton compound stalactite that's believed to be the biggest in the country. The guided "Wild Tour" explores the deep, dark corners of the caverns, for an in-depth experience that promises to leave you muddy. All ages and there is a picnic area, too.
Fun Fact: No matter the temperature outside, the cave remains a constant 52 degrees.
RELATED: Richmond, VA with Kids: 50 Fun Things To Do in Richmond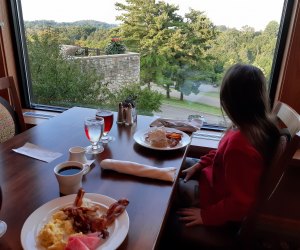 We were kept well-fed across the state!
West Virginia Restaurants
12. Where to Eat if You're on A Special Diet: Everywhere (more or less!)
There might have been a time when traveling with food restrictions was a challenge, but just about everywhere our food allergy-family was able to find something to eat safely. There seemed to be gluten-free and vegetarian options clearly spelled out on every menu. I was able to gorge on gluten-free cakes (thanks, Terra Cafe) and barbecue (thanks, Route 88 BBQ & Brew), eat my burger on a gluten-free bun (it was yummy, Glassworks Grill!), scarf down one of the tastiest gluten-free pizza crusts I've ever had (thank you Pies & Pints!), and top it all off with a sumptuous Lemon Rosemary sorbet. (Who came up with that genius pairing? Thank you, Ellen's Ice Cream). Our vegetarian companions were equally well-served, and I am told that more and more, vegan alternatives are available. Of course, your mileage may vary, and you should always check ahead to see if your needs can be accommodated.
13. What to Eat While Ignoring Your Diet: Holl's Chocolate
This small family-owned chocolate shop has two locations, one in Vienna and one in Charleston's Capitol Market. The handcrafted Swiss chocolate truffles come in a wide range of flavors, ranging from the classic milk and dark to all sorts of nutty and liqueur inspired fillings. Half the fun is filling out your order form, checking off your choices while viewing the scrumptious morsels in the display cases. Be sure to get your free sample with each order! This month's special is the pumpkin pie truffle.
14. What to Eat if You Want to Eat Like a Local: Pepperoni Roll
I'm told this homegrown delicacy is considered the state food: a simple combination of pepperoni wrapped in white bread dough. It can be found almost everywhere, (particularly gas stations and convenience stores) and makes for a great on-the-go snack. Serve warm or room temperature—and prepare to enjoy.
Best Time of Year to Visit West Virginia
15. Best Reason to Come Back in Winter: Winter Festival of Lights at Oglebay Resort
Winter Festival of Lights features three hundred acres of twinkling holiday lights, including 90 lighted displays over a 6-mile drive. The Christmas lights displays can be viewed from your own car or aboard an iconic Oglebay Trolley. Oglebay was early on the scene with a winter light display, and for the past 34 years has continued to up the ante with new and exciting displays. This year families can don new 3D "Sleigh Bans" glasses: holographic eyewear that transforms every point of light into a magical display. (The festival runs nightly November 7, 2019 - January 1, 2020.)
16. Better Plan a Spring Trip, too: Vandalia Gathering (Charleston, West Virginia)
Rich Appalachian folk culture is celebrated at the annual Vandalia Gathering, keeping the old ways alive in the modern era. The Capitol Complex resonates with the sounds of the fiddle, banjo, mandolin, and guitar, as musicians of all ages pick, strum and fiddle their way through concerts and impromptu jam sessions. Traditional West Virginia dance with its many influences takes center stage, with demonstrations of Irish, Scottish, Morris, Swiss, Croatian and Appalachian dancing. Want to swing your partner? Do si do over for some outdoor square dancing. Attendees can feast on local and ethnic cuisine and discover works by West Virginian artists. (The festival is held over Memorial Day Weekend.)
Fun Fact: The name refers to a proposed 14th colony that would have included most of present-day West Virginia. Vandalia never came to be (the Revolutionary War got in the way), but the word came to represent the desire for a free government in the mountains.
17. Don't Forget About Summer: The State Fair of West Virginia (Fairlea, West Virginia)
This hometown classic summer fair dates back to 1854. With carnival rides, big name concert headliners, livestock competitions (show your beef cattle, sheep, and llamas!), horse shows, and pig racing, the State Fair of West Virginia hits all the right notes. There's even a dairy birthing center, where you may have the luck to witness a calf being born. True to state fair form, the specialty of the house is deep-fried anything. (The state fair runs for two weeks in August).
Best Airport to Fly into West Virginia: Take your pick!
Depending on which part of the state you're visiting, any number of entry points are available for your travel pleasure. Pittsburgh International is a hop skip and a jump away: just 10 minutes in a car and you've crossed the border into northwestern West Virginia. Aiming for the capital city of Charleston, West Virginia? An airport named after flying legend Chuck Yaeger is just the ticket. Many visitors plan their West Virginia trip in conjunction with stops in other Eastern U.S. destinations, such as Washington, DC or nearby Pittsburgh, Pennsylvania, if getting here via an old-fashioned road trip.
This trip was hosted by the West Virginia Tourism Board, but all opinions expressed here belong to the writer. Photos by author, unless otherwise noted.