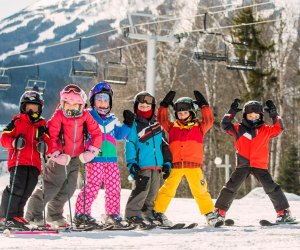 Why Sugarloaf Is My Family's Favorite Ski Resort
Nobody can deny that there are plenty of wonderful ski resorts in southern and central New England. That said, sometimes families want to branch out for something a little different (without going so far as to board a plane to do it). When my family goes skiing, we go to Sugarloaf. Now, look—I know what you're thinking. Why in the name of all that is holy would we voluntarily drive all the way up to the heart of Maine with children just to go skiing? Let me explain.
Find more family ski destinations in our Skiing and Snow Sports Guide.
First, with 162 trails and 2,820 continuous vertical feet of skiing, Sugarloaf is the largest ski resort this side of the Rockies. It also has the East's only lift that services skiing above the tree line (making for stupendous views and awesomely long runs). There are three terrain parks for beginner, intermediate, and advanced skiers, as well as a superpipe and mini-pipe for snowboarders. The mountain gets an average of 200 inches of snow per winter, with plenty of snowmaking to compensate for the lean times. It's no wonder that 11 Olympians, including skier Bode Miller and snowboarder Seth Wescott, call Sugarloaf their home mountain. But impressive stats aren't what draws me and my family to make the four-hour drive from Boston numerous times over the winter. Sugarloaf is the kind of place that offers something for everyone. There's always something to do even if it's too cold to ski; and if you can ski, you get to do it at what many think is the premier mountain in the East. And, as my ski instructors used to say, if you can ski at Sugarloaf, you can ski anywhere. It also helps that the employees, from the ski school to the sandwich counters, are helpful, friendly, and often hilarious.
Ready to take the plunge? Here's my insider's guide to getting the most from Sugarloaf.
RELATED: 9 New England Ski Resorts that Cater to Families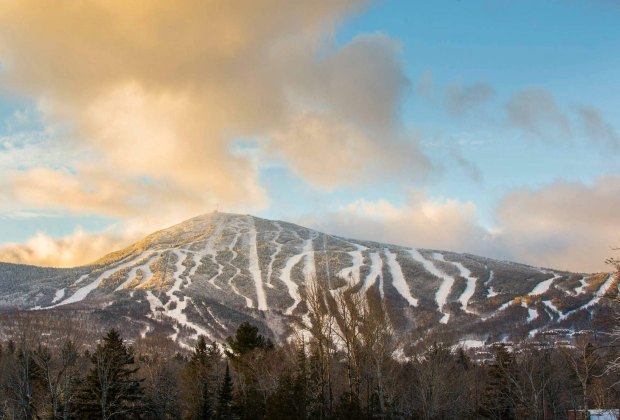 With 162 trails, Sugarloaf is the largest ski resort east of the Rockies.
The Scoop on Skiing (and Ski School)
While it may seem like this mountain is daunting for beginners, it's anything but. Eighty-three trails on the mountain are beginner or intermediate, and trails below the base lodge don't require a ski pass, which make them perfect for newbies. If your children are still learning to ski, or even if they (like most of us) could stand to brush up on their skills, I highly recommend ski or snowboard lessons. Sugarloaf offers classes for all ages, from tiny tots to senior citizens.
Basic kids' classes are broken into two groups based on age: Mountain Magic and Mountain Adventure. Mountain Magic classes for kids 3 to 6 start at $85 half day/$105 full day during peak season, with $10 ski rental. Mountain Adventure is $70/$85 peak season—the extra $15 gets you an extra half-day lesson, which is an excellent investment. It should be noted that lift tickets are not included in the price. Sugarloaf also offers camps for kids of all ages, private lessons, and even family private lessons. I recommend making reservations for any lessons in advance, as classes fill up quickly.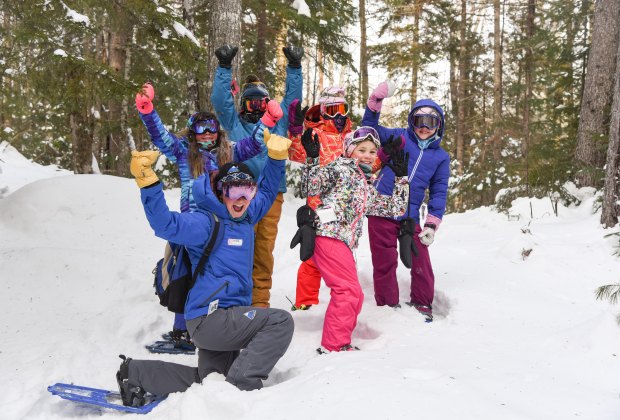 A ski school group enjoys a snowshoe hike.
Other Outdoor Adventures
But what if your kids are too little to ski, or too small for a half day? Don't fear: Sugarloaf Day Care will take kids as young as 10 weeks and as old as five with or without skiing included. Two and three year olds can do the Day Care and then a 45-minute private coaching lesson with the Mooseketeers program; and three and four-year-olds can also take a two-hour Mountain Magic class included in the Day Care rate.
So you're not a fan of alpine skiing? Head down to the Valley to the Sugarloaf Outdoor Center, where you can cross-country ski, snowshoe, ice skate, or mountain bike with one of those cool "fat tire" cycles. The Outdoor Center has more than 90km of Nordic ski trails and an NHL-sized rink, as well as a beautiful view of Sugarloaf. If you're looking for a peaceful place to chill out, the Outdoor Center is an excellent candidate, with quiet woods and a little café to sit and relax.
Older kids might enjoy biking through the snow on fat tires.
Indoor Fun
One of Sugarloaf's few limitations is its location. It turns out that a north-facing mountain in central Maine can get pretty cold sometimes. When your kids don't want to go out, or if the lifts are on wind hold, you can always take them to the pool. The Sugarloaf Sports & Fitness Center has a pool, a full gym, and racquetball/volleyball courts. If you really want to unwind, there's also a spa, six hot tubs, two steam rooms, and two saunas.
If you're looking for a little more action, try the Anti-Gravity Complex at the bottom of the Access Road, just as you enter/exit the mountain. With a skate bowl (and skateboard lessons!), a climbing wall, and giant trampolines, the Anti-Gravity Center will tire your kids right out if they aren't already exhausted after a day on the slopes. Reservations are required two days in advance for trampolines and the climbing wall, and reservations for skateboarding lessons are also recommended.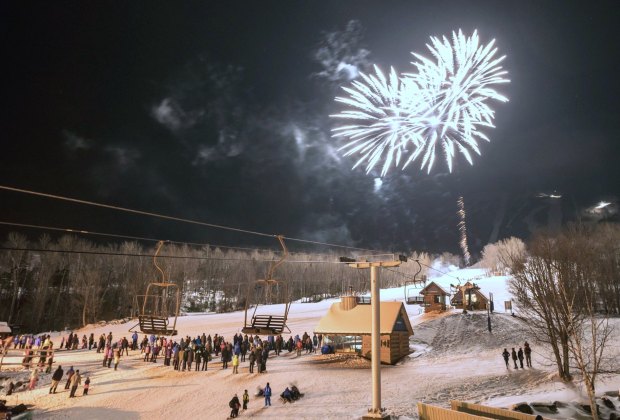 Sugarloaf has periodic fireworks and other festivities throughout the winter season.
If you venture a little farther into Carrabassett Valley, you will find the SugarBowl, a recent addition to the Sugarloaf social scene. With eight lanes of bowling, a golf simulator and an arcade, kids will be entertained for hours. You can even get the shuttle down from and back to the mountain so you can enjoy some of the dozens of beers on tap.
In addition to the permanent activities always available at the mountain, Sugarloaf hosts a variety of events over the winter, like fireworks, torchlight parades, bands and more. Big weekends like the annual Reggae Weekend and vacation weekends are always jam-packed full of activities for the whole family to enjoy.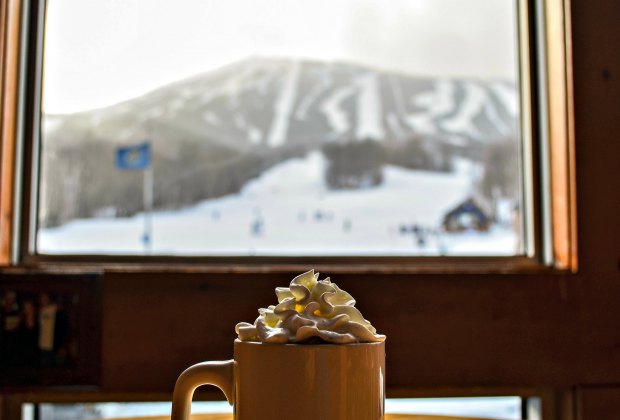 Where to Eat
If you eat anywhere at Sugarloaf, make it The Bag & Kettle. "The Bag" is my favorite restaurant in the world and I have a list of meals I eat from there every winter. It is consistently delicious and comforting. Bag burgers are legendary, and my kids love the chicken fingers, I like the Dixie Chicken sandwich, and we all adore the curly fries. Don't miss the seafood chowder. If you don't want to wait in the lines at lunch, try dinnertime. You'll have a better chance at a table and it's a lot quieter.
Another family favorite is D'Ellies, a sandwich shop and bakery. Open only for breakfast and lunch, D'Ellies also has a line out the door at mealtimes, for good reason. With a long list of sandwiches, paninis, soup, and salad, it's a great place for takeaway food, because getting a seat is next to impossible.
My kids also love The Rack, which is at the bottom of the Access Road near Rt 27. Unlike D'Ellies, the Rack is only open after 4:00, and it's a popular nighttime spot with a constant rotation of bands. It has a menu much like the Bag, with pub fare, and also like the Bag, has video games on site. Sugarloaf native Seth Wescott is an owner of the Rack, so if you keep your eyes peeled, you might get to see him, which is close as you come to seeing royalty at Sugarloaf.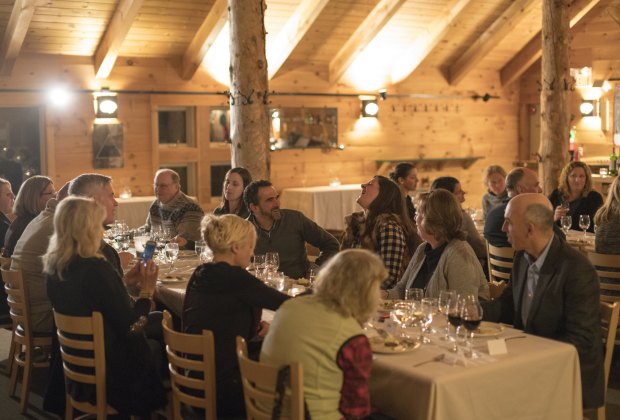 Bullwinkle's Bistro at night
An unusual dining option is Bullwinkle's Bistro, about two-thirds of the way up the mountain near the top of the Windrow chair. Bullwinkle's is open during the day and is ski-accessible for a quick bite or a hot chocolate, but at night, it turns into a full-scale restaurant reached only by snow cat. Reservations are required, as seating is limited, but it's an experience not to be missed.
There are many dining options around the base lodge. Inside the lodge are a variety of food courts and dozens of tables if you want to bring your own food and store it in a cubby. Food Truck Alley, just outside the lodge, has rotating trucks—at last visit, it was poutine. On the other side of the beach, above the Bag is Black Diamond Burritos, which even my extraordinarily finicky burrito-eating children enjoy. Inside the hotel is 45 North, with more upmarket fare like Scottish salmon and steak frites. Run by the owners of Nosh and Slab in Portland, Hunker Down has replaced longtime Sugarloaf favorite Gepetto's, with an extensive menu offering items from foie gras hash to fried chicken and waffles. For quicker bites, Java Joe's offers coffee, and the Waffle Cabin between the Double Runner SuperQuad chairlifts sells Belgian waffles.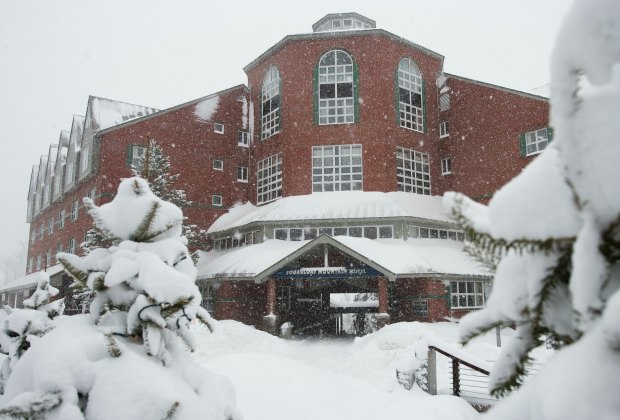 The Sugarloaf Mountain Hotel is in the center of Sugarloaf Village and easily walkable to the slopes.
Where to Stay
There are a number of accommodation options at Sugarloaf. The most obvious is the Sugarloaf Mountain Hotel, which is impossible to miss. The Hotel is right in the center of Sugarloaf Village, and easily walkable to everything from restaurants to the SuperQuad and the Whiffletree chair. It offers newly renovated rooms, a 30-person outdoor hot tub, a health club, and a variety of sleeping options.
Perhaps even more convenient for families with little ones, the Sugarloaf Inn is down the hill a little bit at the bottom of the Sawduster chair, just off the bunny slope. With yet another solid restaurant, the Shipyard Brewhaus, inside and the Sports & Fitness Center across the trail, it's a good option for families who want to keep all things kid-friendly nearby.
With condos of varying size across the mountain, you can also rent a place for the weekend for up to 12 people. There are also limited rentals available on websites like Airbnb or HomeAway. No matter where you stay, you won't regret going—promise. You just might not want to leave.
Photos courtesy of Sugarloaf Mountain