Pittsburgh with Kids: 40 Fun Things To Do in Pittsburgh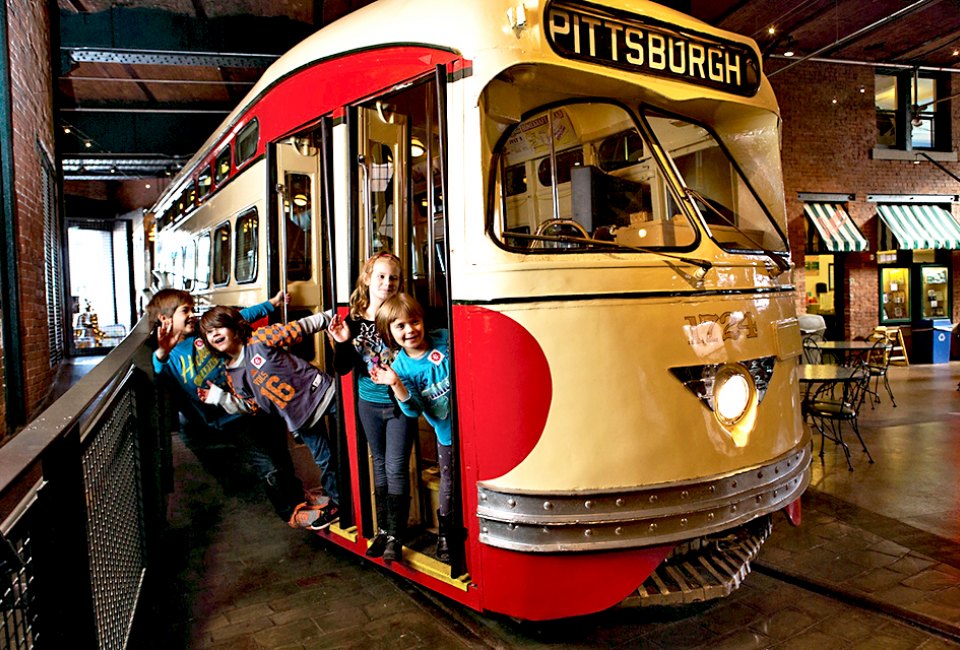 10/19/19
- By
Lindsay Li
Pittsburgh has been racking up the cool points lately, landing on "best cities" lists and topping rankings for top spots for sports, restaurants, and even tech. It isn't just college kids flocking here. The Rust Belt city offers plenty of fun things to do for kids and families, including a thriving arts and culture scene.
The Pittsburgh Zoo is a longtime attraction for families, along with the Children's Museum of Pittsburgh, but unique offerings like the Carnegie Science Center, National Aviary, and Andy Warhol Museum are a draw, too. We've long touted the city as one of our top Pennsylvania weekend getaways for families, but we recently revisited and enjoyed exploring old favorites and finding more fun things to do in Pittsburgh. Read on for a list of 40 things to do, see, and eat in Pittsburgh!
Top Things To Do in Pittsburgh
The location of Carnegie Mellon University in the city helps create a thriving tech scene, as well as churn out STEM-ready grads. Along with the other colleges in and near Pittsburgh, Carnegie Mellon, as well as its ​namesake entrepreneurs—Andrew Carnegie and Andrew Mellon—and other locals have helped shaped the city's rich art and science offerings. It isn't just high-brow galleries to peruse. Kids can get hands-on at so many of the city's museums, gardens, and historical centers.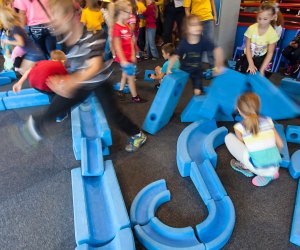 Build, tinker, and explore at the Carnegie Science Center. Photo by Richard Nowitz via VisitPittsburgh
1. Carnegie Science Center
The Carnegie Science Center is the perfect place for curious minds to explore. Hundreds of hands-on exhibits with a focus on science and technology guarantee fun for kids of all ages. The Science Center features four floors of interactive exhibits, including Roboworld, the world's largest permanent robotics exhibit. Popular add-ons include an actual Cold War-era submarine, an Omnimax theater with a four-story domed screen, and Laser Shows. The theater program is amazing, with live demonstrations throughout the day.
2. Carnegie Museum of Natural History
The expansive Dinosaur Hall at Pittsburgh's Museum of Natural History boasts one of the nation's largest dinosaur collections, and an impressive permanent immersive exhibition spanning through the Mesozoic Era. See paleontologists in action as they work in the lab! In addition to this feature, the gemstone collection is dazzling, and there are hands-on activities dispersed throughout the museum. Plus, the museum is connected to the Carnegie Museum of Art and admission covers both museums if you want to make a day of it. Or, short on time? Visit after 3pm for a discounted entry fee.
3. Children's Museum of Pittsburgh
Kids learn through tactile play with a variety of media at the popular Children's Museum of Pittsburgh. The Makeshop is an innovative studio space where a team of skilled makers and educators help translate kids' visions into tangible objects. Let them run around at the indoor jungle gym to expend that energy!
4. Phipps Conservatory and Botanical Gardens
The 19 distinct gardens, some indoors under a picturesque glass dome, at the Phipps Conservatory and Botanical Gardens are simply stunning. Glass sculptures by Dale Chihuly decorate the floral beds in a whimsical fashion. Live butterflies fly freely in warmer months. Take the cobblestone path to explore a pretty hidden area behind Phipps.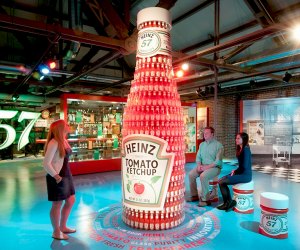 Discover the city's unique history at the Heinz History Center. Photo by Rachellynn Schoen via VisitPIttsburgh
5. Senator John Heinz History Center
An affiliate of the Smithsonian Institution, this museum is dedicated to Western Pennsylvania history. Kids can play in Kidsburgh, a kids-only, interactive play zone, as parents sip coffee in the café, monitoring the kids by television screen. There is a delightful collection of original antique vehicles, including a trolley, fire engine, and Heinz ketchup delivery truck. The fourth floor Special Collections Gallery is home to the largest original collection of items from Mister Rogers' Neighborhood, including King Friday's Castle, the Great Oak Tree, and McFeely's Speedy Delivery tricycle.
6. Western Pennsylvania Sports Museum
Located in the Heinz History Center, this museum-within-a-museum captures the importance of sports to the city, home to the famed Pittsburgh Steelers. Learn about great sportsmen and women through sports artifacts and interactive exhibits. Lesser-known sports such as marbles and bocce are covered, too. Don't miss the baseball card collection.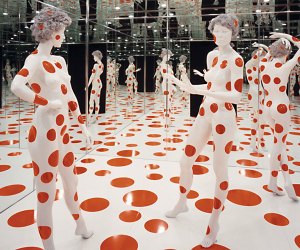 Contemporary art at the Mattress Factory gives all-ages something to think about. Photo courtesy of the Mattress Factory
7. Explore the Mattress Factory
The Mattress Factory is a contemporary art museum with an experimental lab component that makes each visit special. The rotating exhibits are sure to be unique.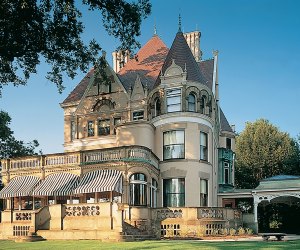 See the historic Victorian-era Frick House. Photo by Frick Pittsburgh via VisitPittsburgh
8. Frick House
See what it was like in Victorian Pittsburgh at the Frick Historic House. This historic home was once home to the Frick family, and includes an amazing old car collection, beautiful grounds, and lovely home to explore. This is an extra special place to visit in the winter when they deck the halls in the original Christmas trimmings from the 1920s.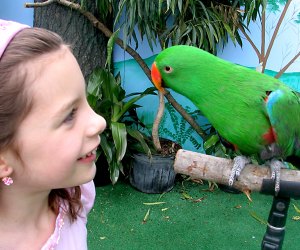 See hundreds of bird species, some colorful, at the National Aviary. Photo courtesy the aviary
9. National Aviary
Get nose-to-beak with more than 500 birds of more than 150 species from around the world, including parrots, owls, flamingos, and penguins.
10. The Andy Warhol Museum
As the largest museum dedicated to a single artist in the country, the Warhol Museum's merging of art and pop culture is appealing to kids. Head down to the basement studio, where each afternoon kids can create their own pop art project. Other fun activities include a Warhol photo booth and screen test.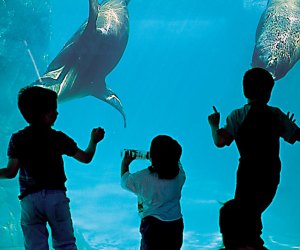 The Pittsburgh Zoo is home to 400 species and an aquarium! Photo courtesy of Pittsburgh Zoo & PPG Aquarium via VisitPittsburgh
11. Pittsburgh Zoo & PPG Aquarium
This venerable zoo has been around for over one hundred years. It is home to thousands of animals representing more than 400 species, including 22 threatened or endangered species. The underwater polar bear and otter experiences are good fun. Kid's Kingdom is where you will find a petting zoo and animals native to Pennsylvania. The PPG Aquarium presents sea creatures of all types.
12. Explore in a safe space
The Seesaw Center is wonderful new indoor play center specifically designed for children of all abilities. Really wonderful for days when you need a little indoor play for your little one.
13. Watch a pro sports team
With the Steelers playing football, the Penguins ice hockey, and the Pirates baseball, all at in-town stadiums, watching the pros in this sports-obsessed city is an experience. Not to mention, the skyline views from PNC Park (home to the Pirates) are among the best stadium views in the nation. Residents have a deep affection for their teams. All of the teams share team colors, so whatever sport you choose to view, you will be surrounded by a sea of black and gold. And if the game is a winner, you can almost always expect fireworks.
RELATED: Midwest Travel Guide for Families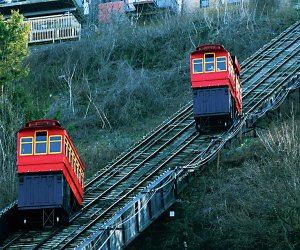 Take in the view of the rivers and skyline from the cable car. Photo by Melissa McMasters via VisitPittsburgh
14. Ride the Duquesne Incline
Ride a hundred-year-old cable car straight up for a spectacular view of Pittsburgh's three rivers and skyline. Any kid who likes trains should love this. The Duquesne Incline is open daily.
15. Hit the arcade
Play the latest video games plus old-school arcade games like skee-ball and foosball at Games N At, or teach kids the true classics at Pinball Perfection.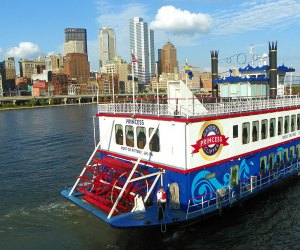 These river cruises come with theme options, including superheroes and princesses. Photo by Melissa McMasters via VisitPittsburgh
16. Take a River Cruise
With three rivers converging here, the Gateway Clipper Fleet of riverboats offers family-themed excursions that are a fun way to site see, including holiday-themed cruises, a Princess cruise, and a Superhero cruise.
17. Play
Pittsburgh has some really fun destination playgrounds with features that draw people from all over the city, like the Super Playground in Highland Park. Use the Pittsburgh Parks Conservancy website to plan park time near your outings.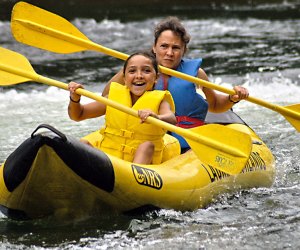 Raft your way right through downtown. Photo courtesy of the Laurel Highlands River Tours
18. Kayak
Rent an easy-to-handle kayak right in Downtown at Kayak Pittsburgh. Kids ages 3-12 are allowed in a tandem kayak with an adult. First-timers welcomed. The kayaks are rentable seasonally, usually through October, weather permitting.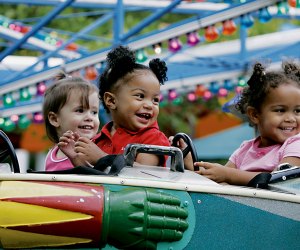 Ride the coasters or just hope on the kiddie rides at the Kennywood Amusement Park. Photo courtesy the park via VisitPittsburgh
19. Kennywood Amusement Park
Kennywood is one of the oldest amusement parks in America and a favorite with roller coaster fans. There are six major roller coasters, from the classic Thunderbolt to the ultra modern Phantom. There's also a kiddie park, shows, water rides, and classic rides.
20. Schenley Plaza
With food kiosks, a grassy field, shade and a beautiful carousel (not to mention free WiFi) everyone can recharge their batteries. In summer there are lots of free programs and events to catch, including Final Fridays featuring free concerts on the lawn.
21. Idlewild Park and SoakZone
This classic amusement park is set in the Laurel Highlands in Ligonier, about an hour from town. It is the third oldest amusement park in the country and consistently garners accolades. Adventure awaits at Story Book Forest and Daniel Tiger's Neighborhood-themed sections of the park.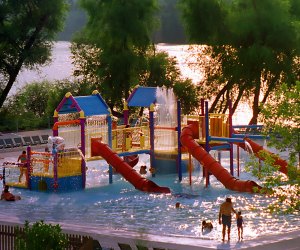 The Sandcastle water park keeps everyone cool at the wave pool or on the slides. Photo courtesy of the Credit Sandcastle Waterpark
22. Sandcastle
This water park is a must-visit on hot days. Set along the Monongahela River, experience 15 waterslide attractions, the Mon Tsunami Wave Pool, scenic Mushroom Pool, the relaxing lazy river, and two children's area – all located on a boardwalk that is sure to make you feel like you're on vacation!
Randyland is "the most painted house in the galaxy." Visit this eclectic home/art museum of artist Randy Gilson. Admission is FREE and you can visit daily.
The North Shore Riverfront Park includes 11.25 acres of public and green space. With a public lawn, river walk, walkways, memorials, and public art. During the summer months, the water steps are a huge hit for kids, and there are plenty of dining options great for people watching.
The Go Ape North Park course is a fully immersive outdoor experience. Go Ape features five action-packed treetop obstacle course sections leading you higher into the forest canopy. For the climbers, you can navigate 41 exciting crossings like the Pirates Crossing, Chantemerle Bridge, two Tarzan swings and five exhilarating zip lines. The nearby OTB at the Boathouse has great, family-friendly snacks
Family Festivals in Pittsburgh, PA
This annual Children's Festival takes place each May, showcasing troupes from around the world. Expect to see puppetry, acrobatics, dance, musicals and more, with reasonable ticket prices. The theater has a regular family series from October-April.
27. Three Rivers Arts Festival
Each June, Pittsburgh hosts 10 days of art, crafts, dance, music, food and partying in downtown's Point State Park. Lots of family-style entertainment makes this a winner for all ages.
RELATED: The Best of Lancaster County for Kids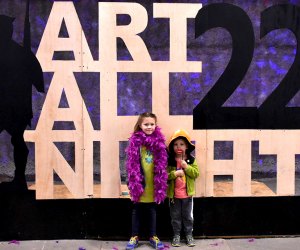 Music, performances, and children's activities keep all engaged at the Art All Night festival. Photo courtesy of the festival
28. Art All Night Festival
As the name implies, this annual Lawrenceville event is an all-night must-do. And yes, it is kid-friendly! This FREE non-juried art event features hundreds of local artists and includes children's activities, music, performances and more, over the course of a 22-hour period.
29. Get a photo-op with Mr. Rogers
Philadelphia may have Rocky, but Pittsburgh has Mr. Rogers - a real live hero we could all stand to learn a little something from. Visit the Mr Rogers Memorial statue to snap a photo with maybe the nicest guy ever.
30. Fourth of July Fireworks at the Point State Park
The point of confluence of the Allegheny, Monongahela and Ohio rivers is here. The 36-acre downtown park is a respite from city life, and locals flock here year-round, but July Fourth is special. The Pittsburgh Symphony Orchestra performs a rousing, patriotic program under the stars at this yearly event. In true Pittsburgh style, an extravagant fireworks display tops off the celebration.
31. Step back in time with Colony Festival
Did you know Pennsylvania's colonial extended far beyond the coast? This early America-experience takes place every September and features an outdoor village of nearly 200 craftsmen and folk artists including bagpipers, musicians, jugglers, re-enactments, living history.
This is a wonderful market, brimming with seasonal produce. Food carts sell local treats like pierogi, and handmade crafts are for sale. Market Square also hosts kids programming throughout the summer, with arts and crafts, music and fun!
From August through September, experience medieval fun! Costumes are available for rent if you want to go all the way, otherwise, just enjoy the revelries.
34. Spooky Halloween Events
Throughout the month of October, Pittsburgh attractions get a scary makeover for Halloween and haunted attractions pop up all over the city. From
Fright Night
at Kennywood to the seriously frightening
ScareHouse,
to the more family-friendly Boo at the Zoo, this is a great spot for Halloween lovers.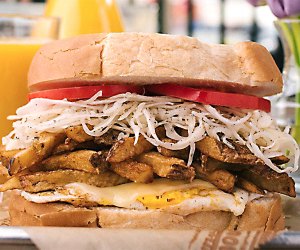 Try the local favorites at Primanti Bros. Photo courtesy of the Primanti Bros. restaurant
Best Restaurants in Pittsburgh for Families
Like the rest of the city, Pittsburgh restaurants are undergoing something of a resurgence. The city is full of traditional diners and other causal, low-priced eateries that work well for families on a budget, as well as foodie options for those seeking local color. Also, don't be surprised when you order a salad and it comes with fries on top! You can check out Primanti's, the often recommended sandwich spot that is iconic to Pittsburgh, or one of these local favorites:
35. Original Hot Dog Shop
Located near the university, succulent hot dogs and giant servings of fries are what you will find at this college hangout. It is known locally as "the O" and is a Pittsburgh institution.
36. Kelly O's
Located in the popular Strip District, diner classics are served at breakfast and lunch. There is also a selection of Eastern European comfort foods, a nod to Pittsburgh's heritage.
If you're in Shadyside, check out this delicious Thai restaurant featuring yummy noodle soups for all spice levels. Service is quick, and if you have room, make a stop in at
Millie's
right next door for the best ice cream around.
38. Square
Café
If breakfast is your favorite meal of the day, this is your place. This no-fail crowd-pleaser has spacious booths or outdoor seating, and there are vegetarian options as well.
39. DeLuca's
Also located in the Strip District on Penn Avenue, this no-frills diner offers fantastic breakfast choices at low prices for breakfast and lunch. Locals are willing to wait to get a table. Note the hours before you visit as they are limited to lunch.
40. Pamela's
The pancakes here are award-winning, and it is rumored to be Michelle Obama's favorite place to dine when she is in town. There is a full menu of comfort foods at breakfast and lunch. Expect crowds at all three locations and bring cash because credit cards are not accepted.
Pittsburgh Hotels
Most large chain hotels have properties in Pittsburgh. We've included several downtown Pittsburgh hotel suggestions that are well suited to families. You can walk to many attractions, or ride the free light rail while staying downtown. There are also plenty of Airbnb
options if you need more space or a more homey feel for your stay.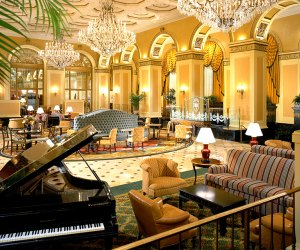 The Omni William Penn Hotel. Photo courtesy of Melissa McMasters via VisitPittsburgh
The Omni William Penn
With 603 guest rooms located in downtown, this old-world hotel is big and formal, but not stuffy. Kids and pets are welcome. Even if you don't stay here, the Mad Hatter's Tea offers traditional afternoon tea with fun twists that most kids will love.
Hampton Inn & Suites, Pittsburgh Downtown
Clean, comfy, and well located, this hotel features a money-saving hot breakfast each morning.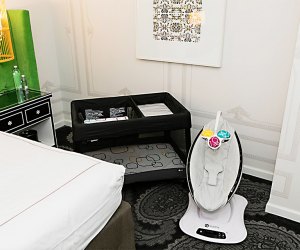 Baby and kid-friendly amenities are available at the Kimpton Hotel Monaco in downtown Pittsburgh. Photo courtesy the hotel
Kimpton Hotel Monaco Pittsburgh
Another Pittsburgh downtown hotel, the Monaco might be one of the prettiest downtown Pittsburgh hotels. Situated in the historic Beau Arts-style James H. Reed building, this boutique Kimpton hotel is full of color and style, but also family-friendly amenities, including play yards, bassinets, and baby swings.
Cambria Suites at Consol Energy Center
This all-suites property is located downtown. Spacious rooms, a great location, and an indoor pool make this a good choice for families.
For more trip-planning information, go to VisitPittsburgh.com.
A version of this article was first published in 2014.