Experience Christmas at Gaylord National with Kids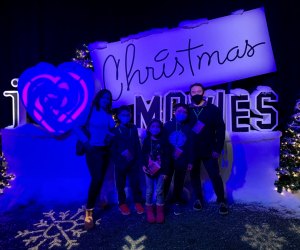 There is nowhere in the DC area that has more Christmas in one place than the Gaylord National Resort & Convention Center in National Harbor. Each year, Christmas at Gaylord National seems to grow bigger and brighter, with more holiday decorations and more Christmas activities for families to enjoy. In fact, there is so much to do that it's become a holiday tradition for many locals to spend the night at the resort to experience it all. My family had our own December staycation at Gaylord National several years ago and did not run out of things to do!
When Gaylord National was temporarily closed in 2020 due to Covid, all of its Christmas programming was cancelled. But this year, Christmas at Gaylord National is back with a new experience called I Love Christmas Movies, new winter activities such as ice tubing and ice bumper cars, and tons of lights and over-the-top decorations.
My family of five—my husband, our 10-year-old twin sons, our 7-year-old daughter, and I—were invited to experience some of the attractions at Christmas at Gaylord National on a recent Sunday afternoon. Read on for my review, information about all of the Christmas activities being offered in 2021, and everything else you need to know about Christmas at Gaylord National.
What to Know About Christmas at Gaylord National
Christmas at Gaylord National runs through December 31, 2021. All of the activities except two are indoors, where masks are required for everyone age 2 and older. The indoor attractions are kept at normal room temperature, so you won't need to lug coats around. Parking in the Gaylord National parking lot is $14 per hour or $30 for the day.
Many of the Christmas activities at Gaylord National require visitors to purchase advance tickets on the website—and they're not cheap. So if you're not looking to break the bank, choose one or two activities your family most wants to do and book those as soon as possible, as tickets (especially on weekends) can sell out quickly. (There are also special ticket bundles that offer a certain percentage off of activities.) Rest assured that your family will still have plenty to do, as Christmas at Gaylord National also offers several free holiday activities (more on those later). Just walking around and looking at all of the dazzling Christmas lights, Christmas trees (including the famous 55-foot Starlight Tree that's suspended from the ceiling in the hotel's Atrium), and lavish decorations is enough to put anyone in the holiday spirit!
My Family's Experience at Christmas at Gaylord National
We got to enjoy four of the ticketed activities at Christmas at Gaylord National this year. The first three were indoors in the hotel's magical Christmas Village, and the fourth was outdoors in Gaylord National's Winter Square. Here's what we did:
I Love Christmas Movies
Our afternoon began with I Love Christmas Movies, which we were really excited about because—well—we love Christmas movies. In this experience, we got to walk through 13 immersive scenes from classic Christmas movies. Employees known as Production Assistants led us through the scenes, sharing fun facts about the movies, encouraging the kids to participate, and making magical things happen. We were able to take lots of pictures and videos, but the Production Assistants did rush us along a bit, which would have bothered us if we had paid for the tickets. In total, it took us about 25 minutes to walk through all of the scenes.

Visit Santa's Workshop in this scene from Elf.
The first movie we got to experience was Elf. We started out in Santa's Workshop, said hello to Mr. Narwhal and his friends as we made our way to New York City, then explored Gimbel's department store in all its Christmas splendor. Keep an eye on the magical Etch-A-Sketches!
Next up was The Year Without A Santa Claus, where we got to experience a pretend snowfall, followed by A Christmas Story. We got a kick out of posing with the iconic leg lamp, and my kids enjoyed crawling through the kitchen cabinet. Then we boarded the Polar Express, where we saw scenes from the North Pole through the windows.

Volunteer to turn on the lights on the famous Griswold house from National Lampoon's Christmas Vacation. Photo courtesy of Marriott; content owned by Turner Broadcasting
The final movie we got to experience was our all-time favorite—National Lampoon's Christmas Vacation. My daughter was chosen to connect the two wires to light the "25,000 twinkle lights" covering the front of the Griswold house (which she had slightly less trouble doing than Clark did). We then entered the living room to see the massive Christmas tree that didn't quite fit ("little full, lotta sap") and watch a furry stowaway escape its branches. The tour ended in the Griswolds' dining room that was all done up for Christmas dinner, complete with exploding turkey.

"Little full, lotta sap." The Christmas tree from National Lampoon's Christmas Vacation doesn't quite fit...
Overall, my family really enjoyed I Love Christmas Movies. We would have preferred to be a little less rushed, but we still recommend this experience for Christmas movie buffs.
Snowball Build & Blast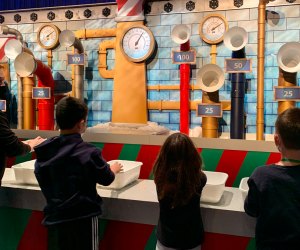 See how many points you can score at Snowball Build & Blast.
Our next experience was the Snowball Build & Blast, for which we each got a container of real snow to roll into snowballs and toss at targets worth different points. We all enjoyed this activity, but the kids were disappointed that their scores weren't actually being calculated (though a little math practice never hurt anyone). The kids' hands were cold by the end of the roughly 10-minute activity, so consider bringing gloves for your kids. Tickets for this experience are not timed, so you may have a short wait depending on how crowded it is.
Snow Flow Mountain

Ice tubing without having to bundle up? Yes, please!
Next up on our magical itinerary was tubing down giant ice slides on Snow Flow Mountain. After experiencing bitter cold temperatures while now tubing last winter, it was a treat to be able to tube indoors without wearing a coat. The slides were steep enough to allow riders to get some good speed, but not so steep that our 7-year-old was afraid to go down. In fact, she squealed with delight! Tubing tickets are good for the entire day, which means you can slide as many times as you want throughout the day. It also means the line can get quite long, which is why we only went down the slides twice. Note that kids must be 42 inches or taller to go down Snow Flow Mountain.
Ice Skating
Our final activity brought us outdoors to the ice skating rink in Gaylord National's Winter Square along the Potomac River. It was truly magical to ice skate under strands of twinkling lights with the river and the lit-up Capitol Wheel as the backdrop. We arrived around 4:15pm that Sunday afternoon and there was no line (though wait times can vary), and the changing colors of the sky as the sun set was beautiful.

Glide around on the ice with the Potomac River as your backdrop.
Ice skating tickets are valid for the entire day, and skates are available in sizes 9 toddler to 13 adult. There is a very limited number of bear-shaped skating aids available, which are a hot commodity—my husband had to wait by the rink entrance and practically pounce on a departing family to claim theirs. The kids all had a blast and are already asking when we can go ice skating again.
While those four activities alone occupied our family for several hours, we barely even scratched the surface of all of the fun holiday and Christmas activities available at Christmas at Gaylord National. Here is what else you can do:
Other Fun Activities at Christmas at Gaylord National
Gingerbread Decorating Corner
Families can purchase a gingerbread house, globe, or cookie kit and decorate it to their heart's content. Once they're finished, they can meet and take a picture with Nutmeg, Gaylord National's resident gingerbread man. Purchase a kit and reserve a time online ahead of time.

Visit Mrs. Claus for stories, songs, milk, and cookies.
Mrs. Claus' Christmas Traditions
Hear Mrs. Claus retell the story of The Night Before Christmas, sing along to holiday songs, and enjoy warm, freshly baked Christmas cookies and milk at Mrs. Claus' Christmas Tradition. Purchase and reserve a time slot online.

Meet a masked-up Santa and share your Christmas wishes. Photo courtesy of Marriott
Photos With Santa
Reserve a time online to meet and take a picture with Santa Claus himself. Four photo packages are available, ranging in price from $35 to $99.
Merry Snoopy Scavenger Hunt
This scavenger hunt takes families on a quest to help Snoopy decorate his house for the Dog House Decorating competition—and win a souvenir of their own. Tickets are valid all day.

Slip, slide, and bump around the ice on Gaylord National's ice bumper cars.
Ice Bumper Cars
Outdoors in the Winter Village, next to the ice skating rink, are these super unique bumper cars on ice! Purchase tickets ahead of time online for one ride, valid at any time on the date of the ticket. That means you may need to wait in line to ride. Kids must be 42 inches or taller to "drive" the bumper cars.
Free Activities at Christmas at Gaylord National
Christmas Village
Most of the hotel's Christmas activities take place in the lower-level Christmas Village, which is magical place to wander around. Be aware, though, that the centerpiece of the village is a giant gift shop complete with a pop-up Build-A-Bear Workshop, so you may need to manage your kids' expectations ahead of time.
Atrium

Watch the Starlight Christmas tree drop from the ceiling during the nightly #LIT light show. Photo courtesy of Marriott
Each holiday season, Gaylord National's Atrium is transformed into a winter wonderland, complete with sparkling lights, pop-up holiday shops and photo ops, and of course, the giant Starlight Christmas tree. Your family will feel like you're in an outdoor Christmas Town!
#LIT Light Show
Every evening at 7:30, 8:45, and 9:15pm (only 7:30pm on New Year's Eve), the giant Christmas tree in the Atrium drops from the ceiling and comes to life with thousands of dancing lights, music, and lasers.
The Greatest Story Stage Show
This musical stage show, offered two to three times per day on Wednesdays through Sundays, tells the story of Jesus's birth and life through the eyes of six international storytellers. Seating is first come first served, but you can guarantee seating by purchasing tickets online for $12.99 per person.
Sugary Sweet Storytime
Each evening at 6, 7, and 8pm (only 6pm on New Year's Eve), the Gaylord National hosts a complimentary storytime just for overnight guests—another great reason to book a December staycation! At the Sugary Sweet Storytime, kids can enjoy sweet treats while the Sugar Plum Fairy and the Nutcracker Prince retell the story The Nutcracker. The interactive storytime includes holiday sing-alongs.
Holiday Dining at Christmas at Gaylord National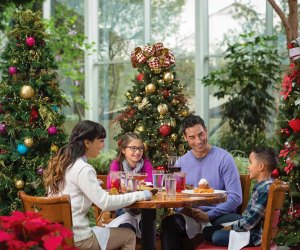 Have a festive meal inside Gaylord National or at one of the many National Harbor restaurants. Photo courtesy of Marriott
Your only option for a sit-down meal at Gaylord National is Old Hickory Steakhouse, which does offer some kid-friendly options. You can also opt for pizza, chicken tenders, fries, and/or several Asian cuisine options at a copy of holiday pop-up stands in the Atrium, which you can eat at one of the many large round tables available. You can also order dessert and hot chocolate at the Holiday Sweet Shoppe. Your best bet for lunch or dinner, though, is to visit one of the many restaurants in National Harbor before or after your experience. And remember—National Harbor has plenty holiday events of its own happening!
All photos courtesy of the author unless otherwise indicated.