Destination Playgrounds in the DC Area: 15 Play Spaces Worth the Trip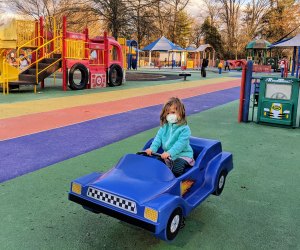 5/9/21
- By
meredith-kiryakov
Families in the Washington, DC area are fortunate to have an abundant selection of neighborhood playgrounds and parks for kids to play, explore, and work out their energy. The playgrounds on this list take it a step further with unique themed play equipment, splash pads, mini golf, trains and carousels to amp up the fun.
When you're looking to spend the whole day at the park, these 15 playgrounds in DC, Maryland, and Virginia are worth the drive.
Destination Playgrounds in Washington, DC
Arrrgh you ready for adventure on the water? Visit beautiful Anacostia Park right on the waterfront and check out its pirate-themed playground. Kids can climb on the giant pirate ship climbing structure, shimmy up masts, and go down slides. There are also three other playgrounds in the park and a roller skating pavilion along with peaceful trails to walk next to the river. There is plenty of parking, a nearby picnic area, and public restrooms.
This unique playground on the grounds of Beauvoir Elementary School is made of natural materials and designed to encourage outdoor adventurous play for kids. The play structures include climbing towers with suspended rope bridges, monkey bars, swings, and a zip line. The playground is best for elementary school-aged kids, although there is a small area called the "Little Village," appropriate for 3 to 5 year olds. Because this playground is part of a school, it is only open to the public from 6 pm to dusk on weekdays and all day on weekends and holidays when school is not in session. There is parking on the National Cathedral grounds, but no public restrooms.
Not to be confused with Lafayette Park near the White House, Lafayette Playground in the Chevy Chase neighborhood has some truly amazing play structures for big kids. The centerpiece is a giant climbing area with ropes like a spider web leading up to a huge gray tunnel slide. Local kids call it "The Elephant" because of its size and the slide's resemblance to an elephant's trunk. There is also a fenced play area for toddlers with smaller slides and climbing areas, play houses, bucket swings, and a sand pit. There's also a water sprinkler area open in summer months for little ones to cool off and splash around with giant flower sprayers and a water table. A public restroom and water fountains are available.
Leave it to the Nation's Capital to turn everything into a history lesson. This park's theme is centered around the Potomac and the Native Americans that once lived in the area. From a mountain climbing wall to slides and swaying bridges, the park is perfect for preschool-aged children. The splash pad offers a water slide, fountain and three raised fish that dump water onto the children. With a shaded pavilion, restrooms and free parking, it is a fantastic spot to learn and play while cooling off.
Destination Playgrounds near DC in Maryland
This large park boasts a range of amenities, including tennis courts, an enclosed ice rink, lots of trails and nature programs, areas to camp, and even a model train to ride on. The adventure playground for kids of all ages is a must-visit. The play structures are scattered throughout a wooded area of the park, so it's shady with lots of open areas to run around and explore nature. Kids can climb, crawl through tunnels, swing, slide, and make music on the play equipment. There are plenty of picnic tables right next to the playground if you can convince your kids to take a break. Next to the playground, there's train to ride on a tour of the park. Kids also love the interactive piggy trash can "Porky the Litter Eater," who talks when you feed him trash. There are bathrooms nearby and free parking.
RELATED: Splash Pads and Sprinkler Parks in DC to Beat the Heat

Conquer the giant tire dragon at the Recycled Tire Playground. Photo by F Delventhal/CC by 2.0
There are four different playgrounds in this large state park, but the standout is the Recycled Tire Playground. Much of the playground, including the mulch-like play surface, is actually made from recycled tires. There's a large, castle-like wooden structure with slides, places to climb, and swings. Take a ride on or battle the giant recycled tire dragon and put your kids to the test on the tire obstacle course. In addition to the recycled tire playground, the park has created a nature play space, where kids can build, balance, climb and create. This imagination-centered play area is created from giant oak tree trunks, locust tree logs, and other all-natural materials. Park admission is free, there's plenty of parking and areas to picnic, including around scenic Clopper Lake, and there are public bathrooms.
The appropriately-named South Germantown Adventure Playground lets your kids play out their fantasies of knights, dragons, pirates, and princesses. This seven-acre playground boasts five theme areas. The large Royal Castle playground structure has castle turrets to climb and explore, and giant slides – there's even a sea dragon in the "moat" around the castle. Beyond the castle, there's a pirate ship playground for younger kids and toddlers with tunnels, smaller slides, and swings. There's also an incredible splash park and 18-hole mini-golf course in the park. Kids can stay cool playing in the 280-jet water maze, cave with a waterfall, water bucket drops, slide, and spraying animals. There's a jumping pillow to bounce on next to the splash park and more mini-golf. The playground is free, but there is a fee for the splash park and mini golf – check the website for more details. Free parking is available and there are public restrooms, changing areas for the splash park, and picnic areas with vending machines.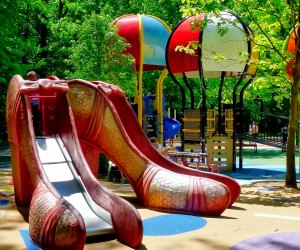 Slide down Dorothy's ruby slippers and more at Watkins Regional Playground. Photo by F Delventhal/CC by 2.0
Follow the yellow brick road (or I-95) to the magical Wizard of Oz-themed playground at Watkins Regional Park. Kids can slide down a giant pair of Dorothy's ruby slippers, climb on towers that look like the Emerald City, and play in Auntie Em's playhouse. "Munchkin Land" is the perfect area for younger kids to explore. Pack a picnic and plan to spend a whole day at Watkins Regional Park to explore all it has to offer. Beyond the colorful Oz playground, Watkins Regional Park also offers a carousel, miniature train, 18-hole mini golf course, and a nature center with trails. The Old Maryland Farm located in the park allows kids to interact with their favorite farm animals and agricultural exhibits and learn about farm life in Maryland. Admission is free with an extra charge for the carousel, miniature train, and mini golf.
RELATED: Family-Friendly Camping Destinations Near DC
All aboard! Don't miss the miniature historic train at Wheaton Regional Park. Photo by ssfaulkn/Public domain.
Wheaton Regional Park has activities for the whole family from Brookside Botanical Gardens to hiking and fishing near Pine Lake to trail rides and horseback lessons at the Wheaton Park Stables. Kids will definitely want to check out the Adventure Playground, just renovated in 2020. Toddlers can enjoy a dedicated area filled with concrete animals and a sandbox, perfect for exploration. For the more adventurous, there are slides of all sizes, including one super long tunnel slide, a climbing mound, climbing nets, and climbing wall to conquer. There are also plenty of swings, monkey bars, balance challenges, and tunnels. After your kids tire themselves out, be sure to check out the miniature train that takes you on a scenic tour of the park, and the classic carousel, both of which operate from May to August. The park is free, with a small fee for train rides. There is plenty of parking, and bathrooms are located near the playground.
Destination Playgrounds near DC in Northern Virginia
The Annandale Community Park and Hidden Oaks Nature Center are wonderful for nature-loving families with beautiful wooded trails, ponds, and the nature center to explore. The park includes two different play areas for kids. There's a natural play area in the woods, where children can use their imaginations and natural materials to build and play. In August 2020, a new butterfly-themed playground opened at Hidden Oaks Nature Center, where kids can play and learn about the life cycle of caterpillars and butterflies. The accessible playground includes two different play spaces with equipment for kids ages 2 to 5 and 5 to 12 with balance challenges, climbing areas, and plenty of slides. There is a large shaded picnic area if you want to pack a lunch, and bathrooms are on site.
While there are a lot of fantastic playgrounds in Arlington County that have been renovated in the past few years, including Fairlington Playground, Quincy Park, and Rocky Run Park, my 3-year-old's nominee for the best park is Chestnut Hills playground. This 4-acre park has two large, education-themed playground areas for toddlers and older kids. The toddler area has lots of wavy wooden bridges and tunnels for climbing and crawling under on a soft rubber surface, along with small slides and swings. There is also a large sand pit for digging and exploring. The big-kid play area has large slides and climbing structures, balance beams, a zip line, and a track for running around or riding bikes. The entire playground is fenced in and there are lots of benches and areas to sit in the shade. There are public restrooms in the park, although it's a bit of a walk from the playground. There is no parking lot, but street parking is usually available.
RELATED: National Parks You Can Visit on Free Entrance Days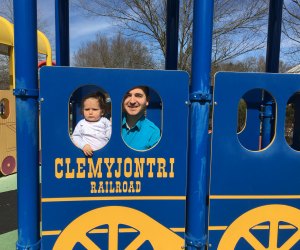 Even the littlest tots will find Clemyjontri Park fun and accessible. Photo by the author.
Located in McLean, with more than 2 acres of play space, Clemyjontri Park is a fully accessible playground "where every child can play." Children who use wheelchairs, walkers or braces, or who have sensory or developmental disabilities can have a parallel playground experience of fun and exploration. There are climb-on structures with slides, monkey bars, and balance challenges, as well as a variety of climb-on toys, including cars, buses, planes, and all types of animals. There are also dozens of swings and a maze to explore. During the summer months, you can ride on the large carousel in the center of the park and a trackless train that runs around the perimeter of the park. Train rides are $3, but the park is otherwise free. The rubber ground surface is stroller-friendly, and there are plenty of shaded areas to sit. There is plenty of parking, and you'll find picnic tables, vending machines, and on-site bathrooms.
Fantasy Playground is a great place for kids to explore and unleash their imaginations. The large main wooden structure is full of secret passages, tunnels, slides, and more. There are lots of swings, including bucket swings and a tire swing, as well as a sandbox area to dig in. There is a small picnic area and parking, but there are no bathrooms on site. The ground under the play area is covered in gravel so closed-toe shoes are recommended.
The Lee District Park Family Recreation Area pays homage to the beauty of Chesapeake Bay. Named after the Chesapeake Bay's sea monster cousin to the Loch Ness monster, Chessie's BIG Backyard includes an accessible playground for all ages with a padded rubber surface and lots of features to climb, crawl, slide on, and explore. There is also a tree house, and Chessie's Trail with unique sensory features, including a sound garden and animal figures representing species native to the Chesapeake Bay region. The park recently added a carousel, where kids can ride on turtles, frogs, hummingbirds, and other local animals that runs from April to October. Our Special Harbor is a Chesapeake-Bay themed sprayground with fun features including a spraying osprey nest, Chessie the sea serpent, misting sunflowers, and a lighthouse. There is also a quieter beach area for younger kids with gentle fountains and interactive water tables. Our Special Harbor is open for the summer after Memorial Day. The park and sprayground are free with a small fee for the carousel. There are bathrooms on site, and covered picnic areas to relax.
Potomac Yard Park offers inclusive playground spaces for toddlers and big kids separated by a large interactive fountain that kids can splash and play in during the summer. The toddler play area includes small slides, swings, balance beams, drums, and a maze with lots of interactive, sensory features. Bigger kids, ages 5 and older, can challenge themselves with larger slides, climbing structures, swings, and a zip line. Train tracks run right behind the playground and airplanes landing at National Airport frequently fly over providing additional entertainment for the kids. The rest of the park includes an outdoor stage, lots of green space, fields and sports courts, and trails. There is parking available, public restrooms, and water fountains.