19 Sprinkler Parks, Spraygrounds, and Splash Pads near DC for Kids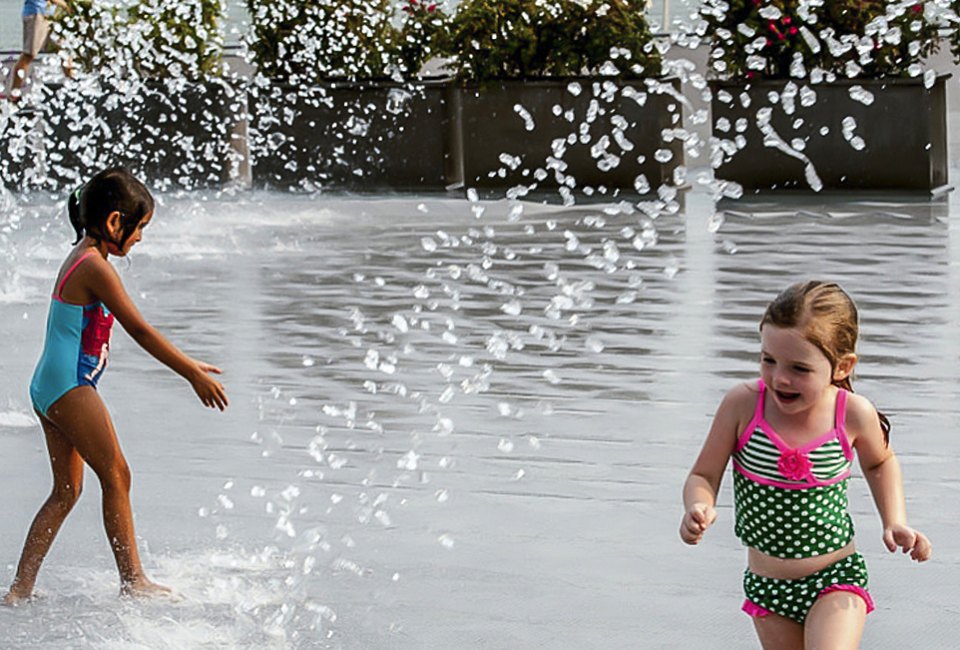 6/4/23
- By
Lila Whatley
Gone are the days of needing to use a garden hose as a sprinkler: the DC area is brimming with splash pads, splash parks, and water playgrounds to help kids beat the heat on a hot summer day. These splash pads and sprinkler sparks are full of fun features like fountains, dumping buckets, water cannons, spraying animals, and even mini water slides. And the best part is, most of them are absolutely FREE!
Here are 19 great splash pads, splash parks, and water playgrounds in DC, Maryland, and Northern Virginia to visit with kids for some wet and wild fun. And if you have older children who need a few more thrills, check out our list of the best outdoor water parks and amazing indoor water parks near DC.
Remember: Unless noted, all of these sprinkler parks, spraygrounds, and splash pads are FREE. Most are open from Memorial Day to Labor Day, but some operate only on weekends for part of that time frame. Always check the venues' websites before you go for operating information.

The playful water jets at Yards Park are ideal for younger kids. Photo courtesy of Capitol Riverfront BID
Splash Pads, Splash Parks, and Water Playgrounds in DC
Whether families are looking to just get their feet wet or to be completely drenched, this spot has something for everyone. The multilevel fountain has water flowing from the upper level to the lower, creating a waterfall effect into a splash pool. No worries, though—the water is less than a foot deep and safe for the youngest of splashers. Visit the website for operating hours and rules of play.
Georgetown isn't just for college kids. In addition to its beautiful labyrinth and gorgeous rain garden, the focal point of Georgetown Waterfront Park is the fountain. Families can enjoy the large arcing water spray that reaches from the Wisconsin Avenue end to the Potomac riverfront. Kids can splash around in the iconic fountain while parents enjoy the waterfront scenery. Bonus: The fountain is lit in the evenings.
Set in an otherwise traditional park, this is one of those splash pads that are perfect for the smallest of splashers. Plenty of fountains large and small adorn the concrete space, which is enclosed to prevent little ones from wandering off. Not a lot of shade is offered among the colorful sculptures spewing water, however, so an umbrella is advised.
Splash pads don't always need all the bells and whistles to be fun. Take Capitol Riverfront's Canal Park Fountain. Its two dancing fountains always draw crowds of gleeful, splashing kids. Regularly scheduled maintenance occurs twice a week, so check the website for a status update before heading out.
RELATED: Best Free Public Swimming Pools in DC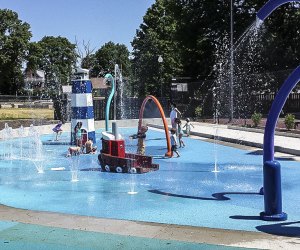 The splash pad is just one fun part of the playground at Turkey Thicket Rec Center. Photo courtesy of raindrop.com
This playground and splash pad are so much more than meets the eye. The playground's design focuses on two themes: a mini village with mountains, playhouses, and a farmers' market; and a transportation section with trains, cars, and boats. The splash pad itself includes a lighthouse and a boat, a climbing hill, musical instruments, shade structures, and more. Kids love the sensory equipment, and the picnic area and bathrooms inside the recreation center are huge pluses.
Leave it to the nation's capital to turn everything into a history lesson. This park's theme is centered around the Potomac and the American Indians who once lived in the area. From a mountain-climbing wall to slides and swaying bridges, the park is perfect for preschool-aged children. The splash pad offers a water slide, a fountain, and three raised fish that dump water onto the children. The park also provides a shaded pavilion, restrooms, and free parking.
The splash pad at this recreation center is simple but large. Four huge colorful bands spray kids, and families can also explore the large park, which offers two sections separated by age groups. The parking lot is located on the Neal Street side, while street parking is available on the Montello Avenue side of the park.
This cool-down spot is perfect for those traveling by Metro—a quick stroll from the Columbia Heights Metro stop and families can enjoy all that this great park has to offer. In addition to the spray area, the facility offers picnic tables, chess tables, and—most importantly—clean bathrooms. While not as fancy as some of the others listed, this easily accessible place provides quick relief from the city heat.
RELATED: 10 Parks with Beaches Near DC for a Day Trip with Kids

Cool off in Downtown Silver Spring's Interactive Fountain. Photo courtesy of the Downtown Silver Spring Facebook page
Splash Pads, Splash Parks, and Water Playgrounds in Maryland
Get ready to get wet! The colorful mosaic-patterned fountain contains jets that shoot water at different intervals and at heights that thrill even the shortest of splashers. This fountain is a favorite in the downtown area, so it can get crowded, especially on weekends. Unlike other fountains, this one turns on mid-spring and stays open through the fall. The plaza often hosts live music and other special events for families. Check the Downtown Silver Spring website for a schedule.
This awesome splash park has so many fun water features—a pool with lap lanes, a kids' pool, a water slide, an aqua climbing wall, and a tipping-buckets waterfall. There are showers and locker rooms where families can wash off and put on dry clothing. Note: There is an admission fee, but it's cheaper for Prince George's and Montgomery County residents if you make a reservation online.
This fountain in the heart of Rockville provides nonstop water fun. A large circle surrounds 20 jets that continuously shoot water into the air, at heights that are about the size of an average adult. Kids can dry off while climbing the rocks on the nearby turf area, and parents can shop at the many stores that surround the square. This splash area is next to a street, so parents do need to pay extra attention. Plenty of parking and a covered pavilion make this one of Maryland's most accessible and comfortable cool-down destinations. The fountains are turned off during special events, so check the website for updates.
RELATED: Best Swimming Lakes Near DC You Need to Discover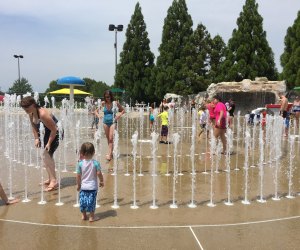 The South Germantown Splash Park features a 280-jet water maze. Photo courtesy of the park
​This is one of those popular splash pads that's not to be missed. Kids can explore the 280-jet water maze with a waterfall, water-bucket drops, a slide, and spraying animals. There are also smaller fountains for younger splashers. With plenty of shade and the option to pay for a round of mini golf at the adjacent course, this cool-down spot provides all-day fun. Note: There is an admission fee for everyone ages 2 and up.
Kids will have a blast at this outdoor pool and splash park featuring an aqua climbing wall, water slides, a tipping-buckets waterfall, and other fun features. Lockers rooms and showers make it convenient to change out of wet bathing suits. Note: There's a fee to get in, but it's cheaper for Prince George's and Montgomery County residents who make a reservation online.
Splash Pads, Splash Parks, and Water Playgrounds in Northern Virginia
From May through October (exact dates vary), the splash pad in Old Town Square is turned on and ready to help kids beat the heat. It's open daily from 8am-10pm, except on certain Fridays, when it closes at 3pm for the free Rock the Block concert series.
RELATED: Best Outdoor Water Parks in the US

The splash pad at Virginia Highlands Park boasts bucket splashers and other fun features. Photo courtesy of the park's Facebook page
This nearly 20-acre park offers fun for the entire family. The splash pad has a water cannon, mini waterfalls, and bucket splashers and was designed with conservation in mind. A built-in recirculation system saves 82,000 gallons of water a month, making this spot one you can feel good about while enjoying a break from the heat.
Located next to Charles Drew Community Center, this park includes a splash pad and other great features. The water shoots up from the ground, and there is a tall flower soaker that shoots water at different intervals. Hoops also spray water at alternating intervals, which means kids can spend their time guessing from where they will get soaked next. After children are done cooling off, they can enjoy the swings or rope-climbing at the playground.
RELATED: Resort Passes and Daily Pool Rentals Near You: Family Resort Daycations for Everyone

Our Special Harbor Spray Park is accessible to kids of all ages and abilities. Photo courtesy of Kim Nguyen
This fantastic sprayground is fully accessible and has something for splashers of all ages. With a Chesapeake Bay theme, Our Special Harbor has fun features that include a spraying osprey nest, Chessie the sea serpent, misting sunflowers, and more. For a quieter experience, the beach area provides more subdued fountains and a water table. The computerized water maze and dumping crab basket are perfect for older and more energetic children. For safety, kids 15 and younger must wear aquatic shoes or sandals with a back strap at all times, except for non-standing and non-mobile babies.
Reston Town Square Park in Reston Town Center offers two fountains—one to just watch and the other to play in. Mercury Fountain, the big fountain, is strictly for viewing pleasure. But on the west side at Reston Town Square Park, the interactive fountain lets kids splash around and cool off. Bring an extra set of dry clothes so you can make a day of it splashing, shopping, and dining.
RELATED: Outdoor Swimming Pools Near DC with a Daily Pool Pass Option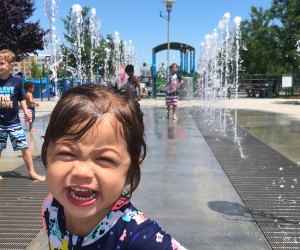 Who wouldn't enjoy the water jets at the Potomac Yard Interactive Fountain? Photo courtesy Kim Nguyen
Situated between two playgrounds, Potomac Yard Park's splash area is so much more than just a sprayground. Its 36 water jets shoot H2O between two troughs, which also feature lights for evening playtime. The fountains are programmable, with sensors controlling the height of the water while taking wind speed into consideration. The fountain has a water-treatment system to keep things clean and supports the Eco-City Initiative by treating and recycling the water. Summer fun and Earth-friendly? Cooling off never sounded so perfect.
Sign up for the Mommy Poppins Newsletter today!