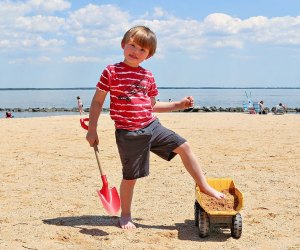 9 Family-Friendly Beaches Near DC
If the thought of cool ocean breezes and sand between your toes is alluring, it's time to consider a trek to one of the family-friendly beaches near Washington, DC. Of course, getting to a real, bonifide beach requires a (sometimes lengthy) car ride from the capital, and some nearby shores are still off-limits due to the pandemic. Still, we've managed to gather up some beach intel just for you, with this list of nine seaside options that are open and welcoming out of towners this summer.
So pack the car (and the kids) for a beach day trip or a long weekend—the summer possibilities are endless. And keep an eye on the public pool situation—if all goes well, they might open one day soon!
Sign up for our FREE newsletters to get posts like this delivered to your inbox.
1 hour, 15 minutes from DC by car
Open daily, 7am to sunset
Sandy Point, on the Chesapeake Bay, unfurls over 786 acres, providing plenty of room for social distancing. Note that swimming is "at your own risk," as lifeguards are not currently on duty, and groups larger than 10 people are not permitted right now. The playgrounds are open, but parents are encouraged to talk to kids about safe playground rules and appropriate distancing before your visit.
1 hour, 45 minutes from DC by car
Visit the website for current hours
Although Colonial Beach is technically on the Potomac River, not the ocean, its relative proximity to DC makes it an ideal choice for a day of sand and gentle surf. The beaches and Town Pier are open for recreation, including swimming, with Virginia's Phase II opening guidelines in place.
2 hours, 45 minutes from DC by car
Open daily, 5am-10pm
While many of Ocean City's famous events have been canceled or postponed this year, the beach itself is open, free to the public, and monitored by the Ocean City Beach Patrol, which is on duty daily from 10am to 5:30pm. The 10-mile stretch of sand includes two sections dedicated to surfers and boogie boarders.
2 hours, 30 minutes from DC by car
Open daily, 6am to midnight
Lewes Beach, situated where the Delaware Bay and the Atlantic Ocean meet at Cape Henlopen, offers miles of beautiful beaches, nature trails, and bird sanctuaries. Keep time open in your schedule to visit Cape Henlopen State Park, a 3,000-acre park featuring famous "walking" sand dunes and lovely nature trails.
3 hours from DC by car
Open daily, 8am-4pm
Fenwick Island, located between Rehoboth and Ocean City, is a great choice for a day of swimming, crabbing, clamming, or a longer family vacay. Its a 3-mile stretch of barrier island and has a rep for being less rowdy/more peaceful than other beachy hotspots in Delaware.
RELATED: Top Bounce Houses, Kiddie Pools, and More Inflatable Backyard Fun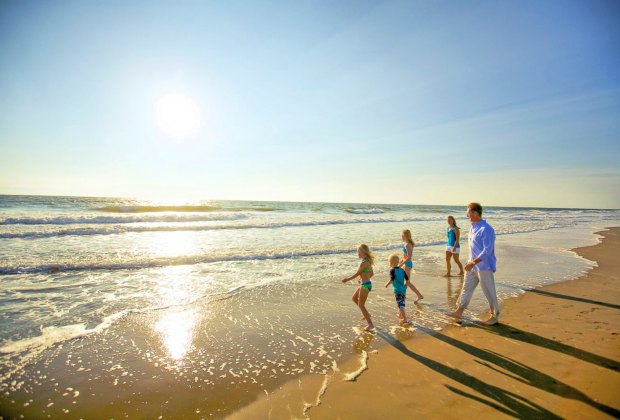 Sandbridge Beach is one of three Virginia Beach shores to explore. Photo courtesy of Visit Virginia Beach
4 hours from DC by car
Visit the website for current hours.
Virginia Beach's three beach options—Sandbridge, Chesapeake Bay, and Oceanfront Resort—are all free and open to the public. Social distancing rules apply, but groups of up to 50 are permitted. You can also visit First Landing State Park (1.25 miles of beach) and False Cape State Park (6 miles of beach).
2 hours, 45 minutes from DC by car
Open daily, 9am-5pm
Bethany Beach is open for the summer, but beware: Parking can be challenging. Delaware has lifted its ban on short-term rentals, so a multi-day stay at a location close enough to walk to the beach might be in the cards. Social distancing, hand sanitizer, and a mask at the ready (in addition to your beach blanket, picnic, snorkels, and other beach essentials) are de riguer.
2 hours, 30 minutes from DC by car
Visit the website for current hours.
Another popular Delaware Beach, Rehoboth prides itself on its mile-long boardwalk. Masks or face coverings are strictly required on that stretch for the time being, but may be removed once you've claimed a patch of sand.
2 hours, 40 minutes from DC by car
Open daily, 5:30am-1am
Just slightly south of Rehoboth is a quieter, less famous stretch of sand: Dewey Beach. While its usual Monday night movies on the beach and Wednesday night bonfires are still on hiatus, there are high hopes that they'll be back on the calendar soon. Meanwhile, COVID-19 guidelines do apply, and social distancing is required.