10 Great Lakes and Swimming Holes for DC Families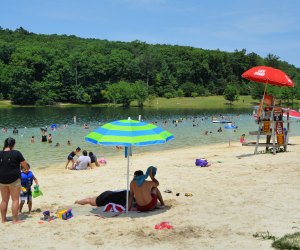 There are many places to escape the heat in Washington, DC. And we've already brought you tips on our favorite swimming pools, sprinkler parks, beaches, and water parks in the area.
But if you're after an old-time experience­­­­, why not escape to a Maryland or Virginia swimming hole?
That's right, in less than two hours by car you can leave the Capital District behind for a Tom Sawyer-like adventure that will have the kids swinging, diving, and absolutely grinning. Who knows … the 10 destinations below, five in each state, might establish a new family tradition that will have you returning every year.
Note: While some of these destinations are located inside Maryland or Virginia state parks, not all swimming holes are staffed by lifeguards. Shores and lake floors can be rocky so water shoes are recommended, especially for younger children. Some venues might require masks for unvaccinated people.
Driving times listed do not account for traffic.
Swimming Holes for Kids near Washington, DC in Maryland
Distance from Washington, DC: 70 minutes
In addition to its two pools, this 30-acre park is famous for its swimming quarry and rope swing. At its deepest, the water measures 40 feet. Kids can enjoy rolling logs and swim platforms. The club also features shaded areas with grills and volleyball courts. Admission is $20 for those 12 and older.
Distance from Washington, DC: 70 minutes
Outdoor activity is everywhere at Cunningham Falls. Enjoy boating, fishing, camping, and, of course, swimming. There are several swimming locations in the park, including at William Houck Lake. Cunningham Falls is home to Maryland's tallest waterfall, although swimming is not allowed near the falls.
Related: Great Mini-Golf Courses for Kids in the DC Area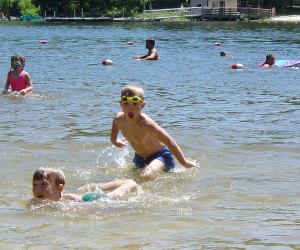 Take a dip in the lake at Cunningham Falls State Park. Photo courtesy of Maryland Department of Natural Resources
Distance from Washington, DC: 70 minutes
This popular destination — it fills up on summer weekends — in the Appalachian Mountains features three distinct beach areas that are staffed with lifeguards in the summer. Some beach areas feature roped-off swimming sections to protect swimmers from potential hazards. Traditionally, parents with little children prefer the middle of the three beaches. Water is clear and the bottom is sandy.
Distance from Washington, DC: 1 hour
This 16,000-acre state park is intersected throughout by the Patapsco River and swimming is allowed in much of it. Experts say the deepest part of the river is in the McKeldin area, near College Park. The park is popular with hikers, who often ditch their field packs for a dip anywhere not in the vicinity of whitewater rapids.
Distance from Washington, DC: 1 hour
A few yards from the former Poole's General Store along Old River Road, in the aptly-named community of Poolesville, you'll find one of the best-kept water secrets in the DC area. It's a short walk from the road to the water's edge, making it a simple chore to carry those inner tubes, folding chairs, and other essentials. Seneca Creek begins in Gaithersburg, and runs for nearly six miles, emptying into the Potomac. The swimming hole is immediately north of the River Road bridge.
Related: Great Summer Day Trips for DC Kids

Popular Lake Anna in Virginia features a charming beachfront. Photo courtesy of Lake Anna State Park
Swimming Holes for Kids near Washington, DC in Virginia
Distance from Washington, DC: 1 hour
The 3.4-acre Loudoun County park includes riverfront along Goose Creek, which has been designated a Virginia scenic river. There is a boat launch, fishing area, and wading / swimming area ideal for little ones.
Distance from Washington, DC: 90 minutes
Lake Anna features a charming beachfront on one of Virginia's most popular lakes. Swim in the lake at this family-friendly destination and afterward pan for gold, a popular activity among visitors. Also enjoy hiking, fishing, wildlife spotting, and camping.
Related: Family-Friendly Campgrounds Near DC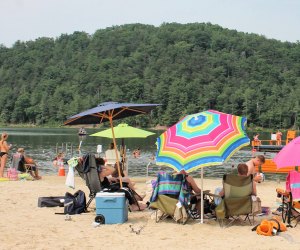 Pack a chair and beach umbrella and enjoy Lake Arrowhead. Photo courtesy of Luray-Page County Chamber of Commerce
Distance from Washington, DC: 2 hours
This 34-acre lake features a sandy beach that is perfect for young swimmers and the parents who have to watch them. A short distance away, near downtown Luray, is Luray Hawksbill Greenway, which includes a rope swing for those looking to make a splash into Hawksbill Creek.
9. Overall Run — Shenandoah National Park
Distance to Washington, DC: 90 minutes
Home to the highest waterfall in all of the park, Overall Run features three interconnected swimming holes about 2 miles downstream from Overall Falls. A rock formation at one of the venues makes for a natural water slide. Be mindful, however: Since the swimming holes connect directly to the falls, which bring mountain water downriver, water temperatures even in the summer can be chilly.
10. Passage Creek — George Washington National Forest, Front Royal
Distance from Washington, DC: 90 minutes
The national forest offers several options for swimmers. One favorite, near Elizabeth Furnace campground in Fort Valley, can be especially busy on weekends. For a less crowded experience, continue to Emerald Pond, which experts say has some of the bluest water in the state. The waters here are fed by a natural spring, making them surprisingly warm. Buzzard Rock Hole, popular with hikers, is another ­­­­popular destination.
What to Know Before You
There are a few things to consider when visiting any swimming hole.
First, make sure you won't be trespassing. Keep to those destinations located on public lands.
Leave the water at the first sign of a thunderstorm.
Some rocks might be topped with slippery algae blooms: Be careful as you traverse the rocks.
Bug spray and sunscreen are essential in the summer.
Always respect the power of flowing water; swim with a buddy or group.
And remember, these swimming holes are first and foremost, home to wild animals, fish, and birds. Respect their territories.