Airboat Rides and Tours near Orlando: Family Adventures Await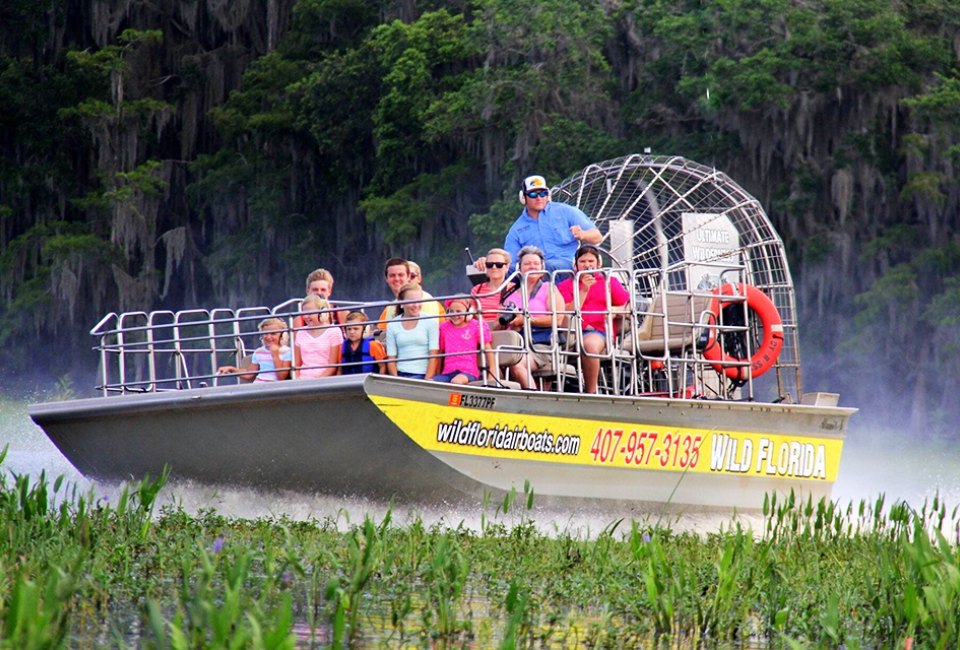 7/24/22
- By
Paula Andrea Morales
If you are looking for an exciting family adventure while exploring native wildlife and vegetation, Everglades airboat tours are a MUST! While the Florida Everglades are a few hours from Orlando by car, the gateway to the Everglades is in Central Florida's backyard, and only accessible by airboat rides. Orlando is fortunate to have a variety of airboat tour companies, each specializing in specific airboat experiences to give your family the adventure of a lifetime.
For those who don't know, airboats, also known as fan boats, swamp boats, or plane boats, are powered by motors or engines that move massive propeller. The above-water propeller engine allow these flat-bottom boats to skim shallow waters, ideal for the Florida Everglades and other swamps. The airboat tours are loud, fast, and exciting, plus riders may get to see alligators, turtles, wild hogs, birds, and other native animals.
Airboat rides are fun family moments, and they're great activities for out-of-town visitors. Need some more ideas to entertain visitors from beyond the Orlando area? Bring guests to the iconic ICON Park, spend a day at one of Orlando's epic theme parks, and cool down at the best water parks in the area.
Airboat Rides Near Orlando: Adventure Companies
Airboat rides last 30 minutes ($30 for kids, $35 for adults); 45 minutes for sunset tours are available ($55 for kids, $65 for adults); and 60 minutes at night ($62 for kids, $72 for adults). Black Hammock offers Florida resident discounts as well as seasonal specials. Airboats can accommodate 12, 15 and 18 passengers, as well as airboat craft that seats six people. Check the website for specials such as free lunch and group packages for events or school field trips. Tours start at 9:15am and run through 5pm. Reservations are not required for 30-minute tours, however evening tours require a reservation and an additional fee of $20. Children 2 and under may sit on a parents lap. The Black Hammock offers a restaurant, bar, lodging, and gift shop, so there's lots to do before and after the airboat ride.
Related: Everglades Airboat Tours To See Alligators in the Florida Everglades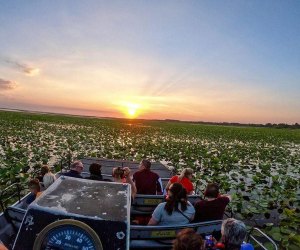 Boggy Creek Airboat Adventures offers a day of fun, both on and off the airboat ride. Photo courtesy of Boggy Creek
Boggy Creek enhances the airboat experience with unique activities, including a fossil and gem mine, Native American village, and tiki bar (seasonal). Airboat rides are 30 minutes ($30 for kids, $35 for adults), and 60 minutes ($50 for kids, $55 for adults). Sunset tours ($58 for kids, $68 for adults), night tours ($63 for kids, $73 for adults), and private charters are also available. The vessels can carry up to 17 passengers. Purchase the Ultimate All-Inclusive Package and get an airboat ride, lunch, and gem mining!
One-hour airboat rides are offered seven days a week, from 9:15am to 7:15pm. Make use of Wild Willy's $42 special for all rides who go out on the water at 9am (a great time during summer). Apart from the 9am special, tickets run $45 for passengers 3-10 years old, and $50 for those ages 11 and up. Children 2 and under ride free. Passengers may get to hold a small gator (great photo opp)!
If you prefer a smaller airboat and comfy seats, consider Spirit of the Swamp. Spirit of the Swamp describes their tour as a "luxury" experience. In addition to being one of the few vessels with shade, Spirit of the Swamp also uses two-way headsets, so passengers can ask the captain questions. Choose between a 60-, 90-, or 120-minute airboat tour. Costs range $49.95-$80 for kids and $54.95-$90 for adults. Open seven days a week.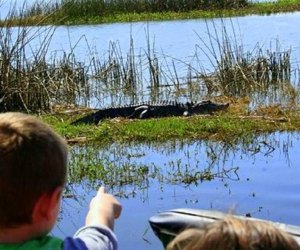 Spot gators while skimming the waters during Everglades airboat tours. Photo courtesy Wild Florida
Wild Florida is great tour company to make an entire day of an airboat ride. Wild Florida boasts a gator park, animal shows, and drive-through safari! Airboat tours last 30-60 minutes and range from $29 to $58. Private tours are available along with sunset and night tours. Airboat tickets include admission to the Wild Florida safari park. Closed on Sundays.
Piloted by U.S. Coast Guard master captains, Midway offers two-way headsets, an alligator encounter, and access to view birds, snakes, and a pig named Porkchop on property. All tours run one hour (kids 2-12 $37.56, adults $42.25). Private tours and group rates are also available.
Specializing in intimate experiences, Central Florida Airboat Tours hosts up to six passengers per ride. Options include a one-hour ride and tour ($45 for kids 10 and under, $60 for 11 and older), and a one-hour private tour ($300 for a party of six) or a two-hour tour ($500 for six passengers). Captains are U.S. Coast Guard licensed with over 20 years combined experience.
Get a "taste" of adventure aboard Kissimmee Swamp Tours. Photo by the tour company
If you are a nature purist, Kissimmee Swamp Tours is for you. Focusing on untouched nature and a "true" wildlife experience, these airboat rides accommodate a max of six people. Tours are available in 60- and 90-minute increments ($45 -$59 for kids and $54-$69 for adults, kids 3 and under are free). Available two-way headsets allow passengers to listen and speak to each other and the captain.
Captain Duke is a U.S. Coast Guard licensed captain, and the airboats are smaller, hosting a maximum of six people, and allow for travel in narrow places that larger boats cannot navigate. Tours are 60 and 90 minutes long (kids $45-$64 and adults $50-$75). Tours start at 7am. Sunset tours are also offered (four passengers minimum).
Airboat Rides Near Orlando: Know Before You Go
Airboat rides are LOUD (okay, I'll stop shouting now)! All tour companies will offer ear protection —some tour operators offer headsets with speakers so you can easily hear the captain's commentary; others have two-way headsets so you can engage with the captain and other passengers. All airboat ride tour operators will eventually slow down to allow for an close view of wildlife and to hear the sounds of nature.
As well as being loud, Everglades airboat tours are FAST, reaching speeds of 45 miles per hour! Be sure to pack hair ties and hold onto anything loose on your person. Sunglasses are also recommended due to the wind and sun exposure, as well as preventing any bugs landing in your eye area (just think of what your car hood looks like after a road trip). Speaking of bugs, insect repellant is a must! The areas you will traverse are as natural as it gets, and the bug kingdom is alive and well here. Sunscreen should also be applied —airboat passengers since most boats do not have canopies or coverings. Hats are always welcome, so long as they withstand the wind.
Families with younger children should consider 30-minute or 60-minute airboat rides. Many airboat tour operators offer additional activities and experiences to complement shorter tours. Shoot for an early reservation if booking an airboat ride during the summer — most wildlife comes out in the morning before temperatures heat up, and Central Florida typically sees rain in the afternoon. If you plan to take an Everglades airboat tour in the winter months, reserve a time for late morning to noon.
The knowledgeable captains and staff of these airboat experiences do what they do because they love nature, wildlife, and sharing these beautiful experiences with others. While they want you to have a great time, they are also passionate about wildlife education and preservation. Show them your appreciation with gratuity.
Sign up for the Mommy Poppins Newsletter today!
i