Everglades Airboat Tours: Take a Boat Ride To See the Alligators in the Florida Everglades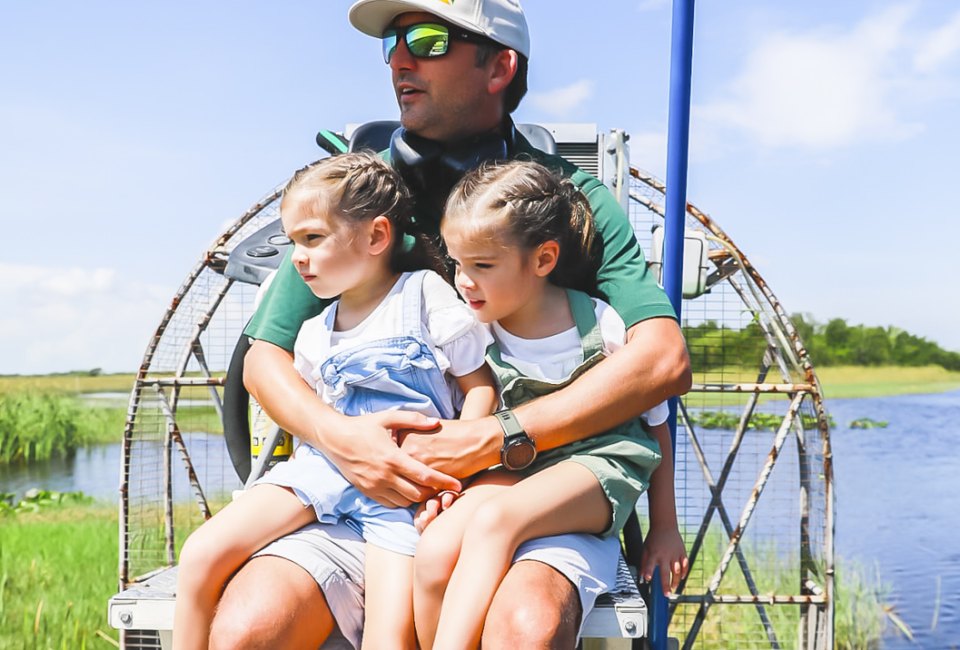 8/7/22
- By
Roberta B
Florida's Everglades are world famous—mostly for alligators, but there is more to this enormous wildlife area than big toothy reptiles. Everglades National Park's swamps and mangroves cover 1.5 million acres of South Florida, with the broader Everglades region extending many miles beyond that. A full vacation exploring the waterways of the Everglades is a tropical treat, but there are also easy options for day trips from Miami and Fort Lauderdale. Armed with the right info, an airboat ride through the Everglades to greet a few alligators can be an easy and exciting afternoon outing.
Once you've seen the alligators, consider a trip to South Florida's Lion Safari!

Photo courtesy of Sawgrass Recreation Park
What Is Special About the Florida Everglades?
Let's start with what exactly are the Everglades. The area we refer to as The Everglades is the largest sawgrass prairie and mangrove ecosystem in our hemisphere. It is also the largest designated wilderness in the east, home to several endangered species, and the only ecosystem in the world where American alligators and crocodiles coexist. Forty miles wide and a hundred miles long, the area is essentially a very slow-moving, grassy river.
The expansive swamps and wetlands are also rich in Native American history. Hiking and camping are possible, but by far the most popular way to enjoy the Everglades is on a boat ride.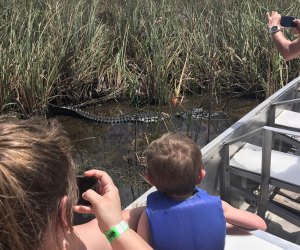 We couldn't believe how close we got to an alligator! Photo by the author
Is an Airboat Tour of the Everglades Worth Doing with Kids?
It's all about the alligators. So, yeah, it's worth doing!
Because the swamps are shallow and the vegetation delicate, airboats are the best way to see the Everglades. These boats skim along the surface, without disturbing the vegetation beneath. All of that blowing air does get loud (tours generally distribute some type of ear protection), but the 'gators don't appear to care. The great thing is that the sawgrass is undamaged—and the boat being so unusual just adds to the adventure.
While of course no tour can ever guarantee specific wildlife to appear on cue, it's a pretty safe bet that the tour operator on any airboat ride will be able to find you an alligator or two. The first time my son and I did a tour, we saw nine or ten of them! On our most recent trip, the guide brought us breathtakingly close to an enormous alligator who appeared not to care about us in the least. The waters are so full of 'gators, and the boat drivers make so many trips in a day, that the odds of seeing multiple alligators are very much in your favor. And for most kids, that is the very thing that makes the trip so thrilling. Every kid I've taken or seen on an airboat in the Everglades was absolutely transfixed—from toddler to teen.
As a bonus, we have learned quite a bit about the local environment and tribal history of the area on these tours, which helps to keep things interesting for Grandma and Grandpa, too. Each company offers a slightly different tour, so it's worth trying a new one on each visit.
Can You Swim in the Everglades?
Unlike other Florida tourist destinations, the Everglades are NOT a place to go swimming. Even if you find a spot that looks inviting on a hot day, keep in mind how many alligators and crocodiles there are in there, and how easily they could close their jaws on a child. Swim at one of Florida's wonderful beaches; leave the waters of the Everglades to the crocs and 'gators.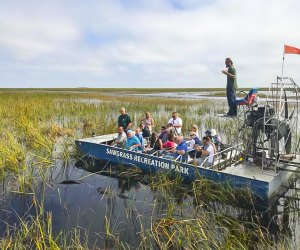 Photo courtesy of Sawgrass Recreation Park
How To Book an Airboat Tour of the Everglades
There are many options and many locations available for airboat tours of the Everglades. Depending on where you want to depart from, a quick Google search can help you find one that isn't far from most South Florida locations. Here are a few shout-outs to some great airboat tour operators:
Barely 30 minutes from Fort Lauderdale, Sawgrass Recreation Park is on the edge of the Everglades region and offers group and private airboat rides throughout the day that pretty much always find their 'gator. The park also has a small nature center with wildlife presentations, an opportunity to meet baby alligators up close, and a gem mining station. There is a shop and a cafe, as well as plenty of free parking. Reservations are required for the boat ride.
If you're prepared to drive a little farther into the Everglades for a slightly longer tour, reserve a one-hour ride (or more) with Everglades Swamp Tours. These airboats journey a little deeper in, so you might get lucky and spy a dozen alligators at the right time of day.
Located south of Miami, Everglades Alligator Farm is especially convenient to Miami and the Keys. Tours are offered all day long, and reservations are not required. This is one of the few locations offering walk-up airboat rides in the Everglades.
Places featured in this article:
---
Sawgrass Recreation Park
---
Everglades Alligator Farm
---
Everglades Swamp Tours
Sign up for the Mommy Poppins Newsletter today!