50 Best Kids' Movies for Family Movie Night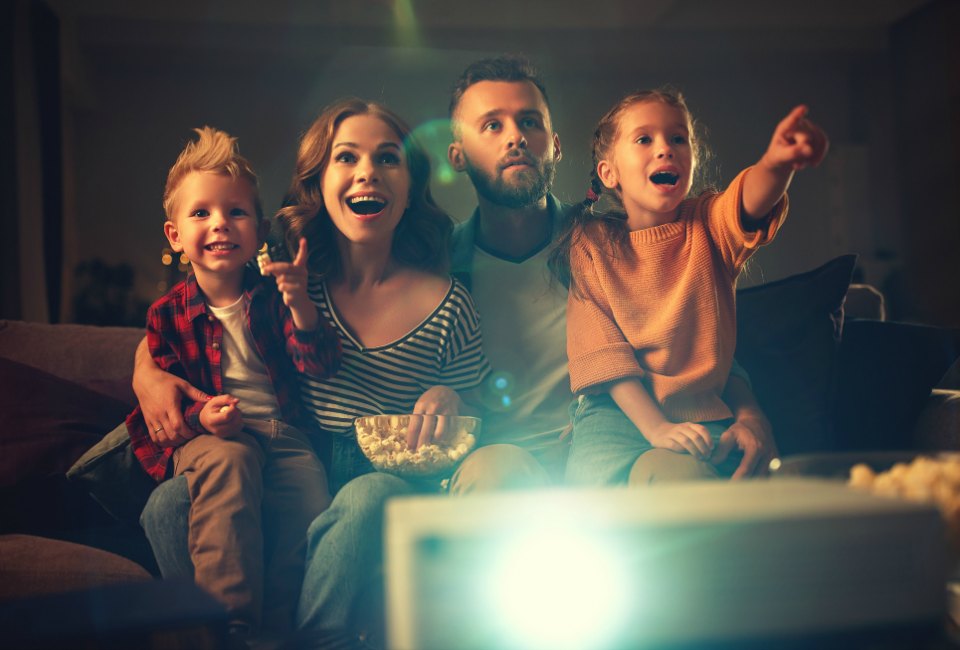 10/3/19
- By
Ally Noel
Some of the best kids' movies were made decades ago. If you're looking for the perfect flick to please everyone tonight, we suggest putting the new releases aside for now and introducing kids to these classic family movies.
Get the popcorn popped, the kids snuggled up on the couch, and now you're ready to peruse this list of our top 50 kids' movies sure to win over the pickiest of film critics. From The Wizard of Oz to Sandlot and everything in between, it's time to turn down the lights and enjoy some quality time with the entire family.
1. The Princess Bride (PG)
This fairy tale of an adventure delights fans of all ages. The Princess Bride is that perfect mixture of an adventure and love story (with plenty of comedy mixed in) to appeal to your entire household.
2. Mary Poppins (G)
Mary Poppins is a "practically perfect (kids movie) every way" When Jane and Michael Banks compile a list of qualities they are looking for in a new nanny, they are pleasantly surprised when Mary Poppins arrives. Mary Poppins is filled with magical adventures that appeal to the child in everyone. We love Mary Poppins Returns from 2018, too. This remake won over kids and parents.
3. Homeward Bound: The Incredible Journey (G)
Chance, Shadow, and Sassy may be pets, but they sure can teach viewers a lot about family, perseverance, and grit. Kids will love watching these pets adventure across mountain ranges, rivers, and forests in search of their family.
4. The Sandlot (PG)
Every generation needs a good "coming-of-age" tale, and for many, The Sandlot is just that movie. Watch this group of young baseball players overcome bad luck with the power of friendship and loyalty.
RELATED: Top Halloween Movies for Kids and Families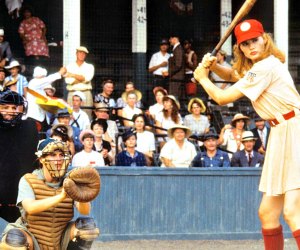 The women of A League of Their Own just wanted to play ball! Photo courtesy of Columbia Pictures
5. A League of Their Own (PG)
Finally, a sports movie with a whole lot of girl power! A League of Their Own follows the story of The Peaches, an All-American Girls Professional League during the 1940s, as they win games and respect for women in sports.
6. The Great Outdoors (PG)
They planned a picture perfect vacation in the Midwest woods...what can possibly go wrong for the Ripley family? Dreams of bonding and enjoy nature soon go out the window when their in-laws arrive on the scene.
7. Apollo 13 (PG)
Apollo 13 portrays the true story of the APOLLO 13 mission to the moon. Although tense, this realistic depiction of a historic event is chock-full of stunningly accurate details that will appeal to older kids and teen, plus an award-winning cast.
8. Harry and the Hendersons (PG)
Not only is Bigfoot real, but he's living in the 'burbs with the Hendersons! Watch the Hendersons work together as a family as they try to save their furry (and stinky) house guest.
9. Honey, I Shrunk The Kids (PG)
You know there is going to be an amazing adventure when odd-ball scientist Wayne Szalinski accidentally shrinks his kids and the neighbor's kids in one of his contraptions. Honey I Shrunk the Kids is definitely a kids movie big on adventure.
10. Karate Kid (PG)
When teenage Danny becomes the target of a group of bullies, Mr. Miyagi steps in to help by training him to master karate.
11. Freaky Friday (PG)
What kid doesn't dream of switching places with a parent? Whether you watch the 2003 or 1976 version, this switched-identity comedy teaches everyone to be careful for what they wish.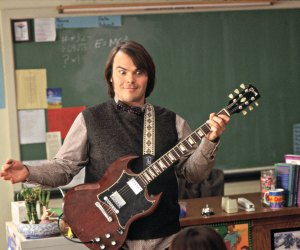 Every kid wishes for a School of Rock-style substitute. Photo courtesy of Paramount Pictures
12. School of Rock (PG-13)
An impish but earnest unemployed rock musician poses as a substitute teacher at a posh local private school. High jinks ensue when he attempts to rewrite the curriculum and enter his surprisingly talented students in a local talent contest.
13. Mrs. Doubtfire (PG-13)
When divorced dad Daniel Hillard longs for more time with his kids, he transforms into Mrs. Doubtfire, a nanny unlike any other.
14. The Mighty Ducks (PG)
Before it was an actual NHL Team, the Mighty Ducks was a sports-comedy about an underdog youth league hockey team. Lessons abound on sportsmanship, friendship, and family.
15. Wizard of Oz (PG)
The classic of all classic kids' movies! Who can resist the tale of Dorothy and her little dog Toto as they journey through the wonderful land of Oz. For over 70 years, this film has managed to captivate generations of families.
16. Labyrinth (PG)
When the Goblins come and steal young Sarah's baby brother, she has no choice but to venture into the Labyrinth to save him. Filled with mythical creatures designed by Jim Henson and a catchy soundtrack performed by David Bowie, Labyrinth is a cult classic for a reason.
RELATED: 50 Easy Science Experiments to Do at Home with Kids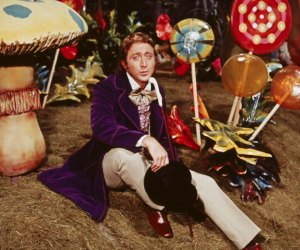 Kids will swoon at the treats, songs, and colorful characters in Willy Wonka and the Chocolate Factory. Photo courtesy of Warner Home Video
17. Willy Wonka & the Chocolate Factory (G)
Welcome to this delightful "world of pure imagination." Based on Roald Dahl's book, this movie is filled with dark humor, but families will still find joy watching Charlie persist over many obstacles thrown his way.
18. Star Wars Saga (PG)
A long time ago, in a galaxy far, far away... the ultimate sci-fi classic was born. The Star Wars saga has firmly implanted itself into pop-culture history, so gather everyone on the couch and teach the whole family in the ways of the Jedi.
19. Home Alone (PG)
What kid doesn't dream of having the whole house to themselves? No pesky parents to remind you to brush your teeth or annoying siblings to fight with over the TV remote. When Kevin is accidentally left behind while the rest of his family is on Christmas vacation he learns that maybe you do need your family after all.
20. Jurassic Park (PG-13)
This suspenseful blockbuster needs a top-notch sound system to really capture the magic and thrills of its prehistoric scenery and roars. What could possibly go wrong when you invite three scientists to check out on a fictitious theme park with real-life dinosaurs?
21. Back to the Future Trilogy (PG)
Doc Brown's souped-up DeLorean takes Marty McFly of the adventure of his lifetime. This time-traveling trio of films will take you from the Wild West all the way to the future.
22. The Sisterhood of the Traveling Pants (PG)
Anyone who has ever tried on jeans knows how hard it is to find a pair that fits one person - let alone four young women with different body sizes. But, the magic of the pants goes far beyond its ability to stretch and form to each girl. Their fabric weaves a beautiful coming-of-age story of friendship, family, and sisterhood.
23. The Goonies (PG)
If "Goonies never say die," then this movie will live forever! This feel-good 80s movie has all the elements of a childhood dream adventure: pirates, lost treasure, and a harrowing journey to save your childhood home. Oh, and yes, plenty of tween and teen angst.

24. Sister Act (PG)
When Reno lounge singer Deloris is placed in the witness protection program at an inner-city convent, she brings a little life to the convent choir.

The lovable Kermit for the family movie night win! Photo courtesy Disney/Jim Henson
25. The Muppet Movies (G)
The funny thing about watching Muppet Movies is that as an adult, you laugh at completely different parts than your kids. Whether the Muppets are Taking Manhattan, or soaring over a Rainbow Connection, this kids movie series is a childhood classic for a reason.
26. Close Encounters of the Third Kind (PG)
After Jillian's son is abducted during a UFO encounter, Roy Neary and Jillian Guiller travel to the UFO's landing site to get him back. With themes of abduction and general creepiness, this science fiction adventure can be scary at times.
27. The Princess Diaries (G)
Mia may seem like an unlikely candidate for a princess, but that doesn't make her any less worthy of wearing a crown. This modern day "ugly duckling" story has some unique twists that make it an ideal family movie.
28. Hidden Figures (PG)
Based on the true story of three African-American women who worked at NASA in the 1950s through 1960s, Hidden Figures offers tweens and up a story rich in integrity, teamwork, and tenacity.
29. Indiana Jones (PG)
Whether you choose to watch Raiders of the Lost Ark, Temple of Doom, Last Crusade, or Kingdom of the Crystal Skull, all four of these kids movies are jam-packed with action and adventure that have been appealing to kids for decades.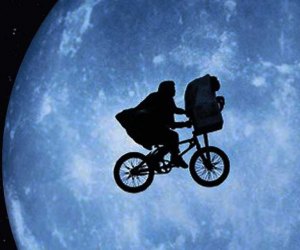 ET might be an iconic 1980s kids movie, but this one never gets old. Photo courtesy Universal
30. E.T. the Extra-Terrestrial (PG)
"E.T. go home!" For all "80s kid" parents, there is nothing more magical than E.T. and Elliott soaring past the moon in a bike. There have been many alien movies over the years, but none have been as captivating as E.T. and Elliott's friendship, nor as kid-friendly.
31. Harry Potter Saga (PG-13)
Pour a glass of Butterbeer, and grab your wand, because no matter which of the eight Potter films you pick, the kids are in for an evening of sorcery, friendship, and harrowing adventure.
32. Annie (PG)
Annie is the quintessential "rags to riches" tale. Young audiences will delight watching little Orphan Annie get picked from the orphanage to live with Daddy Warbucks in his mansion.
33. Jumanji (PG)
Kids may associate this franchise with the comedy of Dwayne Johnson and Jack Black, but the original film is a lot darker. Based on an award-winning Chris Van Allsburg book about a cursed board game, Robin Williams' 1995 version is filled with very real-looking creatures that at times are a bit intense.
34. Night at the Museum (PG)
It's every kids' dream and nightmare rolled into one: imagine if museum exhibits sprung to life after the doors are locked. That is just what happens in a Night at the Museum. This action-packed adventure is suitable for kids as young as 7.
35. Now and Then (PG-13)
Tweens and teens will be able to relate to this coming-of-age movie telling the story of four strong women and their experiences during the unforgettable summer of 1970.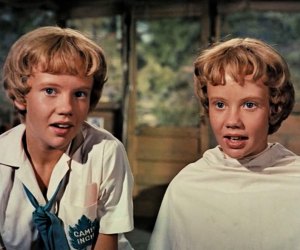 The original 1961 Parent Trap became an instant classic Photo courtesy of Walt Disney Pictures
36. The Parent Trap (PG)
Whether you watch the 1961 and 1999 versions, The Parent Trap is a classic among kids movies. This "separated at birth" story of twins, Hallie and Annie, and their conniving plan to get their parents back together is pure sweetness.
37. Uncle Buck (PG)
When the Russells encounter a sudden crisis, they are forced to reach out to the estranged Uncle Buck, the black sheep of their Midwestern suburban family. Teens and tweens will love this silly and sweet John Hughes classic (although they might beg you for giant pancakes afterward).
38. Short Circuit (PG)
"Johnny 5 is Alive!" When a lightning strike hits one of the experimental military robots, Number 5, he begins taking on human characteristics. STEM-loving kids will love this tech throwback of a kids movie.
39. The Blind Side (PG-13)
The Blind Side, based on a book depicting the life of Baltimore Raven Michael Oher, is an uplifting sports movie that focuses on the life of the once homeless high schooler and the Tuhoy family who take him in.
40. National Treasure (PG)
Part history lesson, part adventure flick, National Treasure leads you on a modern day treasure hunt trying to solve puzzles and clues in historic sites in Washington, Philadelphia, Boston, and New York.
41. Chitty Chitty Bang Bang (G)
When zany inventor Caractacus Potts buys a beat-up car and converts it into a fantastic contraption that can fly, even a day at the seashore can be a magical adventure.
42. Hook (PG)
Apparently Peter Pan did grow up—and got married, and had kids, and became a lawyer. But, when Captain Hook kidnaps his kids, grown-up Peter must return to Neverland and relearn how to "think happy thoughts."

March of the Penguins is a feel-good documentary about the survival of these curious birds. Photo courtesy of Warner Home Video
43. March of the Penguins (G)
This beautiful documentary shows Emperor penguins making their annual trek from the Antarctic shore to the inland plains. Humans can learn a lot about perseverance and survival from these birds and their quest to survive.
44. Stuart Little (PG)
Based on an E.B. White book, this is the story about the Little Family adopting a charming mouse named Stuart.
45. Willow (PG)
When aspiring sorcerer, Willow, finds a baby, he heads off on a quest to return the child. Any young fantasy-fan will instantly fall in love with this classic tale of good triumphing over evil.
46. Nanny McPhee (PG)
Seven unruly children are in desperate need of a nanny. When the Nanny McPhee arrives on the scene, she works her magic and teaches the whole family a lesson or two.
47. The NeverEnding Story (PG)
The fantasy land of Fantasia is being threatened by "The Nothing," a darkness that ruins anything it touches. Flying dragons, swamp monsters, and mad scientists lead the audience through a fantastic science-fiction adventure trying to save the world.
48. Miracle (PG)
Miracle is the ultimate underdog sports movie. Kids can learn a lot by watching the "miracle team" push themselves to gold in the 1980 Olympics.
49. Dark Crystal (PG)
All his life, Jen believed he was the sole survivor of the creatures known as Gelflings. A quest to find the missing piece of the Dark Crystal will lead him to the truth: another Gelfling named Kira.
50. The Air Bud Movies (PG)
There is probably an Air Bud for every season, holiday, or activity. With a total of 14 Air Bud movies in this franchise, young children will definitely fall in love with the Buds, a family of adorable golden retrievers.
Click Here to Sign Up!
i