50 Fun Activities for Grandparents To Do with Kids: For Grandparents' Day and Every Day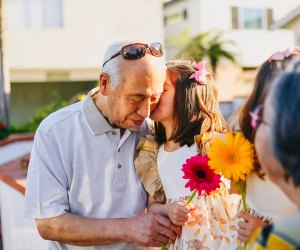 9/7/21
- By
Lauren LaRoche
National Grandparents' Day is the Sunday after Labor Day, and to honor the occasion we've put together the ultimate list of fun things for grandparents to do with kids. Whether they have a weekend sleepover planned or just an afternoon visit, this list is sure to keep kids (and grandparents) entertained and making marvelous memories. Because let's face it, while kids never get enough time with grandma and grandpa, sometimes the generation gap can make it hard to think of things to do together.
If grandparents live far away or you're keeping things virtual, check out our list of activities you can do with grandparents on Zoom. And remember, the best gift for grandparents on Grandparents' Day is simply more time with grandkids!
Indoor Activities for Kids and Grandparents
1. Draw a family tree
Family members of all ages love talking about their family tree. While the kids and grandparents draw out the different branches and see how far back in the tree they can go, ask grandparents to tell stories about different family members. These stories help kids feel connected to family and the past.
2. Make a fort
Who says making a fort is just for kids? Grandma and grandpa likely have a few fort-building techniques the kids have never seen. Get out the sheets and couch cushions and enjoy hours of indoor fun.
3. Play a different version of 20 questions
Asking questions is an awesome way for kids and grandparents to get to know each other even better. Rather than trying to guess what the person is thinking of, in this version the players go back and forth asking the other person questions about themselves until each person has answered 20 questions.

Cards are a fun and easy way to spend time together. Photo by Cottonbro Studio, Pexels
4. Play cards
Cards are a fun and easy way for kids of all ages to spend time with grandparents. Classics such as UNO, Go Fish, and Old Maid are easy games for even very young kids to learn. Keep the card playing going all day as you work through our list of 25 card games every kid should know.
5. Make a holiday decoration
With a holiday in every season, kids and grandparents can get crafty making a holiday decoration. Carve pumpkins, make ornaments, or paint something patriotic for the summertime.
6. Do crossword puzzles
Crossword puzzles not only get your mind moving but puzzles also help kids with reading, writing, and spelling. Give everyone a little brain workout with some kid-friendly crossword puzzles. There are plenty of free ones you can find online and print out.

Pinkies up, it's tea time! Photo by Jill Wellington, Pexels
7. Have a tea party
There's nothing cuter than a tea party with little kids. Grandparents can enjoy some real tea while little kids can have water or lemonade—and everyone loves cookies or cute little tea sandwiches. Set a fancy table and invite favorite stuffed animals to tea, too.
8. Read books together
Reading is one of the best things any adult can do with a child. With grandma or grandpa, it's even more special. Have kids and grandparents take turns reading to each other from their favorite book. A great place to look for a new book to read is our list of 100 Kids' Books Every Child Should Read Before They Grow Up.
9. Draw portraits of each other
Set up the kids and grandparents with some nice paper and colored pencils and ask them to draw portraits of one another. Keep these adorable prints to frame as a birthday or holiday gift!

Create delicious memories by baking together. Photo courtesy of Pixabay
10. Bake together
Grandma's desserts instantly take everyone back to childhood. Choose easy recipes that kids can help make or pass down a secret family recipe!
11. Host a dance party
You're never too old or too young for a dance party. Everyone can pick their favorite tunes and get shaking. Mix it up by having kids teach their grandparents the latest tik tok dances.
12. Make ice cream sundaes
Ice cream sundaes are even more delicious when mom and dad aren't around. Grandparents and kids can choose their favorite flavors and toppings and have a sweet blast. For an extra treat, use ice cream you make together or create an ice cream sundae dessert board.

Making dinner together often leads to kids cleaning their plates. Photo by Angela Roma, Pexels
13. Cook dinner together
If grandparents are watching the kids in the evening or overnight, cooking dinner together is a great activity. When kids get in on the cooking action they're more likely to be adventurous eaters.
14. Make t-shirts
Puffy paint or some tie-dye make for a fun and crafty afternoon. Get some plain white t-shirts and let everyone get their crafty energy flowing. This is great for family outings or big trips where everyone can wear matching t-shirts.
15. Play dress-up
Playing dress-up is a fun and silly way to pass the time with grandkids. The whole family can get creative with costumes, put on a play, or just dress each other up with clothes from around the house.

Take a chance on a board game on a rainy afternoon. Photo by Suzy Hazelwood, Pexels
16. Play board games
Board games are a fun and easy way to pass the time, especially on a cold or rainy day. The best part is you likely already have a few on hand; but if you need some new games, we've got suggestions for the best board games for all ages.
17. Put on a puppet show
A puppet show is a great way to stay active for an entire afternoon. You'll need to start by creating your puppets and then get to work on sets and themes for the puppet play. use things found around the house, like old socks or clothes, craft supplies, and cardboard boxes.
18. Make milkshakes
Milkshakes are a fun and easy treat to make at home. Start with a basic recipe and have some fun syrups and mix-ins ready. It's an easy way to lure everyone to the kitchen!

Coloring is a restful activity when everyone needs a little break. Photo by Rodnae Productions, Pexels
19. Color together
There's something timeless and soothing about sitting down to color. With a new pack of crayons and coloring books (or printed out coloring pages), kids and grandparents can spend some restful and creative time together.
20. Have a movie night
Movie night is even more special with special guests. Pick a great kids' movie and load up on popcorn, pizza, and special movie treats. Get everyone comfy and enjoy a special movie night at home. If grandparents don't live nearby, it's no problem! You can have a Netflix party movie night together.
21. Make a spa day
A spa day is a fun way for grandparents and kids to pamper themselves and maybe even get a little silly. Do it up with comfy pajamas, robes, nail polish, and cucumber circles for the eyes.
22. Make a gift for parents
Time alone with the grandkids is a great opportunity to make something special for their parents—perhaps a birthday gift or something for a holiday.

Puzzles can take the form of picture puzzles online or jigsaw puzzles on the floor. Photo by Michael Morse, Pexels
23. Do a puzzle
Puzzles are great for kids and grandparents alike. They get the mind moving and can be done regardless of age or physical activity level. Need a new puzzle? Find a new favorite on our list of 15 brainy puzzle games and jigsaw puzzles for kids. Or opt for a fun picture puzzle online!
24. Teach each other a hobby
Grandparents likely have hobbies that their grandkids have never even heard of—but kids also have hobbies that are a mystery to their grandparents! Have kids give knitting a try and maybe grandpa gets in on a game of Mario Kart. Someone may pick up a new and unexpected hobby.

There is no limit to what you can build with Legos and a little imagination. Photo courtesy of the author
25. Build with Legos
Legos are an awesome way to spend some quality time together. They encourage problem-solving, reading, and teamwork. The whole family will be proud of creations built together.
26. Make a racetrack
On a gloomy day inside, get out some cardboard or masking tape and make a racetrack for toy cars. This will take ingenuity, craftsmanship, and teamwork. The end result is a fun little racetrack kids can play with for hours.
Outdoor Activities for Kids and Grandparents

Just spend some time together, exploring the great outdoors. Photo by Freestocks.org
27. Go on a walk
An easy walk down the street can be a lot of fun for grandparents and kids. This low-impact physical activity can be done anywhere and it's always free. Walk to a park, walk around the block, or walk somewhere fun for a little treat. We've also got a dozen suggestions that help turn an everyday walk into an adventure.
28. Take a bike ride
A bike ride is a fun and easy way to get out and get moving. Even if the grandparents aren't on bikes, they'll still enjoy a stroll with their favorite little bikers around the neighborhood or to a local park. Better yet? Have grandparents teach kids to ride a bike! It's a memory everyone will treasure.
29. Plant flowers
Gardening is a fun and low-impact activity for grandchildren and grandparents to do outside. Whether planting flowers in a garden or in pots, this is a great one-off or regular activity they can enjoy together.

There's sure to be a lot of giggles when you find grandpa under the bed. Photo by Pexels-Monstera.
30. Play hide-and-seek
Hide-and-seek is an awesome game to play both indoors and outdoors. Get the grandparents in on the fun and there's sure to be a lot of giggles.
31. Go to the movies
A movie outing is a fun way for grandparents and grandkids to spend some time. Pick a movie the whole family will like, sit back, and enjoy the show.
32. Go on a picnic
A picnic gets everyone outside to enjoy the little fresh air and do something different. Half the fun is packing a bag or picnic basket together filled with lunch and favorite treats to share.

Rocks are fun to paint and they make lovely keepsakes. Photo courtesy of the author
33. Paint rocks
Painting rocks is a fun way to get creative with nature. Grandparents and kids go on the hunt for the perfect rocks and paint them for the garden or front yard. These are adorable mementos of time spent together.
34. Make a birdhouse
Birdhouse kits or even a do-it-yourself birdhouse are pretty easy to make. With a few simple pieces of wood, wood glue, and birdseed, grandkids can make an awesome birdhouse to hang in the tree at their house or at grandma and grandpa's house.
35. Pick wildflowers
Go on an adventure to find pretty flowers (even if some flowers end up being weeds!) to put in vases around the house.

Everyone loves a day of mini golf. Photo by Caleb Oquendo, Pexels.
36. Play a round of mini golf
Miniature golf is an easy activity for kids and grandparents to do together. These small courses are slow-paced and made with kids in mind. Plus, it can be fun to get a little cross-generation competition going.
37. Go to the zoo
You're never too young or too old to appreciate the magic of animals. Check out our list of favorite zoos across the country to find the best zoo near you.
38. Go bowling
Bowling is a fun game that everyone can play regardless of skill level. With bumpers for little ones and cosmic bowling at many places later at night, there's a perfect place to bowl for everyone from toddlers to tweens.
39. Draw with sidewalk chalk
Sidewalk chalk is an easy and inexpensive thing to play with anywhere and any time. Create a driveway or sidewalk masterpiece together, or use the chalk to create sidewalk games like hopscotch or tic-tac-toe.

Spend a peaceful day trying to catch dinner. Photo credit Stephen Andrews, Pexels
40. Go fishing
Fishing is a summer rite of passage for a kid. This is an easy and non-strenuous activity for kids to do with grandparents. Whether it's a day trip to a lake or just a stroll to a nearby fishing hole, this is a fun activity the kids will never forget.
41. Go to a farmers market
A farmers market is a lovely way to spend a morning. Walk the aisles picking sweet treats or ingredients for that night's dinner.
42. Play with bubbles
Who doesn't love good old-fashioned bubbles? Set up the grandparents and kids with fresh bubbles and they'll enjoy some great outdoor time trying to catch or pop them all. Try this in the winter months, too—frozen bubbles are amazing!
43. Go to a new park
While every park is magical as a kid, make a park day even more special by trying a new park or a destination park in your city.

Learn to play a duet! Photo credit Alena Darmel, Pexels
44. Take a class together
Taking a class with grandma or grandpa is a really special experience. They can try painting, cooking, pottery, art, music, or a movement class.
45. Go out to eat
A meal out is an even more special occasion when it's with grandparents. Whether it's a quick bite or a dressed-up occasion, everyone will love the memories made while dining out together.
46. Visit a new pool or splash pad
In the summer months, take the time to enjoy a little water play at a new water park, pool, or splash pad. If there's an indoor pool option near you, you can even make a pool party date in the winter.
47. Visit a farm for berry or apple picking
The summer and fall are a great time to visit a berry, flower, pumpkin, or fruit farm. Then bring home the actual fruits of your labor and get eating, cooking, or even canning.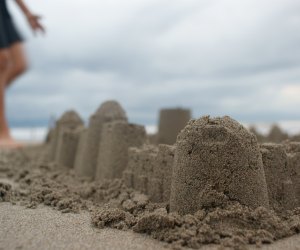 Build sandcastles in the air while building them out of sand. Photo by Gerardo Ramones, Pexels
48. Build a sandcastle
If you're near a beach or even a park or backyard with a sandbox, a sandcastle is a fun and creative activity to do together. Buying a new set of sand toys and building with grandpa and grandma will make the experience feel even more special.
49. Visit a museum
Choose a museum that kids and grandparents have never been to together. Whether it's an art museum or the planetarium, they'll make great new memories exploring a new place. Here's our list of favorite children's museums in every state to give you some ideas!
50. See a game
Regardless of the season, there's always a local or professional game to go to with grandparents. Whether it's baseball, t-ball, basketball, football, or hockey, everyone will love filling up on game food and cheering on the home team.