The Most Irresistible Dessert Board Recipes for Kids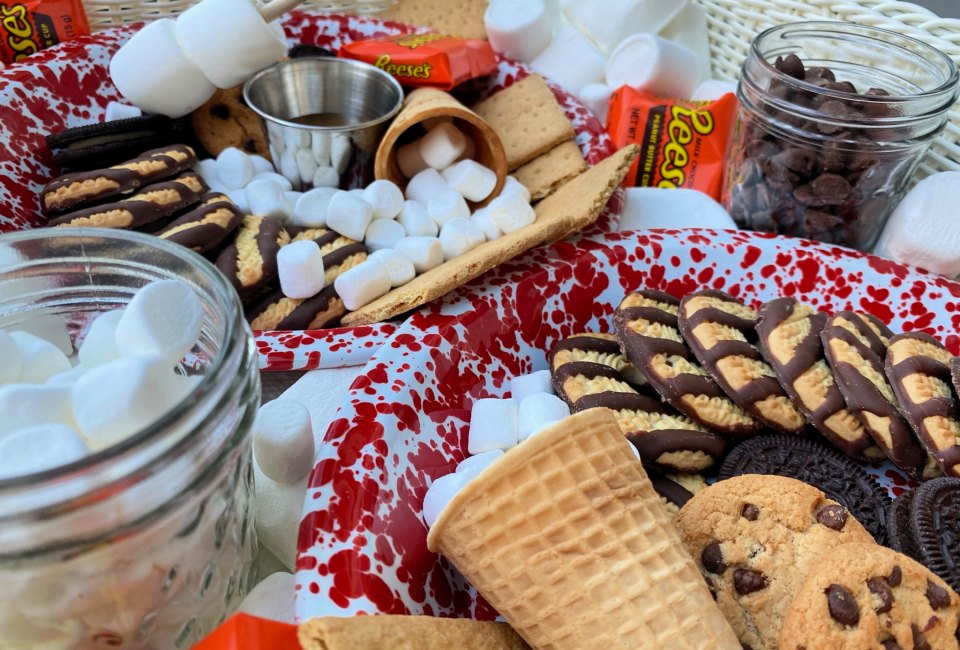 4/15/21
- By
Ally Noel
Why should cheese and crackers have all the fun? These dessert charcuterie boards can make any day sweet! It is not difficult to assemble one of these trays once you have the right ingredients and supplies in your kitchen. Dessert boards are no-cook, easy dessert recipes that are perfect for celebrating a birthday, holiday, or just to add a little fun to a night at home. You can use any flat surface to build your dessert board—we like to use a deep tray with handles, but a cutting board, serving tray, or any flat surface is a perfect stage to show off your delectable dessert creations.
From s'mores masterpieces to movie night treats, these five dessert boards will let you indulge your family's sweet tooth. Find more dessert recipes and sweet kitchen inspiration in our Guide to Easy Recipes for Kids.

Make ice cream dreams come true.
1. Ice Cream Sundae Dessert Board
Put a cherry on top of your next family fun night! Satisfy every sweet tooth in your house by scooping up a bowl o' fun from this delicious Ice Cream Sundae Board. Start by picking your favorite ice cream flavors (or make your own!), then pile on the toppings. We filled bowls with candy, sprinkles, sauces, nuts, whipped cream, and fresh fruit. It is like having an ice cream sundae bar in your very own home.
2. Candy Board
Imagine walking into Willy Wonka's "world of pure imagination"— that's the basis for this dessert board. Pack your bags (and make sure you bring your toothbrush), because we're about to take a trip to Candy Land. This Candy Board is indulgent enough to celebrate milestone birthdays and super-special celebrations. It is easily customizable for a fun twist on holidays, too. Add some candy corn for Halloween, Lucky Charms for St. Patrick's Day, or peppermints for Christmas time.

Campfire summer nights, here we come!
3. S'mores Board
From summer barbecues to family camping trips, a S'mores Board brings the yum to all your fireside entertaining. Start with adding plenty of the ingredients for the classic s'more to your board: tons of marshmallows, chocolate, and graham crackers. Then up your s'more game by adding Oreo cookies, Reese's Peanut Butter Cups, caramel, fudge striped cookies, mini-marshmallows, waffle cones, and anything else you can imagine to make an endless variety of s'mores. Everyone will love experimenting with the different ingredients to create their own personal twist on the classic s'more.
4. Waffle Board
If you like to kick your day off with a sweet start, then a Waffle Board is just the thing. Start by making a giant stack of fluffy golden waffles, and then set up a buffet of waffle toppings. Butter and maple syrup are the foundation of the perfect waffle board, but make sure you save room for peanut butter, Nutella, blueberries, whipped cream, chocolate chips, pecans, honey, strawberries, and bananas. This board is a family favorite for a late Sunday morning breakfast but has also been known to make an appearance on our dinner table on occasion.

Who needs a movie theater concession stand when you can put together this array of salty-n-sweet snacks.
5. Movie Night Snack Board
Bring your family movie night to the next level by putting together this Movie Night Snack Board. Having the right snacks on hand is an integral part of planning the perfect movie night experience. For this board, we grab all our favorite sweet classic movie candy—like Reese's Pieces, Raisinets, Jujyfruits, and Twizzlers—and mix them with a variety of salty snacks like popcorn, tortilla chips, and kettle corn. Give everyone a bag or bowl so they can serve up a variety of their favorite movie treats!
Photos by the author

Sign up for our free
newsletters.
Mommy Poppins is a family activity website that helps people find things to do with kids.
©
2023
MommyPoppins. All Rights Reserved.
mp-prod4-v4.32.99
Click Here to Sign Up!
i