How to Make Ice Cream At Home in 5 Easy Steps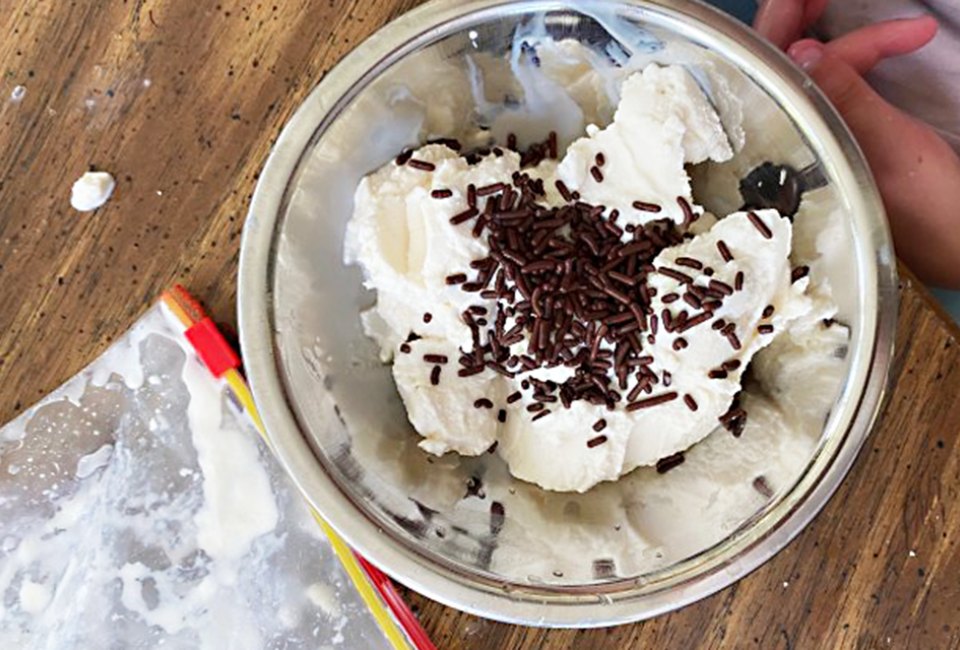 7/14/20
- By
Ally Noel
You don't need a fancy ice cream machine to make delicious homemade ice cream. We can show you how to make ice cream at home in a plastic bag, or a mason jar if you want to be a little extra.
These two homemade ice cream recipes take just 5 to 10 minutes and in just a few steps. Homemade ice cream is one of our favorite edible science experiments for kids, and the perfect anytime activity in our humble opinions, but especially fun during the summer.
Use these recipes as a base to add other flavors and ingredients. Experiment with mint, chocolate chips, or fresh cut fruit like strawberries.
How to Make Homemade Ice Cream
There are several ways to make ice cream at home, but these two recipes below are the simplest for making a great ice cream with kids. Now gather up all your supplies, so that next time everyone is screaming for ice cream, you'll be able to whip up a fresh batch in no time.

Want to know how to make ice cream? Even kids can conquer this recipe!
Homemade Ice Cream in a Bag
Ingredients
1 cup of half-and-half
2 tablespoons of granulated sugar
1/2 teaspoon of pure vanilla extract
3 cups of ice
1/3 cup of kosher salt
Toppings of your choice
Step 1
Mix the half-and-half, sugar, and vanilla in a resealable bag. Push as much air as you can out of the bag before you seal it.
Step 2
Place the ice and the kosher salt in another resealable bag.
RELATED: Homemade Popsicle Recipes to Make with Kids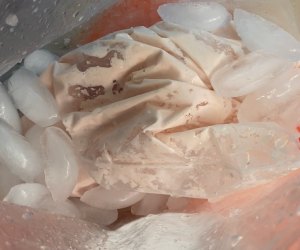 Ice and half-and-half are important ingredients.
Step 3
Place the sealed half-and-half mixture into the bag with the ice. Now seal up that outer bag.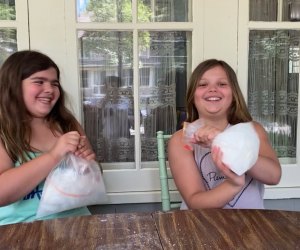 The fun part! Shake your ice cream in a bag!
Step 4
Vigorously shake the bags for 5 to 10 minutes. When finished, the half-and-half mixture will harden to form ice cream.
Step 5
Add toppings and enjoy.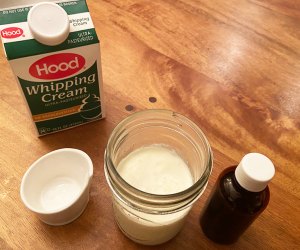 No special equipment is needed to make ice cream, just grab a mason jar, fill with ingredients, and shake! Photo by Sara M.
How To Make Ice Cream in a Mason Jar
Another option for making homemade ice cream is using a mason jar. The recipe is similar to the one above but offers maybe a prettier presentation for your ice cream––giftable even!
Ingredients for Mason Jar Ice Cream

1 cup of heavy cream
1 1/2 tablespoons of granulated sugar
1/2 teaspoon of pure vanilla extract
Pinch of salt
Step 1
Place all the ingredients into a mason jar and tightly seal it.
Step 2
Shake the mason jar vigorously for around 5 minutes. You will notice the cream mixture double in size.
Step 3
Place the mason jar in the freezer for around 3 hours.
Step 4
Remove hardened ice cream from the freezer and add toppings.
All photos by the author except where noted

Sign up for our free
newsletters.
Mommy Poppins is a family activity website that helps people find things to do with kids.
©
2023
MommyPoppins. All Rights Reserved.
mp-prod4-v4.32.99
We use cookies and other data collection technologies to provide the best experience for our customers.
Learn More
t Click Here to Sign Up!