Themed Restaurants in Chicago for Family-Friendly Interactive Dining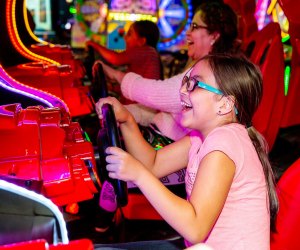 2/24/23
- By
Lauren LaRoche
Looking for themed restaurants in Chicago? Here are our favorite themed restaurants for kids.
These themed restaurants in Chicago turn a regular meal into a whole event. You can head to one of these themed venues to celebrate a birthday or other special occasion, or just to entertain your kids for a few hours while you eat. With interactive animals, trains that bring your dinner, and jousting knights, these themed restaurants for kids in Chicago are more of an experience than a restaurant. Whether you're after an arcade, high tea with dolls, or a milkshake as big as your head, there's something for everyone on this restaurant round-up below.
For more great Chicago restaurants for kids check out these unique restaurants for outdoor dining and our Kid-Friendly Chicago Restaurant Guide.
Themed Restaurants in Chicago for Kids

SafeHouse Chicago is a spy themed restaurant in Chicago. Photo courtesy of SafeHouse Chicago
If you have a kid that loves spy adventures, SafeHouse in Chicago is a super cool spy experience for kids. While kids are waiting for their food they can explore a secret passageway, find clues, play with spy gadgets and more. Before you enter, you'll be greeted by a gatekeeper and you must crack the password code to enter. SafeHouse Chicago has a top-secret location in River North which is great for exploring the rest of Michigan Avenue and close to several main hotels.
Sugar Factory is a hit with both kids and adults. Thankfully, for the adults, there isn't just sugar here. With a large menu of food items and fun adult drinks, this is a lot more than just a candy shop. Many dinner items for kids also come with cute little take-home prizes such as a rubber ducky. For dessert, you'll find amazing milkshakes that are so big the entire family can split one.
For a child with an American Girl Doll, it's a truly special experience to visit the American Girl Place Café with your children and their dolls. Dolls are fully part of the experience with little seats pulled up to the table that are just their size. In addition to dining with your dolls, you can also book a tea party dining experience complete with a mini tea set for doll guests. Be sure to check out all the amazing destinations just outside on the Magnificent Mile.
While you may have heard of JoJo's over-the-top Christmas shakes, JoJo's serves up extra special, giant milkshakes all year long. There are also other decadent desserts, as well as food items such as fries, burgers, and grilled cheese. There are also pretty cool adult drinks such as infused milk and cookies and themed cocktails. If you're at the downtown Chicago location, this is a great spot to check out before or after a visit to one of Chicago's museums.

Go bowling or play arcade games while you wait for food at Lucky Strike. Photo courtesy of Lucky Strike
Lucky Strike is a great place to let kids burn off some energy. In addition to bowling, there are also arcade games, ping pong, billiards, air hockey, and more. Menu items include pizza, burgers, wings, mac and cheese, and plenty of other kid-friendly options. The Lucky Strike Wrigleyville location is great for taking in the breathtaking views of Wrigley Field before or after a game.
Themed Restaurant in the Chicago Suburbs for Kids
For a little train lover, there's no better place than 2 Toots Train Whistle Grill. Not only do the trains whiz by throughout the restaurant but they also bring your order right to your table. Your basket of burgers or hot dogs comes delivered right from a train car. For dessert, their classic milkshakes are a must-try.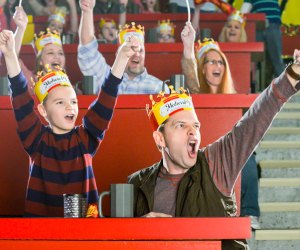 Medieval Times is the ultimate themed restaurant. Photo courtesy of Medieval Times in Schaumburg
Medieval Times is the ultimate dining experience. Your kids will feel like real knights and princesses as soon as you walk into this themed restaurant. Kids get to cheer for their knight during the tournament which always adds to the excitement. There are also horse performances throughout the show. For another fun twist, kids only eat with their hands during the entire feast.
Pilot Pete's is an awesome spot to see planes at this aviation-themed airport restaurant. The Schaumburg Regional Airport is home to Pilot Pete's Restaurant. You'll find huge windows where kids can see planes taking off and landing along with model planes, photos, and memorabilia coloring the walls and ceiling. Make sure to try their infamous chicken tenders with house-made honey mustard sauce.
Rainforest Café will transport your entire family straight to the jungle. Gorillas, lions, tigers, and elephants will entertain the little ones with something everywhere you look. The jungle-themed menu has kid-friendly options such as hamburgers, fries, pasta, and sandwiches.
Enterrium in Schaumburg is a massive arcade restaurant with rows and rows of arcade games, ping-pong, and a boutique bowling alley. Dining options include grill staples such as burgers and chicken tenders. This is a great spot for gamers looking for a special restaurant day out.