Things To Do in Wrigleyville with Kids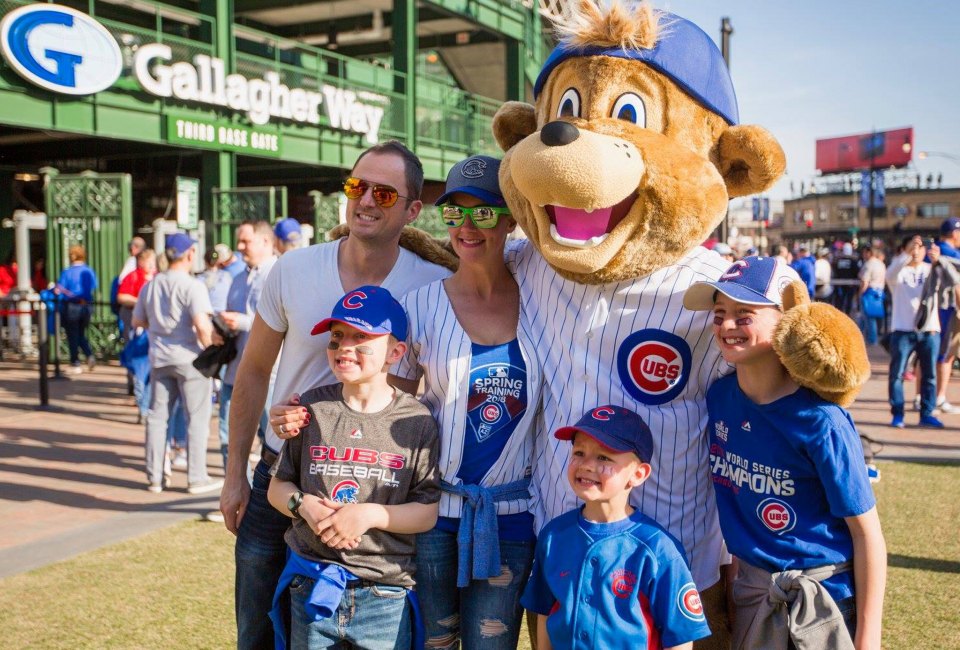 8/15/21
- By
Lauren LaRoche
Wrigleyville is the iconic home of the Chicago Cubs. Located just west of Lake Michigan in the center of Lakeview, Wrigleyville is a neighborhood all its own. Since its post-World Series makeover in 2016, Wrigley Field and Wrigleyville have undergone a massive facelift.
If you're planning on taking the kids to a game or just to walk around the neighborhood, we've rounded up everything you need to know about exploring Wrigleyville with kids. From where to stay and what to eat, this guide has the details to family fun in Wrigleyville.
Getting There and Getting Around
Wrigleyville is made for walking. On non-game days, Wrigleyville is an easy place to stroll around. On game days, much of Clark Street and Addison Street are blocked off to vehicle traffic. While this is great for walking to and from the game, it can be difficult to navigate the game day crowds with a stroller. Once inside, Wrigley Field is extremely accessible and stroller-friendly (aside from the crowds). Small, collapsible strollers are allowed to go under your seats if they fit. You can also check them for free at the bike valet station.
Parking is available at Wrigley Field and also in nearby lots. Unaffiliated parking is also available in residential lots and parking spaces. From further lots down Addison Street, you can hop on the CTA bus (#152) that will take you from the lots right down to the field.
One of the easiest (and fun for the kids) ways to get to Wrigley Field is by taking the CTA Red Line. The Red Line is located directly adjacent to the field, making it an easy place to get to and from a game. Your little ones will love taking the train down to Wrigley and seeing the city along the way.

Have a direct view of Wrigley Field from Hotel Zachary.
Where to Stay
If you plan on staying the night in Wrigleyville, the Hotel Zachary is a new boutique hotel located directly across from Wrigley Field. This Cubs-themed hotel has amazing city and park views. The walls are decorated with vintage Cubs memorabilia, artwork, and photos throughout. There is also room service available and several dining options. Big Star, Swift & Sons, Smoke Daddy, Jeni's Ice Cream, and West Town Bakery are all located in the hotel, but the best part is its location. If you're staying and going to a Cubs game, even your little ones will be able to walk into the field without a stroller. The lobby door is directly in front of the entrance to the field.
While the standard rooms offer plenty of space for a pack-n-play. The Hotel Zachary doesn't have any cots or rollaway cribs available for use. Make sure to bring your own portable crib if needed. Parking is available on-site and the hotel is within walking distance from the CTA Red Line. Pets stay for free at Hotel Zachary.

Share a treat at Jeni's Ice Cream in Wrigleyville.
Where to Eat – Kid-Friendly Restaurants in Wrigleyville
While much of Wrigleyville used to be made up of bars and late-night eats, things changed after the Cubs won the World Series in 2016. After its mega-makeover, Wrigleyville is now home to several family-friendly places to eat with kids. From iconic Chicago hot dogs to walking tacos, below are a few kid-friendly bites to try.
Located Inside Hotel Zachary: Big Star (tacos), Smoke Daddy (BBQ), Brickhouse Tavern (bar bites), Swift & Sons (steakhouse), West Town Bakery + Tap (coffee, drinks, breakfast items, and desserts), and Jeni's Ice Cream
Within 1/2 Mile from Wrigley Field: Ann Sather (breakfast), Coalfire (pizza), Southport Grocery & Cafe
Strike a pose in front of the Wrigley Field Marquee Sign. Photo courtesy of Hotel Zachary
Take a Photo In Front of the Famous Wrigley Field Marquee Sign
Wrigley Field is known for its iconic vines and bright red marquee sign. Make sure to grab a photo in front of this piece of Cubs history. There are also great photo-ops in front of the statues surrounding Wrigley Field. Take a pic in front of Cubs icons such as Harry Caray, Ernie Banks, Ron Santo, and Billy Williams.
Burn off some energy in Gallagher Way.
Play in Gallagher Way Next to the Field
Gallagher Way is a huge field and park that's free and open to the public just outside Wrigley Field. You'll find free events, movies in the park, live music, water fountains to play in, and more on both game days and non-game days. On game day, the games are broadcast on the TV right outside the field. This is a fun way to take smaller kids to a game without having to buy official tickets (and thus enjoy easy nap time or diaper change exits). This is also a fun place to picnic and people-watch on non-game days. In the winter, there's an ice skating rink and holiday-themed markets.
Photo courtesy of Major League Baseball
See a Cubs Game
A Cubs game with your little slugger is sure to be a hit. Whether you sit in the bleachers or a suite with a group of friends and family, there is always non-stop action at the Friendly Confines. Enjoy ice cream as big as your little one's head, eat nachos out of a helmet, and of course, snack on a famous Chicago hot dog. Be sure to get your little one ready to sing, "Take Me Out to the Ball Game," during the 7th inning stretch. Bring a baseball mitt to see who can catch a foul ball. If it's your child's first game, there are commemorative certificates available to mark the occasion.
If you have a nursing little one with you, Wrigley Field has private nursing rooms available for use on game days. One is located inside the gate at Gallagher Way and another is located inside the family restroom near the First Aid office. Changing stations are available in the restrooms, and family restrooms are located throughout Wrigley.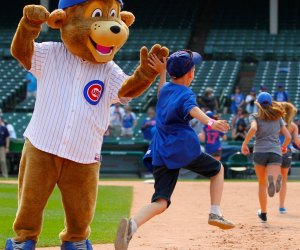 Tours allow you to step onto the field. Photo courtesy of Major League Baseball
Take a Tour of Wrigley Field
There's something magical about seeing Wrigley Field in the quiet of an off-day. Tours of Wrigley Field are available on non-game days, rain or shine. Tours last 75-90 minutes and children under two are free. On the tour, you'll see the Cub's dugout, the field, the upper deck, the bleachers, and the ivy in the outfield. Kids (and adults) will love the feeling of stepping out onto the field like their favorite Cubs player.
Photo courtesy of Sluggers
Play in the Batting Cages or see Dueling Pianos at Sluggers
In the afternoon on non-game days, Sluggers is really kid-friendly, with batting cages, skeeball, and other games for both kids and adults. The batting cages are located on the second floor with the dueling pianos. You must purchase tickets before you play. Sluggers is a short walk from Wrigley Field.
Click Here to Sign Up!