Igloos, Carhops, and Greenhouses: Fun Chicago Outdoor Restaurants for Winter Family Dining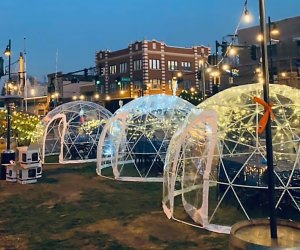 When you can't eat out, but you are sick to death of takeout and cooking, look no further than these local restaurants who have gotten very creative in figuring out some truly unique ways for families in Chicago to safely eat out—without freezing! Try taking the kids to eat at an igloo, be served carhop service, or dine on a super-heated patio right in the middle of Chicago. BYOB now stands for "Bring Your Own Blanket" (although many restaurants have them available to borrow or buy).
Since this is Chicago, many of the best family-friendly restaurants focus on pizza and hot dogs. But some on our list branch out to brunch, Mediterranean food, and decadent desserts. After the family has worked up an appetite at one of our favorite kid-friendly winter activities, any of these spots will sate the hungry beast within.
Because space is limited in igloos, villas, and greenhouses, families have to make reservations at nearly all of these restaurants. Many include a booking fee, food and beverage minimum, or deposit that can be applied to the bill. We tried to steer clear of anything with higher than a $25 per person minimum, since no one likes paying a fortune for their kid to eat four buttered noodles. COVID-19 guidelines are frequently changing and may differ from county to county or even from the city to the suburbs. Throughout the state, masks are required when interacting with your server. Be sure to check any other rules before sitting down to dine.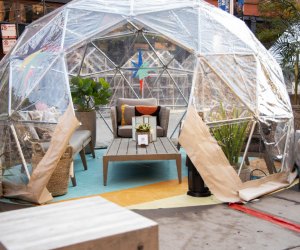 Families can eat in style (and comfort!) in their own private igloo at Beatrix.
Where to Eat in an Igloo (and More) in Downtown
This breakfast and lunch hotspot is one of many in the famed Fulton Market District to offer a variety of outdoor seating options. Select a table on the heated patio, or an enclosed greenhouse, or an igloo for your next family brunch. Igloos reservation fees are $150 and are not applied to your meal, while other options don't have a fee but still require reservations. The kids' menu has standards like a burger or chicken fingers, or some more grown-up choices like scrambled eggs and bacon or penne pasta. Bakery favorites like honey butter cinnamon rolls and angel food muffins also make a great breakfast treat.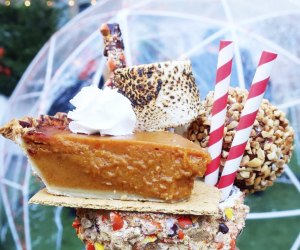 Kids can't resist the insane offerings at JoJo's Shake Bar, served up in an igloo.
Sweet treats abound at JoJo's Shake Bar's Winter Wonderland, which has been extended through February 1. The 5,000 square foot heated patio requires reservations and a $20 per table COVID surcharge. While extravagant milkshakes are the bar's main draw, families can also order sandwiches, salads, and a handful of entrees to balance the sugar rush. Highlights of the menu include the cookies and milk flight, baked hot chocolate, and the Winter Wonderland Shake—a peppermint milkshake with Christmas tree sugar cookie, snowman cake pop, marshmallow surprise, and mini candy cane. Grown-ups can add a little somethin' extra to their shakes for an extra charge.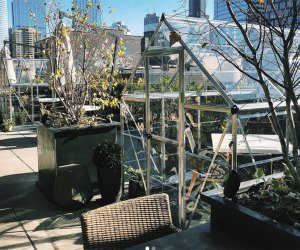 With the heated patio or greenhouses, Aba's is the perfect place to enjoy a sunny or snowy meal.
Aba—West Loop
Travel to the Mediterranean in the rooftop greenhouses or on the partially enclosed heated patio at this new Greektown favorite. Greenhouses seat 2-4, so bigger families will need to make a reservation on the patio. Reservations are required and a $30 booking fee applies for greenhouses. Patio reservations require a $50 deposit that can be applied to the bill. Aba offers a slightly more adventurous kids' menu featuring hummus and veggies, chicken kebabs, and green falafel. Family feasts are also available.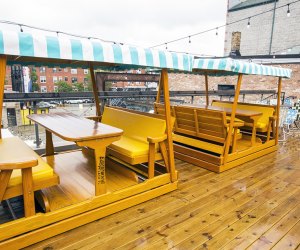 Dining on the very heated patio or in an actual camper make for happy campers at Happy Camper.
Campers and Carhops on the North Side
Dine on the heated patio or in the actual camper at this Wrigleyville pizza destination. Reservations are required through Open Table. The restaurant sells Happy Camper hoodies and blankets for extra warmth. Choose from pizzas with meats, chicken, or veggies only and save room for a s'mores skillet or trio of ice cream sandwiches rolled in different cereals for dessert.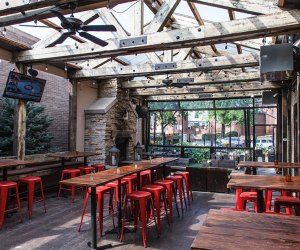 If the fireplace doesn't keep you warm, the filling food will, at Frontier.
Want to pretend you're an early American settler on the Great Plains? Frontier's rugged fireplace-heated patio is the perfect place. The restaurant is known for its whole animal dinners, which serve 10 or more adults, but during COVID you might be better off ordering some of the meat-heavy standards from the menu, including burgers, ribs, salmon, and brisket. Kids may also like the five-cheese mac and cheese. The restaurant's rustic brunch, which includes peach cobbler French toast, biscuit (sandwiches or with gravy), and breakfast burgers is also popular. Reservations are required.
Enjoy views of the skyline or Lake Michigan at this spacious heated patio that shares a building with the (temporarily closed) Theater on the Lake. The kids' menu here includes hot dogs, grilled cheese with tomato soup, chicken tenders, and mac and cheese. Reservations are required and families can ask for a lake or city view (although it's not guaranteed). A variety of cocktails and craft beers are also available for the grown-ups.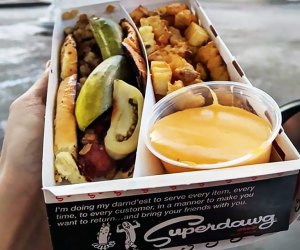 Make it an old school dinner by dining carhop style at Superdawg.
This place had outdoor dining down before COVID—you're supposed to eat in your car, carhop style. Order from a drive-thru style speaker and a carhop brings your meal to your vehicle. Obviously the signature Superdawg, with traditional Chicago toppings plus a pickled tomato, is a must. Kids may also enjoy Superchickenmidgees or a Superburger and one of the many delicious milkshake or soda options.
The "Coolest" Warm Outdoor Dining on the South Side
Looking for dinner and a show? Enjoy some $3 tacos in your car from Chi-Town Grille at Chi-Town Movies. For the past several months, Pilsen's Chi-Town Futbol stadium has operated as a drive-in movie venue, serving food from the stadium alongside its movies. January and February feature a summer movie theme, with features including Moana and Grease. One free popcorn is provided for each car, plus families can order tacos, wings, quesadillas, hot dogs, cheeseburgers, chicken nuggets, and nachos to enjoy in their vehicles. Healthy options, including frozen mangos, nuts, and sparkling water are just $1. Adults can order (limited) beers and wines to their car as well.
Reserve a spot on the patio in a heated tent for Wednesday pizza night, or pre-order a rotisserie duck for your visit. This Bridgeport hot spot also features duck fat hot dogs, chicken dogs, or veggie dogs in any version from Chicago style to plain. Grown-ups might also enjoy the selection of craft cocktails or beers.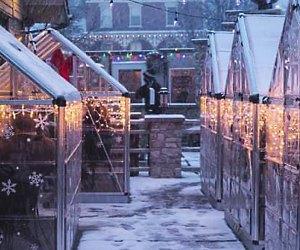 Winter villas and greenhouses keep families warm at Fiamme Pizza.
West Suburban Dining in Igloos and Villas
The extensive menu at this West Suburban breakfast, brunch, and lunch spot has something for everyone. Waffle flights, Mickey Mouse pancakes, and more than two dozen different egg dishes from skillets to omelets to sandwiches are brought out to igloos on the sidewalk patio across from the Elmhurst Metra station. Parents can also choose from a dozen brunch cocktails like mimosas, spritzers, and sangrias. Phone-in reservations are required.
Winter villas and greenhouses keep guests warm at this Neapolitan Pizzeria near downtown Naperville. Villas seat six, while greenhouses hold up to four guests, with a minimum purchase of $99. Families can enjoy pasta entrees and wood-fired or Detroit style pizzas before indulging in decadent desserts such as the Mount Vesuvio brownie sundae.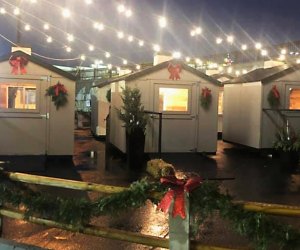 It's like eating in a private, kid-sized house at Assembly American Bar and Cafe.
Places To Eat Out in Style in the North Suburbs
One of the premiere burger bar destinations in the Northwest suburbs, Assembly has a wide range of sandwiches for families to devour in the heated dining huts. The little sheds seat four to six people and require a reservation. Adults may also enjoy a selection of craft beer and wine.
Reserve a six-person igloo at this pizza, burger, and beer destination for a $150 food and beverage minimum for a two-hour experience. The igloos are equipped with Bluetooth speakers so guests can choose their playlists. Order from the standard menu or get some of the restaurant's "sanctuary add-ons" that are exclusive to the igloos. Kids' meals include perennial favorites like grilled cheese, chicken fingers, and pizza, and come with fruit, choice of side, drink, and a cookie. Grown-ups can choose from a selection of house-brewed beers.
Where To Dine in an Igloo in the South Suburbs
Igloos that comfortably seat up to eight people were lit up for the holidays this past season. Reservations near Lemont's I&M and Ship and Sanitary Canals are $10 for weekday lunch, $50 for weekday dinner, and $100 for weekends. The menu is full of kid-friendly items including burgers, pizza, and mac and cheese, which is available in a build-your-own format or as a flight. Parents can order some Pollyanna beer, which is brewed just down the street.
Families might be most interested in the lunch igloo experience at this Plainfield pizza joint, which is just a $25 deposit that is applied to the meal. Dinner igloos require a $100 deposit. Pizzas, sandwiches, and salads are named after rock stars and include many simple and customizable choices for kids. Be sure to save room for a dessert pizza, cotton candy or s'mores dip.
Photos courtesy of the restaurants