Igloos, Carhops, and Greenhouses: Fun Chicago Outdoor Restaurants for Winter Family Dining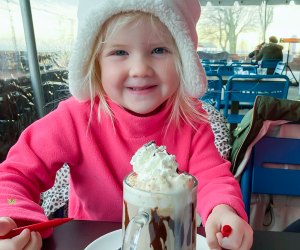 One idea that became extremely popular during the pandemic is outdoor dining and private dining experiences. From igloos to greenhouses, and heated outdoor patios, we've rounded up some of our favorite outdoor dining experiences. When you're in need of a fun outdoor gathering without freezing in the cold, these restaurants have you covered.
For more family-friendly restaurants check out our picks for the best family-friendly restaurants in Chicago. Any of these spots pair nicely with one of our kid-friendly winter activities.
Because space is limited in igloos, villas, and greenhouses, families have to make reservations at nearly all of these restaurants. Many include a booking fee, food, and beverage minimum, or deposit that can be applied to the bill.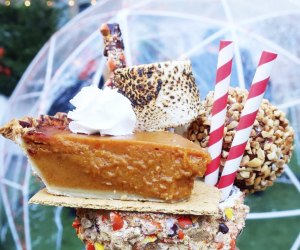 Kids can't resist the insane offerings at JoJo's Shake Bar, served up in an igloo.
Sweet treats abound at JoJo's Shake Bar's Winter Wonderland. The 5,000-square-foot heated patio requires reservations. While extravagant milkshakes are the bar's main draw, families can also order sandwiches, salads, and a handful of entrees to balance the sugar rush. Highlights of the menu include the cookies and milk flight, baked hot chocolate, and the Winter Wonderland Shake—a peppermint milkshake with Christmas tree sugar cookie, snowman cake pop, marshmallow surprise, and mini candy cane. Grown-ups can add a little something extra to their shakes for an extra charge.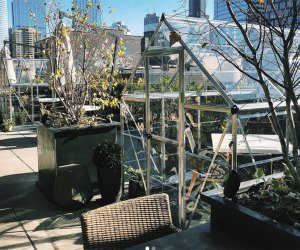 With the heated patio or greenhouses, Aba's is the perfect place to enjoy a sunny or snowy meal.
2. Aba—West Loop
Travel to the Mediterranean in the rooftop greenhouses or on the partially enclosed heated patio at this new Greektown favorite. Greenhouses seat 2-4, so bigger families will need to make a reservation on the patio. Reservations are required for greenhouses. Patio reservations require a deposit that can be applied to the bill. Aba offers a slightly more adventurous kids' menu featuring hummus and veggies, chicken kebabs, and green falafel. Family feasts are also available.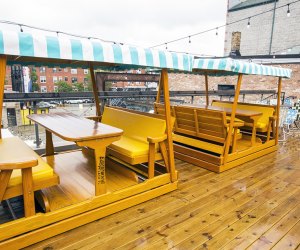 Dining on the very heated patio or in an actual camper make for happy campers at Happy Camper.
Dine on the heated patio or in the actual camper at this Wrigleyville pizza destination. Reservations are required through Open Table. The restaurant sells Happy Camper hoodies and blankets for extra warmth. Choose from pizzas with meats, chicken, or veggies only and save room for a s'mores skillet or trio of ice cream sandwiches rolled in different cereals for dessert.

Patio photo courtesy of Frontier.
Want to pretend you're an early American settler on the Great Plains? Frontier's rugged fireplace-heated patio is the perfect place. The restaurant is known for its whole animal dinners, which serve 10 or more adults. Other items from the menu, include burgers, ribs, salmon, and brisket. Kids may also like the five-cheese mac and cheese. The restaurant's rustic brunch, which includes peach cobbler French toast, biscuits, and breakfast burgers, is also popular. Reservations are required.
Enjoy views of the skyline or Lake Michigan at this spacious heated patio that shares a building with the Theater on the Lake. The kids' menu here includes hot dogs, grilled cheese with tomato soup, chicken tenders, and mac and cheese. Reservations are required and families can ask for a lake or city view (although it's not guaranteed). A variety of cocktails and craft beers are also available for the grown-ups.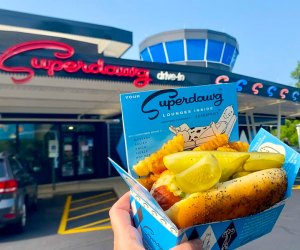 Make it an old school dinner by dining carhop style at Superdawg.
This place had outdoor dining down before COVID—you're supposed to eat in your car, carhop style. Order from a drive-thru style speaker and a carhop brings your meal to your vehicle. Obviously, the signature Superdawg, with traditional Chicago toppings plus a pickled tomato, is a must. Kids may also enjoy Superchickenmidgees or a Superburger and one of the many delicious milkshake or soda options.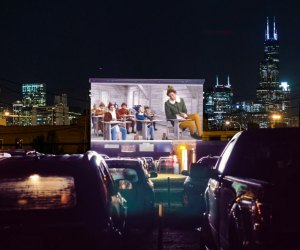 Chi-Town Movies photo courtesy of Sterling Bay
Looking for dinner and a show? Enjoy some tacos in your car from Chi-Town Grille at Chi-Town Movies. For the past several months, Pilsen's Chi-Town Futbol stadium has operated as a drive-in movie venue, serving food from the stadium alongside its movies. One free popcorn is provided for each car, plus families can order tacos, wings, quesadillas, hot dogs, cheeseburgers, chicken nuggets, and nachos to enjoy in their vehicles. Healthy options, including frozen mangos, nuts, and sparkling water are also available. Adults can order (limited) beers and wines as well.
Reserve a six-person igloo at this pizza, burger, and beer destination. The igloos are equipped with Bluetooth speakers so guests can choose their playlists. Order from the standard menu or get some of the restaurant's "sanctuary add-ons" that are exclusive to the igloos. Kids' meals include perennial favorites like grilled cheese, chicken fingers, and pizza, and come with fruit, a choice of side, drink, and a cookie. Grown-ups can choose from a selection of house-brewed beers.
The Drake Hotel in Oak Brook offers private igloo dining experiences through March. Each igloo has a different theme and can accommodate up to 10 guests. Reservations are available for lunch and dinner from Wednesday through Sunday.

Photo courtesy of Digs on Canal in Lemont
Igloos that comfortably seat up to eight people were lit up for the holidays this past season. Reservations near Lemont's I&M and Ship and Sanitary Canals are required. The menu is full of kid-friendly items including burgers, pizza, and mac and cheese, which is available in a build-your-own format or as a flight. Parents can order some Pollyanna beer, which is brewed just down the street. Check their website for their latest igloo themes including the Grinch and Candyland.
Families can enjoy a lunch or dinner igloo experience at this Plainfield pizza joint. Pizzas, sandwiches, and salads are named after rock stars and include many simple and customizable choices for kids. Be sure to save room for a dessert pizza, cotton candy or s'mores dip.
Photos courtesy of the restaurants