Best Chicago Museums For Kids and Families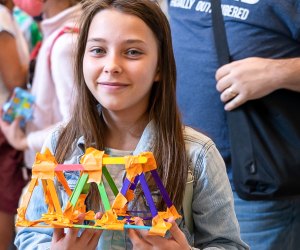 2/12/23
- By
Maureen Wilkey
There are so many museums in Chicago! Here are our favorite museums for kids in Chicago.
Chicago has a lot to offer for kids: great food, the tallest building in the U.S., trains, and the lakefront. But one of its biggest draws is its wealth of amazing museums. Sure, the half dozen children's museums in the city and suburbs are a huge draw, but there are at least as many museums that appeal to the whole family. Learn about anything from science to history to art to writers in museums in downtown Chicago, in the neighborhoods, or in the suburbs. For the record, we had a tough time narrowing this article down to our favorite dozen, so click through the links to see some additional favorites at the end of the article, or check out our Chicago Museum Guide.
Of course many of these museums have their own free days, and many of them have fun events geared toward families and listed on our calendar. But whether you're going for a specific event or just to have fun, you should have a great time at any of these fantastic (and educational) museums for kids and families.
Pssst...you can save on some of these museums and other top attractions in Chicago with the Go City All-Inclusive Pass or Explorer Pass.

The Pritzker Playspace at the Chicago Children's Museum. Photo courtesy of the Museum
Everyone from new walkers to fifth graders can find something to love about this multi-level museum at the west end of Navy Pier. Imagination-driven play guides kids in the new Castle exhibit, where they can make up their own story with all the dress-up and prop materials to go with it. Or, learn to build in the Skyline or Tinkering Lab exhibits—the former is all about the Chicago skyline and how kids can recreate it on their own with wooden planks and screws, while the latter is a STEAM-driven area where you can make your own toys out of recycled materials. Waterways is also a fun experiment learning how to make water flow in different directions (just like engineers did with the Chicago River), but the exhibit is temporarily closed pending the lifting of the last COVID restrictions.

DuPage Children's Museum in Chicago. Photo courtesy of the DuPage Children's Museum
If you're looking for all the fun of a children's museum without the pain of parking at Navy Pier, head west to check out this gem in Naperville. It's not nearly as big, but a lot of the same themes carrry throughout. The first floor has the same exhibits all the time: An exhibit on light featuring a giant lite brite, a bubble zone where kids can surround themselves in a bubble, a wind exhibit where kids can see how air resistance impacts different materials, a building hut, an area where kids can experiement with gravity and ramps, and an art studio. The second floor features new exhibits several times a year. We have enjoyed Daniel Tigers Neighborhood, the Imagineers, and the current exhibit about becoming part of different famous paintings.
The first and only African-American Children's Museum in the country celebrates the innovations of African-American leaders. Kids can learn about healthy eating and shop at a mini Jewel-Osco store, learn about legendary African-American inventors, and take tours of the Bronzeville neighborhood. Learn about what it takes to become a doctor at Provident Hospital, or take in a new STEM lesson in the STEM rocks exhibit. Admission is just $5 for non-members, making this one of the most affordable museums on our list.
Families living north of the city also enjoy their own children's museum, with 17 permanent exhibits as well as several rotating exhibit spaces. Kohl Children's Museum has a fun outdoor exhibit called Habitat Park where kids can explore sculptures along a trail or ride trikes through Tiny Town. They can also learn about musical instruments in the Ravinia exhibit, or play cafe, grocery store, doctor, bookstore, or parking garage at various exhibits throughout the museum.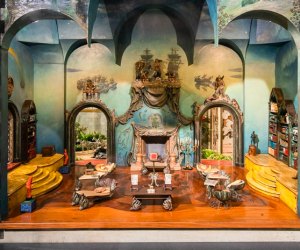 A room from Colleen Moore's Fairy Castle at the Museum of Science and Industry.
If you want a full-day museum experience for the whole family, this is definitely among the top three in Chicago. While you might think younger kids wouldn't understand enough to appreciate the science aspects of the museum, there's something here for everyone, even kids too little to grasp all of the finer points of scientific theories. The Idea Station on the lower level, where kids can shoot water at balls to make them flow in different directions, is touted as the most kid-friendly part, but my son could have spent the whole day at The Great Train Story, with 20 trains roaming a miniature midwestern landscape of 1,400 feet of track. In the Genetics exhibit, kids can see chicks hatching from eggs. Or learn about Farm Tech in the exhibit of the same name. Colleen Moore's Fairy Castle and the Swiss Jolly Ball exhibit are fun to look at and a great break for your brain after trying to absorb so many facts. And everyone in the family loved the weather and transportation exhibits.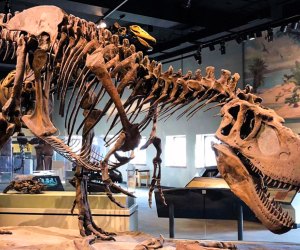 Visit Sue the T-Rex at the Field Museum. Photo courtesy of the Museum
6. Field Museum—South Loop/Museum Campus
If you have a kid who loves dinosaurs, this is the place for you. It's the home of Sue, the most complete T-Rex skeleton in the world. There's also plenty for non-dinosaur loving kids to do here, too. The Ancient Egypt exhibit features a real mummy. The Hall of Animals gives kids an idea of what hundreds of animals from around the world look like, and there's always a new rotating exhibit featuring world cultures, science, or history.
This North Side museum is just across Fullerton from Lincoln Park Zoo, so you can make a day of animal and nature-based fun by visiting both. For many kids, the highlight of the nature museum is the Butterfly Haven, where newly emerged butterflies are released every afternoon. Kids can explore the butterflies, along with a variety of birds, as they fly around the tropically warm habitat. Insider tip from someone who used to volunteer here: eat a lot of fruit before you come and stand very still if you want a butterfly to land on you. The Waterways exhibit features the classic children's lessons on water and its changing directions while allowing them to get their hands wet. The new Hawver and Lacy Families Nature PlaySpace offers kids a chance to climb and crawl through a unique natural habitat. And look in to the homes of reptiles and amphibians in the Istock Family Look-In Lab. Rotating exhibits are featured on the second floor.
Where can you become a life-size hot dog? Or ride on one of the first L cars? At the Chicago History Museum in Old Town, kids of all ages can learn more about what the city was like before they were born, and how the culture is the same or different now. The Sensing Chicago exhibit is geared toward younger kids, giving the basics about the Great Chicago Fire, letting them catch a fly ball at historic Comiskey Park, giving them a ride on a high-wheel bicycle, and providing a you-become-the-hot-dog demo (sans ketchup, of course). But we also like the Chicago: Crossroads of America exhibit, where kids can board L car number 1 and learn about the fashions in the window at Marshall Fields back in their great-great-grandparents day.
This museum has a little bit of everything: science, history, and even a little bit of art. The Little Explorers exhibit on the upper floor is best for the youngest of astronomers, but there's still plenty of interactive pieces in the Our Solar System and Mission Moon exhibits. Learn about Chicago's Night Sky and draw your own constellation on the lower level. Be sure to check out the One World, One Sky show if you have little kids just starting to learn about the stars, or see a more advanced star show if your kids are later in elementary school or beyond.

Field Armour circa 1520. Photo courtesy of the Art Institute of Chicago
Artsy kids will love to see many of the paintings their teachers show them in art class, like Vincent Van Gogh's The Bedroom, George Seurat's A Sunday on La Grande Jatte, and Edward Hopper's Nighthawks. Plus, the museum has plenty of unique non-painting art, like photography, stained glass, sculptures, and medieval armor. Families can use the museum's Journeymaker app to create an agenda with works their kids would like to see within one of many themes.
The scale model of many of Chicago's downtown blocks is the highlight of this museum. Kids can check out what the Loop's towers look like from a bird's eye view, and read more about why buildings were constructed in certain ways throughout different periods of history. Rotating exhibits explore different aspects of city architecture, and families can take an amazing tour on the Chicago River or through one of the city's many neighborhoods.

Photo courtesy of the American Writers Museum in Chicago
Opened in May 2017, this is one of the new favorites on the Chicago Museum scene. Families can learn about all kinds of American writers, from novelists to journalists to poets. Take a break from reading about these authors by reading something different or exploring the interactive spaces and murals in the Negaunee Foundation Childrens Gallery.
More family-friendly museums in Chicago include: