Chicago's Adler Planetarium with Kids: Top Things to See and Do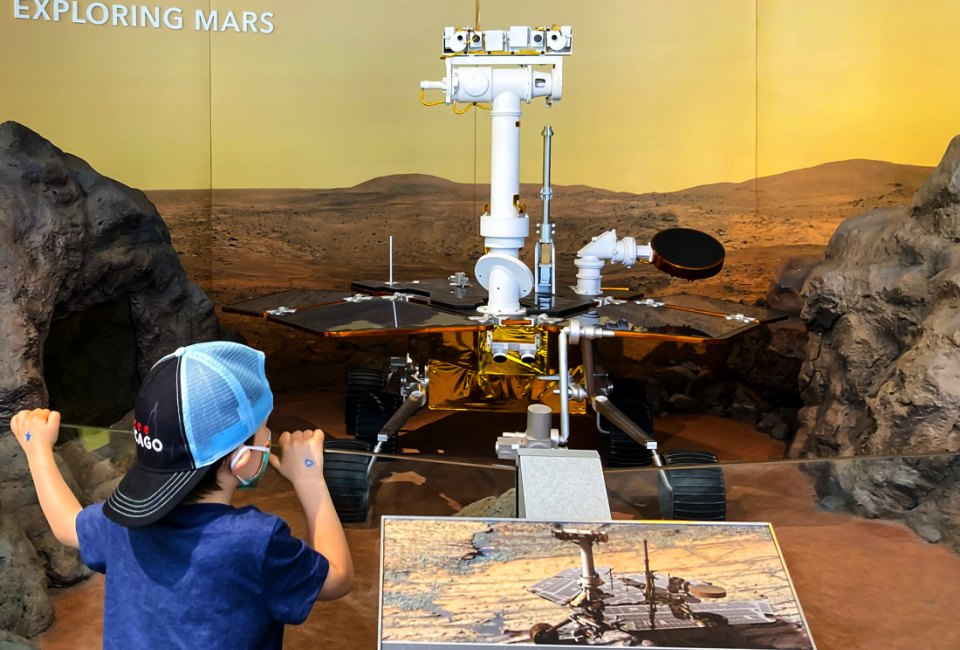 8/14/22
- By
Maureen Wilkey
Chicago's Museum Campus is the perfect place to visit more than one museum in a day, and the Adler Planetarium gives families the chance to leave Earth from shore of Lake Michigan. Like its siblings The Field Museum and the Shedd Aquarium, it offers exhibits that appeal to every member of the family and provides lots of interactive learning opportunities. It was opened as part of the first planetarium in the Western hemisphere in 1930 and has evolved into a hub for families looking to learn more about stars, planets, galaxies, and space exploration.
One big advantage to the Adler Planetarium is that it won't take a whole day to visit most, if not all, of the building's exhibits. If you have kids with enough stamina, we recommend going to the Shedd Aquarium early on a Wednesday and dropping into the Planetarium at 4 p.m. It's free for Illinois residents from 4 until it closes at 8 p.m. on Wednesdays, and you can remain in the same parking space all day.
We visited with our 5- and 7-year-olds earlier this summer, and while one kid is determined to be an astronaut, the other was just happy to be at a museum. Each enjoyed different things about the museum depending on what was geared to their educational level. Here's what we liked best about the Adler Planetarium with kids!
If you're staying in town and plan to visit multiple attractions in the Chicago area (we're looking at you, people with visiting relatives you'll be squiring around town), it's worth it to look into a Go City - Chicago sightseeing pass to save money on entrance fees to attractions like the Navy Pier, Field Museum, the aquarium, and the planetarium.
Upper Level Exhibits in the Adler Planetarium
Planet Explorers
The littlest astronauts can have the most fun in this interactive exhibit geared at showing kids the journey from home to another planet. My five-year-old loved all the manipulatives that showed how the things we have on Earth come from energy from the sun, and how we can see other planets in the night sky. The exhibit then shows the preparation astronauts have to go through before boarding a space shuttle to explore space—getting dressed, preparing for proper safety procedures, and fueling up. Kids can pilot the pretend rocket as it launches into space, control a robotic arm that fixes the ship, and strap themselves in to take a space nap or (pretend to) use the space toilet. Once they arrive on "Planet X", they can drive a rover and build a shelter. This exhibit doesn't require a ton of reading and kids in third grade or above will probably find it too simplistic. It's perfect for 3-8 year-old aspiring astronauts who like action but don't need the facts and figures yet.
Mission Moon
Combining astronomy with history, this was probably my seven-year-old's favorite exhibit. Families can follow along with NASA Captain James A. Lovell as he grows from a teenager who wants to work for NASA one day to a crew member aboard Apollo 13. Launch a stomp rocket, see what the Gemini 12 really looked like, and practice space communication and operations with plenty of switches and phones. The Mission Moon exhibit has plenty of fun photo ops—kids can pretend they've actually landed on the moon and admire a real moon rock and pieces of the uniform Lovell wore aboard the Apollo mission. An interactive map shows kids how astronauts might have navigated the lunar surface.

Photo courtesy of the Adler Planetarium
Our Solar System
The adults could have spent the whole day in this great open hall with scaled models of the planets hanging from the ceiling and videos about the exploration of each. You can also touch a piece of Mars rock, make your own crater with a high-powered meteor launcher, and learn about how reasearchers are studying meteorites that fall into the ocean. The graphics and details are amazing and the exhibit reminds you of everything you've forgotten about elementary school science class. Our kids didn't really have the attention span to last very long in this exhibit, but it would be right up the alley of STEM-minded middle schoolers.
Lower Level Exhibits
Astronomy in Culture and Telescopes: Through the Looking Glass
How did the way people used to think about the Earth and its position in space differ from how people think of it today? Kids can find out how the study of astronomy involved through looking at examples of sundials, telescopes, and even a sun-hut from different cultures and eras. Use a telescope as long as three kids put together to look at models of planets across the room, figure out how to tell time with shadows, and check out what you would actually see in the Hubble telescope. One of our kids' favorite parts of this exhibit was the Medieval university classroom, where kids can put on robes and sit in the pews or professor's chair to review books about what astronomy was like hundreds of years ago.
Chicago's Night Sky
Bringing a local feel to the cosmos, this exhibit shows what the stars look like in and around Chicago. Kids can make their own constellation in the night sky in one part of the exhibit. Another shows families how different colors of light can create more or less light pollution, giving a different view of the stars, by looking at streetscape dioramas. Be sure to drop in to the Community Star Studio to make a craft using mixed media to interpret what the Chicago night sky looks like to you.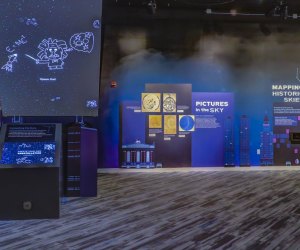 ​
Photo courtesy of the Adler Planetarium
The Universe: A Walk Through Space and Time
If you want to feel small, this is the exhibit to visit. It shows how vast the universe is by exploring different galaxies and explaining how far apart they are and how we can see or know that they are all there. See how the elements in your body are the same as the elements in a star. You'll see how the universe has evolved an expanded over the last 13.7 billion years. The images are spectacular, but the concepts can be abstract for kids under 10.
One World, One Sky Show
We took the time to see one show while at the Planetarium. One World, One Sky uses Sesame Street characters to show kids the basics of the cosmos—how the earth rotates, causing sunrise and sunset, and what constellations are—as well as showing that people in different countries see the same night sky we do, and have similar songs and stories about stars. This was a nice way to introduce kids to the dome theater without the big, sometimes scary motions that come with a full educational film. The show is best for kids ages 6 and under—bigger kids might be ready for Destination Solar System or Imagine the Moon.
​
Photo courtesy of the Adler Planetarium
How to Get There, What to Eat, Where to Go Potty, and The Gift Shop
Take the CTA Red, Orange or Green Line to Roosevelt and be sure to bring a stroller for the long walk to the museum, or take the #146 or #130 (summer only) bus.
Parking is just $12 a day if you arrive at the Adler Planetarium parking lot before 9:30 a.m., or $25 per day after that. You can also pay hourly rates at the Soldier Field North lot.
You may bring your own lunch to the Planetarium to eat in designated areas, or buy a lunch from the Cosmic Cafe. The best deals are the Cosmic Melt (grilled cheese) and PB&J from the kids menu—each come with chips for $5.75. Salads, sandwiches and pizza for grown-ups range from $8-$11. We recommend bringing a water bottle to avoid spending $2.75 or more on a drink.
Restrooms are in the mid-level—a nice name for the stairwell area—which offers easy access from the upper or lower levels. There's also a men's room near Astronomy and Culutre and a women's room near Telescopes on the Lower Level.
We have a strict $10 per kid gift shop policy, but both kids found something neat within their limit. My son found a set of LED light up planets to string from the ceiling of his room and my daughter liked some geodes that she pretends are space rocks. Interesting jewelry, t-shirts and hats are also for sale in the Space Shop near the end of the Planet Explorers exhibit.
All photos by the author unless otherwise noted.
Disclosure: We may earn a small commission if you click through our link and make a purchase. This revenue helps us maintain this site, so thank you for supporting us.
Places featured in this article:
Click Here to Sign Up!
i