The Land Before Time: How to Do Chicago's Field Museum with Kids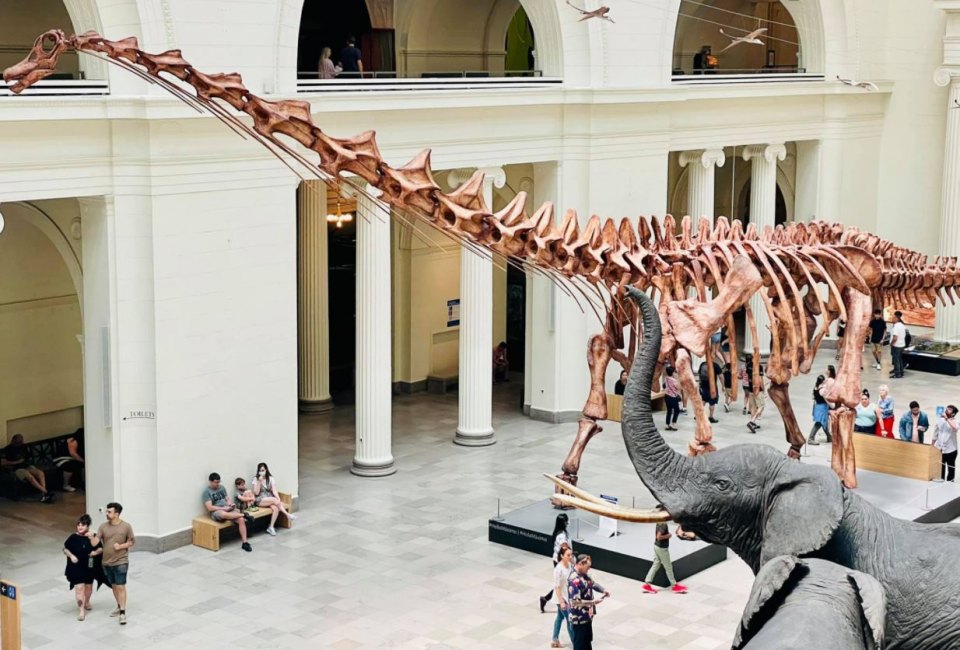 8/22/21
- By
Maureen Wilkey
When Chicagoans list their favorite and most iconic museums, The Field Museum of Natural History is often among the top choices. It's also one of the museums that's been here the longest, after officially being incorporated as a museum in 1893 after it served as an exhibit hall in the Columbian Exposition. Chicago parents returning to the museum will recognize many of the exhibits they saw as kids. But The Field also hosts a series of rotating exhibits, including one that turned out to be my kids' favorite. "Becoming Jane: The Evolution of Jane Goodall" sparked an interest in both animals and stories about powerful women for my daughter.
We had planned to visit The Field Museum in the first half of 2020, but shortly after our visit to the Museum of Science and Industry in February, the COVID-19 pandemic shut down the city, and the world. We visited just as the city was reopening in June 2021, and some changes from the pandemic are still around. Plan on wearing a mask, using a digital map on your phone or one posted on the walls of the museum, and buying your ticket in advance. The museum has also placed hand sanitizers throughout its building to help people keep clean. And if you have a preschooler or toddler, you're going to need it because of the buttons. They're going to want to push Every. Single. Button.
We loved going to see some old favorites for us, and finding some new gems with our little ones. Here's what we think are the best parts of The Field Museum for kids. And if you like this article, don't forget to check out our other recommendations for museums.
If you're staying in town and plan to visit multiple attractions in the Chicago area (we're looking at you, people with visiting relatives you'll be squiring around town), it's worth it to look into a Go City - Chicago sightseeing pass to save money on entrance fees to attractions like the Navy Pier, Field Museum, the aquarium, and the planetarium.
Best Things for Kids on The Field Museum's Main Floor
"Becoming Jane"
The latest and greatest of The Field's exhibits details the life of English conservationist Jane Goodall, from her childhood when she would carry around a stuffed monkey lovey and watch chickens lay eggs, to her days in Gombe National Park, observing and reporting on the lives of chimpanzees. My kids loved the interactive nature of the exhibit—touching the cots in the replica of Jane's tent, watching the videos of real chimpanzees eating termites with a stick, and even one activity that tested kids on their ability to replicate chimp noises. An observation truck activity allows kids to stand behind the windshield of a truck and see short videos about chimps, and a replica of Goodall's journal comes alive by animating Jane's own illustrations of animals at the push of a button. Kids can learn more about each chimp's personality by turning boards with the animal's picture on one side and text on the other side.

From the interactive section of the Jane Goodall exhibit. Photo courtesy of The Field Museum.
While adults may get more out of this exhibit with big kids who are willing to read each paragraph, my kids and I still learned and retained a lot about the science, animals, and history throughout the exhibit. By signing a digital petition on a leaf at the end of the exhibit, kids can pledge to do their part to help save the environment, which left us encouraged to use less plastic and check the ingredients on our foods.
Maximo the Titanosaur

Photo courtesy of The Field Museum.
This 100 million year old giant took the spot formerly occupied by Sue, and he's so big it's hard to even fit him in the frame of the camera. The exhibit details how his discoverers found him and even allows kids to touch the cast of one bone, which was bigger than the adults in our group. You can even text Maximo to learn more about him.
The Animal Halls
We'd recommend starting at the west end of these exhibits with the "What is an Animal?" feature. Kids can read or listen to more about what makes something an animal, while viewing animals real and re-created in a series of dioramas. "What is an Animal?" teaches the basics of biology through models, games, videos, and enough buttons to press to keep things interesting.

An interactive display in the Animal Halls of The Field Museum in Chicago. Photo courtesy of The Field Museum.
From there, you can move east in a snakelike path to visit thousands of examples of formerly living animals from around the globe. Some of these animals have literally been here more than 100 years—The Lions of Tsavo, for example, were killed after eating dozens of railroad workers in Africa in 1898. They were sold to the museum 25 years later.
These exhibits were fun for my kids, to a degree. Pick the animals your kids are most interested in learning about (my kids like the local wildlife section, the polar bears, and the giraffes) and read the details, push the button that makes the sounds, and move on. You could easily spend a whole day in here and miss out on other exhibits that may be here only a limited time.
Africa
The single cultural exhibit on the main floor, this colorful hall shows how people live in Africa today, and takes kids through some of the history of African people. Kids walk through replicas of African dwellings and temples, see video demonstrations of different kinds of African foods, and compare their footprint to those of some common African animals. At the end of the exhibit, visitors enter a dark room where they hear rumbling noises, replicating what a slave ship might feel like. The next gallery resembles a nineteenth century Southern coastal town, re-creating the experience of coming out into a strangely different world.
Cool Things for Kids to See Upstairs at The Field Museum
Evolving Planet
There's a good chance you're reading this article because your kids have asked to "go to the dinosaur museum," as mine have since mid-2020. Once your kids have seen Maximo in the main gallery, they'll probably want to see more. Evolving Plant shows you how long Earth was around before it had life on it. Tour through several galleries about the formation of oceans, single-celled organisms, and plant life and you'll finally get to see…trilobytes. And then fish. The ancient forests room got my kids' attention for a little while, and the button pushing parts that demonstrate each mass extinction were a thrill for my four-year-old son, but there really is a lot of reading and build-up before you actually see dinosaurs.
The first dinosaurs weren't as big and impressive as later ones, so kids get a good warm up in the galleries that display dinosaurs you may never have heard of, like the Bradysaurus, Edaphosaurus, and Eryops. It's interesting to learn more about the role these creatures played in evolution, and neat to see smaller dinosaurs that the kids can identify at eye level.
The Elizabeth Morse Genius Hall of Dinosaurs is where you'll see more than a dozen of the largest dinosaurs found in history. There, you'll be able to identify the Stegosaurus, Apatosaurus, Rapetosaurus, Protoceratops, and Triceratops skull. My kids like stepping into a dinosaur footprint and exploring the sounds dinosaurs may have made by touching and blowing air through a replica dinosaur skull. After this gallery, you move on to...
SUE the T.Rex
Here she is in all her glory: 90% of a complete Tyrannosaurus Rex skeleton. You actually get to see her head first—it's hard to display it with the rest of the skeleton because of its weight, but seeing the skull in a glass case allows kids a closer look at everything from the teeth to the eye sockets.

Sue, in all her glory. Photo courtesy of The Field Museum.
Once you get into the gallery with the rest of Sue's bones, you can listen and watch as a narrator tells you more about the skeleton. Each section is lit up in a different color as the narrator describes it, so you learn how they know what Sue may have eaten, where her injuries are, and why she is in a slightly different position (and has more bones) than she did back when she lived downstairs. If you missed any of the show, there are, of course, buttons you can press to repeat some of the light-ups, while graphics appear to describe what that portion of the fossils show.
But wait, there's more: beyond Sue, there's still more about dinosaurs and evolution, including giant sloths, mastadons, and even models of what the first humans may have looked like. My daughter was pleasantly surprised to see that they weren't much taller than her, but completely befuddled by the body hair.
Gems and Jades
These are fun little galleries that provided us with the perfect bridge between seeing the dinosaurs and eating lunch. My daughter was quite impressed by the giant colorful jewelry displayed in the gem hall, while my son loved displays on asteroids and meteorites, including a short video about a meteorite that fell in Illinois in the early aughts. The jades show the incredible detail that people from many different eras put into carving ornate gems.
Cyrus Tang Hall of China
This dense and beautiful exhibit has objects from many regions and time periods of Chinese history, from the stone lions at the entrance to silk robes to spirit stones. Bigger kids may enjoy the animated map of China's borders shifting throughout the dynasties or the 27-foot painting of Chinese life in a river city.
Best Bets for Kids on The Field Museum's Lower Level
Underground Adventure
This exhibit shows kids what the world would look like if you were shrunk down to the size of a penny and living with bugs underground. After a kitschy video narrated by 30 Rock and Odd Squad's Jack McBrayer, families step into a mirrored "shrinking chamber" followed by a tunnel and into an underground cavern where you're faced with 6-foot animatronic insects. I thought there was some interesting reading here on how bugs and rodents live under the ground, but I didn't get through much of it before a giant ant defending her nest full of eggs scared my kids right out of there. This one is better for the big kids or those interested in bugs. We actually enjoyed the displays just outside the exhibits on insects like cicadas and beetles that we have recently seen in our neighborhood.
Ancient Egypt
As many kids learn the history of ancient Egypt in school, they may be enthralled with the 23 human mummies and many mummified animals on display here. Two authentic chamber rooms from the burial site of pharaoh Unis-Ankh are on display, complete with hieroglyphics. A replica of an ancient Egyptian marketplace lets kids walk through what a day in the life of an ancient Egyptian might have been like, and see the differences and similarities between life 4,400 years ago and today (hey, the wagon they take to the farmer's market looks way different!).
Eats and Deets
The Field Museum has its own cafeteria on the main floor, but as of summer 2021, it's operating on a grab-and-go system. Lunch options include pizza, hot dogs, sandwiches, salads, burgers, and fruit cups, all of which are priced around what you might expect for a museum ($8-$12 per person). There's also a vending machine room on the lower level, and you can bring in your own food, but it must be eaten in the designated areas.
There are several bathrooms on each floor, but when we were there, the first floor bathrooms were quite crowded. Plan to go to the lower level if you can. There's also a nursing room on the lower level near the restrooms.
There's enough parking on the museum campus to find a spot adjacent to or near The Field Museum. If you're taking public transit, the nearest L stop is the Roosevelt, which serves the red, orange, and green lines and is quite a haul if you don't have a stroller. CTA Buses #146 and #130 (summer only) also stop nearby.
You can rent a stroller at The Field Museum ($3 for a single or $5 for a double), or bring your own. By parking in the East lot, you'll be able to bring it in through the accessible east entrance.
Gift shops are located at the end of all the major exhibits, and one main gift shop near the west entrance to visit at the end. They don't all have the same things, so make sure you get what you want when you see it.
We definitely loved our time at The Field—my son keeps asking if we can go back tomorrow. You could probably see nearly everything there between the 9 a.m. opening and 5 p.m. closing, but like all museums, it's best to pick what your kids are most drawn to and not get too caught up in being able to read every placard. I can't wait to see what the next rotating exhibit will be as my kids build their endurance for museums and activities. And they can't wait to push more buttons.
Disclosure: We may earn a small commission if you click through our link and make a purchase. This revenue helps us maintain this site, so thank you for supporting us.
Places featured in this article:
Click Here to Sign Up!