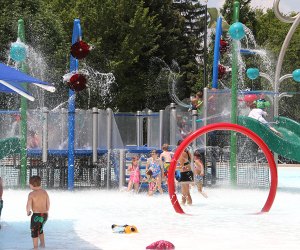 Best Water Playgrounds and Spraygrounds for Chicago Kids
When summer comes, smart Chicago parents make sure they've always got a sprinkler "go bag" packed and ready in the trunk, stroller, or tote: towel, sunscreen, water shoes, swim diaper (if you've got a really little mermaid), and spare clothes. Because in a city with this many awesome water playgrounds, splash parks, and spraygrounds, it pays to be prepared.
Although many Chicago spraygrounds have temporarily closed for the summer 2020 season due to concerns over the COVID-19 pandemic, a number of some suburban splash pads have reopened. We've rounded up our favorite spots with interactive sprinklers, sprayers, cannons, and gushers so everybody can get good and soaked. Be sure to check if you need to make reservations or will have a limited time to play before heading out.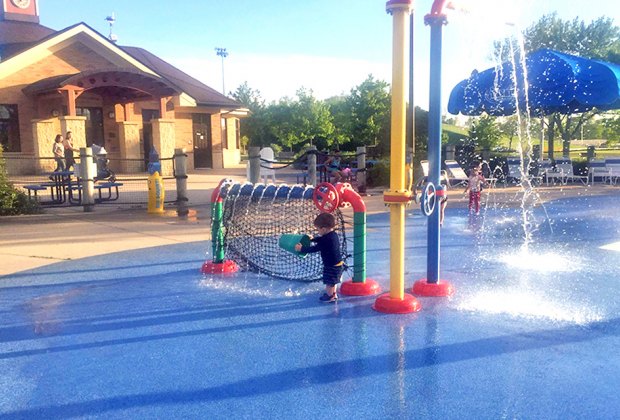 The Hub Spray Ground at Berens Park is great for toddlers. Photo by the author
Chicago-area Spraygrounds Open in 2020
Open July 11 through Labor Day 2020.
$8 (residents $6); children under 3 FREE
493 Oaklawn Avenue, Elmhurst
Part of a bustling community park that also features mini golf and batting cages, the generously-sized, fenced sprayground has two soft-surfaced splash pads and a good amount of shade. Kids here love drenching each other with the "Big Squirt" water soakers available for purchase at the entrance. In 2020, sprayground guests must register in advance for a two-hour time slot.
Open through Labor Day
$5 children ($3 residents); adults FREE
700 Blackhawk Drive, Westmont
A new soft rubberized surface makes this beloved Dr. Seussian splash pad even more fun in 2020. Cannons, misters, dumping buckets, and a giant blue whale tail with sprinklers are among the wet-getters on offer. There's a sweet train-themed sand play area and some fun, twisty water slides too. The Westmont Park District is imposing a two-hour limit and capping attendance at 50 people in order to maintain social distancing in 2020.
RELATED: Top Summer Day Trips from Chicago Area

Play in the pool with friends at Splash Island. Photo courtesy of the Oak Brook Park District
Open through Labor Day
$8 children ages 3-18 (residents $6), $12 adults (residents $10); children 3 and under FREE
1450 Forest Gate Road, Oak Brook
Sunburn conscious parents will appreciate the shaded water play and seating areas at Splash Island, which has slides, buckets, jets, and sprinklers aplenty, plus a cute aquatic-animal-themed splash pad just for younger kids. Families must make a reservation for a 90-minute time slot in 2020. No more than 25 people will be admitted to the splash pad at one time.
Open through Labor Day
$3 children ages 1-14; adults $1
845 Pershing Avenue, Glen Ellyn
There's a bit of a Wild West theme to the wet-and-wild water play here with a water tower, cactus sprinkler, a saloon sign that doubles as a sprinkler, and a railroad gate. Just outside the Splash Park is an adventure playground with a zip line and climbing boulders.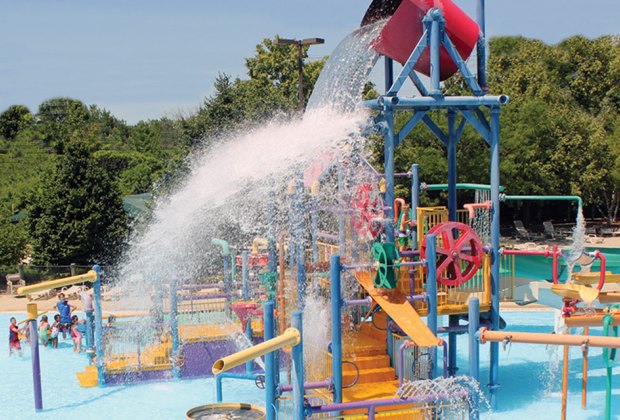 Stand beneath the big red bucket and get drenched when 300 gallons of water come crashing down at the Skokie Water Playground! Photo courtesy of the Skokie Park District
Open through August 16
$14 ($7 for child residents ages 3-15; $8 for residents age 16 and up); children under 3 FREE
4701 Oakton Stret, Skokie
With ahuge zero-entry pool, three big water slides, and a multi-level water playground with sprayers, water guns, tubs, slides, and a giant splash bucket, plus an accessible "sprayground" with a rock-like waterfall and sprinklers galore, there's no excuse not to get soaked here. You'll also find a concession stand, changing rooms with showers, and lockers, but not a whole lot of shade.
Open through Labor Day
$3 per person
951 McHenry Road, Buffalo Grove
Reserve a 90-minute playtime at this northwest suburban water play area. Spray N' Play features 20 water features and a picnic area. The spray ground is entirely fenced in so parents can relax while kids play. The Park District will allow a limited number of guests during the COVID-19 pandemic.
Open through Labor Day
FREE
824 N. Hayes Avenue, Oak Park
In this park, named for children's author Hans Christian Andersen, kids can enjoy a bell-shaped spray feature, directional jets, and ground geysers. The spray park and a playground were added in 2006.
Open through September 6
Free for Rosemont residents, $5 for Des Plaines residents, $15 for non-residents
6140 N. Scott Street, Rosemont
Rosemont residents, as well as other families in the O'Hare area, can enjoy this sprayground with a variety of water jet features. Guests must obtain a wristband at the Lange Park building and show ID to receive resident rates.
Open through Labor Day
$5 per child (adults free)
1100 W. Wood Avenue, Bensenville
This 2,527-square-foot splash pad was completed in 2013 and is known for being clean. Guests are encouraged to register in advance for a two-hour time slot. A maximum of 30 people will be allowed at the splash pad at any time to maintain social distancing.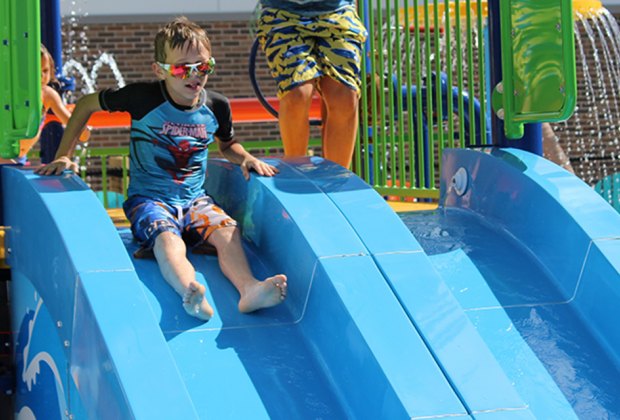 Get soaked at Adventure Island's interactive water playground. Photo courtesy of the Bloomingdale Park District
Open through August 7
$7 for Bloomingdale residents, $9 for non-residents
170 Circle Drive, Bloomingdale
The rest of the Oasis water park remains closed, but kids can enjoy the water guns, slide, pipe falls, spinning tray, and theme elements at Adventure Island. Families must register for a one-hour time slot in advance. Taped X-marks on the sprayground are expected to help encourage children to social distance.
Open through Labor Day
Free
1751 Gibson Drive, Elk Grove Village
This simple sprayground features ground jets that shoot at varying intervals to surprise kids in the park. The park also includes a playground and nature trail so kids can beat the heat and enjoy a few forms of entertainment.
Open through Labor Day
Free
95th and Cedar Glade, Naperville
This recently completed splash pad and adjacent playground are right next to the 95th Street Library. The storybook-themed equipment ranges in height and is appropriate for children of many different age groups. No more than 50 people will be allowed on the sprayground at any given time.
Open through Labor Day
Free
1115 McCarthy Road, Lemont
This nature-themed splash pad will allow just 10 children to play at once in 2020. The Lemont Park District will impose a one-hour time limit per child and will also check temperatures before guests enter the splash pad. Kids can look for the Park District's painted rocks throughout the park.
Open through Labor Day
Free
102nd and Major Avenue, Oak Lawn
This rocket-themed water play area features a variety of spray toys along with a playground. The park also offers opportunities for hiking, biking, and fishing.
Open through September 30
Free with Naper Settlement admission
This historically themed water playground has a water cannon, ground misters and water trough for a break from the old-timey learning at Naper Settlement. Kids can also play on the Conestoga wagon or learn in the sensory garden nearby.
Chicago Splash Parks Closed in 2020
31st Street Harbor Playground Splash Pad — Oakland
FREE
3155 S. Lake Shore Drive
The colorful lakeshore park houses a sweet, natural-pool-inspired splash pad within sight of its awesome, retro-space-age playground. Grownups can watch from sun-warmed rocks while little kids play in the gentle geysers and fountains.
RELATED: Best Hikes Near Chicago for Families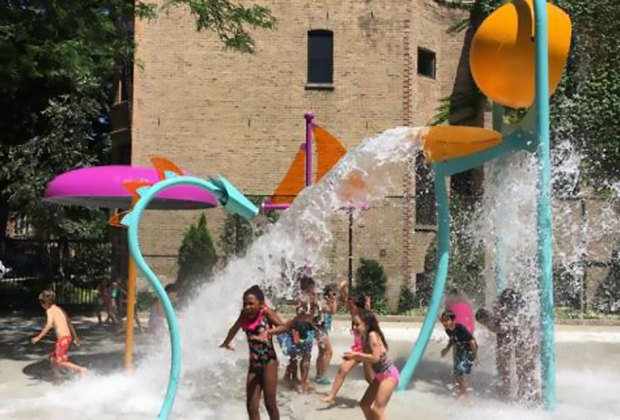 Adams Park Water Playground. Photo courtesy of the Chicago Park District
Adams Park Water Playground — Lincoln Park
FREE
1919 N. Seminary Avenue
The new splash pad at Adams Park features sprinklers and sprayers for kids of all ages and heights, including a real gusher of a funnel that gets kids good and soaked. When kids tire of the spray, dry off on the nearby playground (or in the field house), and stick around for concerts and movie nights for families.
Austin Park Water Playground — Austin
FREE
5951 W. Lake Street
The giant, blue, multilevel water playground here is new as of 2016, with slides, tunnels, sprinklers, sprayers, gushers...the works. There's not much shade, but there are restrooms, and the area is fenced in with a soft, squishy surface for hours of safe play.
Dunbar Park Splash Pad — Douglas
FREE
220 E. 29th Street
A circular spray park located right near the shady, recently-renovated playground has gentle in-ground sprinklers plus overhead fountains and sprayers for getting wet. Kids love dashing back and forth between the sprayers and the climbing structures, so bring sturdy water shoes.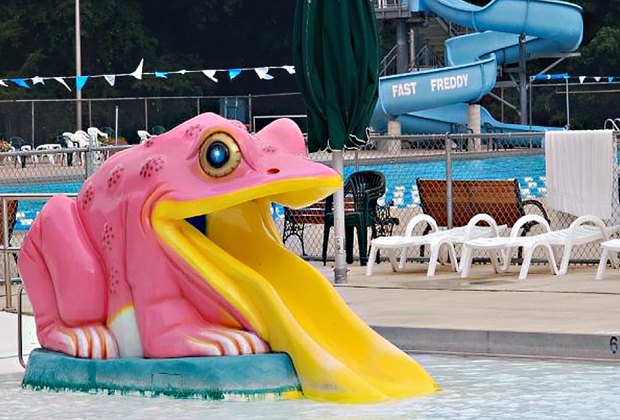 Forest Park Aquatic Center. Photo Park District of Forest Park
Forest Park Aquatic Center — Forest Park
$7.50 children ages 3-11 (residents $5); 12 and up $9.50 (residents $6.50); children under 3 FREE. Cash only
7501 Harrison Street, Forest Park
A huge zero-depth 367,000-gallon pool at this water park holds an interactive water playground, with four water slides and a sprayground. There's also a nearby lap pool with a diving board, plus a sand play area for kids. Lockers and a concession stand are available, too.
Fosco Park Water Playground — University Village
FREE
1312 S. Racine Avenue
The popular community center here is probably best known for its indoor pool, but the outdoor splash park is a true multi-level water playground, with splashers, soakers, and a slide.

Mary Bartelme Park. Photo courtesy of Landscape Performance Series
Mary Bartelme Park — West Loop
FREE
115 S. Sangamon Street
Probably one of the most Instagrammed new features in Chicago, the Fountain Plaza at this compact urban oasis is the place to be on a hot day. Angular archway sculptures spray a fine mist for dashing through at top speed (or lingering under for maximum cooldown). Dry off at the innovative multi-level playground next door.
Paradise Bay Water Park — Lombard
$13 children ages 3-17 (residents $7); $15 adults (residents $10); children 2 and under FREE
437 E. St. Charles Road, Lombard
For a full day of water play, this water park offers a zero-entry pool with jets, sprayers, and even a whirlpool, plus multiple waterslides for every level of bravery, and a separate water playground for little ones. Lockers, changing rooms, and a snack bar are all on-site.
Portage Park Water Playground — Portage Park
FREE
4100 N. Long Avenue
Portage Park is home to a huge public pool as well as a smaller heated pool for those slightly chillier summer days Chicagoans know so well. But the most fun under the sun is at the interactive water play area with slides, sprinklers, and spray.
River Park Water Playground – Lincoln Square
FREE
Chicago, IL 60625
A squishy, soft-surfaced splash pad with spray towers, sprinklers, and water jets, this water playground is also located right next to a public pool in shady, pretty River Park.
Sea Lion Aquatic Park — Lisle
1825 Short Street, Lisle
$13 (residents $7)
This giant destination waterpark has separate water play zones for both little ones and bigger kids, plus four giant waterslides, a vortex pool, a large ADA accessible pool, and a lily pad feature. Changing rooms, lockers, and a full-service snack bar make it easy to stay the day.
A version of this article was first published in 2019