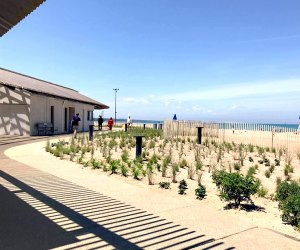 Best Chicago Beaches for Families
Who says you need an ocean to go to the beach? Chicago families can get their swimming fix at a good old-fashioned beach by taking advantage of the "Midwest Coast" of Lake Michigan, or the many smaller lakes and even repurposed former quarries dotted throughout the suburbs.
The best beaches for families include easy parking, bathrooms with changing facilities, concession stands for little snackers, and maybe a playground or other attraction for when kids get tired of the water. Many of the Chicago Park District beaches are accessible by bus for families who prefer public transit.
Here are some of our favorite family-friendly beaches in Chicago and the suburbs. Most are closed or open only to season pass holders until further notice. A few have officially cancelled their 2020 seasons.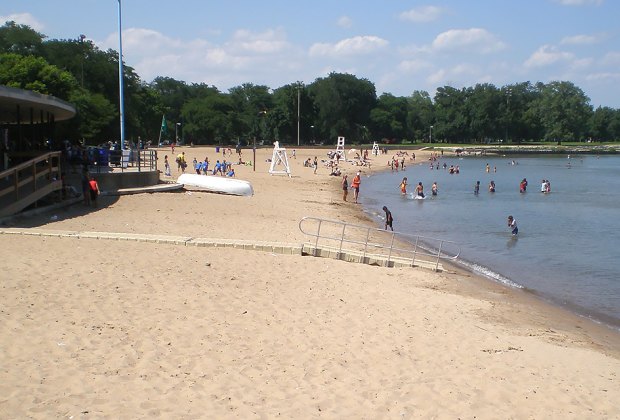 Margaret T. Burroughs Beach
31st Street Beach/Margaret T. Burroughs Beach — Bronzeville
CLOSED UNTIL FURTHER NOTICE
FREE
3100 S. Lakeshore Drive
Located within Burnham Park, this beach has an ADA-accessible playground and green-roof picnic area above an underground parking garage. It's also near one of our favorite splash pads at 31st Street Harbor. Kids can watch boats take off from the dock, or fish off the public fishing pier at this near South Side beach.
Centennial Beach — Naperville
CLOSED FOR 2020 SEASON
$12 for kids 3-17 ($7 residents), $14 for adults ($9 residents), children under 3 FREE; $4 after 5pm
500 Jackson Avenue, Naperville
New swimmers can take it easy in a beach with fewer waves at this historic quarry near the Naperville Riverwalk. The zero-depth beach slopes into a 15-foot swimming well for bigger kids. There's also a shallow-end slide and water play features, a sand volleyball and bag toss area, and a grassy picnic area near Centennial Grill. Family changing rooms with lockers help parents manage swim diapers, which are required. Special needs nights every other Sunday allow those with different sensory needs some splash time of their own.
Kathy Osterman Beach and Montrose Beach — Uptown
CLOSED UNTIL FURTHER NOTICE
FREE
4400-4600 N. Lakeshore Drive
Less crowded but no less scenic than North Avenue Beach, this North Side beach offers a 2,750 square-foot beach house for convenient restrooms and shade. Kids can enjoy a nearby nature area in Lincoln Park, where migratory birds pass through at the beginning and end of the swim season. On Montrose Beach, families can enjoy food concessions, kayak and volleyball rental, and restrooms with showers. Easy metered parking is available on or near Montrose Avenue.
Gillson Park and Beach — Wilmette
Open to Season Pass Holders only through Labor Day
$11 from 9am-6pm ($7 for residents), $6 from 6-8pm ($3 for residents)
800 Gillson Park Drive, Wilmette
This North Shore beach is loaded with amenities like a tot lot, lighted tennis courts, a fitness course, picnic areas, and a concession stand. Its Wallace Bowl amphitheater offers outdoor concerts and performances, and the Lakeview Center can be rented out for special events.
RELATED: Best Free Public Pools for Chicago Families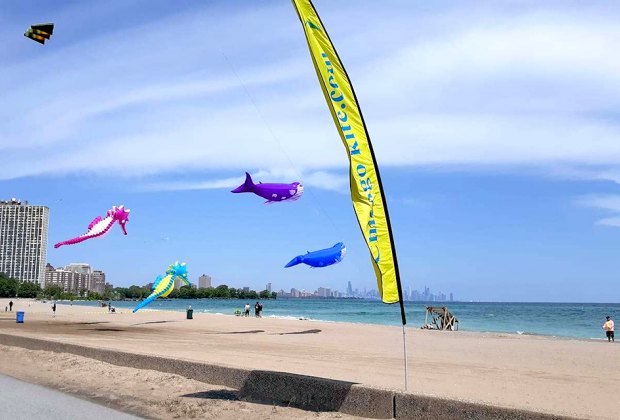 Rainbow Beach
Rainbow Beach — South Shore
CLOSED UNTIL FURTHER NOTICE
FREE
3111 E. 77th Street
Named for the U.S. Army's 42nd Rainbow Division that fought in World War I, this 142-acre beach and park has a comfort station and two playgrounds for smaller children. Basketball, tennis, and handball courts and baseball diamonds offer extra fun for bigger kids. Families can also tour the park's community garden.
RELATED: Best Water Playgrounds and Splash Parks for Chicago Kids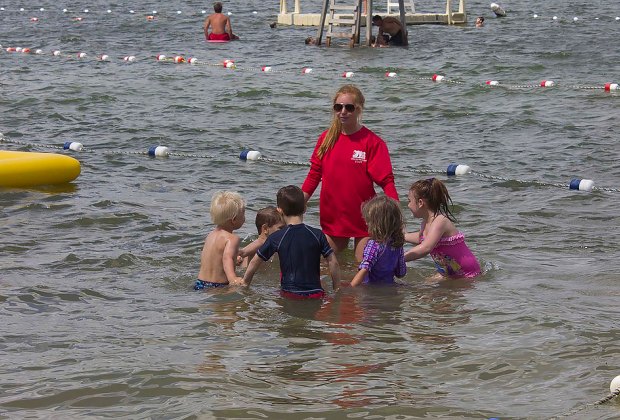 Crystal Lake Main Beach
Crystal Lake Main Beach Swim Area — Crystal Lake
CLOSED UNTIL FURTHER NOTICE
$4 ($1 for residents)
300 Lakeshore Drive, Crystal Lake
Visit the far northwestern town's namesake lake for its swimming and boating. The beach includes a playground, splash pad, concessions and restroom with showers. Swimmers must stay within a buoyed area that increases in depth to more than five feet. The beach hosts several special events throughout the summer including fireworks, a kids' party in the park, a cardboard boat regatta, and Tuesday night concerts in the park.
12th Street Beach —Northerly Island
CLOSED UNTIL FURTHER NOTICE
FREE
1200 S. Linn White Drive
Take a break from the Museum Campus with a trip to this Northerly Island beach. Beach goers can enjoy tacos or hot dogs from Del Campos along with a beach house with restrooms. Paid lot parking or limited street parking are available for those who don't want to take the bus or hike from the Roosevelt Red Line.
Glencoe Beach — Glencoe
Open to Season Pass Holders only through Labor Day
$14 ($7 for residents); children under age 2 FREE
55 Hazel Avenue, Glencoe
This scenic North Shore beach has paddleboards, kayaks, sailboats, sand chairs, cabanas, and umbrellas available for families to rent. Its sprayground, volleyball courts, and beach café offer lots of options for summer fun with lunch or a snack. Shaded trellises and sun shelters keep little ones safe from the sun.
Foster Beach — Edgewater
CLOSED UNTIL FURTHER NOTICE
FREE
5200 N. Lake Shore Drive
Families with four-legged friends can enjoy the dog beach at the northeast end of Foster Beach. A variety of food concessions and bike rentals are included in the lakefront fun. The accessible beach has a restroom and a changing facilities.
Harold Hall Quarry Beach — Batavia
CLOSED FOR 2020 SEASON
$11 ($8 residents); children 2 and under FREE
400 S. Water Street, Batavia
This 60,000 square-foot swimming area in the far western suburbs includes islands, slides and a diving area. A playground, concession stand, and picnic area offer fun on dry land. Kids under 30 months old must wear swim diapers, but the beach has them on hand for $1 for forgetful parents (or unexpected surprises).
Photos courtesy of the park districts