Best Playgrounds in Chicago: Destination Play Zones Worth the Trip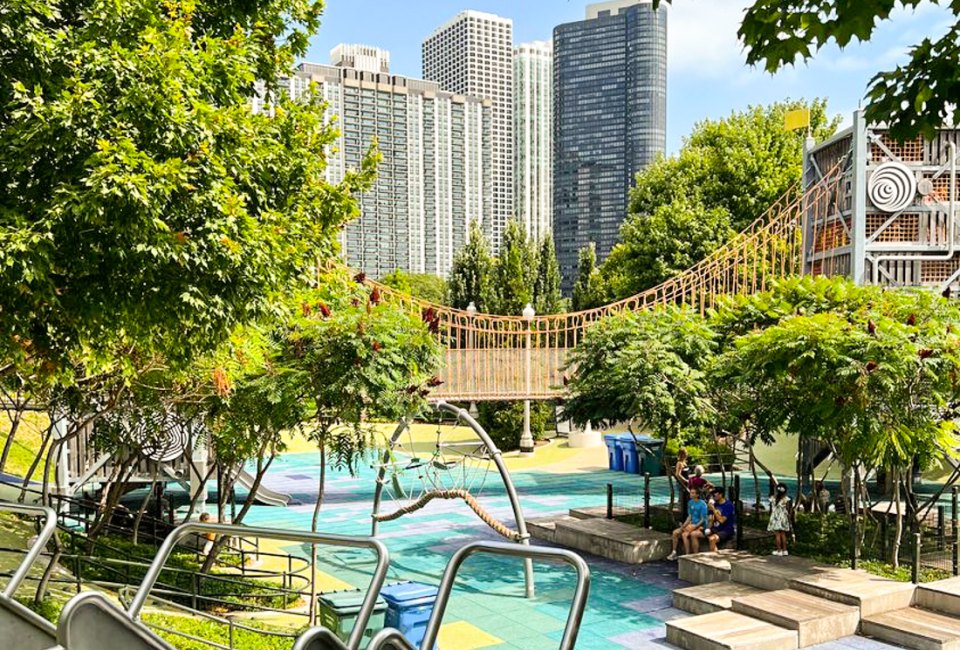 4/22/19
- By
Siobhan Adcock
Chicago families are lucky to have a world-class parks system with hundreds of great playgrounds. Thanks to a city initiative, over 300 playgrounds in Chicago have been refurbished or newly built since 2013, with the goal of ensuring that every Chicago kid has a place to play within a ten-minute walk of home.
But even in a city packed with great parks, some Chicago playgrounds are a cut above the rest. The spots on our best-of list have plenty of space to climb, slide, swing, and play, while also offering something special or unique that makes them worth the trip. Check out our Chicago playground hall of fame, and get out to play at a new-to-you park this weekend.
For more playgrounds in Chicago fun, we've also included some incredible destination playgrounds in the Chicago suburbs.
North Side Chicago Playgrounds
Appropriate for a spot with such gorgeous lake views, the refurbished playground in leafy Berger Park has marine-themed play structures including a giant pirate ship with a lookout and wavy blue slides that reach impressive heights. Settle onto one of the pretty mosaic benches and watch the blue horizon—when you're not watching your kiddos conquer the climbers.
The unique wooden structures at this shady playground are rich material for imaginative play. For some kids, it's a fortress, for others a castle, and for others, it's a multilayered obstacle course. Sculptures, swings, a duck pond, and a wooden train add to the fun, and there's a cute nature center to explore nearby, too.

Welles Park Nature Place has a playground with a water feature.
The green heart of the Lincoln Square neighborhood, Welles Park has family concerts, a gazebo, and a huge playground with water features to jump around in. But the real draw here is the super-cool natural play space, with forts, paths, bridges, and climbing structures made from salvaged natural materials.
RELATED: 100 Things to Do With Chicago Kids Before They Grow Up
Playgrounds in Lincoln Park / Lakeview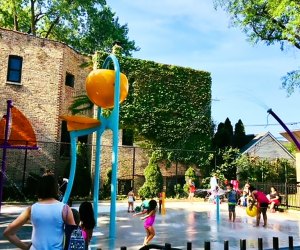 Adams Playground in Chicago
The towering, kid-soaking water features and sprinklers at Adams Park are the big draw on hot summer days, but the giant shaded sandbox is a toddler magnet in itself. Leafy and compact, this playground has a neighborhood vibe and is close to lots of ice cream options. The old-school field house here hosts kid-friendly programming and concerts year-round.

Oz Park, photo by Lori Lancaster.
Oz Park — Lincoln Park
Sculptures of the Tin Man, the Cowardly Lion, the Scarecrow, and Dorothy (with Toto, too…and red shoes) are peppered throughout this park that pays homage to L. Frank Baum's Wizard of Oz books. The wood play structures topped with peaked red roofs have a castle-like feel, encouraging kids to embark on their own brave adventures. The lush Emerald Gardens nearby are worth a quiet stroll.
Ahoy, landlubbers: In this deliciously shady, tucked-away playground in Lincoln Park you'll find a full-blown pirate theme, including two climbing structures that look like masted ships complete with wheels, lookout towers, and the old Jolly Roger grinning overhead. Palm trees double as water features at the playground's splash pad, the sandbox is shaped like a rowboat, and rocking sea creatures bob nearby on the soft-surface turf. All that's missing is buried treasure…and maybe a parrot.
For its compact footprint, this nature-themed playground renovated in 2018 packs in a lot of fun. A giant sand play area (seriously, it's enormous) features interactive water and sand tables as well as slides that dump you right into the action. Sit under the shady trees to watch your littles play in the sprinklers, or give them a hand on the rotating net climber. A woodsy exploration path made from salvaged natural materials, plus a collection of climbing logs and tunnels, make this a great park for adventurous preschoolers and toddlers.
There's no actual sign that reads "Cubs fans only" here, but let's just say it helps to love the Cubbies at this fully accessible playground, which was renovated with the help of a million-dollar grant from the team. A giant soft-surface play area covered with the Cubs team logo makes a fun run-around-until-you-drop spot, but kids will likely gravitate toward the play structures built to look like the Hancock and Willis Towers. The splash pad, near a beautiful mosaic art installation, is a kid favorite, with a rotating spout and arcs of spray.
Playgrounds in Downtown Chicago

Maggie Daley Park, photo by John Walsh.
It may be crowded, but for good reason: This playground is amazing. With six separate themed play areas, unbeatable downtown and lake views, and innovative, interactive features designed to challenge and inspire kids from toddler on up to tween, Maggie Daley Park is justly popular. When you need a break from the nonstop action on the slides, swings, sprayers, climbers, and pathways, explore the shady Enchanted Forest, or just take a well-deserved flop on the grassy lawn. The fact that it's so close to mini golf, the skating ribbon, and tons of snack and ice cream options is a nice bonus too.
Located along a formerly-neglected stretch of the Chicago River and tucked among new high-rises, the Ward Playground is built for climbing and jumping, with rolling turf hills, enormous rope climbing structures, and slide rails, all with a view of the river traffic going by. In summer, a towering spray structure gets kids good and soaked.
Just one block by one block, but full of innovative design and fun, Mary Bartelme Park is probably one of the most Instagrammable spots in town thanks to its cool sculptural gates, which spray a refreshing mist on hot days. Near the water feature, a soft-surfaced playground with multiple levels and unique climbing features offers a welcome twist on the usual slides and bars. On the downside, there's not much shade.
South Side Chicago Playgrounds

Mount Greenwood Park Playground, photo by Antoine Brown.
This award-winning, massive playground is fully accessible for kids of all abilities and completely soft-surfaced. Separate play areas designed for older and younger kids are enclosed within a single gate, with climbing structures challenging enough for all ages. But the coolest features are definitely the interactive art elements, designed by local artists: Some are giant musical instruments, some are built to be conquered, and some are simply designed to inspire imaginations.

Edwin Bill C. Berry Playground, photo by Peter Tulloch.
This playground located on the lakeshore has a rubberized surface and curved blue climbing structures that seem to ripple and roll like the water itself. Whimsical climbers and colorful sculptures all contribute to a Dr. Seuss-meets-1950s-astronauts vibe. Stroll through the nearby marina for boat-peeping and to get an eyeful of the jaw-dropping skyline view.
Destination Playgrounds in West Side Chicago

Walsh Park in Bucktown, photo provided by the author.
Walsh Park is located at the Ashland Avenue access point on the 606 trail. This new park features colorful play structures, a splash pad, water features, and some of the best views in the city. Start or end your journey on the 606 with a visit to this awesome playground.

Julia de Burgos Park, photo by Todd Nadinechek.
Two words: Giant spider. But don't let the creepy-crawly scare you off: He's the friendly, climbable art installation (created by local artists) at the center of a huge turf spiderweb that's perfect for imaginative play. The nearby butterfly and spiderweb-trampoline climbing structures are irresistible and just challenging enough. One of the main access parks for the multi-use 606 trail, Julia de Burgos Park, is a great rest stop on a sunny day of biking and walking.

Park No. 574 in Garfield Park, photo by Todd Nadinechek.
This park is made for active kids. If your kids like to climb, jump, and literally hang around, this park is for you. Designed with a fitness focus, kids and adults can run on the path, practice on the pommel horse, and take a ride down the zip line. There are also huge slides that cut through the hillsides. Parents can take advantage of the fitness stations while the kids get their play on.
RELATED: When Kids Get In Free at Chicago Museums, Zoos, and Parks
Destination Playgrounds in the Chicago Suburbs

Bison's Bluff Nature Playground, photo provided by the author.
Bison's Bluff Nature Playground in Schaumburg is a nature lover's dream. Kids can rock climb, splash in a creek, puddle jump, and more. You'll find a gigantic bison, slides, forts, bridges, climbing walls, springs, and more. Almost everything in the playground is made from natural materials. There's also an indoor nature center at the entrance of the park for more hands-on exploration.
The challenge course at Meineke Park is like a real-life ninja warrior course. There are obstacles, climbing walls, ropes, and ramps for kids to practice their ninja skills. For little ones, there are also two traditional playgrounds with swings and zip lines. There's even a swing designed for parents and kids to swing together.
Rehm Park recently underwent a major renovation. This new and improved park is now ADA accessible and includes play structures and domes for all abilities, skills, and age levels. This inclusive park is designed for people with all different sensory, behavioral, and cognitive needs. Features include a wheelchair-accessible We Go Round, a Cozy dome for kids to have a quiet place to gather and relax, plus a roller slide that provides a sensory experience for all. There's even a double zip line that's accessible to everyone to race side by side.
This colorful playground is a ton of fun for kids of all ages. The theme of this park features little villages including a school, school bus, and little houses. In the village, there's even a fire truck and a train with a working crossing signal.
Bowen Park features multiple hillside access points and play structures. You'll find a crazy-long tunnel slide and a 2-story spider web. There are lower areas for smaller children and a free splash pad available in the summer months.

95th Street Community Plaza playground, photo provided by the author.
This adorable playground is located next to the Naperville library. It features a storybook theme with characters from their favorite books. Climb through an apple, wiggle down a whale, and walk up the steps made of books. There's also an adjacent splash pad open during the summer.
The Sensory Playground in Lisle was designed as a play space for all. Made for children of all ability levels, this accessible park features ADA-accessible play structures, sensory experiences, and more. There's even a fully accessible treehouse.
Click Here to Sign Up!
i