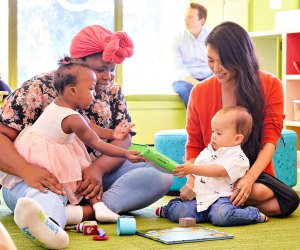 Chicago's Best Indoor Play Spaces
When the weather's too hot, too cold, or too rainy to play outdoors, explore a new-to-you indoor play space for kids in Chicago. There's a climate-controlled play zone for every age, every interest, and every kind of kid. Does your toddler love fire trucks? Head to the kid-sized play town at Little Beans. Got a grade schooler who won't stop doing gymnastics on your couch? She'll love the climbing structures at Present Place. Your little one keeps trying to turn your living room into a giant ball pit? Take them to Kids Wonderland. Many play spaces around the city even offer coffee, wi-fi, and snacks for grateful parents, so you can catch up on email (and caffeine) while your little ones get their sillies out. Here are 12 places to play when the weather's cold and gray.
Sign up for our FREE newsletters to get local events and picks delivered straight to your inbox.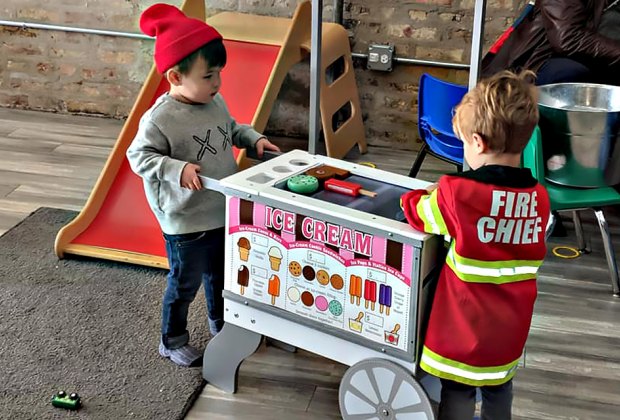 Serve up ice cream at Purple Monkey Playroom.
Purple Monkey Playroom — Bucktown
Monday through Friday 9:30am-5:30pm, plus select weekend hours (weekend open play times vary; check their website)
Two words: Free. Coffee. And with two adorable locations for families to drop in and play, Purple Monkey is a local favorite for good reason. Ride-ons, climbing structures, and lots of toys for imaginative play keep kids up to age 5 happy and busy, while free wi-fi, comfy seating, and lots of light make it easy for parents to enjoy a break while the kids play.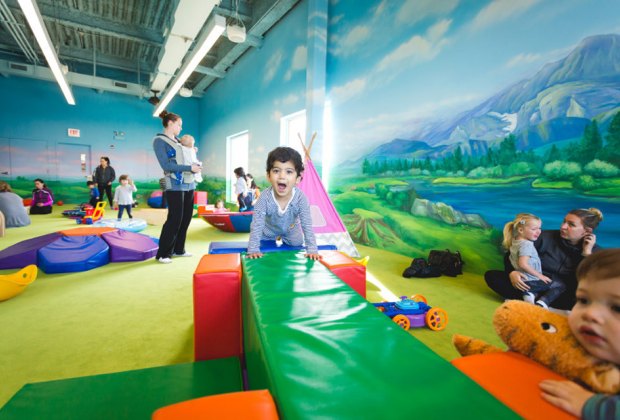 Kids can bounce all over the padded play space at Bubbles Academy.
Bubbles Academy — Bucktown
Monday–Friday 11am-5pm, Saturday 9am-noon, plus select weekend hours (weekend open play times vary; check their website)
Small explorers up to age 5 are welcome for open play hours at this early childhood education center, in a spacious room painted with colorful landscapes and stocked with toys, climbers, blocks, and balls. It's a perfect pit stop for a rainy or snowy afternoon.
Hello Baby — Woodlawn
Monday-Friday 9am-4pm
A free drop-in play space in Woodlawn just for babies up to age 3 (with their caregivers), Hello Baby is a bright, welcoming spot packed with books, educational toys, and space for physical play. Regular story times and sing-alongs make this a sweet neighborhood hub for littles.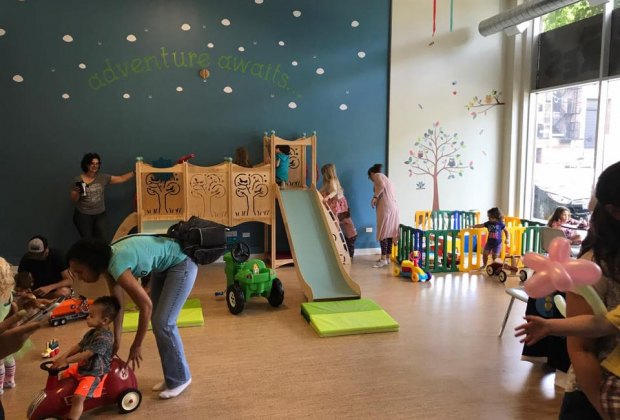 Little Adventures Cafe is great for the littlest of kids.
Little Adventures Café —Wicker Park
Monday-Friday 9am-5pm
Still closed as of February 9, 2021. This cute, compact indoor play zone fits in a playhouse, climbing structure with slide, ride-on toys, and centers for art-making and imaginative play, with room for comfy seating for the grownups. One innovative play feature here is a sensory wall, where kids can explore different textures, colors, sounds, and movements.
Little Beans Café — Evanston
The Chicago location is closed and the Evanston location requires reservations. Featuring an entire kid-sized town designed for imaginative play, plus a jam-packed calendar of events, workshops, classes, and family parties, Little Beans might be one of the best indoor play space membership deals in town. Their café serves up Intelligentsia brew and a decently-priced menu of sandwiches and soups, and the Evanston location boasts an obstacle course and karaoke for older kids.
RELATED: 18 Chicago Restaurants Where Kids Eat Free
Present Place — Lakeview and River North
Open for private playdates only as of February 9, 2021. This play space in North Center and River North, launched by a local mom, has quickly become an award-winning favorite, thanks to its uncluttered-yet-action-packed layout, eye-pleasing art exhibits, engaging climbing structures and play areas, and free coffee and wi-fi for adults. It's popular enough, in fact, that weekend open play hours need to be reserved in advance—which is easy enough to do on their website.
Edgewater Playhouse — Edgewater
Open for private play by appointment only as of February 9, 2021. Kids crawling age through five years can burn off their energy at Edgewater Playhouse's Open Gym, where they can explore the gymnastics studio. There is no scheduled instruction during open play, so kids can run wild and use their imaginations. Local parents love the clean facility and reasonable pricing.
Pritzker Family Children's Zoo — Lincoln Park Zoo
Lincoln Park Zoo will be open to the public starting March 1, 2021. Hitting the Lincoln Park Zoo might not be your first thought during the colder months, but the Treetop Canopy Adventure climbing structure in the Pritzker Family Children's Zoo building is irresistible fun—plus, it's free! Once your kids have had their fill of the ropes, tunnels, and walkways, visit the North American animals and learn about their habitats.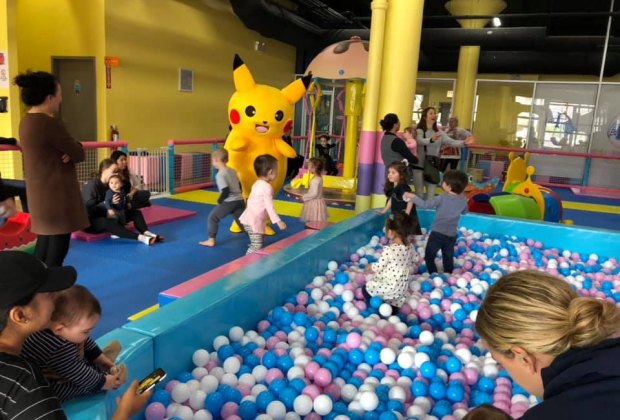 Jump into the giant ball pit at Kids Wonderland.
Kids Wonderland — South Loop
Still closed as of February 9, 2021. Babies through 6 year olds will love this mini amusement park, with its slides, obstacle course, candy-themed snack counter, and a giant ball pit. Parents love the long weekend hours and friendly, helpful staff.
Razzmatazz — McKinley Park
Still closed as of February 9, 2021. Kids as old as 14 can scramble and bounce around the Inflatable Playland, go bowling, or play arcade games for redeemable tickets at this giant fun zone. An on-site grill serves up kid-friendly classics like pizza, hot dogs, and burgers. (And, ahem, there's also a bar.)
Sod Room — South Loop
Still closed as of February 9, 2021. Sunlit, sweet, and made from sustainable materials, Sod Room is a uniquely eco-friendly play space for younger kids. Cork flooring, natural wood toys, and a charming treehouse theme (including a vine-covered "tree swing") make this space feel like a sunny day in the park, even when there's snow outside.
Photo courtesy of the play spaces/cafes