Fun Budget Weekend Getaways for Chicago Families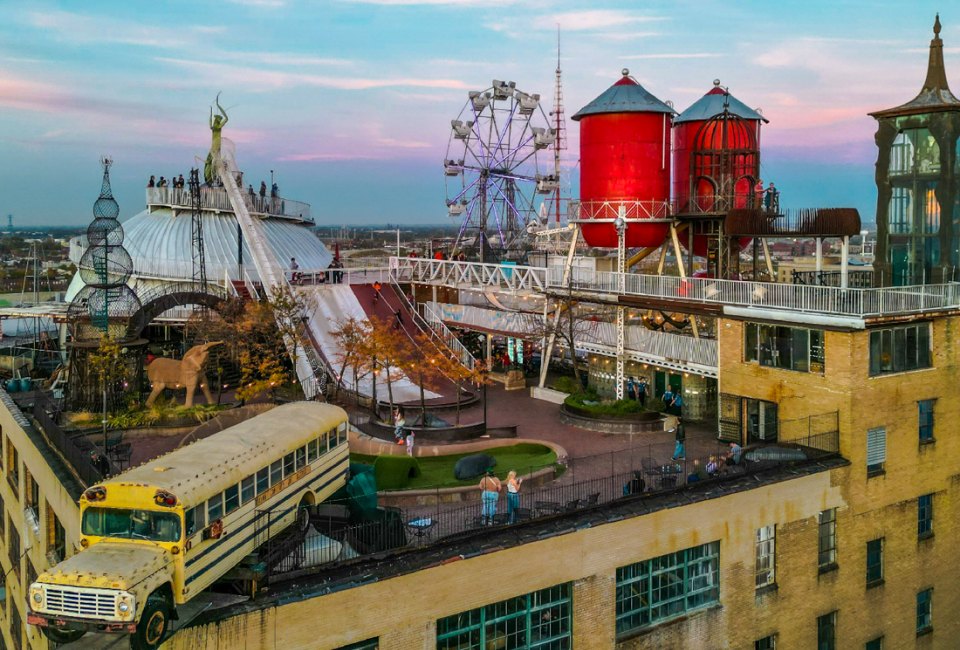 4/14/23
- By
Lauren LaRoche
Budget weekend getaways from Chicago mean that your family vacations aren't limited to longer school breaks. Chicago is home to some world-class tourist destinations, but it's also within a short drive to even more sights, museums, sports teams, and nature adventures. If you're looking for a quick and budget-friendly weekend getaway near Chicago, this round-up is for you. We have staycation and road trip ideas in nearby areas that don't require thousands of dollars worth of plane tickets or passports.
For more budget-friendly travel ideas for Chicago families, check out our guide to tent camping near Chicago and our Midwest Travel Guide.
Budget Weekend Getaways from Chicago for Families
Whether you're new to Chicago or have lived here your entire life, chances are, there are still plenty of sights you haven't seen with your family. If you're looking for a quick getaway without spending hours in the car or in an airport, check out our very own city of Chicago. Chicago has a ton of budget-friendly hotel options that are a quick drive or train ride to amazing destinations for kids. Some budget-friendly options include the free Lincoln Park Zoo, the free Garfield Park Conservatory, and a Chicago museum that has free days throughout the year for Chicago residents. All of the city's public pools and beaches are also free.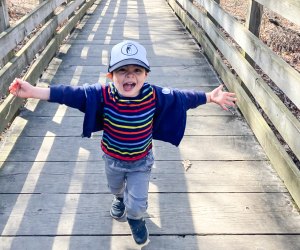 Take a family trip to a destination with kid-friendly hikes to keep the cost down. Photo by Maureen Wilkey
Starved Rock State Park is a 13-mile state park located in Utica, Illinois. Starved Rock State Park is also completely free to visit. During your exploration, you'll find waterfalls, hiking trails, the Illinois River, amazing views, and places to fish with kids. The Starved Rock Lodge is an inexpensive place to stay during your visit. There are also campsites and log cabins to rent. Some cabins are also dog-friendly and there is an on-site indoor pool to burn some energy.
Galena is a charming town located in northwest, Illinois. You'll find historic buildings, cute boutiques, restaurants, and a ton of kid-friendly recreational activities. There is plenty of nearby camping, budget-friendly hotels, and vacation rentals to choose from in Galena. Adults can also sample some locally grown wine from nearby vineyards. Take the kids out for a free hike or visit the Ulysses S. Grant home for $5 per adult or $3 per child. There is plenty of year-round and free activities to do with kids from hiking, biking, kayaking, sledding, and snowshoe trails.
The state capital of Springfield has a ton of family-friendly sights to see. From the family home of Abraham Lincoln to the Lincoln Museum and Tomb, there is a ton of history for little ones interested in learning about Abraham Lincoln, his years in Illinois, and government history. Add Henson Robinson Zoo and the Scheels store to your list as well. Both have free and inexpensive places to explore for families.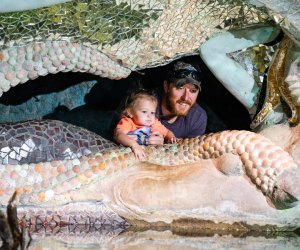 St. Louis has many kid-friendly museums, including City Museum. Photo courtesy of the City Museum in St. Louis
Whether you're catching a Cubs and Cardinals game or visiting the legendary St. Louis Zoo, your family will have a blast in this gem. St. Louis is also home to the incredible City Museum. St. Louis Science Center and the Magic House are also amazing places to join your kid in some exploration and wonder. Being a major city, there are plenty of budget-friendly hotels and campgrounds available without busting your budget. St. Louis is also located about 4.5 hours south of Chicago which may boost the temperature a bit as your drive.
Visiting the Indiana Dunes National Park will make you feel transported to a white sand beach. Just a couple hour drive from the city and you'll find miles of sandy coastline along Lake Michigan. You'll pay admission per car to enter the park and beach which is valid for 7 days. You can stay at a nearby campground, vacation rental, or hotel without breaking the bank on a tropical beach vacation with plane tickets required.

Indianapolis has inexpensive museums and free state parks. Photo courtesy of the Indianapolis Children's Museum
Indianapolis has a ton of free and kid-friendly things to do. Located about 3-hours from Chicago, Indianapolis is home to the Indianapolis Motor Speedway, Victory Park, and Rhythm! Discovery Center. There are also some inexpensive museums and free state parks to check out. You'll find hotels for every budget, camping, and vacation rentals to stay for the weekend.
Elkhart Lake is a beautiful place to get the kids out in some nature and splash around. While you'll find the AAA Osthoff Resort on the lake, you'll also find budget-friendly lodging in vacation rentals, camping sites, and at the Shore Club Wisconsin. While at the lake, you can fish, take a hike, go for a swim, rent kayaks, and enjoy the stars at a campfire.

Madison, WI is a good weekend trip from Chicago. Photo by Lauren LaRoche
Madison, Wisconsin has a ton of fun things for kids to do. It's also surrounded by two lakes giving you natural beauty and big-city amenities. Visit the Madison Children's Museum, take in a Wisconsin Badger game, or go to the free farmers market at the capitol building during the summer and fall months. From Madison, you can also get to the free Kettle Moraine State Forest with a ton of outdoor recreational activities for kids including hiking, fishing, and swimming.
Door County, Wisconsin is located on a peninsula between Lake Michigan and Green Bay. You'll find incredible shorelines, views, limestone cliffs, and beautiful foliage in the fall. There are multiple cities and towns located in Door County and along the peninsula. Explore the free beaches, take a boat ride, or shop at the adorable local boutiques. Door County is actually home to five, free state parks. It's also home to the highest concentration of lighthouses which makes for a fun scavenger hunt. These small towns feature plenty of bed and breakfasts and camping sites that will keep you on budget.