The 10 Best Campgrounds for Tent Camping near Chicago with Kids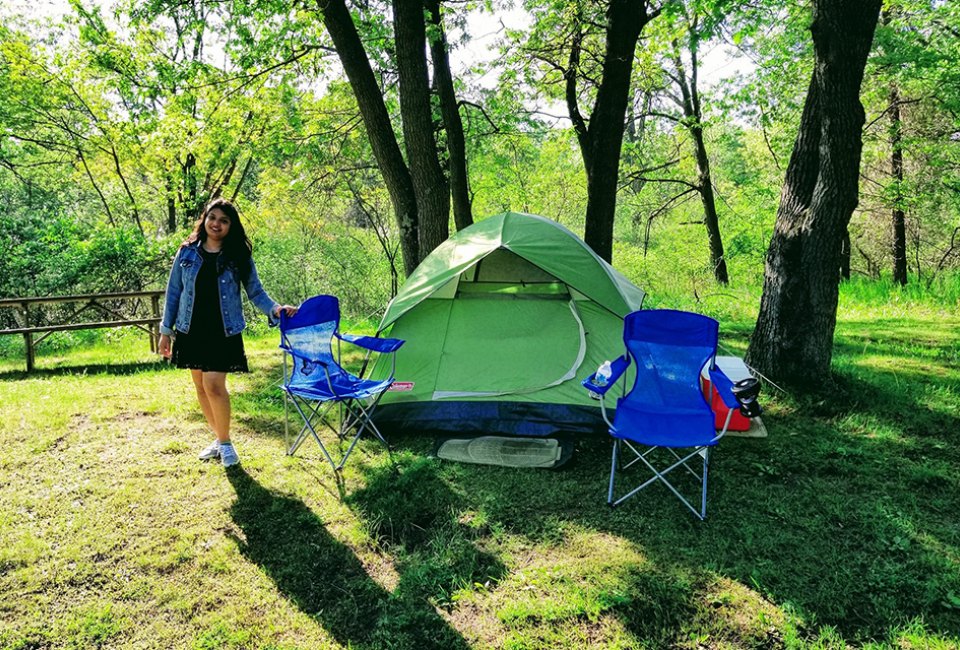 6/25/21
- By
Lauren LaRoche
Nothing says summer like a camping trip. If your family is ready for a weekend sleeping under the stars, we've got you covered with a selection of nature escapes all within a couple of hours of Chicago. From beautiful forests to the shores of Lake Michigan, these serene retreats are the perfect places for roasting marshmallows and making family memories.
Whether you're a seasoned camper or this is your first time pitching a tent, we've rounded up some of the best campsites near Chicago for families. For more outdoor adventures, check out our picks for the best places to hike with kids and our Midwest Vacation Guide.
Best Camping near Chicago with Kids
Reserve Online
Located on 6.5 miles of coastline off Lake Michigan sits the Illinois Beach State Park. This park features sandy beaches, dunes, hiking trails, a forest, as well as marshland. Families can enjoy days at the beach, hikes through the trails, rolls down the sand dunes, and walks in the forest.
Then when night falls, this is one of the largest campgrounds near Chicago with 241 campsites for tents and RVs. There is also plenty of parking for trailers, boats, and cars. Each campsite comes with electricity hookups and access to bathrooms and showers. The campground is open from April 1-December 30th.
Reserve Online
Starved Rock in Utica, Illinois is a beautiful place to camp, hike, and explore. There are 129 campsites available for both tents and RVs with electrical hook-ups, a picnic table, and a grill grate for hot dogs and burgers over the fire. There are portable toilets throughout, plus two shower houses with additional indoor bathrooms. The campground is located in the state park along the banks of the Illinois River.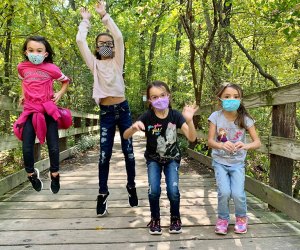 Starved Rock State Park has canyons, waterfalls, and loads of hiking trails to explore by day.
At Starved Rock, there's plenty to do all day with canyons, waterfalls, and 13 miles of trails. Speak with a guide about which trail is best for you, depending on the age of your kids. There are plenty of low hikes for younger kids in addition to the overlooks and bluffs more suitable for older children. The campground is open year-round.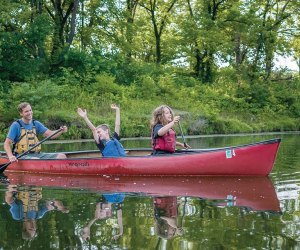 Lakes, playgrounds, mini golf, and more means there's something for everyone at Blackhawk Valley. Photo courtesy Go Rockford
Reserve Online
The Blackhawk Valley Campground is a great camping destination for families visiting Rockford. The campground features 130 campsites for both tents and RVs. There are electrical hook-ups, plus plenty of room for trailers, cars, and even a golf cart. With an on-site playground, mini golf course, basketball court, and pedal carts, there are plenty of activities to keep the whole family busy for days on end.
This campground is located in a valley of the Kishwaukee River. Nearby Rockford is home to the Rock River and the Rock Cut State Park featuring 3,000 acres and two lakes. Families can walk or hike the trails, rent mountain bikes, fish, and even rent a boat. Downtown Rockford offers restaurants, museums, and shopping when you need a little dose of city life. The campground is open from April 15th-October 15th.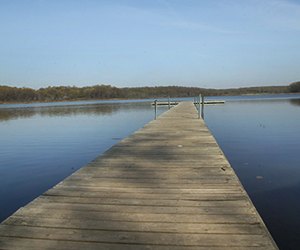 Chain O' Lakes is the perfect place for those who love fishing and lake swimming. Photo courtesy Illinois DNR
Reserve Online
There are over 230 campsites available near Chain O'Lakes Park for tents and RVs. Chain O'Lakes is the largest concentration of lakes in Illinois with over 6,500 acres of water and a shoreline stretching 488 miles. For anyone in your family who loves to fish, Chain O'Lakes State Park is heaven on earth. There's also access to four trail systems, a picnic area, a marsh, and a 6-mile biking trail. Campsites are open year-round.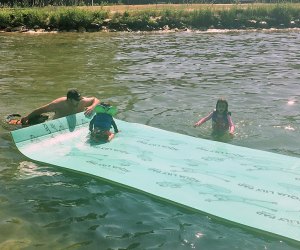 Hike and swim all day at Big Foot Beach, then snore under the stars. Photo by the author
Best Camping in Wisconsin with Kids
Reserve Online
Big Foot State Beach is located just over the Wisconsin border in Lake Geneva. Big Foot features 100 campsites for tents and RVs with fire rings and a picnic table at each site. There are 34 sites with electric hook-ups and shower buildings and bathrooms throughout the campground.
While camping, families can hike the 5-miles of trails, swim at the beach, or play in the playground. It's also only a short distance to downtown Lake Geneva which features restaurants, candy stores, ice cream, and boutique shopping. Walk the shore path, fish, and swim or rent a boat, paddleboard, or wave runner downtown for more fun on the lake. There are also tour boats departing daily. The campground is open year-round.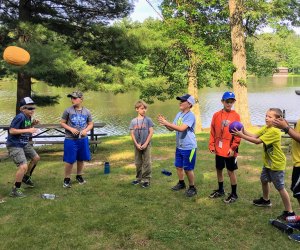 From remote campsites to a cabin on a lake, you'll find it all at Kettle Moraine. Photo courtesy of the Wisconsin Department of Natural Resources
Reserve Online
There are several campgrounds in the Kettle Moraine State Forest featuring over 300 campsites. Each campsite has a different feel and location with options for everyone: there are sites you have to backpack to (Ice Age National Scenic Trail) and others with small cabins (Ottawa Lake). The maps here list which campsite is accessible, has electric outlets, boasts shower houses, and has access to piers and beaches.
Located in Southern Wisconsin, Kettle Moraine features 22,000 acres of glacial hills, forests, lakes, and prairies. There's even a campground for horseback riders. Ottawa Lake is the most family-friendly with a park, enclosed bathrooms, and shower houses. Enjoy beautiful hikes, nature walks, swimming, and fishing at this sprawling natural state park less than 3-hours from Chicago.
Reserve Online
If you're looking for a float trip in the summer months, Spring Green is the place to visit. The Wisconsin Riverside Resort offers a seasonal float trip down the Wisconsin River. There are tent and RV campsites available with or without electrical hook-ups. Wisconsin Riverside also features cabins for families looking for a little more of a glamping experience.
For convenience, there's also a bar and restaurant onsite. There are all the usual amenities and then some, with shower houses, a mini golf course, pool, splash pad, playground, and swim pond with massive water slides and bounce houses. Each site also includes a fire ring and picnic table. The best part about this campground is that you can cook your own meals or dine out at the restaurant—this can be as rustic (or not!) of an experience as you'd like. On the river, there are canoe, kayak, and tube rentals. Tubes are tied together so a family can stay attached while floating. Much of the river is also walkable with sand bars for the kids. Shuttles are available for drop-off and pickup. The campground is open April 15th-October 15th.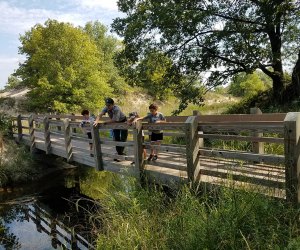 Play Pooh sticks while camping at Indiana Dunes. Photo courtesy of the Indiana Dunes National Park
Best Camping in Indiana with Kids
Reserve Online
Located in the Indiana Dunes State Park, this campsite is a beautiful place to rest after a day at the beach with kids, offering campsites with and without electricity. There are multiple campgrounds available with different amenities such as fire pits, grills, picnic tables, electric hook-ups, and shower houses.
The Indiana Dunes stretches for miles along the coast of Lake Michigan. Here, kids can roll down the dunes, climb, and make some pretty epic sandcastles. For a break from the sun, there are also several hiking paths in the forest with shade. The state park is open year-round. Check with the campgrounds for seasonal dates.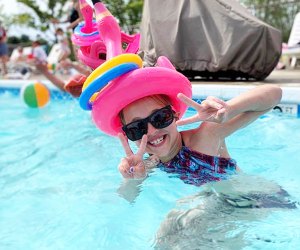 Camping doesn't have to mean listening to crickets chirp! Photo courtesy of the Silver Lake Resort and Campground
Best Camping in Michigan with Kids
Reserve Online
For cabin-style camping near St. Joseph, Michigan, Silver Lake Resort and Campground is just the spot. There are 200 campsites for RV parking and also standard and loft-style cabins available to rent. Cabins are equipped with 1-3 beds depending on the style—some also have a lofted bed that kids love. There are dressers, outlets, and electricity, but no running water; cooking still needs to be done outdoors on the grills. Indoor shower houses and bathrooms are also located throughout the campsite.
On the property, there is an inground heated pool, a playground, a grocery store, fishing pond, hammock area, a basketball court, and plenty of fun yard games. It's just a short trip to the Silver Beach County Park, Lake Michigan, sand dunes, hiking, and downtown St. Joseph, Michigan.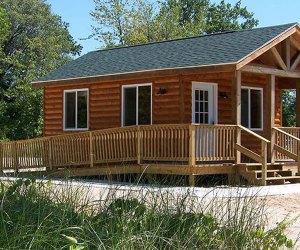 Cabin camping is perfect for newbie campers! Photo courtesy of Michigan DNR
Reserve Online
Holland State Park is home to the Holland Camper Cabins complete with a playground, state beach, concessions, and paddle rentals. This is perfect for a camping experience without a tent! Each cabin sleeps up to seven people. Cabins include a microwave, fridge, and electric heat. There are also picnic tables and grills just outside each cabin. The cabins are also ADA accessible, and these ramps are great for wagons full of coolers and sand toys.
Spend the day on the beautiful sugar beaches of Holland. Make sandcastles, play at the beachfront park, and go for a swim in Lake Michigan. This beach is also home to the iconic Red Lighthouse. Downtown Holland is a quick drive away, with quaint boutiques, restaurants, coffee, and ice cream. The state beach and campground are open year-round with discounts for cabin rentals during the off-season.