Garfield Park Conservatory with Kids: Best Things to See and Do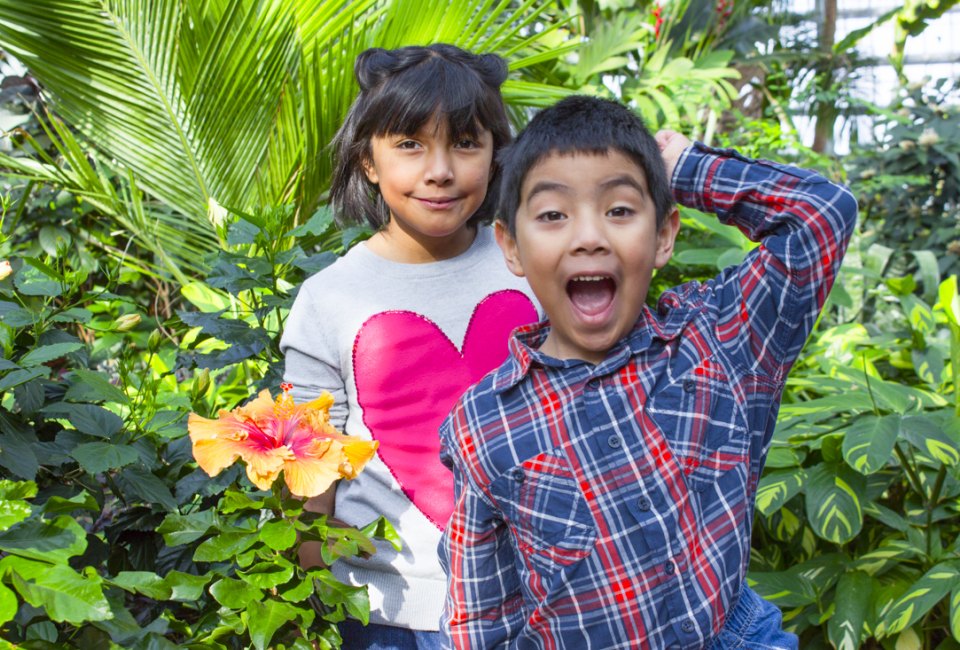 7/17/22
- By
Lauren LaRoche
In Chicago, there are amazing, unique, and free spaces to take your kids if you know where to look. The Garfield Park Conservatory is one of those hidden gems. For an optional donation, you and your family get transplanted into a pre-historic Chicago landscape, a lush dessert oasis, a tropical forest, and more. The best part is that almost all of the conservatory can be explored no matter what the weather is like outside. If you're looking for a fun and inexpensive outing with your family on a rainy or cold day, this is the place. During the warmer months, you can take advantage of the beautiful and expansive 10-acre outdoor garden.

For more amazing places to explore with kids, check out our guide to the Top Tourist Attractions in Chicago: Best Things to See and Do with Kids.

Photo courtesy of the Garfield Park Conservatory
Admission and Hours
Admission to the Garfield Park Conservatory is free. Online registration, however, is encouraged as well as a suggested $5 donation. Walk-up visitors are also welcome. You can make online reservations on the Garfield Park Conservatory website. It's recommended to arrive at least five minutes before your reserved time to check-in. The Conservatory is open from 10 am - 8 pm (last admission 6:30) on Wednesdays, and Thursday through Sunday from 10 am - 5 pm.


Exploring the Conservatory. Photo courtesy of the author
Especially for Kids
The Garfield Park Conservatory is overall, very kid friendly. With activities for people of all ages, this free and beautiful space is great for adults, small kids, and everyone in between. The aisles are easily walkable and also allow for strollers and wagons for little ones.

In addition to walking the indoor and outdoor gardens, there are also a number of play spaces designed especially for kids. The first is a soft, play zone with safe climbing and sitting structures designed for babies and toddlers who are new to crawling, pulling up, and walking. This is right inside the indoor garden space making it a beautiful spot for little ones to get out of the stroller or baby carrier without too many bigger kids running around.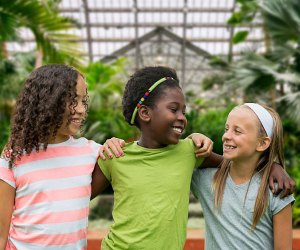 Photo courtesy of the Garfield Park Conservatory

One of the coolest aspects of the Garfield Park Conservatory as a kid is that it's designed to look like Chicago and Illinois did when the dinosaurs roamed. You'll find ferns, lush trees, rocks, and an indoor lagoon that any tiny dino lover will appreciate. The E.M.G. Children's Garden also features life-sized roots, leaves, and flowers for kids to explore in a hands-on setting.

For the next age group up, there is an indoor playground structure with a long slide. This slide goes right down into the garden for bigger kids to play while they explore. There are also kid-friendly picnic areas indoors and outdoors, kid and baby-changing restrooms, and private areas for nursing mothers.
Special Events and Birthday Parties at Garfield Park Conservatory
If you're interested in renting the private event space at the Garfield Park Conservatory, there are a few different areas to explore. There's a great indoor party room that's perfect for larger gatherings, kids' parties, scout groups, or classroom birthday parties. There is also a private and separate door that allows party-goers to play outside and come back in or out for cake and pizza. Guests are also encouraged to get out and walk through the indoor and outdoor gardens and play on the play spaces. For larger events, weddings, and other special occasions, contact the Garfield Park Conservatory directly to learn more information.

Photo courtesy of the Garfield Park Conservatory
Year-Round Exploration
The Garfield Park Conservatory features beautiful aisles of flowers, exotic plants, and natural greenery, found right in Chicago. As soon as you walk through the doors, you'll feel transported. Especially, in the winter months, it feels great to walk through green spaces and see flowers in bloom. The balmy temperature inside also helps beat the winter blues and keeps you from getting cabin fever. It's a beautiful and casual place to let the kids walk freely, play, and explore, regardless of the temperature outside.

Beautiful tropical plans all year. Photo courtesy of the Garfield Park Conservatory

In the Palm Room, you'll find a 65-foot-tall palm tree with a breathtaking tropical landscape. In the winter especially, this is a great place to take a few minutes and imagine you're on a beach vacation. Here, your kids can explore plants, trees, and flowers from warm climates all over the world.
​
Photo by Bob Simpson, Flickr (CC BY-NC-ND 2.0)

In the summer months, you have the added benefit of being able to walk the grounds and check out the outdoor garden spaces. In the fall and spring, there's, even more, to explore as the seasons change, new plants are coming in or changing colors for the season. The outdoor gardens span 10 acres. There's a city garden, a demonstration garden, as well as rotating, artist gardens.
Places featured in this article:
---
Garfield Park Conservatory
Click Here to Sign Up!