Things to Do with Kids on Navy Pier in Chicago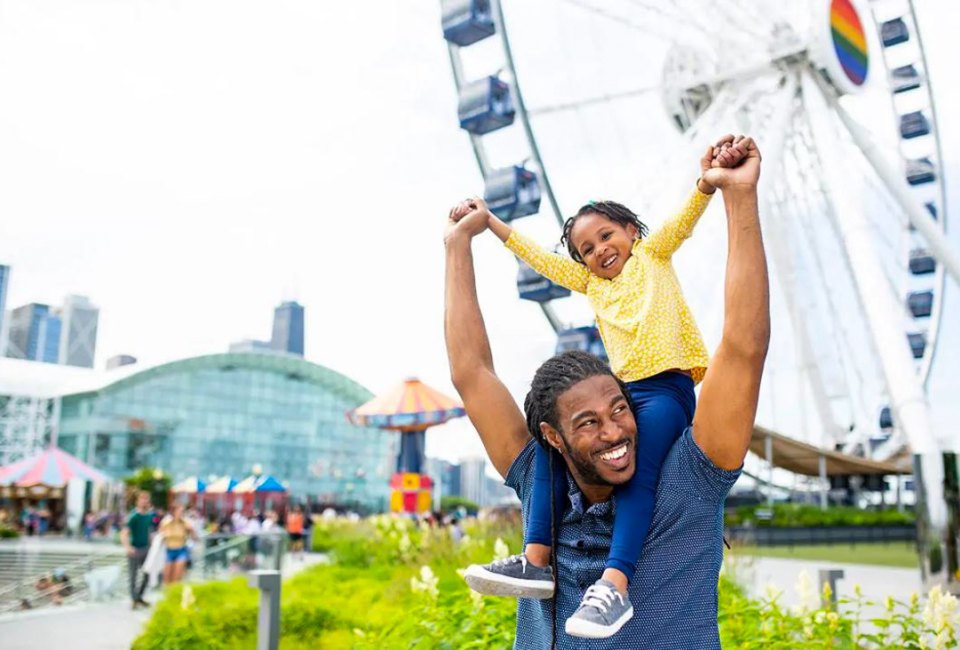 6/23/23
- By
Lauren LaRoche
Navy Pier in Chicago is a must-see for kids. There's so much to do there, from the carnival rides and games to the indoor attractions like the Chicago Children's Museum. Best of all, Navy Pier itself is free to walk around (admission is required for museum and rides). With sweeping views of Lake Michigan and the Chicago skyline, Navy Pier offers some of the city's best vantage points.
One of the best parts about Navy Pier is its location. You're within a couple of miles of several Chicago museums, Michigan Avenue, Millennium Park, The Bean, Maggie Daley Park, and more. Before or after you're Navy Pier visit, check out our guides to the ultimate Chicago weekend with kids and 100 things to do in Chicago with kids before they grow up.

Navy Pier's Centennial Wheel is a fun way to see the city from the sky.
Fun Things To Do With Kids On Navy Pier
The Centennial Wheel is a Ferris wheel that stands 200 feet tall and has enclosed gondolas, for passengers to ride. The ride offers great views of the Chicago skyline, as well as Navy Pier itself. The wheel operates year-round, so you can enjoy it no matter what time of year you visit.
The ride takes about 15 minutes from start to finish. Tickets are required for all guests. Adults are $18, children ages 3-11 are $15, and kids under 3 are free. You can also purchase a fast pass to skip the line during the busy summer months. Play the Park passes are available for The Centennial Wheel and all rides featured at Navy Pier for $49. This is an unlimited pass that's worth the money if you plan to spend the day there going on rides.
Little thrill-seekers love Navy Pier's carnival rides.
2. Navy Pier Carnival Attractions
In addition to The Centennial Wheel, there are tons of outdoor carnival rides for kids at Navy Pier. The outdoor rides are seasonal and run May through the start of October, weather permitting. The Centennial Wheel is the only enclosed year-round attraction. Rides include the Wave Singer, the carousel, the Light Tower, the Drop Tower, and the Teacups. Rides range from $5-$9 per person. You can also take advantage of unlimited rides with the Play the Park passes available for $49.
3. Indoor Games and Maze
There are a number of fun indoor games for kids to enjoy at Navy Pier. The Amazing Chicago indoor arcade and game center is located inside Navy Pier. Games include the Atomic Rush, Time Freak Challenge, and the Chicago Fun House Maze. These games are easy enough for littles to play or at least walk through so it's a fun time for the whole family. Tickets are required for all games in the Amazing Chicago facility.
4. Catch a Boat Cruise
The best way to see Chicago is from the water, and Navy Pier has plenty of options for you and your family. Navy Pier has architecture tours, brunch, lunch, and dinner cruises, as well as speed boat and thrill rides. Boats depart daily from Navy Pier and many cruise into the fall and holiday season. This is an easy add-on to a day at Navy Pier. Everyone gets to rest their legs while taking in some beautiful sights and views.
The Chicago Children's Museum is open year-round on Navy Pier.
The Chicago Children's Museum is located on Navy Pier and open year-round, except for Christmas Eve and Christmas Day. There are many exhibits to keep kids engaged and busy exploring. Some of the highlights include the Discovery Room where kids can open play with toys. The Creative Station lets kids get lose and creative. Use model clay, paint, or build a sandcastle in the giant sandbox. This is an awesome sensory exploration area.
Where to Eat on Navy Pier
There are a number of fun places to eat at Navy Pier. One of the most iconic establishments is the Billy Goat Tavern. In addition to the infamous "Cheezborger," Billy Goat offers kid-friendly breakfast and sandwiches.
For a slice of iconic deep dish, there is Giordano's. Harry Caray's Tavern offers smoked BBQ, kid-friendly chicken tenders, burgers, and macaroni and cheese. Harry Caray's also offers incredible views of the lake!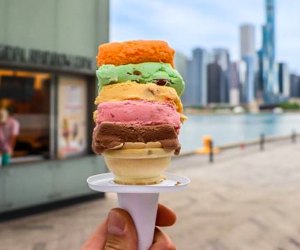 Walk along the water with an ice cream cone at Navy Pier.
Additional restaurants include Lirica, Beat Kitchen's Bar Sol, and Jimmy Buffet's. Sweet treats include The Original Rainbow Cone, Dippin' Dots, Ben & Jerry's, and Frio Gelato. For a quick bite, there is McDonald's, Potbelly, and Starbucks.
Where to Stay: Hotels Near Navy Pier
Sable at Navy Pier Chicago is a part of the Curio Collection by Hilton. This hotel is located on Navy Pier, allowing easy access for fun, parking, and toddler naps if needed. The views are also incredible of Lake Michigan and the skyline.
Getting Around Navy Pier
Navy Pier is an accessible facility. There is plenty of room for strollers as well. There is parking available at Navy Pier. You can also get to Navy Pier from several CTA buses, the Metra, and through a variety of sightseeing tours and boats.
To purchase tickets or reservations, head to navypier.org.
All photos are courtesy of the Navy Pier Facebook page.
Places featured in this article:
Click Here to Sign Up!
i