3 Days in Chicago with Kids: Ultimate Itinerary by a Local Mom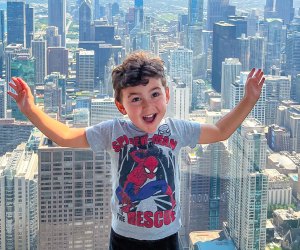 1/27/23
- By
Lauren LaRoche
Looking for things to do when visiting Chicago with kids? We've got you covered with this three day itinerary packed with kid-friendly activities in Chicago.
Chicago is a great city to explore with kids. From the food to the museums and parks, there is something for everyone to do, see, and eat. To help you plan the ultimate 3-day trip with your family, we've rounded up our favorite kid-friendly activities you can pack into a long weekend.
When visiting Chicago, it's always wise to have a few alternate and indoor options mapped out as well. In one weekend, you could see a little of all four seasons. Check out our Free Things To Do in Chicago On Cold and Rainy Days for bad weather alternatives that won't cost you extra cash. And while we list many food options below, you can also peruse our Kid-Friendly Chicago Restaurants Guide. Lastly, you'll probably want to check out our Kid-Friendly Hotels in Chicago.
Headed to several main attractions in Chicago? Save money on the Skydeck, museums, Navy Pier, and more with GoCity card.
Day 1: Things To Do in Chicago with Kids
Day one starts with a visit to the Chicago Riverwalk. This is an outdoor area where people can walk and enjoy the Chicago River. It has restaurants, gardens, fountains, statues, boat tours, and more. You can also walk to it from almost all the hotels in the loop, Michigan Avenue, and River North.

Chicago Riverwalk is a great kid-friendly activity. Photo by Nancy Kalchbrenner
Chicago Riverwalk
If you're staying downtown with kids, the Chicago Riverwalk is the place to start. It's an easy walk from downtown and it has something for everyone.
The best part about the Riverwalk is that there are so many things to see as you stroll. You grab coffee and donuts from Firecakes Doonuts or sit down to breakfast at Yolk Marina City before you set out. One of the best ways to see the city is by boat tour. The river has regular water taxis and architecture tours that leave throughout the day and early evening. These run from spring until October. Each boat has both open-air and enclosed indoor and heated areas. Learn about Chicago's incredible architecture, skyline, and more while finishing a cup of coffee in the Lake Michigan breeze. When you step off the boat, have lunch at one of these Best Restaurants on the River: Chicago River Dining for Families.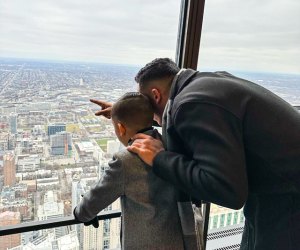 Skydeck photo courtesy of 360 Chicago
If you're looking for a way to experience the city from above the water, then make the Skydeck your next stop. The Skydeck Chicago at Willis Tower is located in the heart of Chicago and offers guests an incredible view of the city. Here are a few highlights:
Open year-round
You can climb up to 102 stories high! That's right—the highest public observation deck in North America. It holds multiple record titles including being one of only two skydiving towers open to public viewing on top of buildings with more than 100 stories, as well as being home to some great restaurants in the new 30,000 square foot dining and retail space, Catalog, where you can grab lunch after.
Your bravery will be well-rewarded with some breathtaking views of the city and Lake Michigan.
At the base of Willis Tower check out the Color Factory for an immersive art experience for kids and adults.
The Magnificent Mile is a strip of Michigan Avenue, in Chicago from Oak Street to the Chicago River. It's home to some of the city's best shopping and sights—and it's also a great place to visit with kids. You can walk or take a city bus from the SkyDeck just a few blocks.
The Magnificent Mile is one of the most famous shopping districts and tourist attractions in Chicago. It spans several blocks and has over 200 stores on it. There are also plenty of restaurants and other attractions along the way too. While it is known for its luxury shopping, there are also several kid-friendly shops, cool flagships, and plenty of window shopping.

Photo courtesy of the Museum of Ice Cream
Kid-friendly stops include: The Museum of Ice Cream, The Apple Store, Vans, Nordstrom, Levis, Nike, the Chicago Cubs Store, Zara, and Water Tower Place including the Lego Store, Adidas, the Harry Potter Immersive Experience, and American Girl.
For dinner, there's no better neighborhood than River North. Whether you're looking to get little kids to bed and order in, take-out to eat by the hotel pool, or dinner out with older kids, there is something for everyone in River North. River North is also home to many of the most popular hotels where you may already be ending your night.
After your walk down Michigan Avenue, you'll end right at the heart of River North ready to hit the hay, grab a bite, or both. Some of the best restaurants for kids in River North include Parlor Pizza, Eataly, and Chicago Cut Steakhouse.
Day 2: More Kid-Friendly Activities in Chicago
On the second day of your trip, you can explore Chicago's amazing culture and museum scene. From the free Lincoln Park Zoo to the award-winning and kid-friendly museums, day 2 has plenty of options for sightseeing indoors, playing, or walking outside with your favorite animals.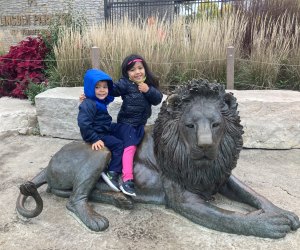 Lincoln Park Zoo is the perfect, free thing to do in Chicago. Photo by Maureen Wilkey
Lincoln Park Zoo is a great place to visit with kids of all ages. The zoo has over 1,200 animals, including lions and tigers. There are also birds of prey that you can see up close and personal in their habitats. It's free to the public and open year-round.
This family-friendly zoo offers free parking and admission. Kids can pet the animals at the farm and petting zoo, play in the playground area, and more. If you're staying in the loop, you'll drive to the zoo but it's a beautiful ride north about 10-15 minutes with Lake Michigan views the entire way down Lake Shore Drive.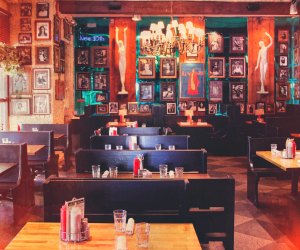 Photo courtesy of R.J. Grunts
You can pack your own breakfast or lunch picnic or buy food at the zoo. These Lincoln Park restaurants are also kid-friendly for before or after your zoo trip: Homeslice, R.J. Grunts, Chicago Pizza and Oven Grinder Company, Peaquads.

The Shedd Aquarium is located near other Chicago attractions. Photo courtesy of the Shedd Aquarium.
The Chicago Museum Campus is the area near Grant Park that features several museums within walking distance to each other. After heading back from a morning outside at the zoo, this is the perfect indoor activity to end the day. Depending on the age of your children and their interests (and stamina levels) there's something for everyone on this list.
The Field Museum: A natural history museum featuring dinosaurs, fossils, gems, a play lab, and more.
The Shedd Aquarium: An indoor public aquarium featuring waters of the world, jellyfish, reefs, the oceanarium, aquatic shows, and more.
Adler Planetarium: The Adler Planetarium is a public museum located on the tip of Northerly Island on lake Michigan. Adler was the first planetarium in the United States.
Each museum allows you to picnic with your own food inside. You can also dine at one of the restaurants inside the museum.

Artist Anish Kapoor's Cloudgate has been affectionately dubbed "The Bean". Photo by Eric Esma, via Pexels
Day 3: Things to Do in Chicago with Kids
After a fun-filled two days exploring the city inside and out, Millennium Park and the Bean make the list for day number 3 before heading home. These are located at the corner of Michigan Avenue and Randolph Street (on Michigan Avenue). Millennium Park is a great place for kids to play and let some energy out. There are plenty of playgrounds, fountains, and statues to explore.

Crown Fountain, designed by artist Jaume Plensa. Photo courtesy of the Millenium Park Foundation
Millennium Park is located at the western edge of Grant Park. It's a sprawling, 2-mile-long park that serves as a public space for both residents and visitors to enjoy. You'll find the famous Bean art installation, where you can walk around or even under the Bean. There's also Crown Fountain which includes an LED sculpture and reflecting pool that displays changing art and water that shoots down onto a splash zone for kids to walk through and hop in puddles. Maggie Daley Park is also nearby. This free mega park has multiple play spaces and zones designated for kids of all ages.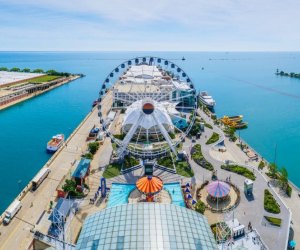 Photo courtesy of Navy Pier
Navy Pier is one of the most popular tourist attractions in Chicago. With a world-famous Ferris wheel and indoor children's museum, there's something to do in any season.
The Ferris wheel is one of the most popular attractions at navy pier. You can see the entire skyline from the Ferris wheel including beautiful views of Lake Michigan.
The Chicago Children's Museum is also located at Navy Pier. There is plenty of room for kids to stretch their legs, play, and have interactive fun here.

Lincoln Park Zoo and a view of the Chicago skyline. Photo courtesy of the Lincoln Park Zoo.
Before you go, take a drive to one of Chicago's many neighborhoods for dinner or one last walk around. From Lincoln Park to the West Loop we have several neighborhood guides to help you choose one or two.