Best Boat Rides in Chicago for Families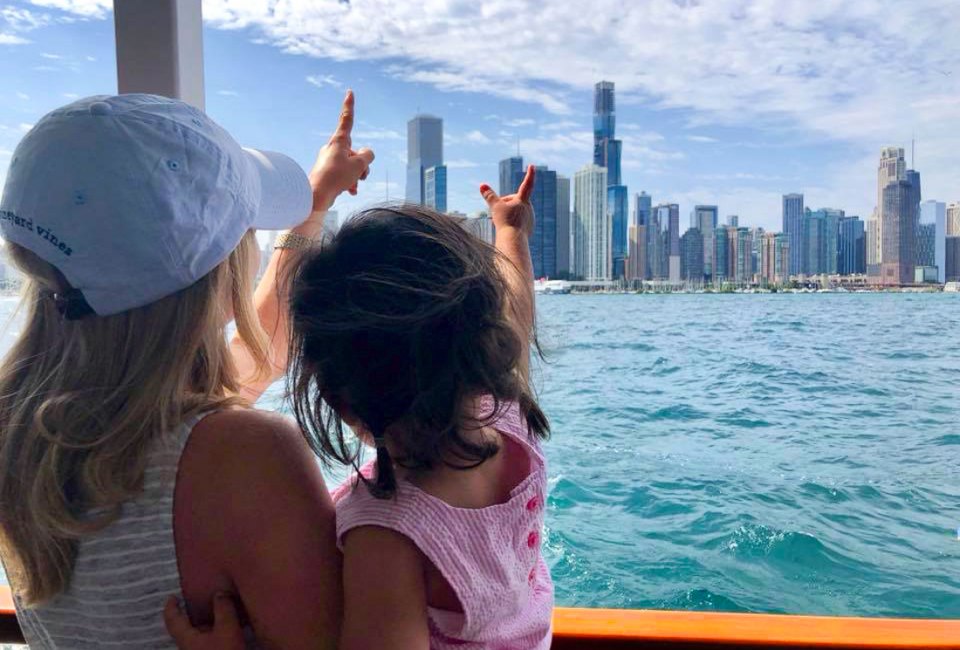 7/11/23
- By
Maureen Wilkey
Ready to hit the water? Families can celebrate the season by boarding a variety of boats on Lake Michigan or the Chicago River. Some may even want to venture further west for an old-fashioned river boat ride on the Fox River in St. Charles or a kid-powered paddle boat ride along the Naperville Riverwalk. A wide variety of boat rides are available for enjoying the water throughout the city and suburbs.
Check out some of our favorite boat rides near downtown Chicago and beyond. Families who are interested in relaxing dinner cruises, adventurous sailing, or architecture are sure to find something here that floats their boat.
Boat Rides in Chicago
Cruise Lake Michigan or the Chicago River, or both, in the same tour with this well-known Chicago boat touring company. Wendella offers daytime and sunset cruises, as well as themed rides with lessons on everything from architecture to beer and barbecue.
From short 40-minute lake cruises to the 75-minute architecture boat tour, this sightseeing company caters to kids with different attention spans. Families can also book a fireworks tour to see the sky light up from the lake on Saturday nights throughout summer. Tours depart from five separate docks throughout downtown to show off the river on the way to Lake Michigan.

Check out Seadog Cruises for a thrill ride.
Families can choose from an architecture river cruise, a skyline lake cruise, or the fast-paced Seadog Extreme power boat ride from this Navy Pier cruise line. The Extreme experience offers 360-degree spins and slalom runs across Lake Michigan, guaranteeing thrills as boat riders get splashed. Seadog's lake cruises are 30 minutes, while the river cruise spans 75 minutes. With a variety of price points and lengths, these may be the best for a spur-of-the-moment trip.
This cruise ship sets sail for lunch, dinner, or weekend brunch from Navy Pier. Slightly more affordable than its sister ship, the Odyssey, the Spirit boat ride offers buffet meals with kid-friendly options as well as a DJ and dancing. Cruises range from two to three hours in length.
For a different type of boat ride, hop aboard one of these sailboats for a tour of Chicago's skyline along Lake Michigan. Families can learn about the centuries-old sport of sailing while viewing some of Chicago's best architecture. Kids might enjoy educational sails that include information about the boat, or pirate-themed story sails in the early afternoon. Also, check out Monday night music cruises or Saturday night firework sails
Among the many boat rides near Chicago, this miniature history and architecture lesson is a staple of school field trips. Adults can learn a lot, too! A volunteer tour guide explains the history of more than 50 structures along the Chicago River in the 90-minute tour. Families can select from a daytime or evening departure with full bar and snacks on board. A $5 ticket upgrade gets you entry in the Chicago Architecture Center before or after the boat tour. Familes can also download an app to hear the cruise narration in French, Spanish, Japanese, or Korean.

Fireboat photo by Maureen Wilkey for Mommy Poppins
Climb aboard a piece of Chicago history, the Fred A. Busse Fireboat, which assisted the city of Chicago in fire emergencies from 1937 to 1980. The boat offers lake and river historical cruises, along with fun sunset boat rides. The boat's owners and operators love telling kids about the ship's history. It was built to go under the city's drawbridges and could use its four pumps to draw water directly from the river to fight fires. On hot days, kids can spray water at each other on board.
This boat company provides the vessels for Chicago Architecture Center's architecture tours, but also offers a few interesting boat trips of its own. Board the Lady Grebe, a 48-foot vintage yacht, for a 90-minute tour with your group of 6 or less, or set sail on a sunset cruise on most nights of the week.
This company offers more of a DIY boat cruise experience. Rent an electric boat or cycloboat (where passengers pedal the boat themselves) to cruise along the Chicago River. Starting at $155 per hour on weekdays, families can rent these 8-15 passenger boats and enjoy their own time along the river. These eco-friendly zero emission boats are a unique experience in the spectrum of Chicago boats.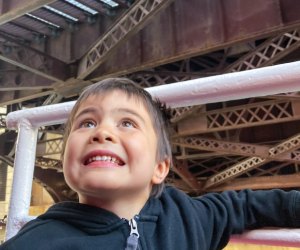 Enjoying a Chicago boat ride. Photo by Maureen Wilkey for Mommy Poppins
Select an architecture cruise or a live jazz cruise for 90 minutes along the Chicago River from McClurg Court. Chicago Line Cruises is also planning to team up with the Chicago History Museum to start up a history-themed tour in the near future. A perk for parents: Kids six and under are free on these boat rides.
More Boat Rides Near Chicago
Suburban families and American literature lovers may get a thrill out of riding these paddlewheel cruisers, which look like something straight out of a Mark Twain novel. The boats' 50-minute rides launch from Pottowatamie Park in far west suburban St. Charles. While the boats currently in operation were built in the 1980s, Paddlewheel Riverboats started amusing Chicago-area families in 1945. Special boat rides this summer include a root beer float themed adventure and a pirates and princesses sotry time tour.
Have your kids do the work as you enjoy a boat ride in Naperville's Paddleboat Quarry along the west suburb's riverwalk. Paddleboats, paddleboards, and kayaks are available to appeal to kids of different ages, and life preservers are required. Families can choose to rent any of these watercraft for $10 for 20 minutes or $15 for 40 minutes.
All photos courtesy of the companies
Click Here to Sign Up!
i