Top Attractions in Chicago: Best Things to See and Do With Kids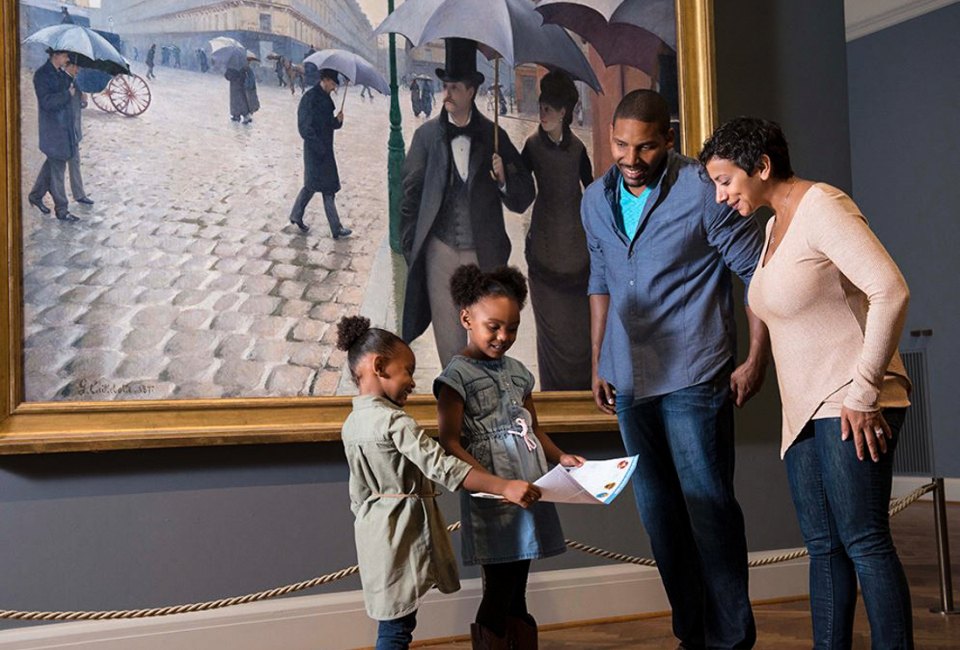 2/18/22
- By
Maureen Wilkey
It may be called The Second City, but Chicago is second to none when it comes to urban vacation destinations for families. It's easy to get around using public transportation and taxis, and there are lots of kid-friendly activities in Chicago with the Loop, giving families the chance to visit multiple tourist attractions in Chicago in one day. For example, you can check out Millennium Park, Buckingham Fountain, and the Art Institute without ever getting in a cab or train. Or, visit the Field Museum, Shedd Aquarium, and Adler Planetarium all on foot. There are also plenty of opportunities to explore beautiful landscapes at Morton Arboretum, Chicago Botanic Gardens, and Oak Street Beach. Did we mention that Chicago's signature foods are mainly kid-friendly dishes like pizza and hot dogs? And who doesn't love popcorn and ice cream?
Here are the top 25 tourst attractions in Chicago that out-of-town families should visit the next time they come to the Windy City!
If you're staying in town and plan to visit multiple attractions in the Chicago area (we're looking at you, people with visiting relatives you'll be squiring around town), it's worth it to look into a Go City - Chicago sightseeing pass to save money on entrance fees to attractions like the Navy Pier, Field Museum, the aquarium, and the planetarium.
Must-See Museums in Chicago
An all-day gem on the near south side, the Museum of Science and Industry has four floors of interactive exhibits that appeal to kids of all ages and all interests. From little engineers to kid history buffs to future meteorologists, this attraction provides learning experiences that are unique to Chicago. Its rotating exhibits have featured everything from Marvel superheroes to Mythbusters to Christmas trees from around the world. Read our MSI review here.

The Field Museum is one of the most kid-friendly tourist attractions in Chicago. Photo courtesy of The Field Museum
See the world's most complete T-rex statue, unearth a real mummy, and see hundreds of specimens of animals from around the world at this 100-year-old mega-museum. Culture and science meet in the vast halls with events like Sleepovers with the Dinosaurs drawing in kids from around the country. Read our full review from summer 2021.

If you have younger kids, pencil in a visit to the Chicago Children's Museum. Photo courtesy of the Chicago Children's Museum
Located on Navy Pier, this kid-forward museum is a hit with the 8 and under crowd. Pretend to be a firefighter, explore and build your own Chicago architecture, and discover how dams and plumbing work among this museums seven stories. Parents can also enjoy great views of the lake and a variety of restaurants along the Pier.
This iconic Chicago museum and art school has lions guarding the precious masterpieces inside, including paintings from Van Gogh, Georges Seraut, Diego Rivera, Matisse, Monet, Georgia O'Keeffe, Salvador Dali, and Picasso. Rotating exhibits feature a variety of modern artists, and kids can take classes to try their own hand at art.
From historic L cars to the Great Chicago Fire to becoming a giant Chicago hot dog, kids can experience Chicago's nearly 200 year history at this Old Town museum. Be sure to check out the Sensing Chicago exhibit and the Chicago: Crossroads of America exhibit and the series of diaramas on the first floor.

Photo courtesy of the Adler Planetarium
Learn about Chicago's night sky, explore the solar system, or visit the moon at this lakefront space museum. The planetarium has interactive spaces interspersed throughout the museum, including the Community Play Lab and Community Star Studio, which give kids the chance to make art and experiment.
Best Zoos, Aquariums, and Gardens in Chicago

The Regenstein Center for African Apes, photo courtesy of the Lincoln Park Zoo
It's FREE! And while it might be smaller than other big city zoos, its prime location, great combination of animals, and stunning new lion habitat are drawing in more visitors every day. Read our review of the zoo's highlights, including the lions, gorillas, flamingos, and more.
This is the big kahuna of Chicago zoos, even though it's in the suburbs. Here, you'll find bears, dolphins, lots of different kinds of monkeys, reptiles, penguins, birds, and more, all arranged around a scenic center fountain. The Hamill Family Play Zoo is a top attraction for little kids—it includes a free-flying parakeet building, goat feeding, and an enclosure where kids can get up close and personal with wallabies.

Don't miss the Shedd Aquarium, one of Chicago's top attractions. Photo courtesy of the Shedd Aquarium
The Great Coral Reef, encased in a giant cylindrical tank in the center of the aquarium, anchors this stately lakefront aquatic life haven. Kids can see belugas, sea otters, and the penguiins made famous for roaming the empty halls of the aquarium in the early days of the COVID-19 pandemic. We also love the sea horses and the exhibit on local Great Lakes water species.

The Human + Nature exhibit at the Morton Arboretum, photo courtesy of Mommy Poppins
Once a sleepy haven for nature lovers, this giant park has come to life over the past decade with a children's garden complete with a hedge maze, climbing structures, sites for nature crafting, and interactive water features. Two recent arboretum-wide art exhibits, Troll Hunt and Human + Nature, have captured the imagination of families, brought them to different parts of the park, and proven some of the most Instagram-worthy photo subjects in the Chicago area.
Take in some of the city's natural surroundings at this north shore garden. There's the neatly kept English Garden, Circle Garden, and Sensory Garden, or the more rugged Prairie and McDowell Woods. More adventurous families may be able to bike all the way to the Botanic Gardens from the city.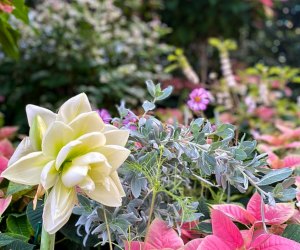 Photo courtesy of Garfield Park Conservatory
Get out into one of Chicago's neighborhoods to see this massive maze of unique plants. Chicago is known as The City in the Garden, and its definitely apparent here where you can see indoor and outdoor displays of native plants as well as rooms for palms, desert plants, show plants, and ferns. There's even a children's garden and activities for kids.
Top Tourist Attractions in Chicago
Do you have the guts to step out on a glass ledge over Wacker Drive, more than 100 stories up? You can see up to four states from the upper stories of the building that was once the tallest in the world. exhibits along the SkyDeck walls also offer fun trivia about the city.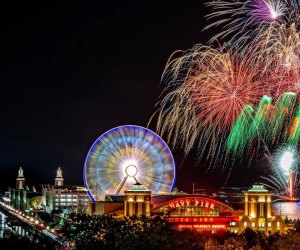 Photo courtesy of Navy Pier
Walk more than half a mile out onto Lake Michigan to explore all the various attractions on Navy Pier. After visiting the Children's Museum and riding on the Ferris Wheel or carousel, shop for souvenirs, eat at Chicago classic restaurants like Harry Caray's or the Billy Goat, see a play at Chicago Shakespeare Theater, or enjoy a free event at Polk Brothers Park. Or take a cruise from the Pier out onto the lake.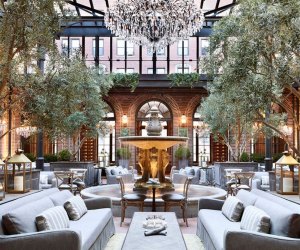 The all-seasons courtyard at the 3 Arts Cafe, located in the Magnificent Mile. Photo courtesy of the cafe
Shopping, festivals, and more highlight this not-quite-a-mile stretch of North Michigan Avenue. The Magnificent Mile is known for the World's Largest Starbucks, as well as glitzy stores for household name brands like Apple and Nike. At its north end, you'll find the multi-level Water Tower Place mall, which is home to the American Girl Store and the LEGO Store, fulfilling all your kids' wildest shopping dreams.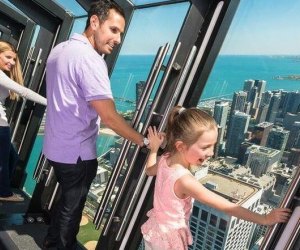 Photo courtesy of 360 Chicago Observation Deck
View the city from the top of the Mag Mile on the 94th floor of 875 N. Michigan, aka the John Hancock Center. This glitzy observation deck also has a fancy restaurant with a solid happy hour, and its bathrooms were once named among the best in America (nothing like a potty with a view).
Most people immediately think of the giant Cloudgate sculpture (aka The Bean) when they think of Millennium Park, but we also love the Crown Fountain, two giant towers lit up with faces that change and spit large fountains of water in the summer. In the winter, check out the park's two ice skating rinks. The Jay Pritzker Pavilion provides a fun space for concerts during the warmer months—sometimes they're even free!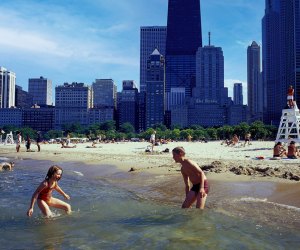 Photo courtesy of The Four Seasons Hotel, Chicago
This beach is one of the reasons Chicago is called the Third Coast. You'd never know from the size of Lake Michigan, and even sometimes from its waves, that it wasn't an ocean. Oak Street beach is unique because it runs closer to east-west than north-south. It's a great place to rent a bike or find a food truck or cart, or just to take a dip or a full-on swim.
From April until September, you can see the Chicago Cubs play at this beautiful historic baseball field. During the remainder of the year, you can visit the newly renovated Gallagher Way just outside the stadium for ice skating, curling, outdoor movies, kids music classes, and more!

Photo courtesy of the Chicago Architecture Center River Tour
See all the sites in the Loop in just 90 minutes on this luxurious cruise aboard Chicago's First Lady. Relaxing and educational, this requires no walking from the kids, plus lots of photo opportunities.
Near Grant Park and Millennium Park, this lakefront fountain is worth seeing whether the water is on or off, but during the spring, summer and fall, it's amazing to see the major shows the fountain puts on every hour on the hour, shooting water 150 feet into the air. The fountain is lit up with different colored lights when it's dark out.
Best Things to Eat in Chicago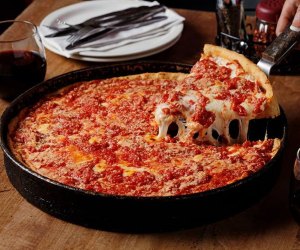 No trip to Chicago is complete without deep dish pizza. Photo courtesy of Lou Malnati's
If you don't need a fork and knife to eat it, does it even count as pizza? There's no better way to stave off a cold winter (or spring or fall) day than with a slice of deep dish. The original Lou Malnati's location is in Lincolnwood, while the first Uno's (and its partner Due's) are in River North. Other locations serve the same great pizza, but nothing is quire like the original.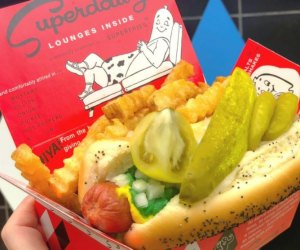 Chicago's food is kid-friendly fare. Photo courtesy of Superdawg
If you're under 8, you're still allowed to have ketchup on a hot dog. Otherwise, you have to get it Chicago style—mustard, neon green relish, onions, tomatoes, pickle, sport peppers, and celery salt—or risk having your picture up on a wall of shame. Can't stomach the garden full of goodness on a hot dog? Get an Italian beef with giardiniera—might want it on the side if you're still acquiring the taste for its oily spicy goodness.

Photo courtesy of Rainbow Cone
It's a 95-year-old tradition: Slices (not scoops) of orange sherbet, pistachio, Palmer House (which is cherry, vanilla, and walnut), strawberry, and chocolate on a cone. With locations in Beverly, Lombard, Darien, and on Navy Pier, Rainbow Cone appeals to any family member with a sweet tooth.
It's a smell you never really get used to—the combination of caramel and cheese popcorn may initially sound weird, but both kids and grown-ups love Chicago Mix! You can get it at nearly every place on this list. It's best when popped fresh.
Disclosure: We may earn a small commission if you click through our link and make a purchase. This revenue helps us maintain this site, so thank you for supporting us.
Click Here to Sign Up!