Best Things to Do at the Chicago Museum of Science and Industry with Kids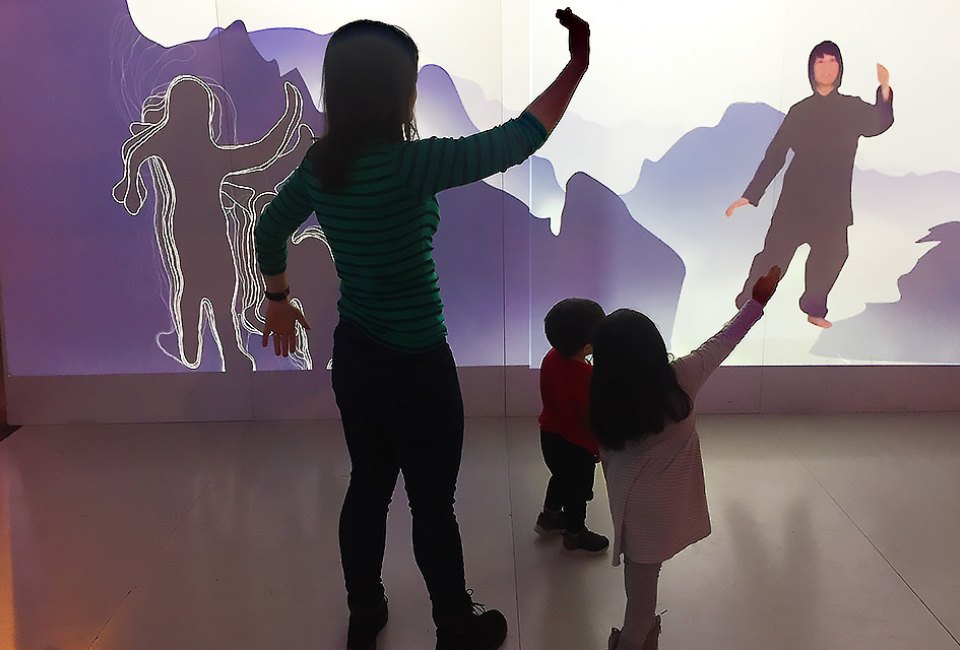 2/21/20
- By
Maureen Wilkey
When most people think of Chicago museums, they picture the Museum Campus, just south of downtown on the city's lakefront. Chicago's Museum of Science and Industry in Hyde Park stands alone - but that may be a good thing for parents, as fitting in the whole three-story museum in one day is a challenge.
The last building leftover from the World's Columbian Exposition in 1893, the building was temporarily home to the Field Museum of Natural History until it was rebuilt for the city's Century of Progress Exposition in 1933-34. Now, it's filled with more than two dozen exhibits to help learners of all ages get to know more about science, technology, transportation, agriculture, biology and more.
The Museum of Science and Industry is open from 9:30 a.m. to 4 p.m. most days. We stayed until just past 2 p.m. so our little guy could nap on the way home and easily could have added another two hours of fun and learning to our day. Here are some of the highlights from our trip to the Museum of Science and Industry.
Things to Do in the Lower Level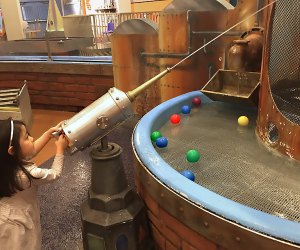 Idea Factory
This is a must for the littlest science explorers. Kids can learn basic physics concepts by watching and helping balls move through water, up inclines, and through windy tubes. Little ones can enjoy shooting pressurized water at balls as they float through troughs, turning cranks to lift a ball up an incline, jumping on pumps to shoot a ball into the air, or even riding a bicycle to fill a tube with water and make a ball float upwards. Parents can use foam blocks to help kids create a ball run or show them how to operate a kaleidoscope to view beads floating through the water.
Colleen Moore's Fairy Castle
Little princesses may fall in love with the tiny intricate rooms, furniture and fixtures in this fairy tale themed dollhouse donated by silent film star Colleen Moore. Speakers above each room describe how the tiny objects within were made. This attraction has been at the museum since 1949, so many moms will remember it from their own childhood.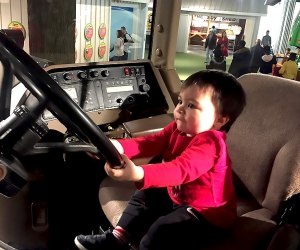 Farm Tech
For kids who love to see where their food comes from, this exhibit details cow raising and milking, soybean farming, and growing greens in greenhouses. Kids can "drive" a real tractor, test their speed at milking a cow, learn how manure is used for fertilizer, and see how soybeans are used in all phases of processing.
Swiss Jolly Ball
This 1980s Rube Goldberg-like display was originally an advertisement for tourists to visit Switzerland. It's tucked behind the escalators on the lower level and is the perfect time-filler for families with antsy kids waiting for lunch or for their sibling to finish a snack. The 7-foot tall and 15-foot wide display resembles a giant pinball machine where the ball travels through the Alps, a Swiss bank, a chunk of Swiss cheese, and more.
U-505
Probably best for bigger kids, the U-505 exhibit takes guests through a German World War II U-boat (or submarine) that was captured off the coast of West Africa in 1944. A staple at the museum since 1954, the exhibit tells the story of how soldiers lived on the sub and how its then-modern technology worked.
Things to Do on the Main Level
The Great Train Story
If you've seen a little bit too much of Thomas the Tank Engine lately, this is where you will want to take your kids. More than 20 trains wind around 1,400 feet of track miniature track, from the Loop, which includes tiny Brown Line trains and scale-model buildings, through the plains and mountains to Seattle, where kids can experience loading containers from train to ship via intermodal. There are plenty of buttons to press that do everything from making train sounds to clearing a tunnel for a subway train to lifting shipping containers. Kids can also climb aboard replicas of a train engine or trolley.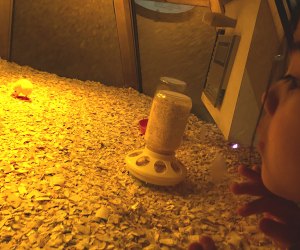 Genetics
While parents may be most interested in learning about how clones are made or how genetically modified foods are entering our diets, most kids love the same thing about this exhibit: the baby chicks hatching. Two incubators contain eggs that are in the process of hatching and recently hatched chicks, which delight small children with their cuteness and give moms the opportunity to razz their children about long labors.
Yesterday's Main Street
What did Chicago look like 100 years ago? Kids can find out in this exhibit that features storefronts from yesteryear, including those of some still-standing businesses like The Berghoff restaurant or Jenner and Block law firm. A Nickelodeon plays silent films with benches for kids to take in a show, or they can visit Finnigan's Ice Cream Parlor for scoops of old-fashioned ice cream or soda. A receipt from lunch gets you 50 cents off of your ice cream order.
The Whispering Gallery
Kids can stand at one end and whisper to their parents or siblings at the other end of this big room with a unique acoustic design. Big kids may enjoy the science behind it while little kids can enjoy the fun of making noise.
Coal Mine
Since 1933, kids have been able to explore the inner workings of a coal mine and even ride in a real cage elevator. This exhibit is not stroller-accessible and requires an additional ticket.
Things to Do on the Second Level
Science Storms
This exhibit spans the main level and the second level with lessons for kids about tornadoes, avalanches, rainbows, lightning, and fire. Kids can step into a wind booth to see what 80 mph winds feel like, create their own rainbows by refracting light or test out electromagnetism with Tesla coils and maglev cars. Little kids may mostly be interested in the interactive elements of the exhibit, but there's a lot to read and learn here, even for adults.
YOU! The Experience
Kids learn about movement, nutrition, sleep, and stress relief in this human biology exhibit. Learn tai chi by seeing your shadow on the big screen, run in a giant hamster wheel, see how portion sizes have changed since mid-century, and hear the stories of 100-year-old men and women as they describe what helped them live to their ripe old age.
Flight Simulators
Overlooking the Transportation Gallery, this exhibit features a life-size 727 with displays on how navigation, sonar, and GPS technologies work, then takes families back through a history of different aircraft from the Wright Brothers through both world wars to today's commercial airliners. Flight simulators show kids what it feels like to be a pilot for an additional fee.
Things to Know Before You Go to the Museum of Science and Industry
Tickets are $21.95 per adult and $12.95 per child ages 3-11. Children under 3 are free. You can save $2 per ticket by buying online in advance, which also helps you skip the ticket line.
Some experiences require an additional ticket.
The Museum offers 52 free entry days for Illinois residents per year. Check the website for more information.
Memberships are available and provide free entry.
Families are allowed to bring their own food or purchase food at the Brain Food Court, where entrees range from $7-12, or Finnigan's Ice Cream Shop. Vending machines also offer snacks and soft drinks on the lower level. Food and drinks are not allowed in the exhibits.
Parking in MSI's underground garage, which is attached to the museum, is $22, with some discounts available for members. City families can take the #6 or #55 CTA bus to the museum.
If you drive, we recommend leaving your coats in the car. Parking is relatively close to the entrance hall and you'll save yourself having to drag them around the museum or check them at guest services.
While many exhibits have been on display since us parents were young, there are a few exhibits that change every month. The Giant Dome Theater (formerly Omnimax) is currently closed, but will reopen in March 2020.
Photos by the author
Places featured in this article:
---
Museum of Science and Industry, Chicago