Best Restaurants on the River: Chicago River Dining for Families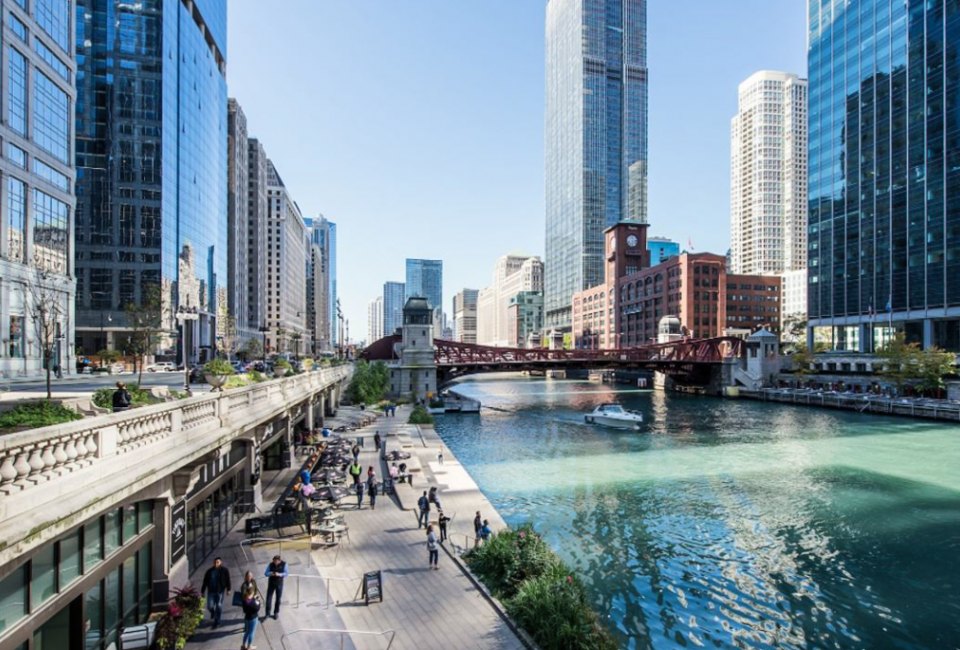 2/20/22
- By
Maureen Wilkey
Chicago is known as The Third Coast because of its gorgeous Lake Michigan skyline, but another body of water brings beauty to the city as well. The Chicago River and the Riverwalk that has developed along its banks has become a destination for tourists and locals alike, especially in the warm summer months when visitors can dine outside. Operable drawbridges and CTA trains that cross the river add extra interest to the area for kids.
Some of the best restaurants on the river in Chicago operate only from April or May through October, while others are year-round fixtures. They become destinations during major events like the dyeing of the Chicago River and the Chicago Marathon, but they're truly relaxing at any time of year. Try to make a reservation at one of these top-notch riverfront restaurants in Chicago for the best results!
For more tips on dining out with kids in Chicago, check out our Kid-Friendly Chicago Restaurants Guide.
Fast Casual River Front Fare in Chicago

Tiny Tapp is a kid-friendly riverfront restaurant in Chicago. Photo courtesy of Tiny Tapp & Cafe
Between the Clark and Dearborn Bridges on the Riverwalk
This is the most basic of the Chicago Riverwalk Cafes, offering sandwiches, fun snacks, and easygoing adult beverages. Perfect for a stop between tourist attractions or as a happy hour after work, this essential restaurant stop is open from May to October.
Just west of Michigan Avenue on the Riverwalk
Showcasing the diversity of the city, Chicago Brewhouse offers foods representing many different neighborhoods. Eat tacos from Pilsen, Italian Beef from Taylor Street, wontons from Chinatown, or a pita and hummus bowl from Greektown. There's also a great selection of Chicago-brewed beers for the grown-ups and fun lemonades or Topo Chico for the kids.
Between Columbus and Lake Shore Drive on the Riverwalk
In addition to burgers, sandwiches, hot dogs, and pizza, this fun stop on the Riverwalk has games like giant Jenga, Connect Four, and Bimini Island Ring. Parents can also get their hands on a mai tai or a dark and stormy to help cool off their Chicago summer day.
2120 S Canal Street
Nothing is like eating fish and shrimp with a view of the water. This one's not on the Riverwalk, but offers a great view of the South Branch in Chinatown and daily deals of full pounds of shrimp. Not a fish lover? You can get frog legs and chicken at Lawrence's, too.
Midrange Water Way Dining in Chicago
Between Columbus and Michigan Avenue on the Riverwalk
Take a trip to the North Woods with upper Midwest classics like cheese curds, pub pretzels, and bratwurst served on picnic tables on the Riverwalk. Grown-ups can enjoy hard cider brewed in house while kids might like the variety of sodas and lemonades on tap.
Between Clark and Dearborn on the Riverfront (317 N. Clark)
This restaurant, associated with RPM Italian, claims to transport guests to the Italian Riviera with its hand-stretched pizzas. Kids can enjoy some non-alcoholic cocktails while grown-ups can select from a wide range of wines to pair with their pizzas. Decadent desserts complete the summery experience.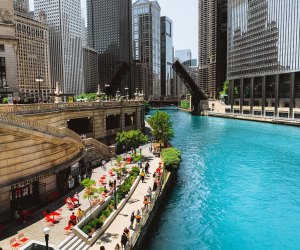 Beat Kitchen offers lots of kid-friendly food. Photo courtesy of the Beat Kitchen
Under the Michigan Avenue Bridge on the Riverwalk
Rock out with standard or funky pizzas, tacos, and burgers at the Riverwalk outpost of this Lakeview music venue. There's a kids' menu item—grilled cheese—or kids can enjoy quesadillas or macaroni and cheese off of the starters menu. A full beer and cocktail menu brings the fun for the grown-ups
Riverwalk at State Street
Small plates, entrees, live musical entertainment, and wine are the highlights of this Riverwalk location of the West Loop standby. Stop by for a full lunch or dinner, or just enjoy a snack or treat as you watch the boats float by.
320 N. Dearborn
Located in the Westin River North, this rooftop restaurant has great views of the river to accompany its weekend brunch buffets and daily lunches and dinners. With its own kids menu and Chicago-themed cocktails, 320 RiverBar offers options for kids and grown ups.
Upscale Restaurants on the Chicago River
315 N. Clark
This classy riverfront restaurant serves whole roasts, whole fish, and whole chickens in a white-tablecloth setting. Try ordering the group dining menu ahead for a special occassion for fancy, but not necessarily kid-prohibitive, foods.

Photo courtesy of Porter Kitchen and Deck
150 N. Riverside Plaza
A handful of sandwiches and burgers join the upscale menu at this Riverside Plaza restaurant. Kids may enjoy the view of the drawbridges and trains, as well as decadent desserts like the Ultimate Birthday Cake Sundae, while grown-ups can sample beverages from the Punch Stand.
100 S. Wacker
Dine inside or outside in the shade of the Willis Tower at this fancy but-not-too-fancy riverside restaurant. South Branch's large menu has something for everyone with a variety of sandwiches and small plates as well as steak and fish entrees. Simple but refined cocktails join a solid beer list for the grown-ups.
Click Here to Sign Up!