The Ultimate List of Chicago Children's Birthday Party Entertainers and Rentals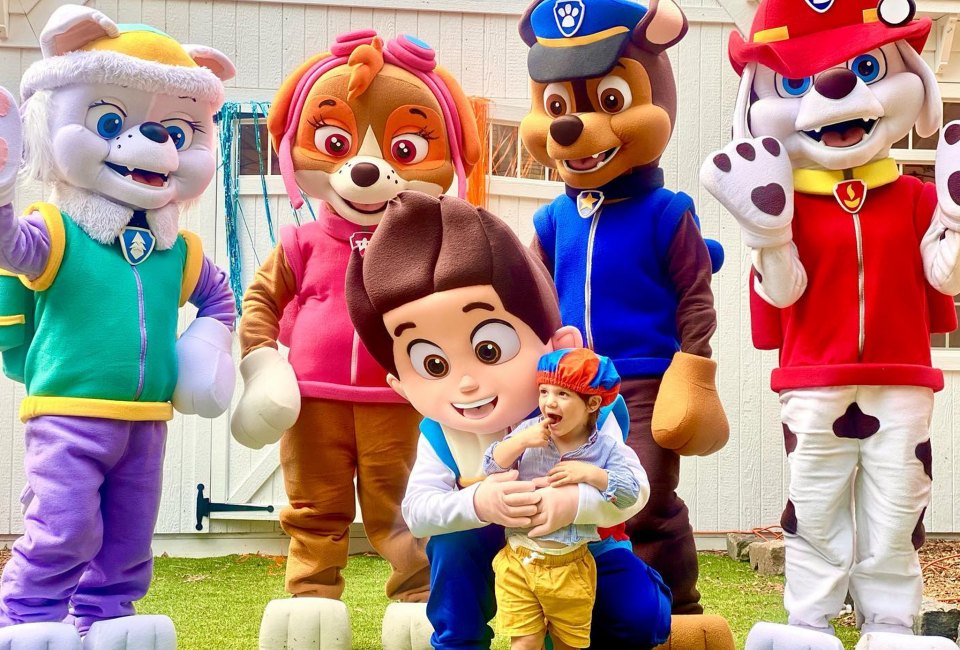 8/13/21
- By
Lauren LaRoche
Children's outdoor birthday parties and parties at home are even more special this year. But even if you're just throwing a small backyard bash, you can still go big on the entertainment. The Chicago birthday party entertainers, artists, and rentals below will give your kid's home or outdoor birthday party a little something extra.
Fire truck rentals, video game trucks, magicians, puppets, princesses, special game setups...Chicago has everything you need for an exciting kids birthday party. And if you're up to the challenge of baking the cake yourself, we've got 10 great birthday cake ideas here.
For more great birthday party ideas, check out our lists for our favorite birthday party locations, virtual party ideas, and more.

The Wow Show lives up to its name with movies, bubbles, dinos, discos, and more!
Top Kids Birthday Party Entertainers in Chicago
The Wow Show is sure to impress your little party animals. They offer outdoor movie rentals, bubble shows, a walking dinosaur, a mad science party, a foam party, a disco party, characters, and more. The best part is that each of these parties comes directly to your home or event space. There's no setup or clean-up needed. Book a party on their website.
Happy Kids Chicago offers a wide range of fun birthday party packages to choose from. Host a dance party complete with an entertainer and music, play games, host a meet and greet with a life-like dinosaur, or have one of their 200 characters stop by for the festivities. To book an entertainer for your next party, head to their website.
Tim Adamz is the Chicago Magician. Your child and their guests will experience a silly, interactive show featuring magic, tricks, and more. The show also includes a visit from a live rabbit named Thumper! Select packages also include balloon animals, illusions, and goodie bags. To book Tim Adamz, visit his website.
Mr. Bob's Magic is a show that will have both adults and kids laughing. With something for everyone, Mr. Bob's doesn't disappoint. You'll find magic, wonder, laughs, and plenty of entertainment with every Mr. Bob's performance. To book Mr. Bob's Magic, head to his website.
Bring a live theater show right to your own backyard or event space. The Chicago-based puppet shows and puppeteers from Balloons and More Fun are an incredible way to bring an entertaining show to your next kid's party. You can book your child's favorite characters from movies or storybooks, ventriloquists, and more. They also offer singers, quartets, singing characters, and magic shows with plenty of entertainment for guests of all ages. You'll find puppets in all your favorite characters. Book one for your party on their website.
Fairytale Entertainment can provide pretty much any character your kiddo dreams of meeting.
Character and Princess Entertainers for Kids Birthday Parties in Chicago
If you're looking for your child's favorite show character, superhero, princess, or storybook character, Fairytale Entertainment has them all. You can hire your child's favorite person or group of characters to come to their next party. Choose your character, time frame, and additional party packages on their website.
For your little princess, making the day extra special is easy with Princess Party Company. Choose from their most popular princess packages which include a visit from their favorite princess, a storytime, prizes, a princess coronation, and even a special makeover. Book a princess or a party package on their website.
Party Princess Productions makes your princess party one to remember. Your guests will receive a grand entrance by the princess, face painting, storytime, songs, and more. You can also rent additional characters from other movies and stories on their website.
Rent-A-Character has all your child's favorite people. Invite a princess, superhero, or their favorite character from a show, movie, or book. Invite the whole gang to celebrate your child's special day. You can also book a princess or character to visit via Zoom. To book a character for an in-person or virtual party, head to their website.
Have you ever played giant Operation? Now you can. Just remember, "It takes a very steady hand!"
Children's Birthday Party Equipment Rentals in Chicago
Castle Party Rental has everything you can imagine renting for your birthday party. From inflatable bounce houses to bounce house slides, arcade games, and giant outdoor games, you have no shortage of fun to choose from. These are great for carnival parties or sports parties as well. Check out their full inventory on their website.
Chicago Memory Booth provides photo booth and green screen rentals right to your home. Your child and their friends and family can make silly memories in the photo booth or green screen to cherish forever. You'll also get a slow-motion video of all the photos taken from the party. Add your child's name or create a birthday logo to add to the photos. View their packages and photo booth options on their website.
Chicago Moonwalks has a huge variety of fun rentals for your child's special day. Choose from bounce houses, water slides, arcade games, dunk tanks, carnival packages, concessions, and more. You can turn your backyard into your own carnival or festival without any of the setup or tear-down work. To see their full inventory and book a service, head to their website.
The Jump Guy has more than just bounce houses. They have bounce houses and slides in almost every party theme and character imaginable. From giant police car and fire truck inflatables to rocket ships and unicorns, there are so many more options than the traditional castle. Snow globes, tents, carnival games, and concessions are also available to rent. To view their full collection and book your own party rental, head to their website.
O'Leary's Chicago Fire Truck Tours brings the excitement of a real fire truck right to your driveway. You can rent an actual fire truck to come to your child's birthday party. This is an amazing experience for any fire truck-loving kid. To book the fire truck for your next event, head to their website.
Game On! does all the work, so you can sit back and enjoy the party.
Sports and Video Game Birthday Party Rentals for Kids in Chicago
Game On! brings your child's favorite sport or game right to your backyard or event space. You provide the yard or field, and they will bring the equipment needed for the game or games of your choice. This is a great way to keep kids active and busy playing a game they love. Head to their website to book a party and see their full list of offerings.
If your birthday kid loves video games, Dapper Game Zone brings the video games to you. You can rent a video game truck right to your driveway. Screens are located on the outside of the truck and your child and their friends can all get in on the action playing their favorite video games. In addition to the video game trucks, they also have laser tag rentals, virtual reality games, and sport-themed rentals. Check out their full list of services on their website.
Chicago Game and Go bring virtual reality and video games right to your driveway. Book a video game party truck to come to your next event. You can play online games or your favorite video games. There are also virtual reality games, custom signs, balloons, and yard artwork available for your event. Visit their website for more information or to book their services.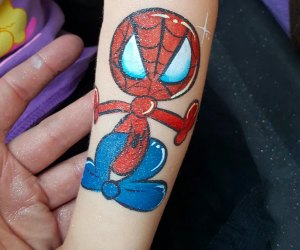 Bee Giggles takes face painting (and balloon art) to the next level.
Kids Birthday Party Face Painters and Balloon Artists in Chicago
*Note: To keep COVID-19 safety measures in place, painting and tattoos can also be done by artists on arms, hands, shoulders, and legs. Each company below also offers amazing balloon work as an alternative to face painting as well.
Bee Giggles Entertainment brings face painting and balloon animals to a whole new level. Your little ones and their friends can enjoy balloons of their favorite characters, princesses, superheroes, and more. They also have tattoo services, face painting, caricature artists, and custom balloon décor. Check out their full line-up of artists and entertainers on their website.
Party Picassos is a one-stop-shop for body painting, tattoos, henna, and more. Get arm tattoos or face paintings on your legs or shoulders. If your child can dream it, they can create it. To view their full list of services and galleries, visit their website.
Marvelous Masks Face Painting adds a little something extra to your next event. From face painting to airbrushing, tattoos, balloon animals, balloon signs, arches, and party decorations, they have something for every age group and theme. Head to their website for a full list of services and a gallery of their past work.
Photos courtesy of the party entertainment companies