20 Best Things to Do in Chicago March 2023 with Kids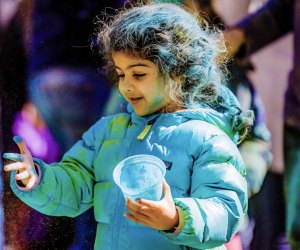 2/26/23
- By
Maureen Wilkey
Looking for things to do in March in Chicago? Here's a list of our favorite kid-friendly activities in Chicago this March.
Spring has (almost) sprung, and both kids and parents in Chicago are looking forward to sunnier days ahead. Luckily, there are plenty of things to do in Chicago in March. It's maple syrup season, and families can learn how it's made at events all over town. Flower shows also abound in the new spring air, with Garfield Park Conservatory, Lincoln Park Conservatory, and Chicago Botanic Gardens all showing off their colors.
St. Patrick's Day events are here in full force—check out the dyeing of the Chicago river and St. Patrick's Day Parades downtown, on the South Side, or in Forest Park. If you're not Irish (and/or don't want to be "Chi-rish" for the day), you could also check out Holi at Navy Pier, or Persian Norwuz in Hyde Park. Easter is April 9 this year, so early egg hunts start in March with events on the northwest side and in Lisle and Wheaton.