Winter Fun List: 30 Fun Things To Do With Westchester Kids This Winter
Stave off cabin fever this season with this ultimate guide to winter fun. We've found 30 fun ways to spend the cold winter days. Though indoor options are limited, there are plenty of ways for Westchester and Hudson Valley families to keep kids active and entertained all season long.
Whether you're looking for winter sports, weekend getaways, workshops, nature programs, or indoor activities with limited capacity, we've got you covered. Consider trying a winter sport like snow tubing or skiing, get hands-on in a makerspace, whip up your own hot chocolate bombs, and maybe find a new passion.
Be sure to bookmark our Event Calendar for constantly updated picks, and find more fun in our Indoor and Winter Fun Guides.
Editor's note: While we are trying to promote safer activities that occur outdoors or with social distancing guidelines in place, please keep your family and others safe by always wearing a mask and practicing social distancing. If you arrive at a venue that appears too crowded, try using the "nearby" search feature on our Event Calendar to find something else to do. Keep in mind, many indoor attractions now require advance ticket purchases or timed-entry reservations, so plan accordingly.
Be sure to sign up for our newsletters to get picks like these delivered to your inbox.

Pop-in! Play Space welcomes little explorers to burn off some energy and enjoy creative playtime. Photo by author
Indoor Activities For Winter Fun
1. Get your fix of indoor play at a Pop-in! Play Space limited-capacity session.
2. Sign up for a time slot to visit the kid-friendly Hudson River Museum.
3. Take a weekend workshop in cartooning, yoga, and other topics at the Westchester Children's Museum.
4. Create a STEM-inspired gift at this hands-on Valentine's Day GlowForge workshop.
5. Test your family's deductive skills as you work together to find your way out of The Puzzle Parlour's escape rooms.
RELATED: 10 Inexpensive Winter Weekend Getaways Near NYC

Mohonk Mountain House offers plenty of pristine, wide-open space for winter recreation. Photo courtesy of the resort
Outdoor Activities For Winter Fun
6. Splurge on day passes to Mohonk Mountain House.
7. Hit the slopes at one of these northeast resorts opening this winter.
8. Book a lane for a family snow tubing adventure in the New York area.
9. Take the plunge at one of our top picks for snow day sledding.
10. Take a spin on the ice at these outdoor rinks in Connecticut.
11. Or, glide with the city skyline as your backdrop.

Don't let the cold scare you away from the trails. Hiking is an all-seasons sport. Photo by Ally Noel
12. Bundle up for a hardy winter hike and compare the views on the various trails.
13. Pay homage to our majestic national bird at a modified, multi-day rendition of the annual Hudson River EagleFest, which celebrates the bald eagle's return to the area.
14. Rack up community-service credits by at one of several county-organized park-maintenance events. You might clean trails or remove invasive plants, and you'll definitely feel good about community service.
RELATED: See Baby Animals and More at Kid-Friendly Farms in Westchester and Hudson Valley

The Greenburgh Nature Center offers private maple sugaring classes and more small-group sessions in its Back to Nature series. Photo by author
15. Book a private maple-sugaring experience for your family at the Greenburgh Nature Center.
16. Visit the Stone Barns Center for Food and Agriculture, open year-round.
17. See how many of these 40 outdoor activities you can get through before spring.
18. Experience the latest alfresco dining craze by reserving a table in an igloo or yurt.
19. Go snowshoeing at Minnewaska State Park.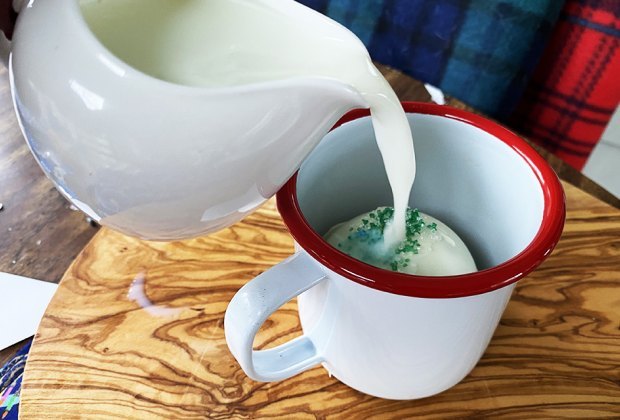 Learn how to make hot chocolate bombs for a fun at-home activity to pass a cold winter day.
More Ideas For Winter Fun
20. Make your own hot chocolate bomb, the latest food craze.
21. Opt for a change of scenery in the mountains or by the shore by planning a low-cost weekend getaway.
22. Fill any downtime with these online enrichment opportunities your child can enjoy from home.
23. Schedule a studio visit or pick up a to-go kit at one of these local art schools.
24. Or, grab some curbside clay.
25. Sign up for a monthly subscription box to deliver new activities to your kids (ooh, mail!).
26. Explore all the offerings in Litchfield County, Connecticut, where year-round fun awaits.

Bundle up and grab a summertime treat to beat the winter blues. Photo by Jody Mercier
27. Embrace the cold: There's no rule against getting ice cream in the winter!
28. Every day can be treated like a "snow day" during the pandemic, so keep our at-home snow day boredom busters handy.
29. Spend a day tackling one of these fun wintertime activities for kids and their grown-ups.
30. Bookmark our Winter Fun Guide for details on a slew of winter sports and seasonal fun.