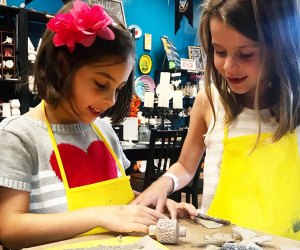 Art Studios with Drop-in Sessions for Westchester Kids
Whether you're staring down a long winter weekend with the kids, or you're already thinking ahead for winter or summer break activities, here's one idea to add to the list: Let them get creative. Westchester is home to tons of art studios and centers, many of which offer drop-in sessions for kids and families, either daily or on the weekends.
Here, we've rounded up a few that give kids a chance to try pottery painting, candle making, glass fusing, and much more.
For even more drop-in activities, check out our roundup of ​play spaces and free storytimes . And be sure to sign up for newsletters to stay in-the-know about what's happening in the area!
A Maze In Pottery – Briarcliff Manor
This Briarcliff Manor studio offers a huge variety of pottery for kids to paint—some 500 pieces. The paints are kid-safe, and you can go back in about a week to pick up your creation. Reservations are needed only if you're visiting with more than five people. Keep an eye on the studio's calendar for weekend workshops, including age-specific events for teens, toddlers, and more.
Creative Corner – Larchmont
This Larchmont studio offers regular walk-in hours. You can even drop off your kiddos while you run errands! Walk-in hours vary weekly, so call the studio before heading over.
RELATED: Where Westchester Kids Can Find Free Drop-In Storytimes

D.I.Y. Slime in Larchmont has all the supplies you need to create a unique batch (without making a mess at home)!
D.I.Y. Slime – Larchmont​
This studio offers kids the chance to get creative with their slime. There are so many varieties to choose from: From the slime itself (chalkboard, for example) to the 100 different mix-ins (glitter, charms, etc.). Even little ones can get in on the action. Check the website for drop-in hours, which are currently after-school on Wednesdays, Thursdays, and Fridays, and midday on Saturdays; with Sundays reserved for parties.
Fun Craft – Scarsdale​
At this Scarsdale studio, kids can create a variety of art every day of the week from 10am to 6pm. And we do mean a variety: There are plaster crafts, ceramics, sand art, painting, slime making, and more. The studio offers discounts on different crafts each day (for example, Mondays are 20 percent off ceramics), and there's even a "Fun Clay Cafe" where you can grab coffee or snack. One thing to note: If you're planning to visit on the weekend, just give a call ahead to make sure there's space available.
MADE: My Art and Design Experience – Mamaroneck​
Right across from Harbor Island in Mamaroneck you'll find this kid-friendly art studio, where kids can drop-in and try their hand at everything from painting their own pottery to making a mosaic to playing with clay, and more. Walk-in hours are Tuesday through Saturday from 11am to 7pm, and Sunday noon to 5pm.
Plaster Palace Pottery – Larchmont​
Families will have the option to paint pottery—as well as plaster and wood—pieces at this Larchmont studio. There's no studio fee to paint, and if you want your project to be ready before you leave, stick with the plaster or wood pieces. Open every day except Tuesdays.
The Pottery Factory – Mount Kisco​
Would you kids love to make his own candle? Or learn about glass fusing? Then head to this art studio, where they can do both, as well as pottery painting and soap making. The studio is open every day, with times varying. (It stays open later on weekends, for example.)
RELATED: 8 Art Studios and Centers for Westchester Kids

Check out the Sensory Open Play sessions at Scribble Art Workshop in Dobbs Ferry.
Scribble Art Workshop – Dobbs Ferry
On Mondays, Thursdays, and Fridays, this Dobbs Ferry art center offers "Sensory Open Play" sessions for kids from 18 months to 4 years old and their parents or caregivers. The sessions run for two hours, from 10am to noon. For the older set, there are "Drop & Dine" sessions once a month on Friday evenings, where kids between the ages of 4 and 11 can be dropped off at the studio. Pizza is included and you do have to register in advance.
Young at Art – Scarsdale​
If you're looking for something to do with the family on Sundays, check out this Scarsdale art studio's Family Sundays program. The program, which runs from 3-4pm, is best for kids between the ages of 2 and 8. Each week has a theme, which is listed on the website; upcoming events include "Groundhog Puppet," "Kites," and "Make Your Own Carnival Game." Since there's limited space, you do have to register in advance.
Photos courtesy of the venues