Art Studios in Westchester Offering Drop-In and Take-Home Art for Kids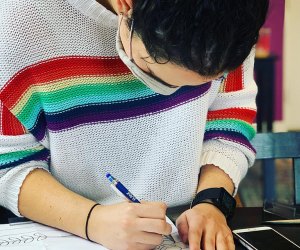 2/6/22
- By
Marisa Iallonardo
Whether you're staring down a long winter weekend with the kids, or you're already thinking ahead to the next school break, here's one idea to add to the list: Let them get creative.
Westchester is home to a host of art studios and crafts centers, many of which offer drop-in sessions for kids and families, either daily or on the weekends.
Here, we've rounded up seven such art studios that give kids a chance to try pottery painting, candle making, glass fusing, and much more. While the pandemic might have altered some operations, many of these crafty spots offer socially distant table reservations, plus take-home kits so your kids can get creative at home.
For more drop-in fun, check out our roundup of ​local play spaces open now, and find more things to do in our Event Calendar.
Please call or check websites for the latest COVID-19 updates and for safety protocols.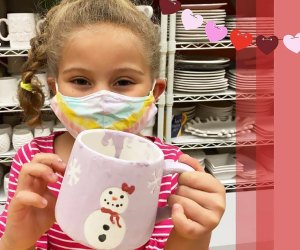 Decorate a pottery piece of your choice at A Maze In Pottery.
This Briarcliff Manor studio offers a huge variety of pottery for kids to paint—some 500 pieces. The paints are kid-safe, and you can go back in about a week later to pick up your creation. Keep an eye on the studio's calendar for weekend workshops, including age-specific events. Reservations can be made online for a table, and there are lots of options for at-home activities, including a "Pottery To-Go Kit" (with FREE local delivery) as well as a bimonthly subscription box and virtual party options.
This Larchmont studio offers walk-in hours, but you have to register for sessions (either 1 or 1.5 hours) ahead of time. Walk-in appointment times vary, so call the studio before heading over. There are also mommy-and-me classes, workshops, and custom classes that can cater to your learning pod or small groups. Register online in advance.
RELATED: 5 Simple But Cool Slime Recipes to Make With Kids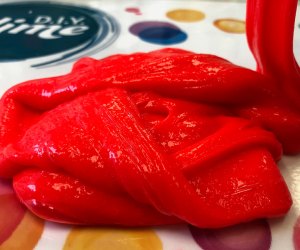 D.I.Y. Slime in Larchmont has all the essentials you need to create a unique batch.
This studio offers kids the chance to get creative with their slime. There are so many varieties from which to choose, from the slime itself (chalkboard, for example) to 100 different mix-ins (glitter, charms, etc.) that even little ones can get in on the action. Masks are required, and both drop-ins and private sessions are available—check its website for specific times. Or, opt for some at-home fun with its to-go slime kits.
Right across from Harbor Island in Mamaroneck, you'll find this kid-friendly art studio, where kids can drop-in and try their hand at everything from painting their own pottery to making a mosaic, to playing with clay, and more. Masks are required and in-person hours run from 1pm to 6pm Tuesday through Sunday. There are at-home options available, too.
Families have the option to paint pottery, plaster, and wood pieces at this Larchmont studio. There's no studio fee to paint, and it is open every day except Tuesdays. Both indoor and outdoor parties are offered (virtual, too!), and you can also buy pottery online.
RELATED: Crafts for Kids: 100 Awesome Art Projects for Creative At-Home Fun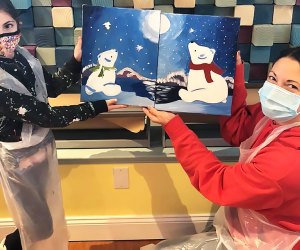 Kids can all be artists at The Pottery Factory.
Whether your kids want to make their own candles, learn about glass fusing, make their own soap, or paint their own pottery, this is your go-to spot. The studio is open daily, and there are also "Pottery To Go" options.
This Dobbs Ferry art center offers art classes for toddlers through elementary schoolers, with options to do private pods or lessons, too. Elementary schoolers can also drop-in to its "Sketchbook Club" on Tuesday afternoons.
This post, originally published in 2020, was updated in February 2022. Photos courtesy of the studios/workshops