Westchester Mompreneurs Open D.I.Y. Slime Shop in Larchmont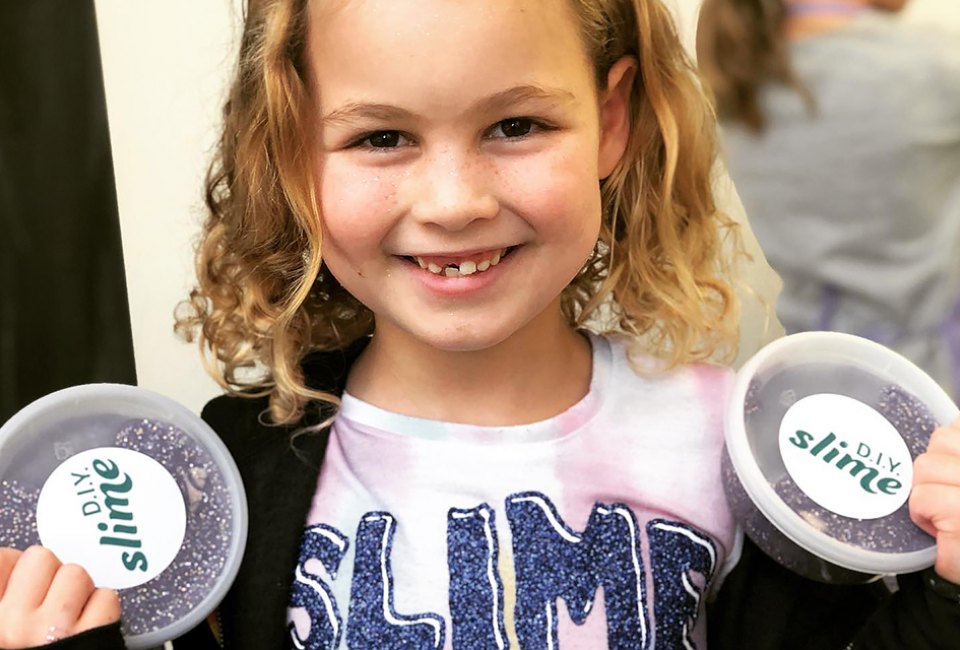 12/6/19
- By
Susan Miele
Do your kids love to make slime? Do you not love having your kids make slime in your house? Enter D.I.Y. Slime, the newly opened Westchester storefront whose purpose is to provide slime-making fun that doesn't ruin your table.
Say no more, right? But there is more. D.I.Y. Slime, located on East Avenue in Larchmont, takes slime-making to a higher level: This is high-end, fancy-pants slime! We paid a visit and got the lowdown on offerings, hours, mix-ins, and more.
Love being in the know about new businesses, party venues, local classes, camps, and events for your family? Make sure you're subscribed to the Mommy Poppins newsletter!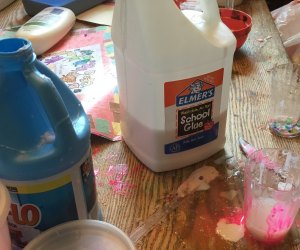 D.I.Y. Slime lets you keep the mess out of your kitchen!
Several of a parent's least favorite words: Glitter. Glue. Paint. Liquid starch. Shaving cream. Mess. This is the stuff that slime is made of, and Westchester kids are clamoring to make it themselves. There are slime-making videos (kids are often the teachers), slime-supply sections in stores, STEM classes, and library events galore.
D.I.Y. Slime, which opened last month in Larchmont, does more than spare you the mess in your house (though, let's face it, that's a huge plus). Here, kids can choose from a menu of 40 varieties of slime with some 100 possible add-ins. Beyond the more commonplace items like beads and glitter, D.I.Y. Slime offers the likes of unicorn charms, Coca-Cola bottles, gold leaf, and puppy-dog charms, as well as seasonal add-ins like candy-cane slices and snowflake slices.
Other awesome novelties include glow-in-the-dark slime, with mix-ins that illuminate with a black light, and chalkboard slime, a black concoction that allows you to draw on it and then erase what you wrote. Scents like cotton candy, lavender, chocolate-chip cookie, and Christmas trees can also be added, to name a few.
Not surprisingly, owners Stacey Sarver and Nicole Fiftal do not have advanced degrees in slime. They're local mompreneurs who've benefited from the assistance of other local moms with logo design, website development, and PR.
RELATED: Art Studios and Centers for Westchester Kids

Kids of all ages are welcome to drop in and make slime, and children in first-grade and up can attend drop-off workshops.
Though the average age of slime fans is the elementary-school crowd, Sarver and Fiftal report that both teens and preschoolers have been getting in on the action. There's no minimum age to make slime, though caregiver support may be needed to help with the kneading. "Butter slime" is recommended for the younger kids, this consisting of modeling clay, lotion, and shaving cream.
D.I.Y. Slime offers drop-in sessions and occasional drop-off workshops, as well as birthday parties. Instruction is provided for the various concoctions. The owners are committed to maintaining consistent drop-in hours to avoid the disappointment of showing up to find a "closed for a private event" sign, so party times are limited accordingly.

Choose from 100 mix-ins to make your creation extra-special. Photo by the author.
Current drop-in hours are generally 3-6pm on weekdays and noon-4pm on Saturdays. Longer hours may be offered on days off from school, and the goal is to expand business hours in the coming months, particularly to include Sundays. Upcoming drop-off workshops will take place on Wednesday and Thursday, December 11-12.
Prices start at $10 per project and go up depending on mix-ins, which range from $1-$3 per item or scent. Allow about 30-45 minutes for the average project.
Looking to do more while in the D.I.Y. Slime area? Within a couple blocks are Longford's ice cream, The Snackery Bakeshop, Sweeets candy store, The Tree of Chocolate, Groove, and Anderson's Bookshop, to name just a few.
Photos courtesy of D.I.Y. Slime
Places featured in this article:
Sign up for the Mommy Poppins Newsletter today!
i